Give the gift of memories, of time spent, of experiences had. They will last longer than any toy you will ever give! These Non Toy Gift Ideas will get you on your way to reducing the clutter and maximizing the memories!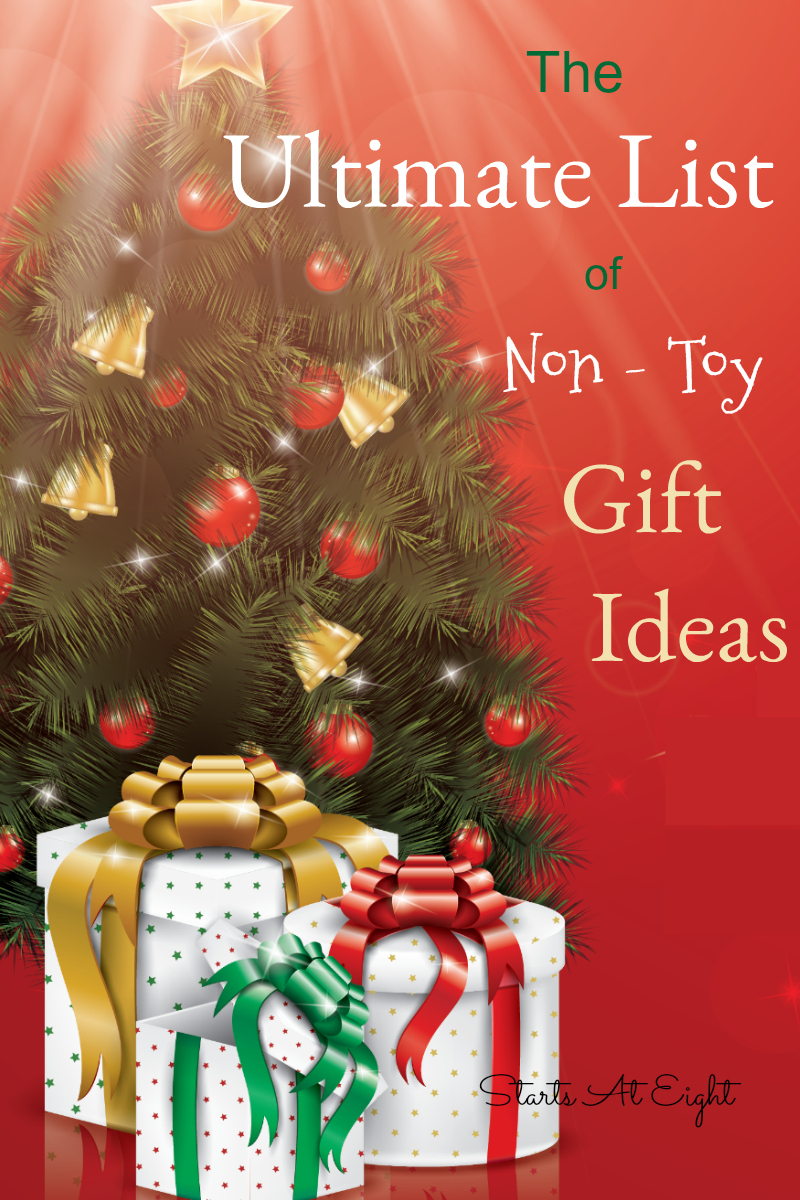 Ultimate List of Non Toy Gift Ideas
It is that time of year where family is asking for gift suggestions for the kids. I know with my children being older it can be hard because so many of the things they want are so expensive. When they were little it was hard because we had SO many toys already!
If you feel like you have enough toys, or you would just like to mix it up some and get something different, then this list of non toy gift ideas is for you!
Activities
Museum
Zoo
Acquarium
Amusement Park
Aviary
Butterfly Conservatory
Jump (trampoline) Clubs
Laser Tag
Ice Skating
Ski Passes
Theater Performance
Ballet (The Nutcracker perhaps?)
Movies
Bowling
Roller Skating
Mini-Golf
Sporting Event (basketball, football, hockey, soccer, tennis, etc)
Disney on Ice
Music Concert
Video Arcade
Zip Lining
Rock Climbing
Batting Cage
Go Kart Racing
Larger Experiences
Hot Air Balloon Ride
Train Ride
Ice Skating in Rockefeller Center (this is one we did while already in NYC that my daughter and I loved)
Horse & Buggy Ride (Central Park?)
Helicopter Ride
Spa Getaway (even for a short day to do mani/pedis)
Special Dinner Out & Activity (our kids have loved going to Hibachi type places or Melting Pot for fondue)
Classes/Lessons
Swimming
Gymnastics
Ninja Warrier
Soccer
Football
Karate
Ice Skating
Skiing
Dance
Horseback Riding
Musical instrument
Pottery
Art
Crafting such as sewing or knitting (places like JoAnn's and Micheal's often offer opportunities like this)
Family Trips
As a family you might choose to forgo the traditional gift giving and plan a fun excursion instead!
Hotel with an Indoor Water Park
Disney/MGM
Historical Trips (Washington D.C.,  Mt. Rushmore, NYC, etc)
Camping
Road Trip (to visit family or friends or to see designated sights)
Beach Trip
Any Overnight Hotel Stay
To go along with your trips you could give things that are needed like bathing suits for the beach, or camping gear for camping.
Physical Gifts (Non Toy Gift Ideas)
Scrapbooking Supplies
Memory/Photo Book
Journal
Book
DVDs
Music CDs or gift cards like iTunes so they can download music they love
Magic Kit
Telescope
Microscope
Binoculars
Pets (my daughter got her horse for Christmas – a little early – this year) but you could do small animals too. A couple of years ago we had "Santa" bring a cage with supplies and a note that she would be going to the store to choose her own guinea pig.
Supplies for existing pets – fun treats and trinkets for their most beloved animals.
Camera
Watch
Flashlight
Nightstand Charging Stations/Radio
Sled/snowboard snow brick makers or other winter outdoor accessories
Bike
Scooter
Trampoline (one year my mother gave 2 of my children a joint gift of a trampoline – it was the BEST PURCHASE EVER!)
New Bedding (my kids have loved getting themed sheet sets like Buffalo Bills, horses, favorite character, etc.
Clothing that is a theme favorite ie. t-shirts, hats, gloves, socks with things like favorite sports team, their sport, horses, characters like Harry Potter, etc.
Gift Cards
I know people don't often like to give these, but I can tell you that as non toy gift ideas go, my kids LOVE getting gift cards for the places they love.
You can give gift cards or certificates for many of the activity places above, as well as gift cards for food, clothing, and toy places.
Starbucks/Tim Horton's/Dunkin Donuts
Favorite Restaurant
Target
Amazon
Toys R Us
Playstation
Xbox
iTunes
Simplifying Christmas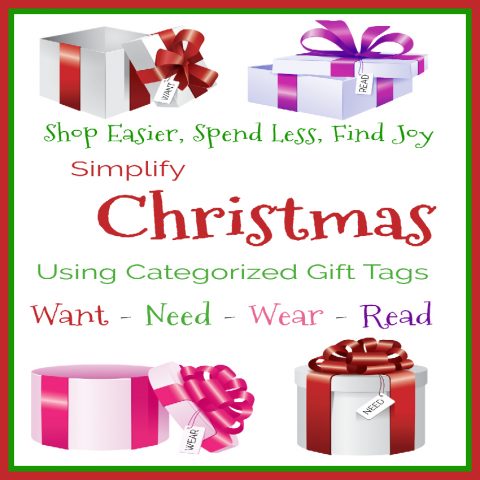 Something else to consider this Christmas is slimming down and making it easier. This year I am really cutting out a ton of holiday stress by using Categorized Gift Tags.  That means buying less, and having each thing be more purposeful and meaningful.