One thing many families love to do during the holiday seasons is drive around and look at Christmas lights. You might even go to a place where you can drive or walk through many light displays. You can add some extra fun in with this FREE Printable Christmas Light Scavenger Hunt.
Our family LOVES to stroll through the Christmas decorations sections of all our local stores. It's so much fun to see what's new and shiny, slowly adding to our collection.
Each year towards the end of October we gear up to prepare the front of our house for Christmas. However, we don't turn them on until Thanksgiving weekend. (Since we live in a colder climate, we like to get our lights up when the weather is still manageable!)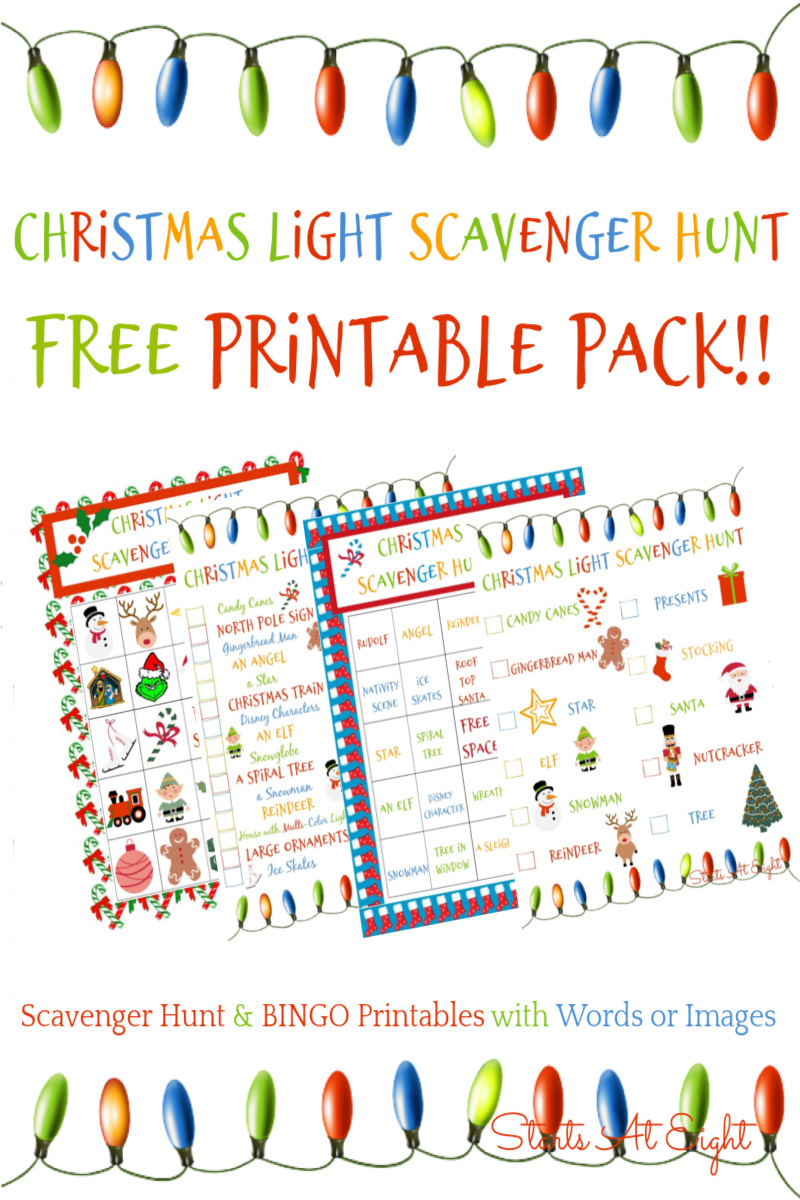 Ideas for using this Christmas Light Scavenger Hunt
There are many fun ways to use this list, below are a few suggestions to get you started:
You can use one list as a family. Either head out in a car or walk a neighborhood and play Eye Spy together to find the items on the list.
Or each person gets their own list and silently fills it out. This too can be done via car or a walk.
Invite other families to join in! Go out in teams with an agreed upon  time limit and see which team gets the most points.
We actually used this one year over the course of a month while watching Christmas movies. Simply enjoy watching your favorite Christmas movies and see how many of these you can spot in the process! Click the images below to find tons of Christmas movie suggestions!
Setting some Rules
You may want to set up some guidelines to keep everyone on the same page.
For instance:
If taking off in vehicles you'll want to be sure the driver is doing just that, driving. And encourage everyone to follow all traffic rules.
If heading out for a walk you want to be sure younger children stay with a buddy at all times.
Then you might want to consider whether or not you can earn only one point per house or if you can get multiple points from one house? It doesn't matter which way you do it, except that everyone needs to follow the same rule.
Along those same lines, if you can get multiples per house, will you allow multiples per item?
If you want to add an element of proof to the hunt there are a few ways to go about it. Consider taking photos of each element, maybe even have a team member in some of them! Or have teams write down the address where each item was found. If you're doing the hunt while watching Christmas movies, write down the movie where you found each item. 
Christmas Light Scavenger Hunt Printables
What's Included?
There are two Christmas Light Scavenger Hunt Printables in this pack. One for older participants and one for the younger ones! 
BONUS!! As a bonus there are also multiple Christmas Light BINGO Boards.
A total of 14 printable pages!
1. Christmas Light Scavenger Hunt Printable – Adults
The main Christmas Light Scavenger Hunt Printable includes over 30 items to keep your eyes peeled for! Everything from various trees to Santa, different colored lights, specific characters and more!
2. Christmas Light Scavenger Hunt Printable – Young Children
I also created a smaller Christmas Light Scavenger Hunt Printable for smaller children that includes and image of each item.
3.
BONUS!!

Christmas Light Bingo Boards

I have also included some Bingo Boards with the Christmas Light Scavenger Hunt Printable words and images. There are 6 variations of each one!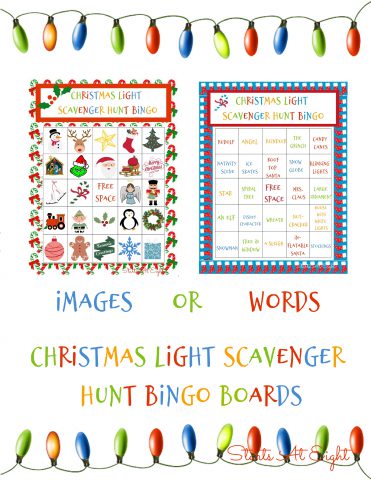 These can offer a whole level of fun and competitiveness to your Christmas Eye Spy games! Use them on the road or a walk, and even with Christmas movie viewing!
I recommend printing these out on card stock for durability and you might even consider laminating them (or putting them in these plastic sheets) and using dry erase markers to mark what you spy!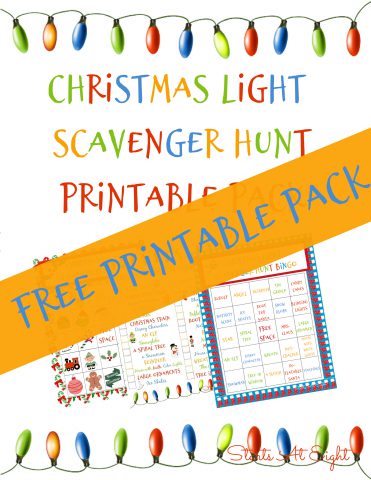 More Christmas Fun