While preparing to enter high school and considering the thought of moving on to college, there is often a question of what books to read. What American literature, poetry, World or British literature should you have read? While there is no set answer to this question, I have compiled an extensive High School Literature List to aid in the selection of reading choices for high school and beyond.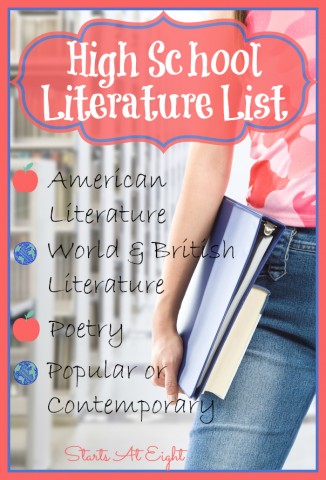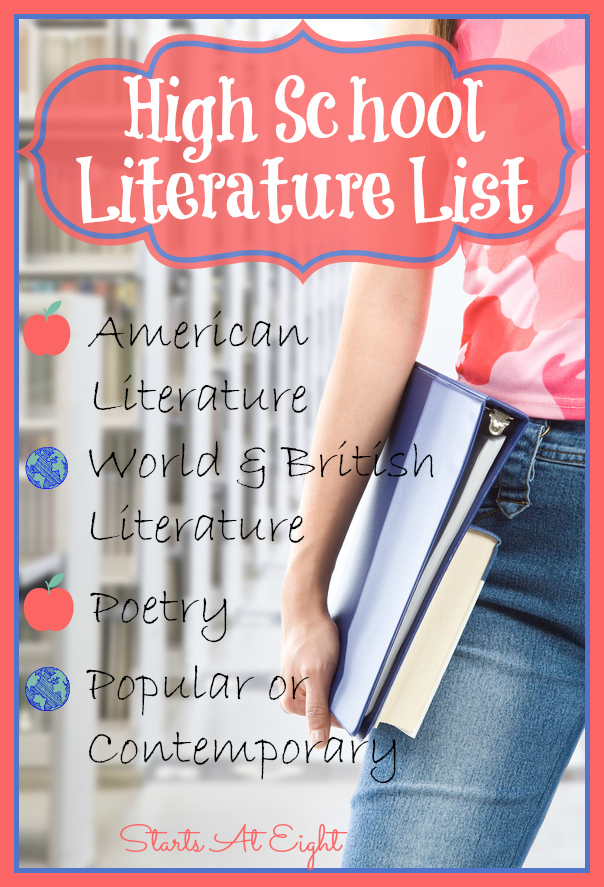 For the ease of reading and finding a great literature choice for your high school student, I have broken this High School Literature List down into 4 separate sections:
American Literature
American Literature Suggestions
A Raisin in the Sun, by Lorraine Hansbury- Set on Chicago's South Side, the plot revolves around the divergent dreams and conflicts within three generations of the Younger family: son Walter Lee, his wife Ruth, his sister Beneatha, his son Travis and matriarch Lena, called Mama. When her deceased husband's insurance money comes through, Mama dreams of moving to a new home and a better neighborhood in Chicago. Walter Lee, a chauffeur, has other plans, however: buying a liquor store and being his own man. Beneatha dreams of medical school.The tensions and prejudice they face form this seminal American drama. Sacrifice, trust and love among the Younger family and their heroic struggle to retain dignity in a harsh and changing world is a searing and timeless document of hope and inspiration.
A Separate Peace, by John Knowles – Set at a boys' boarding school in New England during the early years of World War II, A Separate Peace is a harrowing and luminous parable of the dark side of adolescence. Gene is a lonely, introverted intellectual. Phineas is a handsome, taunting, daredevil athlete. What happens between the two friends one summer, like the war itself, banishes the innocence of these boys and their world.
Breakfast at Tiffany's, by Truman Capote – In this seductive, wistful masterpiece, Truman Capote created a woman whose name has entered the American idiom and whose style is a part of the literary landscape. Holly Golightly knows that nothing bad can ever happen to you at Tiffany's; her poignancy, wit, and naïveté continue to charm.
The Catcher in the Rye, by J.D. Salinger – The hero-narrator of THE CATCHER IN THE RYE is an ancient child of sixteen, a native New Yorker named Holden Caulfield. Through circumstances that tend to preclude adult, secondhand description, he leaves his prep school in Pennsylvania and goes underground in New York City for three days. The boy himself is at once too simple and too complex for us to make any final comment about him or his story. Perhaps the safest thing we can say about Holden is that he was born in the world not just strongly attracted to beauty but, almost, hopelessly impaled on it.
Common Sense (paper), by Thomas Paine – Enormously popular and widely read pamphlet, first published in January of 1776, clearly and persuasively argues for American separation from Great Britain and paves the way for the Declaration of Independence. This highly influential landmark document attacks the monarchy, cites the evils of government and combines idealism with practical economic concerns.
Fahrenheit 451, by Ray Bradbury – Guy Montag is a fireman. In his world, where television rules and literature is on the brink of extinction, firemen start fires rather than put them out. His job is to destroy the most illegal of commodities, the printed book, along with the houses in which they are hidden.Montag never questions the destruction and ruin his actions produce, returning each day to his bland life and wife, Mildred, who spends all day with her television "family." But then he meets an eccentric young neighbor, Clarisse, who introduces him to a past where people didn't live in fear and to a present where one sees the world through the ideas in books instead of the mindless chatter of television.When Mildred attempts suicide and Clarisse suddenly disappears, Montag begins to question everything he has ever known. He starts hiding books in his home, and when his pilfering is discovered, the fireman has to run for his life.
Flowers for Algernon, by Daniel Keyes – Flowers for Algernon is the beloved, classic story of a mentally disabled man whose experimental quest for intelligence mirrors that of Algernon, an extraordinary lab mouse. In poignant diary entries, Charlie tells how a brain operation increases his IQ and changes his life. As the experimental procedure takes effect, Charlie's intelligence expands until it surpasses that of the doctors who engineered his metamorphosis. The experiment seems to be a scientific breakthrough of paramount importance–until Algernon begins his sudden, unexpected deterioration. Will the same happen to Charlie?
An American classic that inspired the award-winning movie Charly.
Gone with the Wind, by Margaret Mitchell – This is the tale of Scarlett O'Hara, the spoiled, manipulative daughter of a wealthy plantation owner, who arrives at young womanhood just in time to see the Civil War forever change her way of life. A sweeping story of tangled passion and courage, in the pages of Gone With the Wind, Margaret Mitchell brings to life the unforgettable characters that have captured readers for over seventy years.
I Know Why the Caged Bird Sings, by Maya Angelou – Maya Angelou's debut memoir, first published in 1969, is a modern American classic beloved worldwide. Sent by their mother to live with their devout, self-sufficient grandmother in a small Southern town, Maya and her brother, Bailey, endure the ache of abandonment and the prejudice of the local "powhitetrash." At eight years old and back at her mother's side in St. Louis, Maya is attacked by a man many times her age—and has to live with the consequences for a lifetime. Years later, in San Francisco, Maya learns that love for herself, the kindness of others, her own strong spirit, and the ideas of great authors ("I met and fell in love with William Shakespeare") will allow her to be free instead of imprisoned.
Main Street by, Sinclair Lewis – Reflecting his own unhappy childhood in Sauk Centre, Minnesota, Lewis's sixth novel attacks the conformity and dullness he saw in midwestern village life. Young college graduate Carol Milford moves from the city to tiny Gopher Prairie after marrying the local doctor, and tries to bring culture to the small town. But her efforts to reform the prairie village are met by a wall of gossip, greed, conventionality, pitifully unambitious cultural endeavors, and—worst of all—the pettiness and bigotry of small-town minds.
Moby Dick by, Herman Melville – Moby-Dick (1851) is the sixth book by American writer Herman Melville. The work is an epic sea-story of Captain Ahab's voyage in pursuit of Moby Dick, a great white whale. The opening line, "Call me Ishmael," is one of the most recognizable opening lines in Western literature. Ishmael then narrates the voyage of the whaleship Pequod, commanded by Captain Ahab. Ahab has one purpose: revenge on Moby Dick, a ferocious, enigmatic white whale which on a previous voyage destroyed Ahab's ship and severed his leg at the knee. The detailed and realistic descriptions of whale hunting and the process of extracting whale oil, as well as life aboard ship among a culturally diverse crew, are mixed with exploration of class and social status, good and evil, and the existence of God.
Narrative of the Life of Frederick Douglass – With freer strictures on slaves in Maryland in the period before the Civil War, writer, orator, advocate and statesman Frederick Douglass was able to become literate and establish contacts with educated free blacks in the area. He would use this later on in life when he escaped north, eventually marrying and settling in Massachusetts, where he became active in the abolition movement. In his autobiography Narrative of the Life of Frederick Douglass, Douglass defied expectations by producing a work of eloquent magnitude, an instant bestseller so beautifully rendered that many refused to believe a black man had written it.
One Flew Over the Cuckoo's Nest, by Ken Kesey – Here is the unforgettable story of a mental ward and its inhabitants, especially the tyrannical Big Nurse Ratched and Randle Patrick McMurphy, the brawling, fun-loving new inmate who resolves to oppose her. We see the struggle through the eyes of Chief Bromden, the seemingly mute half-Indian patient who witnesses and understands McMurphy's heroic attempt to do battle with the awesome powers that keep them all imprisoned.
Our Town: A Play in Three Acts, by Thornton Wilder – Is considered a classic portrayal of small-town American life. Set in Grover's Corners, N.H., the play features a narrator, the Stage Manager, who sits at the side of the unadorned stage and explains the action. Through flashbacks, dialogue, and direct monologues the other characters reveal themselves to the audience. The main characters are George Gibbs, a doctor's son, and Emily Webb, daughter of a newspaper editor. The play concerns their courtship and marriage and Emily's death in childbirth, after which she and other inhabitants of the graveyard describe their peace.
Roots, by Alex Hayley – This is the story of the young African boy named Kunte Kinte, who in the late 1700s was kidnapped from his homeland and brought to the United States as a slave. Haley follows Kunte Kinte's family line over the next seven generations, creating a moving historical novel spanning 200 years.
The Autobiography of Benjamin Franklin – Blessed with enormous talents and the energy and ambition to go with them, Franklin was a statesman, author, inventor, printer, and scientist. He helped draft the Declaration of Independence and later was involved in negotiating the peace treaty with Britain that ended the Revolutionary War. He also invented bifocals, a stove that is still manufactured, a water-harmonica, and the lightning rod.
Franklin's extraordinary range of interests and accomplishments are brilliantly recorded in his Autobiography, considered one of the classics of the genre. Covering his life up to his prewar stay in London as representative of the Pennsylvania Assembly, this charming self-portrait recalls Franklin's boyhood, his determination to achieve high moral standards, his work as a printer, experiments with electricity, political career, experiences during the French and Indian War, and more.
The Autobiography of Malcolm X, by Malcolm X and Alex Hayley – Malcolm X's searing memoir belongs on the small shelf of great autobiographies. The reasons are many: the blistering honesty with which he recounts his transformation from a bitter, self-destructive petty criminal into an articulate political activist, the continued relevance of his militant analysis of white racism, and his emphasis on self-respect and self-help for African Americans. And there's the vividness with which he depicts black popular culture–try as he might to criticize those lindy hops at Boston's Roseland dance hall from the perspective of his Muslim faith, he can't help but make them sound pretty wonderful. These are but a few examples. The Autobiography of Malcolm X limns an archetypal journey from ignorance and despair to knowledge and spiritual awakening.
The Bell Jar, by Sylvia Plath – Esther Greenwood is brilliant, beautiful, enormously talented, and successful, but slowly going under—maybe for the last time. In her acclaimed and enduring masterwork, Sylvia Plath brilliantly draws the reader into Esther's breakdown with such intensity that her insanity becomes palpably real, even rational—as accessible an experience as going to the movies.
The Call of the Wild, by Jack London – The novel's central character is a dog named Buck, a domesticated dog living at a ranch in the Santa Clara valley of California as the story opens. Stolen from his home and sold into the brutal existence of an Alaskan sled dog, he reverts to atavistic traits. Buck is forced to adjust to, and survive, cruel treatments and fight to dominate other dogs in a harsh climate. Eventually he sheds the veneer of civilization, relying on primordial instincts and lessons he learns, to emerge as a leader in the wild.
The Color Purple, by Alice Walker – Celie is a poor black woman whose letters tell the story of 20 years of her life, beginning at age 14 when she is being abused and raped by her father and attempting to protect her sister from the same fate, and continuing over the course of her marriage to "Mister," a brutal man who terrorizes her. Celie eventually learns that her abusive husband has been keeping her sister's letters from her and the rage she feels, combined with an example of love and independence provided by her close friend Shug, pushes her finally toward an awakening of her creative and loving self.
The Jungle, by Upton Sinclair – This 1906 bestseller shockingly reveals intolerable labor practices and unsanitary working conditions in the Chicago stockyards as it tells the brutally grim story of a Slavic family that emigrates to America full of optimism but soon descends into numbing poverty, moral degradation, and despair.
The Last of the Mohicans, by James Fenimore Cooper – Deep in the forests of upper New York State, the brave woodsman Hawkeye (Natty Bumppo) and his loyal Mohican friends Chingachgook and Uncas become embroiled in the bloody battles of the French and Indian War. The abduction of the beautiful Munro sisters by hostile savages, the treachery of the renegade brave Magua, the ambush of innocent settlers, and the thrilling events that lead to the final tragic confrontation between rival war parties create an unforgettable, spine-tingling picture of life on the frontier. And as the idyllic wilderness gives way to the forces of civilization, the novel presents a moving portrayal of a vanishing race and the end of its way of life in the great American forests.
The Maltese Falcon, by Dashiell Hammett – A treasure worth killing for. Sam Spade, a slightly shopworn private eye with his own solitary code of ethics. A perfumed grafter named Joel Cairo, a fat man name Gutman, and Brigid O'Shaughnessy, a beautiful and treacherous woman whose loyalties shift at the drop of a dime. These are the ingredients of Dashiell Hammett's coolly glittering gem of detective fiction, a novel that has haunted three generations of readers.
The Princess Bride, by William Goldman – Rich in character and satire, the novel is set in 1941 and framed cleverly as an "abridged" retelling of a centuries-old tale set in the fabled country of Florin that's home to "Beasts of all natures and descriptions. Pain. Death. Brave men. Coward men. Strongest men. Chases. Escapes. Lies. Truths. Passions.
The Red Badge of Courage, by Stephen Crane – Henry Fleming is a young private fighting for the Union Army in the American Civil War. His head filled with visions of heroic glory, Henry is eager for the battlefield, but when faced with his first real chance to fight, Henry begins to doubt his resolve and flees the battlefield. Ashamed, he soon regrets his actions, and longs to regain his honour by earning his "red badge of courage" by being wounded in service.
The Story of My Life, by Helen Keller – Helen Keller's story of struggle and achievement is one of unquenchable hope. From tales of her difficult early days, to details of her relationship with her beloved teacher Anne Sullivan, to her impressions of academic life, Keller's honest, straightforward writing lends insight into an amazing mind.
To Kill a Mockingbird, by Harper Lee – A gripping, heart-wrenching, and wholly remarkable tale of coming-of-age in a South poisoned by virulent prejudice, it views a world of great beauty and savage inequities through the eyes of a young girl, as her father-a crusading local lawyer-risks everything to defend a black man unjustly accused of a terrible crime.
Uncle Tom's Cabin, by Harriet Beacher Stowe – Selling more than 300,000 copies the first year it was published, Stowe's powerful abolitionist novel fueled the fire of the human rights debate in 1852. Denouncing the institution of slavery in dramatic terms, the incendiary novel quickly draws the reader into the world of slaves and their masters.
Stowe's characters are powerfully and humanly realized in Uncle Tom, a majestic and heroic slave whose faith and dignity are never corrupted; Eliza and her husband, George, who elude slave catchers and eventually flee a country that condones slavery; Simon Legree, a brutal plantation owner; Little Eva, who suffers emotionally and physically from the suffering of slaves; and fun-loving Topsy, Eva's slave playmate.
Where the Red Fern Grows, by Wilson Rawls – A loving threesome, they ranged the dark hills and river bottoms of Cherokee country. Old Dan had the brawn. Little Ann had the brains, and Billy had the will to make them into the finest hunting team in the valley. Glory and victory were coming to them, but sadness waited too. Where the Red Fern Grows is an exciting tale of love and adventure you'll never forget.
Authors with Multiple Works:
Arthur Miller
Death of a Salesman (play)
The Crucible (a play)
Edgar Allen Poe
The Cask of Amontillado
The Tell-Tale Heart
The Pit and the Pendulum
The Raven
F. Scott Fitzgerald
The Great Gatsby
Tender Is the Night
The Curious Case of Benjamin Button
John Steinbeck
Of Mice and Men
East of Eden
The Grapes of Wrath
Laura Ingalls Wilder
Louisa May Alcott
Little Women
Little Men
Eight Cousins
Mark Twain (Samuel Clemens)
The Adventures of Huckleberry Finn
The Adventures of Tom Sawyer
The Prince and the Pauper
Nathaniel Hawthorne
The Scarlet Letter
Twice Told Tales
Tennessee Williams
The Glass Menagerie (play)
A Streetcar Named Desire (play)
Cat on a Hot Tine Roof (play)
Washington Irving
Rip Van Winkle
Legend of Sleepy Hollow
Willa Cather
William Faulkner
As I Lay Dying
The Sound and the Fury
Light in August