Stop number two on our American History Timeline Colonial America. This period of time covers the first Thanksgiving as well as early life in the first colonies. We are choosing to use a timeline format as the base for our studies. Each week will focus on a different section of the timeline.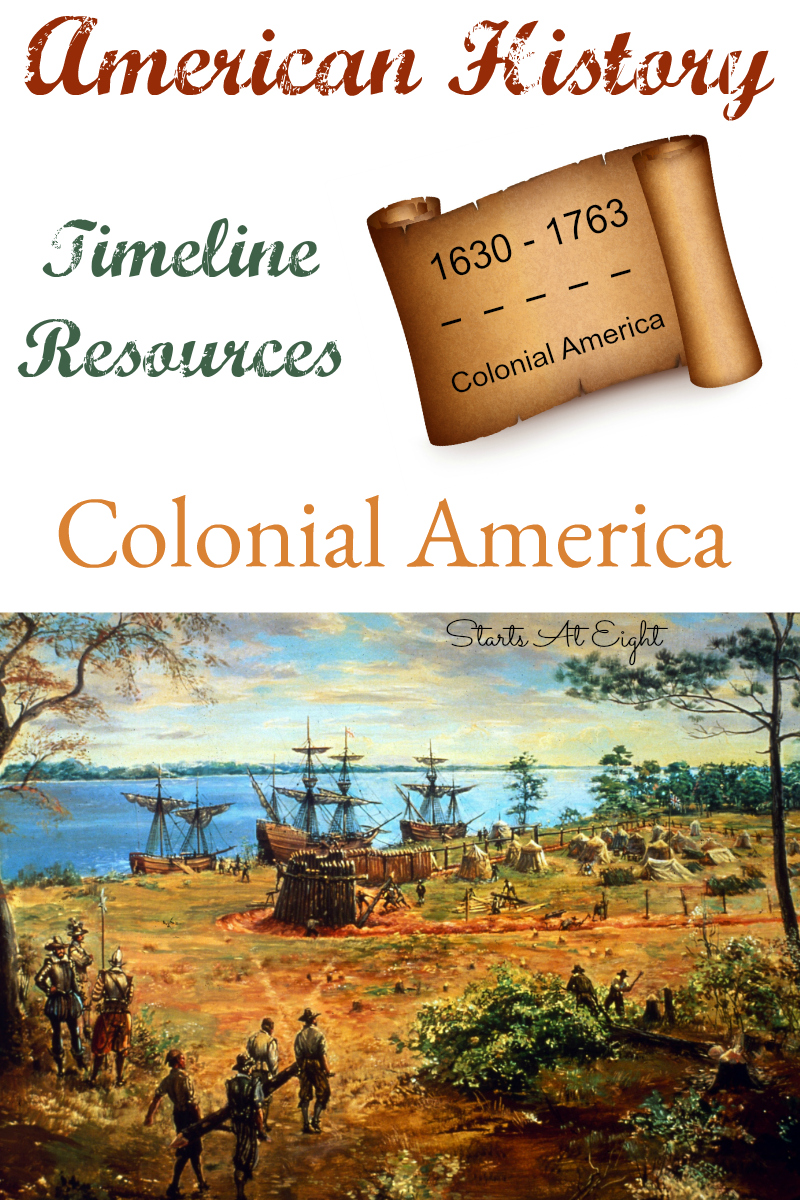 In our first installment, Before 1630 – Pre-America we talked a lot about explorers and ended with the Mayflower journey. We will begin this period where we left off, with some overlap as we take a look at the first Thanksgiving, moving through a look at colonial life and into the French and Indian War.
American History Timeline Resources: Colonial America
Many of the projects and brief readings for colonial life in this time period come from the Home School in the Woods – History Through the Ages – Time Traveler Series. In the case of this time period we are using History Through the Ages – Time Travelers – Colonial Life.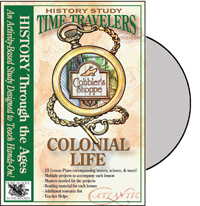 All the names in the red headlines are ones we will be adding to our timeline notebook. While we may not study each one in depth, we will touch on them in some manner in relation to the given time period. Each time period will be covered over the span of one week.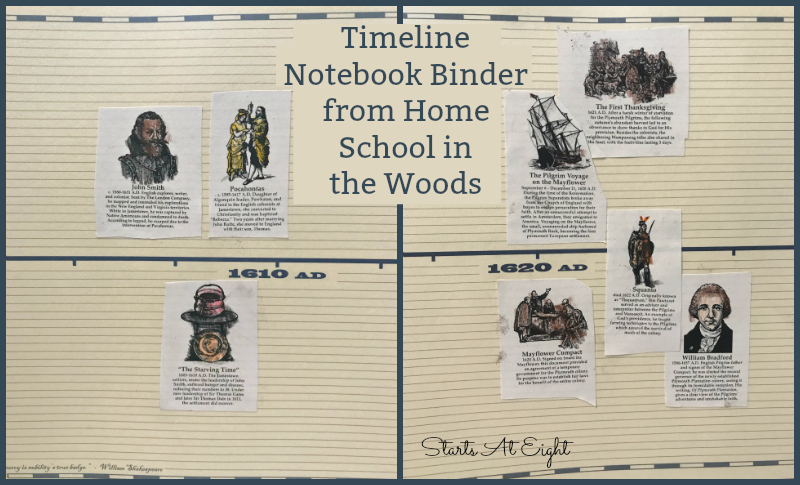 * Please note that what movies you choose to watch with your children is a personal choice. Be sure to screen the movies and decide for yourself if you want to show them to your children.
1620- The First Thanksgiving, William Bradford, Squanto
Books to Read: Squanto's Journey, What Was the First Thanksgiving?
Movies/Videos Watched: Animated Hero Classics – William Bradford, Finish America the Story of Us Episode 1,
Project: HITW Colonial Farm from Lesson 2 , HITW Colonial Homes from Lesson 3, Plimoth Plantation Virtual Field Trip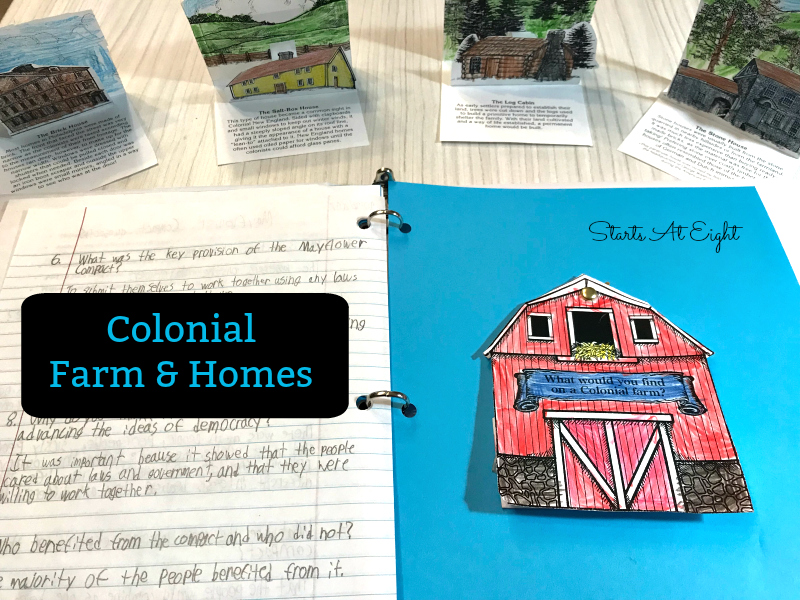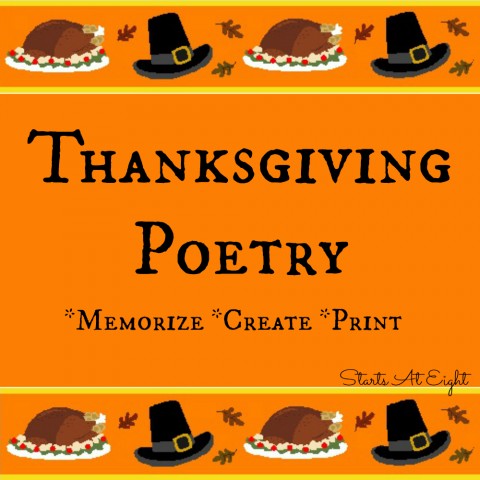 1645- Colonial Life, Roger Williams, John Winthrop
Books to Read: Growing Up in a New World, Rush Revere and the Brave Pilgrims
Movies/Videos Watched:  Drive Through American History Episode 2 – Pilgrims Search for Freedom, Were America Began: Jamestown, Colonial Williamsburg, Yorktown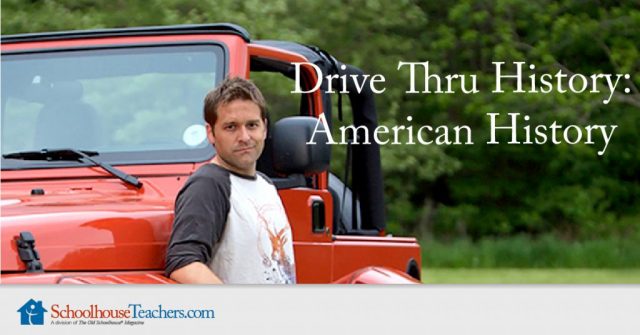 Schoolhouse Teachers.com offers access to multiple Drive Thru History Series such as American History and Ancient History! We are so excited to have a membership this year! Along with each of these videos Schoolhouse Teachers has printable worksheets with straight forward comprehension questions as well as essay questions (all with an answer key) for every episode! It's a great way to study American History!
Project: HITW Colonial Clothing from Lesson 6
1670- Rembrandt Van Rijn, Salem Witch Trials
Books to Read: What Were the Salem Witch Trials?, Rembrandt (Getting to Know the World's Greatest Artists) 
Movies/Videos Watched: The History Channel Salem Witch Trials, Rembrandt 
Project: Rembrandt Art Project from Masterpiece Society
1754- French and Indian War
Books to Read: Struggle for a Continent: The French and Indian Wars , The Last of the Mohicans, I also love this online "article" from Social Studies for Kids on The French and Indian War. It provides a kids friendly overview.
Movies/Videos Watched: When the Forest Ran Red
Project: Complete these Lapbook Components from Tina's Dynamic Homeschool Plus to add to your student's notebook
1763- Benjamin Franklin
Books to Read: Ben and Me: An Astonishing Life of Benjamin Franklin, Now & Ben: The Modern Inventions of Benjamin Franklin
Movies/Videos Watched: Beyond the Mask
Project: Here is a Printable Benjamin Franklin Timeline to add to your student's notebook, Use any or all of this FREE Benjamin Franklin Lapbook to add to your student notebook, Choose a project from the book Amazing Ben Franklin Inventions You Can Build Yourself
Not sure how to do all this? Check out How to Create a Timeline Based History Plan for all the details!
Timeline Based American History Series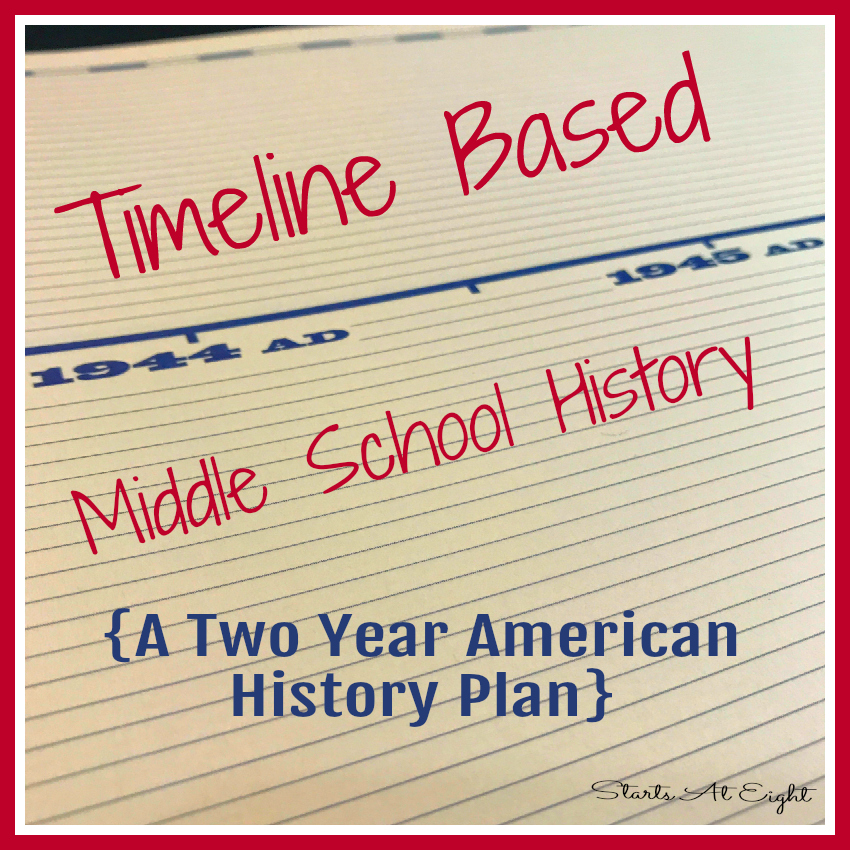 Be sure to bookmark this Timeline Based Middle School History page and check back each month as we add our resources and projects for each time period!
We will spend approximately 5 weeks per time period. With each time period below I will include a list of multiple book and video resources, as well as a project or two for that time period. Be sure to click on each time period heading (as it gets linked along the way) to see what exactly we ended up including in our study, and how exactly we did it.
Year One
1630 – 1763 – Colonial America {This Post}
1763 – 1783 – Revolutionary America
1783 – 1860 – The Young Republic & Westward Expansion
1830-1876 – Civil War/Reconstruction
Year Two
1871 – 1920 – The Gilded Age & 2nd Industrial Revolution
1914 – 1933 – WWI/Depression
1933 – 1945 – New Deal/WWII
1945 – 1960 – Postwar America
1960-1980 – The Vietnam Era
1980 – 2000 – End of the Century