I am an avid reader. Not only do I love to read, but I have worked to instill a love of reading in my children. I have participated in many books clubs over the years, both for myself and with my daughters. Even when I was in high school, summer was the time to read. During the summer I could read what I wanted because I wasn't tied to the constraints of the school year.  As a homeschooling mom I often spend time reading the books my children are reading. Now that summer is here I have some great summer reading for moms that I would love to share with you!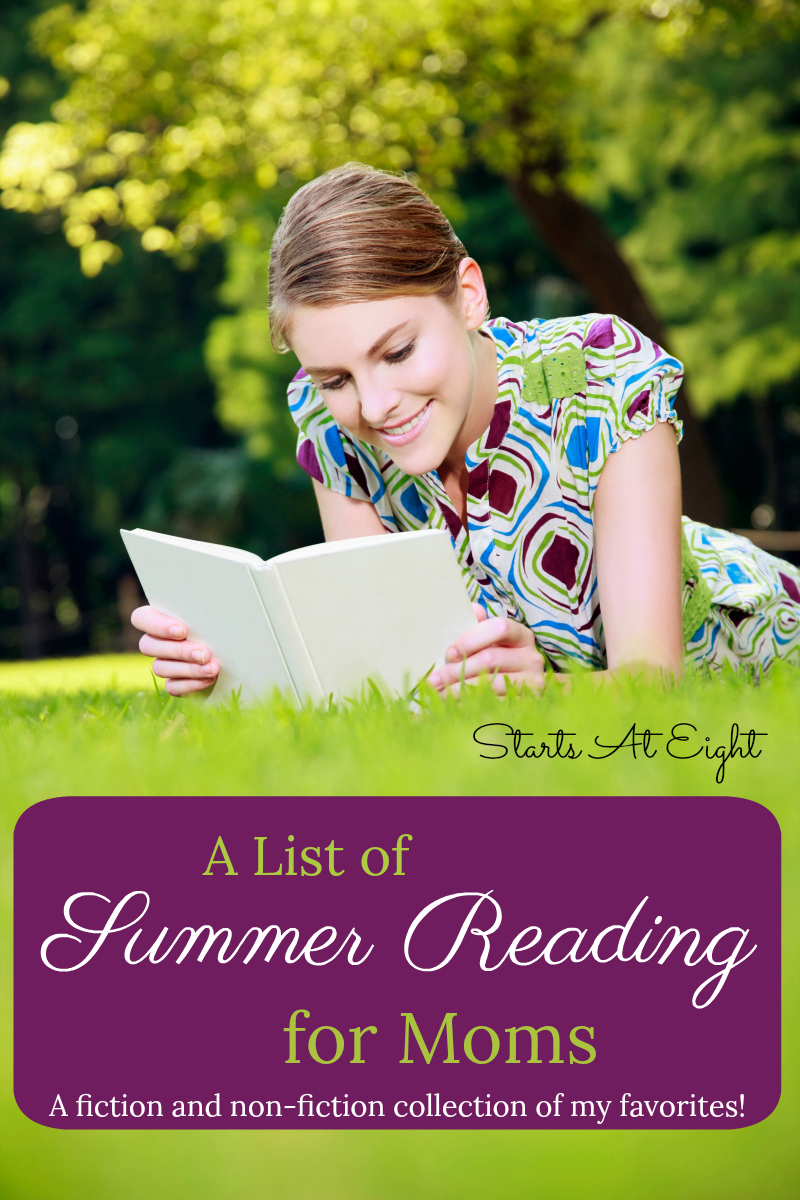 Throughout my years of blogging I have done many book reviews. My time spent reviewing books as a Litfuse Blogger introduced me to so many fabulous books that I might not have otherwise read. Now that summer is here I encourage you to take time for you, time for mom. If you are an avid reader like me, you might just enjoy this List of Summer Reading for Moms that I have compiled!
My Newest Summer Reading Find!
What are Love Inspired Books?
"Love Inspired is an imprint of Harlequin Enterprises that is focused on Christian Fiction. The original and largest body of works under the "Love Inspired" name is the romance novels.

Love Inspired Suspense and Love Inspired Historical represent a branching of the romance genre to a more particular theme and setting.

A number of books have been released as Love Inspired Special releases sometimes containing the listing of Love Inspired Classics or going under different brands.

In total more than 762 books comprise the Love Inspired brand." – Wikipedia
Love Inspired Books
This was the first time I have read any of the Love Inspired books. I wasn't quite sure what to expect. I have to say that I really enjoyed them and here are some of the reasons why:
short, easy reads make them great for sitting at appointments, or in between the kids needing something
small, compact books make them easy to transport WITHOUT being an e-book
divided into themes making it easy to stick to something you love
inexpensive to buy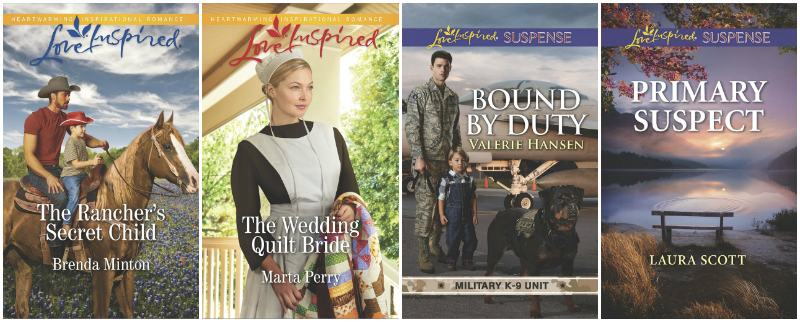 Disclaimer: I want to thank Litfuse Publicity for supplying me with copies of these book for review. While I received these free of charge in exchange for my review, my opinions are my own, and have not been influenced in any way. Please see my full Disclosure Policy for more details.
After meeting the son he never knew he had, Marcus Palermo's simple life turns upside down. Complicating things further is Lissa Hart, the boy's lovely guardian. She'll help him become a parent—but falling for a gruff cowboy is not in her plans. Will she realize her future lies in Bluebonnet Springs with the rugged rancher?
The single mom's second chance…To become one of the Brides of Lost Creek! Widow Rebecca Mast returns to her Amish community with her son and a dream—to own a quilt shop. Carpenter Daniel King is determined to help Rebecca and revive their childhood friendship. But as he bonds with her son, Rebecca's afraid the secret she's been keeping will be revealed. Can Daniel convince Rebecca he's a man she can trust—and love?
3. Bound By Duty by Valerie Hansen (Love Inspired Suspense)
The Military K-9 Unit series continues: Her serial killer brother's escaped—and it's single mom Zoe Sullivan who's under suspicion! Sgt. Linc Colson trusts two things: his instincts and his Rottweiler K-9 partner, Star—and certainly not the pretty face he's assigned to monitor. He's done everything to keep her from getting under his skin—now he must stop those who want to put her six feet under.
4. Primary Suspect by Laura Scott (Love Inspired Suspense)
A Callahan Confidential story: When fire investigator Mitch Callahan is attacked at a crime scene, he's shocked to uncover the body of a slain ex-girlfriend—and realize someone's framing him for murder. Widowed ER nurse Dana Petrie believes Mitch is innocent, and not just because he makes her feel alive again after tragedy marred her past. But is she willing to risk everything only to love and lose again?
Summer Reading for Moms – The List
As I started scrolling through all the wonderful books I have had the chance to review, I was surprised how many non-fiction books there were too! For that reason I am going to split this list up by fiction and non-fiction titles that I have loved!
Summer Reading for Moms – Fiction
Just 18 Summers – If you read anything this summer THIS IS THE ONE TO READ! Such an amazing, heart string pulling story that will call to your sense of motherhood and having quality relationships with your children. "In the end what it has all meant for me is a feeling of renewed intent to be purposeful and wise about the choices that I make. to stop for the little things, put down the distractions, turn on the timer, thus being engaged and fully present with my loved ones around me."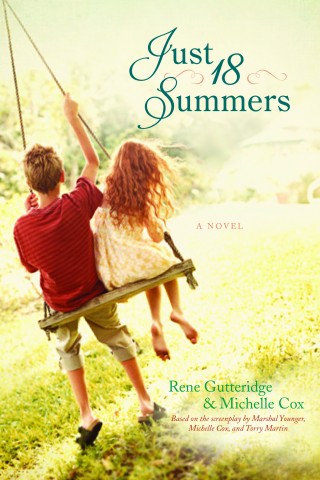 Postcards from Misty Harbor Inn Trilogy – This Postcards From Misty Harbor Inn trilogy gets 5 stars from me! If you want something on the human relationship level, with just a small amount of drama, set in a beautiful, historic place, then this is the series for you!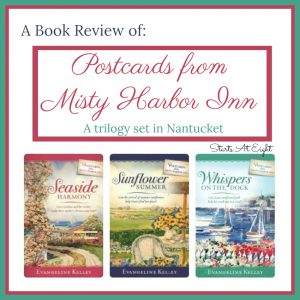 Love Arrives in Pieces – You have to give yourself permission to heal, and Brokenness can be beautiful, are just two of the encouraging sentiments found in this latest book, Love Arrives in Pieces, by Betsy St. Amant.
Becky Wade's Porter Family Series – The Porter Family Series is a true testament to strength, love, and the power of relationships. Each one of the books centers around a different Porter family member but still incorporates the others into the story. I love how you get to follow an entire family through many years, getting intimate with each of the characters along the way.
Daughters of Fortune Trilogy – These really appealed to my love of historical fiction. Susan May Warren does a fantastic job of placing you right into the time period, you are enveloped by the sights, sounds, and nuances of the time and place!
Summer Reading for Mom – Non-Fiction

Things I Wish I Had Know Before We Became Parents – While many of the early chapters in this book deal with early parenting struggles, as the book goes on it delves into important topics for parenting as the years go on. I particularly found the chapter on parents needing to apologize to be a great one! I have found myself in this position with my own children.
The 10 Myths of Teen Dating – Practical Advice for Parents – "Many parents believe they are providing the rich life for their children with hyperfocus on a single activity. But what they are really providing is the busy life."
Are You an Easy to Listen to Parent? – "Using 8 Simple Tools for Raising Great Kids by Todd Cartmell, I am transforming not only the way I interact with my children, but the way I go about correcting their behavior over the long haul."
No More Perfect Kids – I highly recommend No More Perfect Kids to any parent! It has helped, if even in small ways, me to think differently and therefore to love and react differently with my children. This is something I feel great about because I know they deserve to be loved for who they are and where they are at, and it is often easy to get caught up in ours or societies expectations.
If you read any of the books from this List of Summer Reading for Moms be sure to stop in and leave me a comment! I would love to hear what you thought!
More Summer Reading Suggestions