The Daughters of Fortune Trilogy spans three books and multiple generations of women. Susan May Warren picks you up and plops dead center in a whole new time period, where sights, sounds, emotions, and life swallow you up!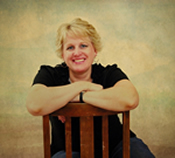 About Susan:
Susan May Warren is the bestselling, RITA Award–winning author of more than forty novels whose compelling plots and unforgettable characters have won acclaim with readers and reviewers alike. She served with her husband and four children as a missionary in Russia for eight years before she and her family returned home to the States.
She now writes full-time as her husband runs a lodge on Lake Superior in northern Minnesota, where many of her books are set. She and her family enjoy hiking, canoeing, and being involved in their local church. Several of her critically acclaimed novels have been ECPA and CBA bestsellers, were chosen as Top Picks by Romantic Times, and have won the RWA's Inspirational Reader's Choice contest and the American Christian Fiction Writers Book of the Year award. Five of her books have been Christy Award finalists.
In addition to her writing, Susan loves to teach and speak at women's events about God's amazing grace in our lives. She also runs a writing community for authors. Visit MyBookTherapy.com to learn more.
For exciting updates on her new releases, previous books, and more, visit her website.
Daughters of Fortune Trilogy
Book One: Heiress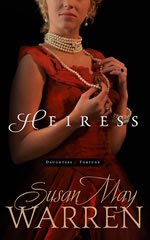 About the book: Daughters of Fortune Book 1: Heiress
Jinx and Esme can buy anything they want—fame, power, beauty, even loyalty. But they can't buy love.
The beautiful and wealthy heiress daughters of August Price can buy everything their hearts desire. But what if their desire is to be loved, without an enormous price tag attached?
When one sister betrays another for the sake of love, will she find happiness? And what happens when the other sets out across the still untamed frontier to find it—will she discover she's left it behind in the glamorous world of the New York gilded society? What price will each woman pay for being an heiress?
Set in the opulent world of the Gilded Age, two women discover that being an heiress just might cost them everything they love.
What I Thought:
There is no way this book could get any better! It is both beautifully detailed and incredibly engaging! As part of this tour we received the books late, for whatever reason, and I was worried about getting this read in time. My worries were put to bed almost immediately as I was swooped into the Gilded Age with Jinx and Esme. I inhaled the first half of the book in just one evening, and quickly stole moments over the next day or two to transport myself back into their world of high society clothing, parties, and etiquette.
From corsets to suitors to the haves and have nots, this historical fiction sends you straight into the sights and sounds of turn of the century New York City as well as a rough western mining town in Montana. There is love, betrayal, sinister plots, secrets revealed, hearts broken and mended, and lessons learned. As you follow Jinx and Esme, two very different sisters, you are very much reminded of the things that are most important, and that every decision leaves you with a consequence that you may not have bargained for.
Book Two: Baroness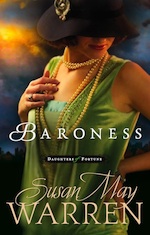 About the Book: Daughters of Fortune Book Two: Baroness
Lily and Rose, daughters of an empire coming of age in the roaring twenties, can have anything they want … except freedom.
Expected to marry well and to take the reins of the empire, they have their lives planned out for them. But, Lily, Esme's daughter longs to return home to Montana, to adventure outside the confines of New York City. And Jinx's daughter Rosie dreams of the bright lights of the newly emerging silver screen. But following their dreams – from avant garde France, to Broadway, to the skies in the world of barnstormers and wing-walkers will take all their courage.
And if they find love, will they choose freedom or happily ever after?
What I Thought:
I had the pleasure of being on the blog tour for the first book in this series, Heiress. From the beginning I felt it was engaging to continue in this family's story. We are now entering the lives of Esme and Jinx's daughters, Lily and Rose. Once again I am completely transported into the time era of the story. This new generation is pushing for change and independence and you feel it in every corner of this book. The 20s were are time of change and both Lily and Rose are not about to be left out!
I found it most interesting that the plot line of this second book was similar to that of the first. Each woman takes a journey which leads her away from her originally intended goal, either by some sort of horrible scheme, illusion, or tragedy. But the end seems to come fairly full circle, back to where she began, only with a twist. I have yet to decide it I liked this, or if I found it becoming predictable in a sense. Either way I am looking forward to the third novel in this series!
Book Three: Duchess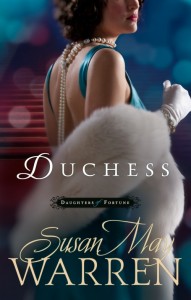 About the Book: Daughters of Fortune Book Three: Duchess
When her country needs her, will she have the courage to surrender her glittering world and her one true love?
The golden age of Hollywood is in the business of creating stars. Rosie Worth, now starlet Roxy Price, has found everything she's wanted in the glamour of the silver screen. With adoring fans and a studio-mogul husband, she's finally silenced the voices—and grief—of the past. Her future shines bright…until the fated Black Friday when it all comes crashing down.
When Roxy loses everything, she finds herself disgraced and penniless. Her only hope is to join forces with Belgian duke Rolfe Van Horne, a longtime film investor. But Rolfe is not who he seems, and he has other plans for Roxy and her movies—plans to support a growing unrest in Europe, plans that could break her heart and endanger her life.
What I Thought:
Duchess is the final book in the Daughters of Fortune trilogy, which spanned multiple generations, and with Duchess brings them all to an epic close in the end. With each book in this series I was totally engrossed and enveloped by the vivid work of Susan May Warren. She picks you up and plops dead center in a whole new time period, where sights, sounds, emotions, and life swallow you up!
In the case of Duchess, the golden age of the movies in the 20s and Hollywood was intertwined with the turmoil pre WWII in Germany. Rosie/Roxy takes us on a life journey full of glitz and glam, love and heartache. Be prepared for another roller coaster ride of emotions that won't disappoint.
If you haven't read the first two in this trilogy I highly recommend reading them first. It has been a bit since I read them and now I want to go back and read them again! Duchess stands alone as a book worth reading, but the trilogy together is a must read thrilling journey not to be missed!
---
Disclaimer: I want to thank Susan May Warren, and Litfuse Publicity for supplying me with a copy of these book for review. While I received them free of charge in exchange for my review, my opinions are my own, and have not been influenced in any way.