The Porter Family Series is a true testament to strength, love, and the power of relationships. Each one of the books centers around a different Porter family member but still incorporates the others into the story. I love how you get to follow an entire family through many years, getting intimate with each of the characters along the way.
COLLAGE IMAGE OF ALL 4 BOOKS
Meet Becky Wade:
Becky Wade is a graduate of Baylor University.
As a newlywed, she lived for three years in a home overlooking the turquoise waters of the Caribbean, as well as in Australia, before returning to the States. A mom of three young children, Becky and her family now live in Dallas, Texas.
Becky says, "I happen to love stories about love.  Romance novels are absolutely, 100%, no-doubt-about-it, my favorite kind of book.  Ultimately, we know that stories with everlasting love at the core are the most uplifting, entertaining, fun, and positive books around.  And that is why we read them."
Porter Family Series
Book One: Undeniably Yours 
About the Book: Porter Family Series Book 1: Undeniably Yours
When Meg Cole's father dies unexpectedly, she's forced to return home to Texas and to Whispering Creek Ranch to take up the reins of his empire. The last thing she has the patience or the sanity to deal with? Her father's Thoroughbred racehorse farm. She gives its manager, Bo Porter, six months to close the place down.
Bo knows he ought to resent the woman who's determined to take from him the only job he ever wanted. But instead of anger, Meg evokes within him a profound desire to protect. The more time he spends with her, the more he longs to overcome every obstacle that separates them and earn her love.
Just when Meg realizes she can no longer deny the depth of her feelings for Bo, their fragile bond is broken by a force from Meg's past. Can their relationship-and their belief that God can work through every circumstance-survive?
"A very high wall circled Whispering Creek's property. Cutting edge technology kept watch over its buildings. And an armed guard manned the gate. Most people would have considered her safe enough without insisting she lock the guesthouse door behind her.
But Bo Porter wasn't most people.
She didn't know . . . Her heart squeezed with longing. She didn't know what he was to her yet."
What I Thought:
Like author Becky Wade, I love a good romance. I find myself getting so swept up in the nuances of the love dance between two people that time just melts away.
Undeniably Yours does not fall short in this department! In fact, if anything I found myself a little bit tired of each ones pining for the other in their quite moments. While I had to keep reading to find out how it all played out, I was disappointed by how cliche' the stereotypes were in this book…from the very rigid and obvious distinction between "the Texas cowboy" that always has a gun in his truck, to the put on a pedestal, untouchable rich girl who even has her appearance together while working out, to the mysterious man that conveniently appears in their time of need, it was all a little much.
I did however find Bo and his family endearing and the fact that this is Book #1 in the Porter Family Series has me intrigued as to how his other family members will play out in upcoming books.
Book Two: Meant to Be Mine
About the Book: Porter Family Series Book 2: Meant to Be Mine
Ty Porter has always been irresistible to Celia Park. All through high school—irresistible. When their paths cross again after college—still irresistible. This time, though, Ty seems to feel exactly the same way about Celia. Their whirlwind romance deposits them at a street-corner Las Vegas wedding chapel.
The next morning they wake to a marriage certificate and a dose of cold reality. Celia's ready to be Ty's wife, but Ty's not ready to be her husband. He's a professional bull rider, he lives on the road, and he's long planned to settle down with the hometown girl he's known since childhood.
Five and a half years pass. Celia's buried her dreams so that she can afford to raise her daughter. Ty's achieved all of his goals. Or thought he had, until he looks again into the eyes of the woman he couldn't forget and into the face of the child he never knew he had.
How much will Ty sacrifice to win back Celia's trust and prove to her that their spontaneous marriage can still become the love of a lifetime?
What I Thought:
While I did read Book One in the Porter Family Novels – Undeniably Yours, Meant to Be Mine was still able to stand on its own.  In other words, you didn't have to read Undeniably Yours to read, follow, and love Meant to Be Mine.
And boy did I LOVE, LOVE, LOVE Meant to be Mine!  I read this book at lightning speed because I couldn't put it down!
Celia is a strong, proctective mother who is guarding her heart and her daughter.  The "dance" between her and Ty Porter is so sweet and engaging.
If you love a good romance, some insightful and engaging characters, and a couple to hope and cheer for then Meant to Be Mine is "Meant to Be Yours!"
Book Three: A Love Like Ours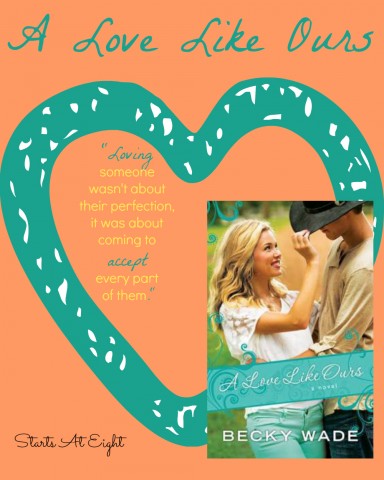 About the Book: Porter Family Series Book 3: A Love Like Ours
A story of healing, romance, and cowboys. A glimmer of the hope Jake thought he'd lost returns when Lyndie lands back in Texas, but fears and regrets still plague him. Will Jake ever be able to love Lyndie like she deserves, or is his heart too shattered to mend?
Former Marine Jake Porter has far deeper scars than the one that marks his face. He struggles with symptoms of PTSD, lives a solitary life, and avoids relationships.When Lyndie James, Jake's childhood best friend, lands back in Holley, Texas, Jake cautiously hires her to exercise his Thoroughbreds. Lyndie is tender-hearted, fiercely determined, and afraid of nothing, just like she was as a child. Jake pairs her with Silver Leaf, a horse full of promise but lacking in results, hoping she can solve the mystery of the stallion's reluctance to run.
Though Jake and Lyndie have grown into very different adults, the bond that existed during their childhood still ties them together. Against Jake's will, Lyndie's sparkling, optimistic personality begins to tear down the walls he's built around his heart. A glimmer of the hope he'd thought he'd lost returns, but fears and regrets still plague him. Will Jake ever be able to love Lyndie like she deserves, or is his heart too shattered to mend?
What I Thought:
One of my favorite things about this book (and this series) is that it focuses on characters that are connected together. You can revisit characters in this book that you visited and shared in their stories from previous books in this series.
You can check out my review of the two previous books: Undeniably Yours (Book One) and Meant to be Mine (Book Two). But know that you do not have to read these two in order to read and fall in love with Jake and Lyndie!
Jake and Lyndie's story stands all on their own. I love the under-riding current of a deeper connection between these two that runs throughout the book. Beyond that I love the inside peek you get at the world of horse training and horse racing. The humorous way Lyndie and her neighbor Amber go about fulfilling their 3 date quota will have you laughing and rooting for the two of them to find the true love they so desire. This is a love story worth the read!
Book Four: Her One and Only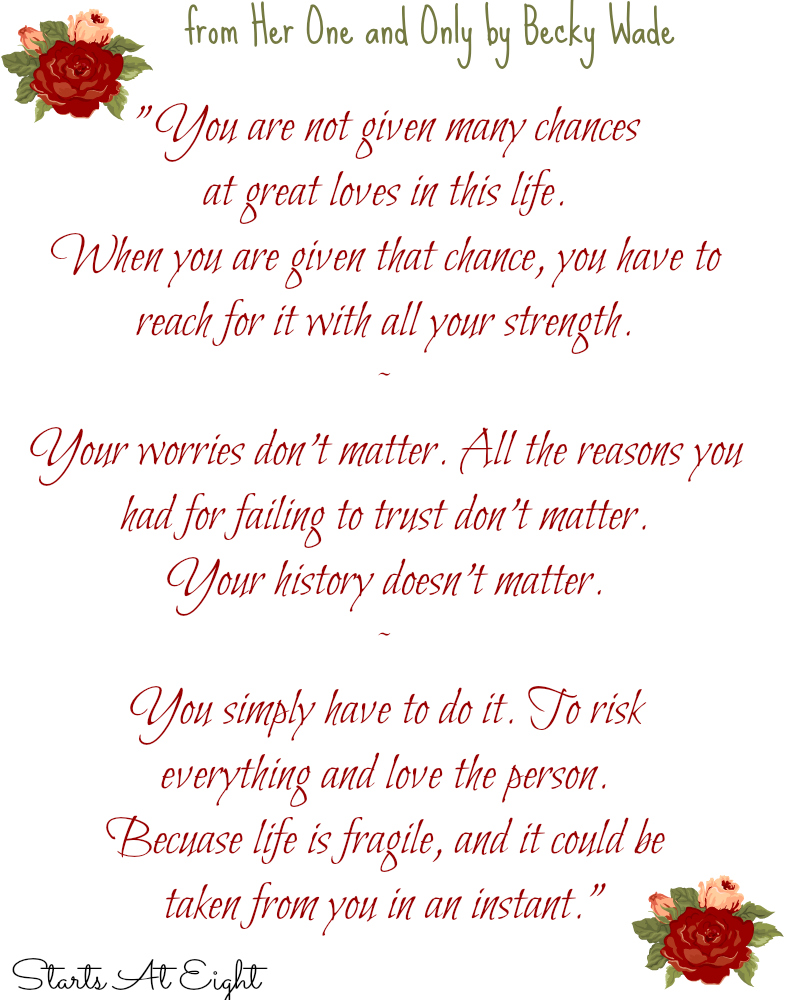 About the Book: Porter Family Series Book 4: Her One and Only
After ten years in the NFL, super star Gray Fowler is accustomed to obsessive fans.
But when Gray starts receiving death threats from a stalker, his team hires an executive protection agency to guard him until the culprit is caught. Dealing with bodyguards 24/7 is a headache, especially when one of them is a young, beautiful woman. How can a female half his size possibly protect him better than he can protect himself?
Dru Porter is a former Marine, an expert markswoman, and a black belt—none of which saved her from disaster on her last assignment. In order to rebuild her tarnished reputation, she's determined to find Gray's stalker and, since relationships between agents and clients are forbidden, avoid a romantic attachment between herself and the rugged football player with the mysterious past.
Yet every secret that leads Dru closer to the stalker also draws her closer to Gray. As the danger escalates, they'll survive only if they can learn to trust their lives—and their hearts—to one another.
What I Thought:
I can't believe we have waited years to find out how this story ends!
Each of the books in the Porter Series can stand alone, but reading them all, and following the story of the Porter children has been so fulfilling.
I gravitate towards the messages about strong marriages, the bonds between husband and wife, and the need to find that person who completes you.
What is fun about a series like this is that each book has a focus on one character while the others still play a role. Therefore in each book you see each of the Porter siblings and hear a little about them, but each one is also the focus of one book.
Dru was a little different because she is the only girl in the family. It was awesome to see her mix of strength and vulnerability. Plus we got to see a little bit of each one of her brothers and find out how their lives were turning out!
The Porter Series is a 5 star read in my book!