The Postcards from Misty Harbor Inn trilogy introduces readers to Caroline, Gracie and Sam as they gather for a vacation where they spent the summers as children, and follows their adventures as they fulfill their mother's dream of opening a bed and breakfast on the historic and charming island of Nantucket.
A team of four authors come together under the pen name of Evangeline Kelley to bring the unique personalities of each sister to vivid life and welcome audiences to the charming and historic island of Nantucket, complete with cobblestone streets, quaint shops, ferries, sandy beaches and salty air.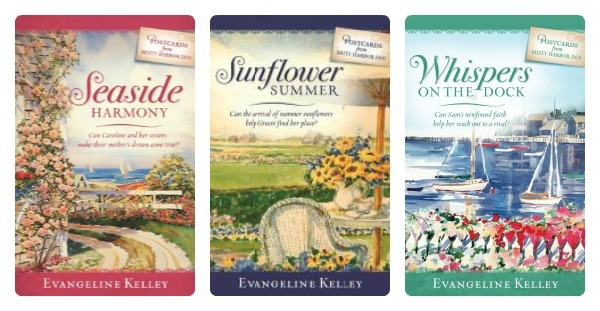 I had the opportunity to read and review all 3 books in this trilogy.
About Evangeline Kelley
Evangeline Kelley is the pen name for the writing team of Patti Berg, Pam Andrews & Barbara Hanson, and Camy Tang, the four authors who collaborated to create Postcards from Misty Harbor Inn. Each of them has published novels individually, but this is their first series together.
Find out more about Evangeline at http://amzn.to/10d3FZM.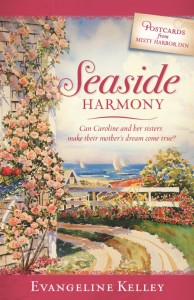 Three sisters, a charming inn, hints of mystery and romance, and a gorgeous seaside setting. Summer reading at its finest!
When Caroline Marris joins her sisters, Gracie Gold and Sam Carter for a Nantucket Island getaway, she has no idea how it will change her life. The sisters stumble upon Misty Harbor Inn, the place their late mother loved so much, and Caroline talks her sisters into buying the beautiful but dilapidated inn. But can free-spirited Caroline stay focused enough to make opening the inn a reality? Hand-drawn old postcards draw the sisters into the mystery of Hannah Montague, the young widow of the original owner. Can the sisters uncover the fate of this woman who disappeared in 1880? As Caroline and her sisters work together to make their mom's dream a reality, they bond in ways they never expected.
Misty Harbor Inn officially opens, and Gracie Gold, the middle Marris sister, wrestles with an overwhelming decision. As the sisters learn the day-to-day workings of running an inn, Gracie counsels its first guests, newlyweds whose honeymoon seems to be ending before it begins. Meanwhile, Sam's discovery of a clue in a secret room sheds unflattering light on Hannah Montague, who vanished from the house more than one hundred years ago. And as Gracie and Caroline welcome guests to the inn, they are delighted to see how God uses it — and them — to deepen relationships and transform lives.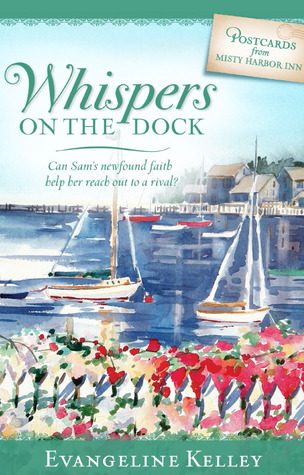 As Nantucket reaches the pinnacle of its summer glory, and the Marris sisters welcome guests at Misty Harbor Inn, youngest sister Sam Carter enters her mother's cobbler recipe in the Summerfest baking contest. But she faces a formidable opponent, a past winner who is determined to keep her title even if it means stooping to dirty tactics. Can Sam's new found faith help her rise above the fray and reach out to this lonely woman?
Meanwhile, an elderly guest arrives who knows the inn's history, and the sisters are stunned to learn that their late mother lived there as a child. But she told them she'd never been to Nantucket until her honeymoon! Through the woman's reminiscences and photos, the sisters make an intriguing discovery — not only about the mysterious Hannah Montague, the young woman who disappeared from the house in 1880, but also about their own family history.
My Thoughts on the Postcards from Misty Harbor Inn Trilogy
These books were so engaging that I couldn't put them down! The books flow seamlessly together, carrying you on a journey with Caroline, Gracie, and Sam. Not only do you get wrapped in the intrigue of the history of the prior residents of the inn (like Hannah Montague who mysteriously disappeared), but you also get enraptured with the interesting characters that come into contact with the 3 sisters from private companions to others on the island, as well as inhabitants that come to stay at the inn.
While the three main characters of these books are around 20 years older than myself I find them and their struggles to be easy to relate to. They find themselves struggling with everyday issues that you or I might struggle with as well. Then add in some added mystery, romance, and intriguing extra characters and you have an enjoyable summer/beach read.
I love that each book sets its main storytelling focus from different characters; starting with Caroline in Seaside Harmony, then Gracie in Sunflower Summer, and then Postcards from Misty Harbor Inn continues with its focus on Sam carter, the third and final Marris sister in Whispers on the Dock.
In all three books the flow rolls like the waves on the Nantucket shore, making these easy, enjoyable stories to curl up with. The third book takes a bit of a quicker pace than the first two did as there is a lot of ground to cover in uncovering the mystery of Hannah Montague! You find out answers to your questions such as, "What happened to Hannah?", and also get to partake in watching Sam rise above, bringing sincerity and consideration to an unlikely relationship.
This Postcards From Misty Harbor Inn trilogy gets 5 stars from me! If you want something on the human relationship level, with just a small amount of drama, set in a beautiful, historic place, then this is the series for you!
---
Disclaimer: I want to thank the collective writers penned Evangaline Kelly and Litfuse Publicity for supplying me with a copies of all 3 books to review. While I received them free of charge in exchange for my review, my opinions are my own, and have not been influenced in any way.