The American Revolution is ending and a new, young republic has emerged. The United States is working to establish laws and begins the period of Westward Expansion during the early 19th Century.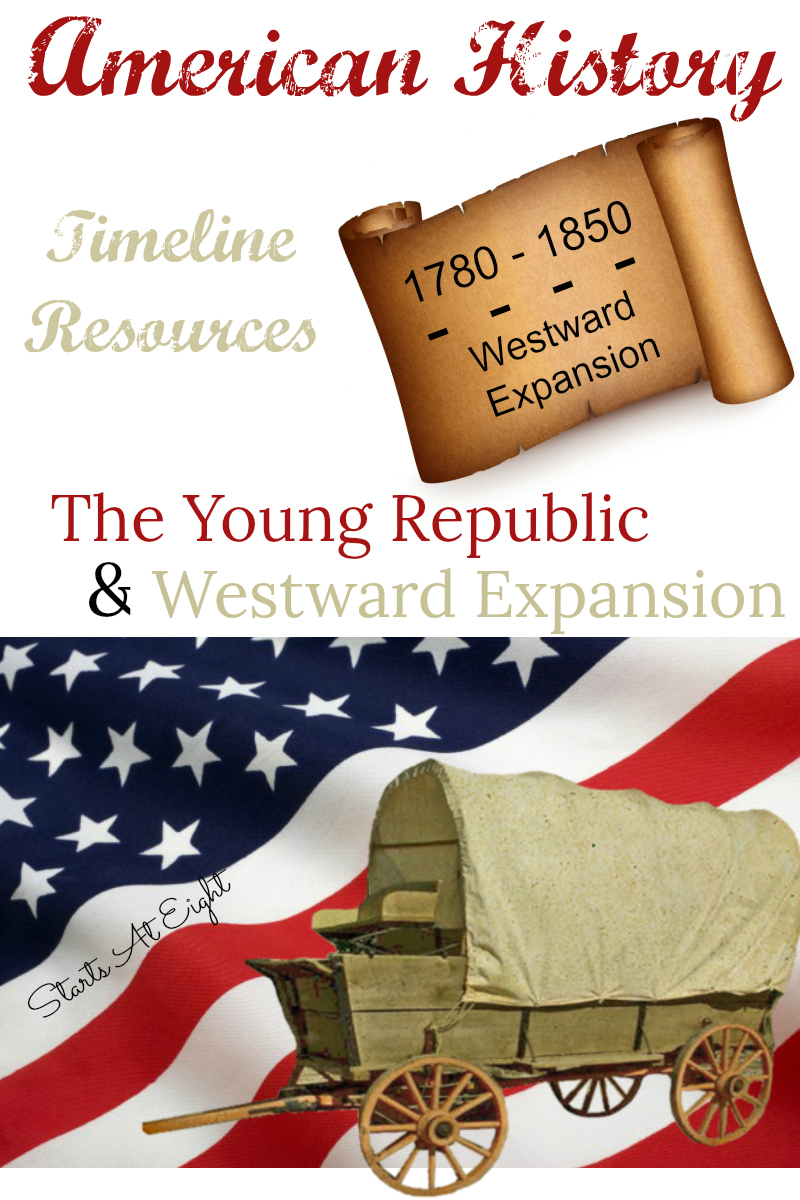 Our previous installments of American History Timeline Resources include:
We begin this period (The Young Republic & Westward Expansion) where we left off (at the end of the American Revolution), with some overlap as we take a look at the Young Republic and Westward Expansion.
American History Timeline Resources: The Young Republic & Westward Expansion
Many of the projects and brief readings for The Young Republic in this time period come from the Home School in the Woods – History Through the Ages – Time Traveler Series. In the case of this time period we are using History Through the Ages – Time Travelers – The Early 19th Century.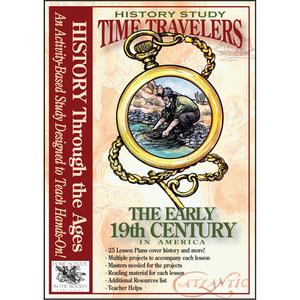 All the names in the red headlines are ones we will be adding to our timeline notebook. While we may not study each one in depth, we will touch on them in some manner in relation to the given time period. Each time period will be covered over the span of approximately one week.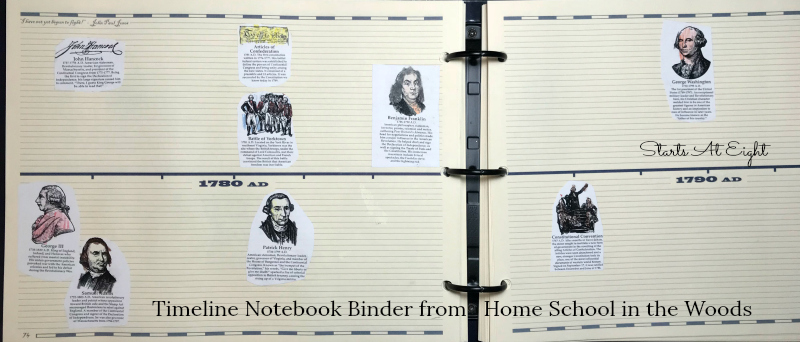 * Please note that what movies you choose to watch with your children is a personal choice. Be sure to screen the movies and decide for yourself if you want to show them to your children.
1781 – 1787 Articles of Confederation, Shays' Rebellion, Constitutional Convention
Books to Read: 
We took this opportunity to spend time learning not just about how the US Constitution came about but also to take a look at the document itself. We found that using simpler books that broke the text down for us was easier than some of the more in-depth adult books. Here is a collection of some of the books on our list:
Movies/Videos Watched:
"AMERICA, 1786. Ten years have past since the signing of the Declaration of Independence. But America's hopes for a united country are dangerously threatened. England wages a new war of unfair trade and tariffs. Fragmented states continually bicker over currencies, trade, taxations. America is a powder keg ready to explode.
But a handful of brilliant courageous men, James Madison, George Washington, and Benjamin Franklin, lead a three year diplomatic battle that culminates in Philadelphia. There they created a new form of government…one that has since become the standard of freedom and democracy for the rest of the world.
A More Perfect Union is the film enactment of the birth of the Constitution and was shot on location at Independence Hall and other historic locations in Virginia"
2. Crash Course – The Constitution
1789 – 1803 Eli Whitney (Cotton Gin)
Books to Read: 
Eli Whitney and the Cotton Gin (Inventions and Discovery) – Tells the story of how Eli Whitney invented the cotton gin, and the effects it had on the Southern United States. Written in graphic-novel format.
Movies/Videos Watched:
1. How the Cotton Gin Works
2. Eli Whitney – Fast Facts
1803 – 1806 
Louisiana Purchase, 
Lewis and Clark Expedition
Books to Read: 
What Was the Lewis and Clark Expedition? – When Meriwether Lewis, William Clark, and the "Corp of Discovery" left St. Louis, Missouri, on May 21, 1804, their mission was to explore the vast, unknown territory acquired a year earlier in the Louisiana Purchase. The travelers hoped to find a waterway that crossed the western half of the United States.
Have your student fill out these FREE Who Was Biography Notebook pages to put into their notebook.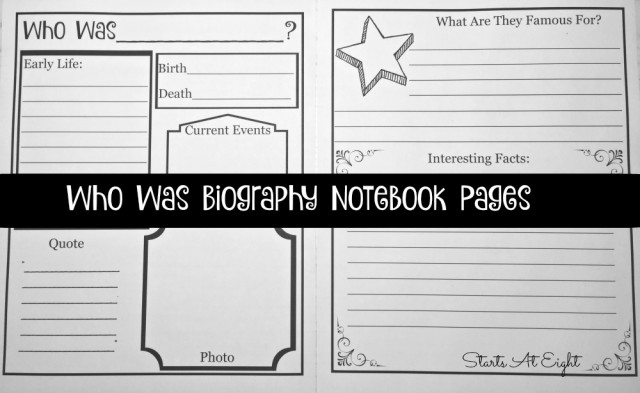 Movies/Videos Watched: 
Project:
1. Ultimate Lewis & Clark – This page is filled with tons of lessons, books, activities, and printables. Related to Lewis & Clark. Pick and choose what activities and printables you would like to have your student do and add to their notebook.
2. The Trip West in a Covered Wagon from Home School in the Woods History Through the Ages – Time Travelers – The Early 19th Century Lesson 18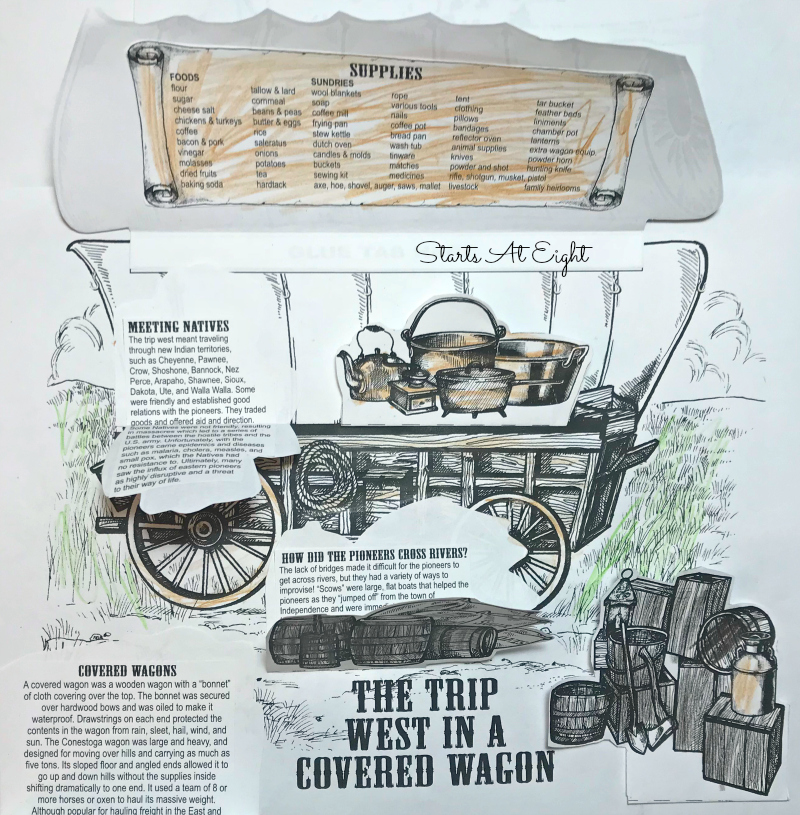 1812 – 1815 War of 1812, James Madison
Books to Read: 
We found four great books on the War of 1812. I recommend you read at least one of the first two as they are more of a straight facts type of book. Then read at least one of the second two that are story style: one has a female lead character, and one a male!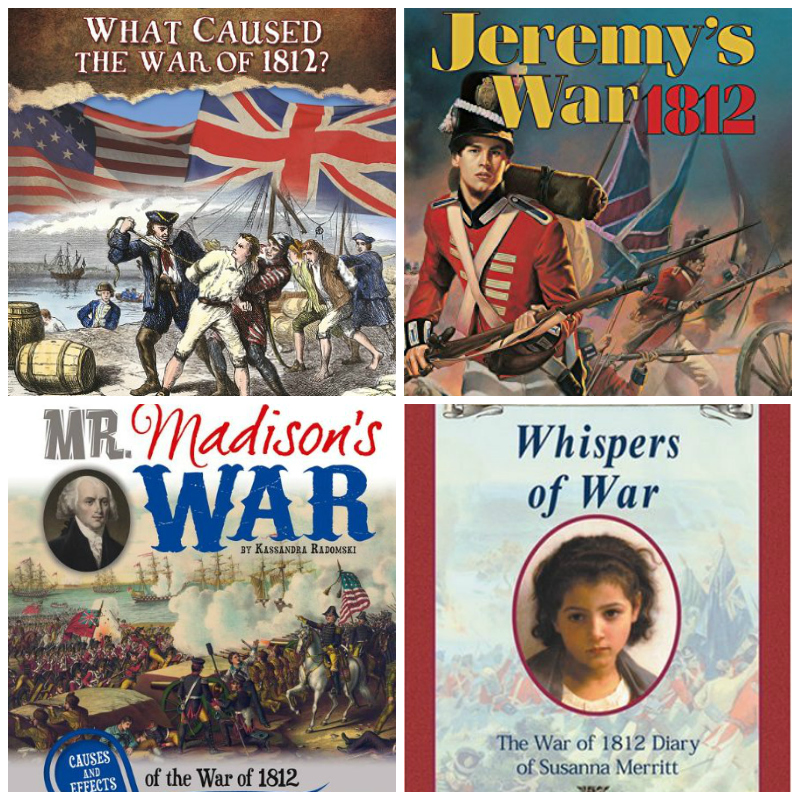 Movies/Videos Watched:
The War of 1812 PBS Documentary – This is a two-hour documentary looking at the war from several perspectives, the American, Canadian, British and Native American.
Project:
Main Causes and Events of the War of 1812 from Home School in the Woods History Through the Ages – Time Travelers – The Early 19th Century Lesson 6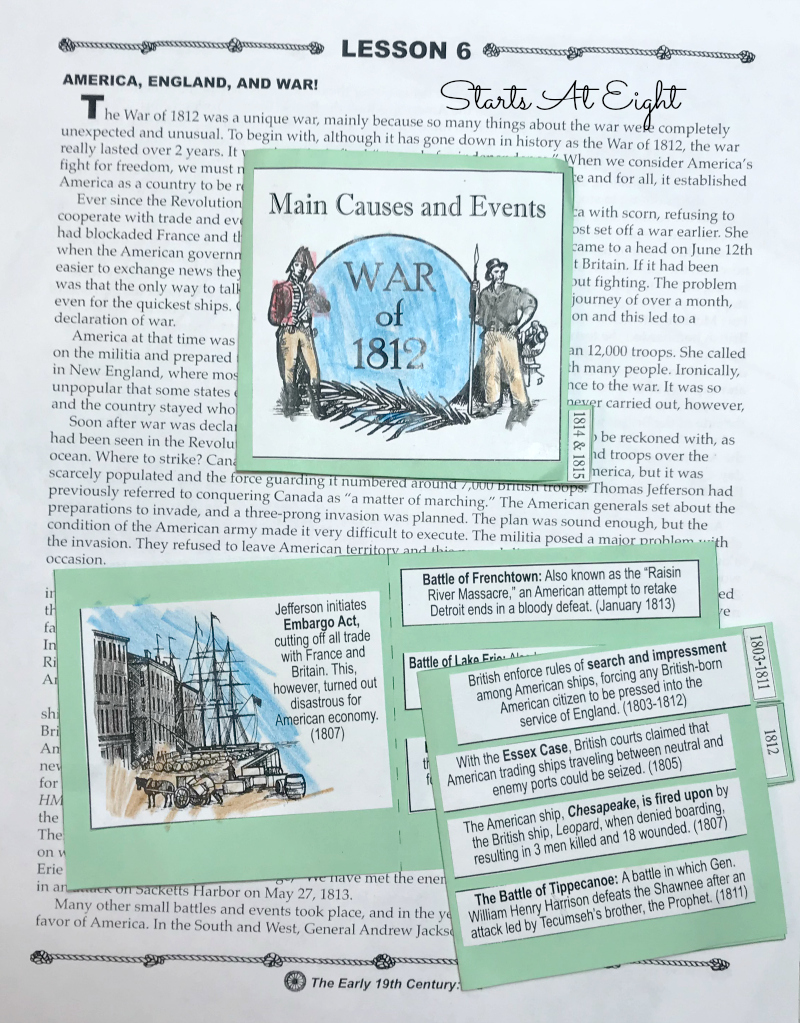 1811 -1840 The Oregon Trail
Books to Read: 
The Oregon Trail: An Interactive History Adventure – You're living in the United States during the time of the Westward Expansion. Settlers are heading west on the Oregon Trail as they seek better lives. Will you: Go west with your family as part of a wagon train? Serve as a trail guide for a group of settlers? Try to cope with the changes in your way of life as a western American Indian? Everything in this book happened to real people. And YOU CHOOSE what you do next. The choices you make could lead you to opportunity, to wealth, to poverty, or even to death.
Daily Life in Covered Wagon – Drawing on diaries and letters, and illustrated with photographs of actual object from the past, Daily Life in a Covered Wagon explores what life was really like on the wagon trail.
Westward Expansion: An Interactive History Adventure – Describes the people and events of the age of Manifest Destiny and the American West. The reader's choices reveal the historical details from the perspective of a traveler on the Oregon Trail, a laborer, or a Sioux warrior. As with the Oregon Trail book, this was another one my daughter loved. It made everything come to life for her! So much so that with each of the books she chose to read every scenario!
Movies/Videos Watched:
Westward Ho The Wagons! – based on the novel Children of the Covered Wagon this is the story of a wagon train heading west on the treacherous Oregon Trail.
Project: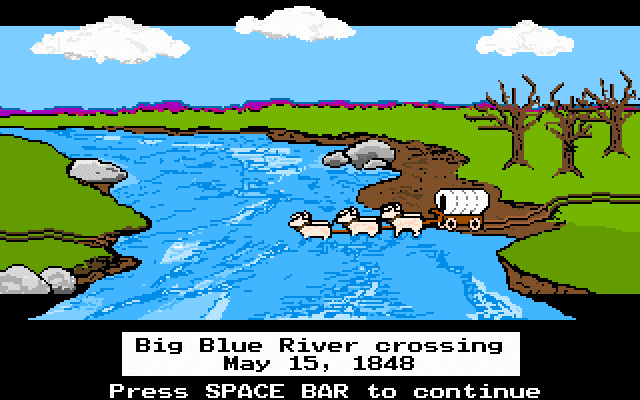 Play this online Oregon Trail Game – The Oregon Trail is a computer game originally developed by Don Rawitsch, Bill Heinemann, and Paul Dillenberger in 1971 and produced by MECC in 1974. The original game was designed to teach school children about the realities of 19th century pioneer life on the Oregon Trail. The player assumes the role of a wagon leader guiding his party of settlers from Independence, Missouri, to Oregon's Willamette Valley over the Oregon Trail via a Conestoga wagon in 1848. In this game you can choose to be a banker from Boston, a carpenter from Ohio, a farmer from Illinois. It's kind of life a computerized choose your own adventure!
 Map of the Growth of the Nation – Home School in the Woods History Through the Ages – Time Travelers – The Early 19th Century Lesson 2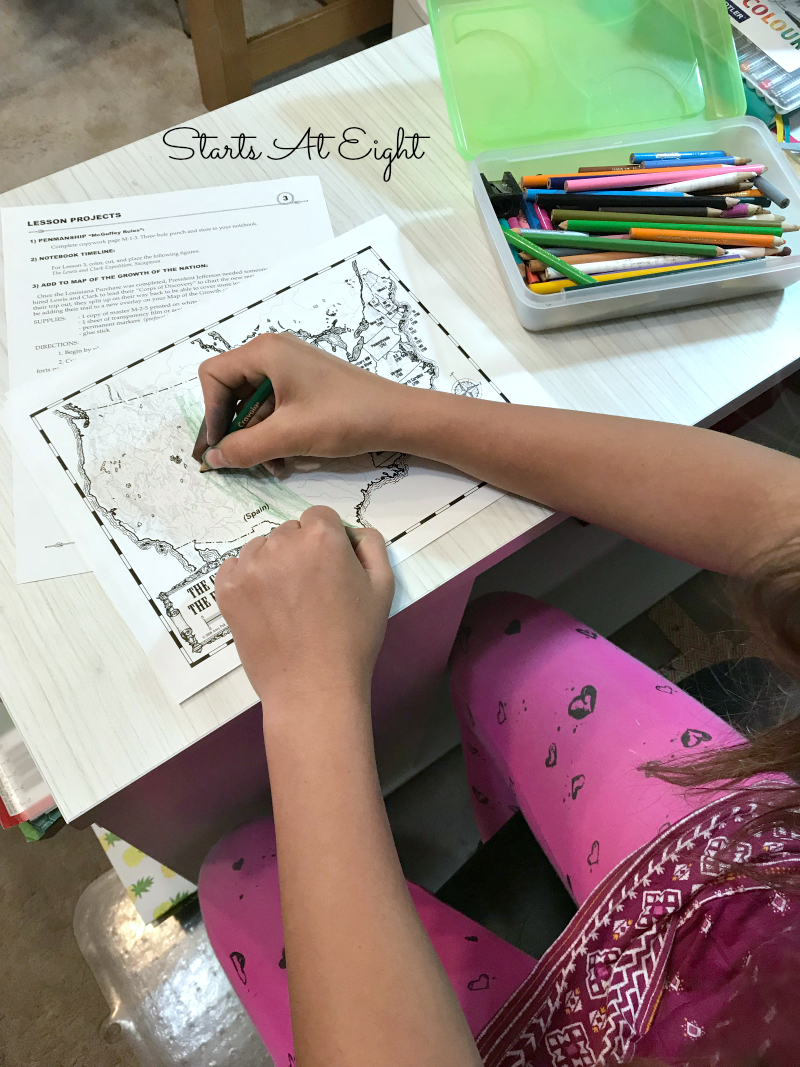 1815 – 1850 Missouri Compromise, Monroe Doctrine, Manifest Destiny, California Gold Rush
Books to Read: 
The Monroe Doctrine: The Birth of American Foreign Policy – "American foreign policy has been shaped for almost 200 years by the words of President James Monroe. What did Monroe's words mean, and how did they create a uniquely American foreign policy? Readers find the answers to these questions and many more as they explore the major points of the Monroe Doctrine. They also discover the historical circumstances that influenced the Monroe Doctrine, as well as the actions taken throughout American history because of it. "
The California Gold Rush – This is another interactive history adventure. Since my daughter loved the other ones so much we went ahead and read this one too! These books do a great job of putting right into the time period, giving you a chance to make some of the decisions yourself to see how it will turn out.
Movies/Videos Watched:
American Experience: The Gold Rush – A PBS Home Video that incorporates "rare and exquisite daguerreotypes and original recreations, this film offers a vivid portrait of a seminal event in America's history." We found this documentary to be at a perfect level for my middle schooler. What I love about these is that it isn't only historians and facts, but they do reenactments as well to help the history come alive!
Project:
1. Go Mining!
We haven't "officially" done this yet, We have practiced in near by creeks, but we are planning a trip to the Herkimer Diamond Mines to do a little prospecting of our own!
This is a great video on how to man for gold that is interesting to watch, even if you can't go try it yourself!
Not sure how to do all this? Check out How to Create a Timeline Based History Plan for all the details!
Timeline Based American History Series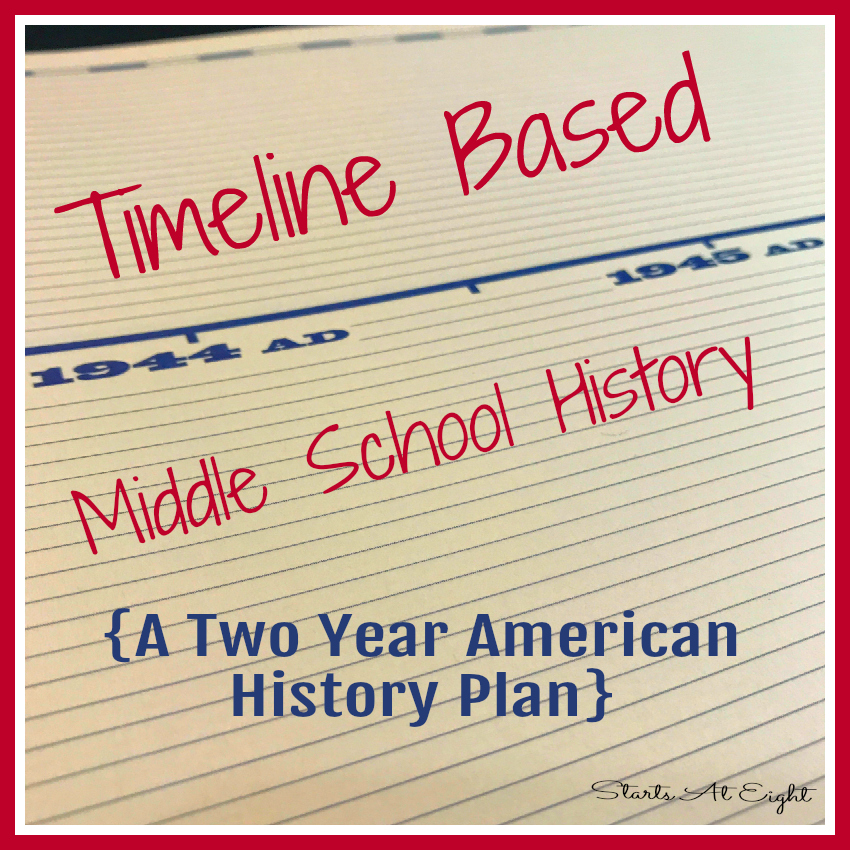 Be sure to bookmark this Timeline Based Middle School History page and check back each month as we add our resources and projects for each time period!
We will spend approximately 5 weeks per time period. With each time period below I will include a list of multiple book and video resources, as well as a project or two for that time period. Be sure to click on each time period heading (as it gets linked along the way) to see what exactly we ended up including in our study, and how exactly we did it.
Year One
1630 – 1763 – Colonial America
1763 – 1783 – The American Revolution
1783 – 1860 – The Young Republic & Westward Expansion {This Post}
1830-1876 – Civil War/Reconstruction
Year Two
1871 – 1920 – The Gilded Age & 2nd Industrial Revolution
1914 – 1933 – WWI/Depression
1933 – 1945 – New Deal/WWII
1945 – 1960 – Postwar America
1960-1980 – The Vietnam Era
1980 – 2000 – End of the Century