Welcome to Day Two of my 5 Days of DIY Christmas Ornaments for Kids! Today is all about Yarn DIY Christmas Ornaments.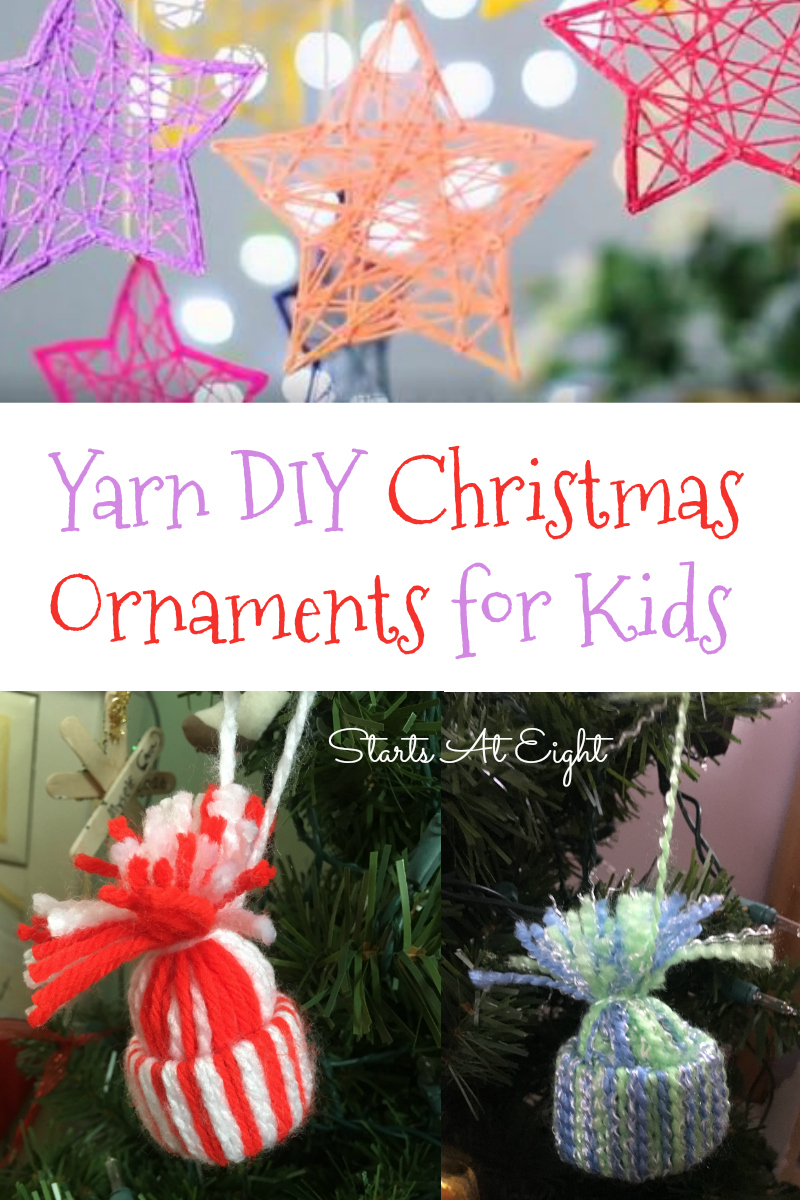 We created two different yarn ornaments ourselves, and I have a few other fun ones that I found around the web for you to try! So pick up some yarn and get crafting!
Yarn DIY Christmas Ornaments for Kids
Yarn Hat Ornament
Supplies:
2 colors of yarn (cut in 25 (per color) 12 inch strips for a total of 50)
toilet paper roll (cut in thirds – you only need one third)
1 Kleenex
scissors
Directions: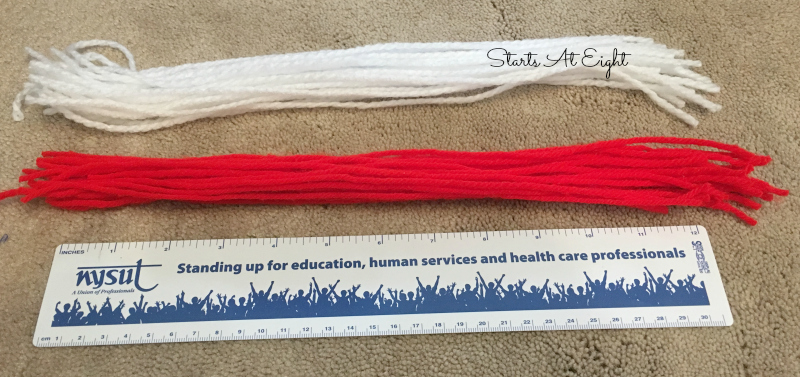 Take one piece of yarn and match the two cut ends, forming a "U" on one end. Feed the "U" part of the yarn through the center of the toilet paper roll.
Feed the other ends of the yarn through the "U", wrapping the yarn around the toilet paper roll.
Pull tight so a knot forms on one edge of the roll.
Continue this until the roll is filled with yarn. You won't necessarily use all 50 as it depends on the thickness of the yarn.
Gather all the yarn together. Using a spare piece of cut yarn tie the bunch together.
Take one piece of Kleenex and split the two layers apart. Using on layer fill the inside of your hat to make the shape firm.
Cut the yarn to the length you would like the pompom to be. I left the string I used to tie off the bundle uncut to be used as the hanger.
Just in case you were wondering, these hats are one of my favorites!
Swirled Yarn Stars or Trees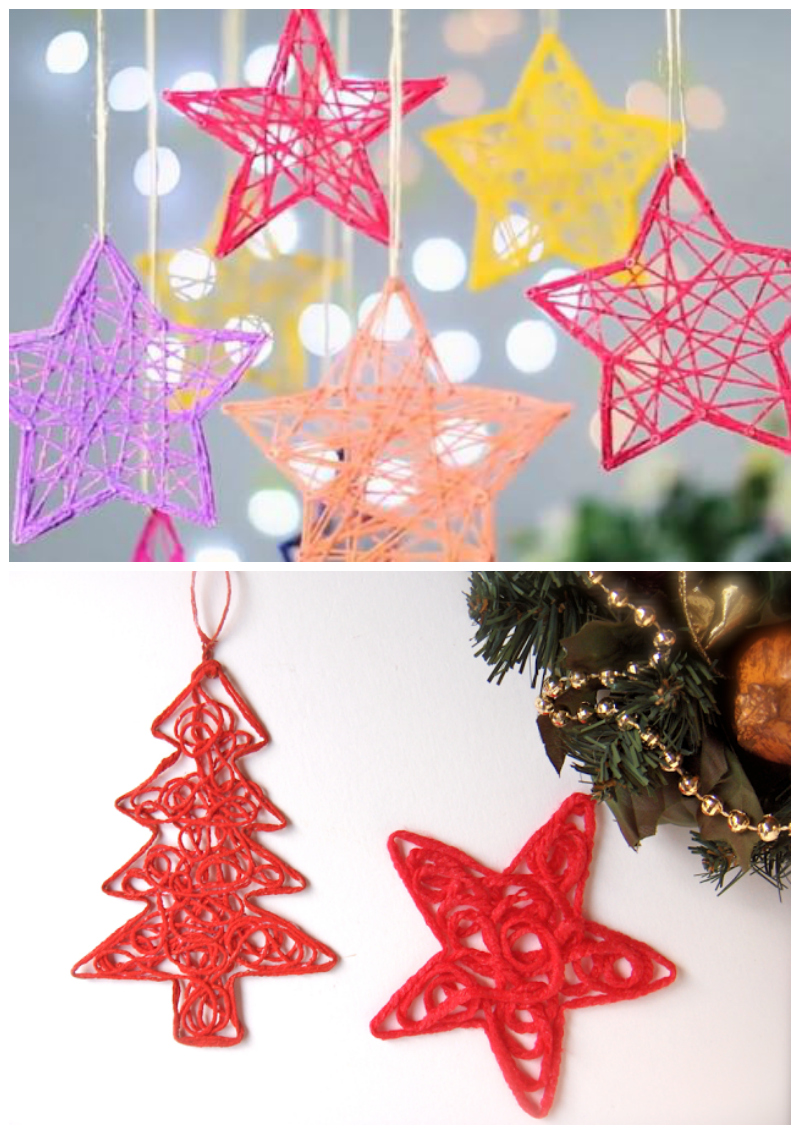 Supplies:
a thick piece of cardboard or foam
toothpicks
Elmer's glue
water
yarn
Directions: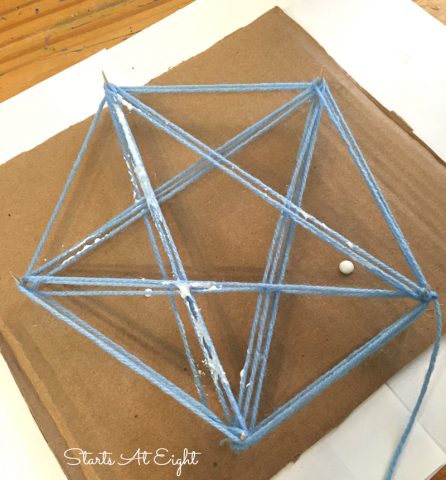 Use the toothpicks to create the shape you want to complete in your cardboard or foam.
Cut a length of yarn. We probably cut a couple of feet just to be sure. The length really depends on how many time you choose to loop the yarn.
Make a mixture of 2 parts glue, 1 part water.
Soak the yarn in the mixture, then begin wrapping it around your pegs. I suggest outlining first and then winding or looping in any pattern you desire.
While our star did not turn out as well as we would have liked, I can tell you what we did wrong so you don't make the same mistake. We didn't use enough glue solution. My daughter insisted on not soaking the yarn and instead trying to paint the glue solution on after she wound the yarn to create the star. This just did not create a firm enough yarn frame for the ornament.
Here is a great video showing both of the above crafts: 3 Lovely Yarn Crafts
Other Yarn DIY Christmas Ornaments
5 Days of DIY Christmas Ornaments for Kids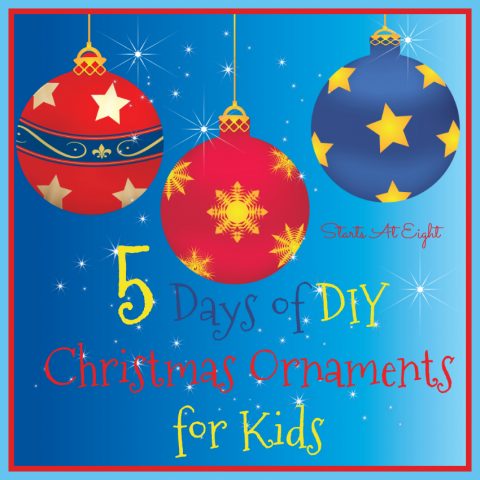 Day Two: Yarn (This Post)
Day Three: Felt
Other Fun Holiday Posts