Here in New York the winter is long and usually snow-filled. Snow is fun and fascintaing for most kids. One of the things our kids like to do is this paper snowflake craft.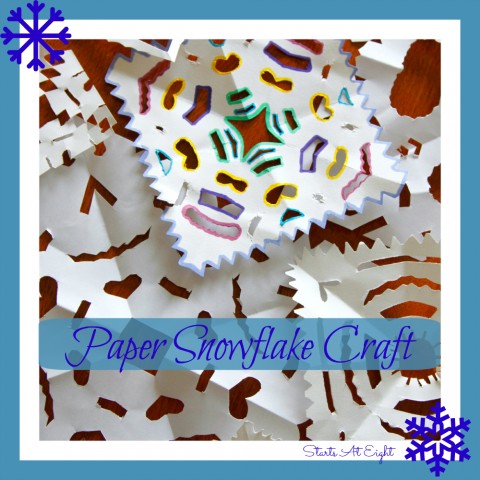 Creating paper snowflakes is easy and fun. While it can be as simple as just making cuts in paper, you can also use your imagination and get more decorative with markers and glitter.
Paper Snowflake Craft Supplies:
white paper
scissors
yarn/string – to hang the snowflakes
markers (optional)
glitter (optional)
glue (optional)
Creating a Paper Snowflake
 Using plain white printer paper, fold one corner over and cut off the excess at the end to make a square piece of paper. The paper will look like a large triangle (but if unfolded it will be the shape of a square).
Fold the large triangle shaped paper in half once, and then in half once more.
Next take the scissors and cut shapes from the sides and center of the folded piece of paper. *Be sure to not cut out too much on the folded edge as that is what holds the snowflake together!*
Once you have cut all the shapes you want, open the paper up.
At this point you have a completed snowflake! You can hang it just like that, add color with markers as seen in the video, or even add glitter to the snowflake for a fun touch.

Learn About Snowflakes:
Related Posts