Are you looking for a complete, hands-on math program for elementary and middle school? Do you want something that is open and go, easy to use? Have you seen ShillerMath? If not, look no further! I have a complete Unboxing and ShillerMath Review of Kit II so you can get the inside scoop on what it looks like and how it works!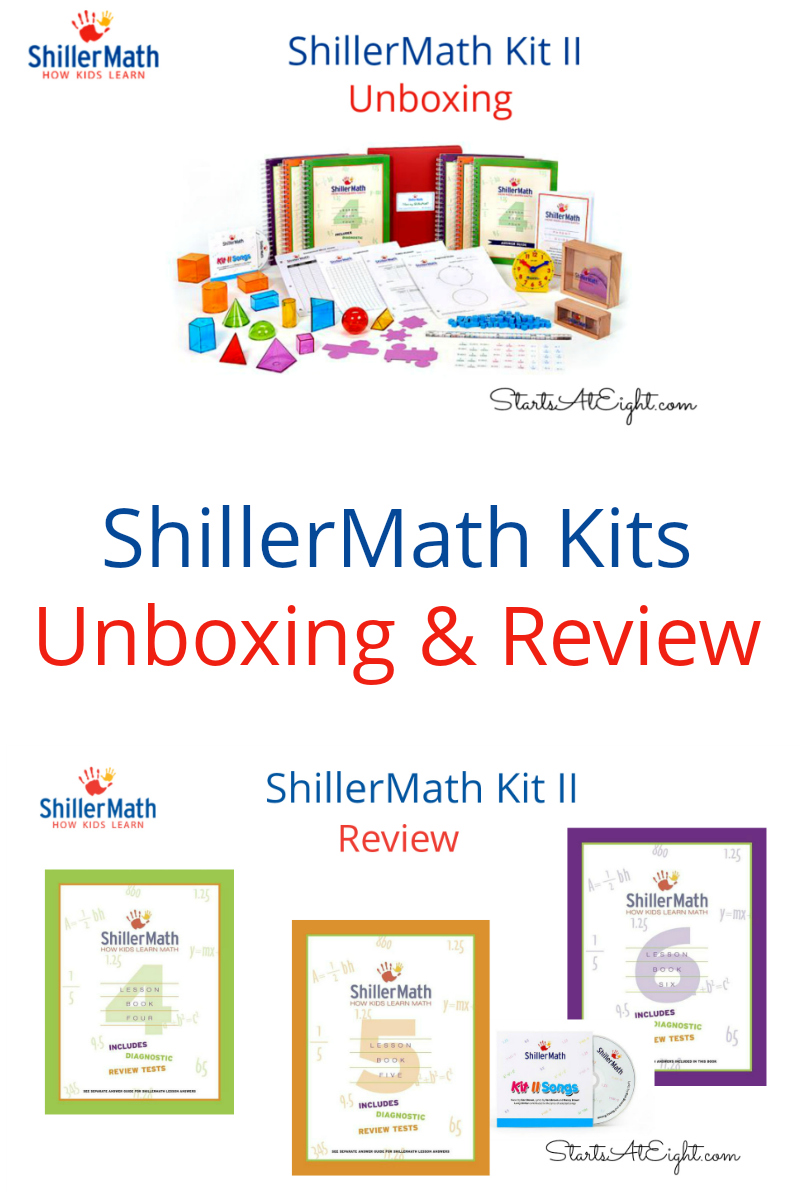 ShillerMath Kits
ShillerMath offers two levels of math kits (along with a few other kits). Their math kits are Montessori Based and cover an age range from preK through 8th grade.
Scripted lessons guide you through each lesson, with zero lesson preparation
Beautiful, varied, and lifetime manipulatives capture children's continuing interest
Children (and parents!) love the dozens of catchy songs that integrate with lessons
Multi-year kits ensure a consistent and money-saving experience
Lifetime consumable lesson replacement – 1 kit is all you need for the entire family!
Math Kit I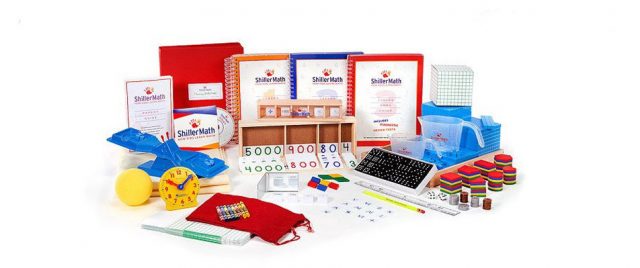 Math Kit I (Pre-K to Grade 3) includes:
Three full-color, wire-bound, lay-flat lesson books with PDF answer guides
Over a dozen beautiful manipulatives, including a balance, number cards, number tiles, foam ball, dominoes, a US/metric ruler, wooden shapes, dice, measuring cups, and operator cards
A full set of Montessori decimal material, including 100 unit cubes, 27 ten rods, 27 hundred rod, and 17 thousand cubes (1 plastic and 16 cardboard) along with a convenient, wooden decimal tray
Parent guide, lesson and diagnostic test tracking sheets, and an audio CD with 25 catchy songs that integrate directly with the lessons
Lifetime consumable replacement license for all children of one generation in the family
Unboxing of ShillerMath Kit II
Math Kit II (Grade 4 to Grade 8) includes:
Parent Guide
Lesson Books 4, 5, and 6 with 12 diagnostic tests
Answer Guides 4, 5, and 6
Songs Vol. II audio CD with 25 math songs
Degreed circle, graph, and division table worksheet pads
Tracking sheets & 3-ring binder
Geared clock, 100 blue unit cubes; and 12 inch clear ruler
Montessori-based manipulatives (color-coded decimal fraction chips in wood box, 4 geo-shape nets in wood box, and 14 see-through 3-D geometric shapes)
Free lifetime consumable replacement and music files.
ShillerMath Review of Kit II
In my ShillerMath Review I give you a look at how a lesson might go, and a sneak peak into one of my favorite features of this program…the music!
Connect with ShillerMath: Facebook : Twitter : Website
More Great Math Resources