While I have always had my children keep a book log, rarely have I had them do any summary writing. I have to laugh because of how opposite my two younger ones are when they do this. Not surprisingly, how they went about summary writing reflects each of their personalities.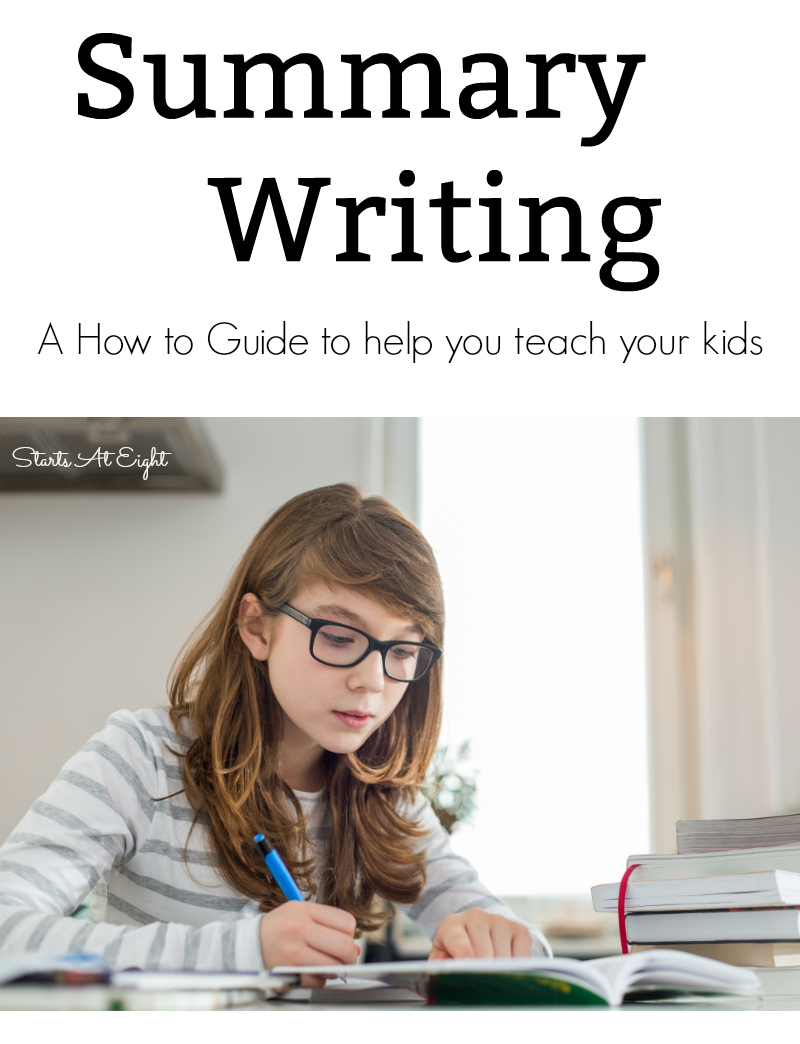 When I set about to go through a formal lesson on summary writing, I knew it would be sticky at first. My son writes as few words as possible, not capturing the main points, and rarely using decent handwriting, or sentence structure. This isn't because he's not capable, but because he just doesn't find it necessary, interesting, or worth his time. My daughter on the other hand is overly wordy, often spending too much time on inconsequential details, and sometimes missing important highlights she should have included.
Summary Writing
I decided to make this something we do for a handful of books this year, but not all the time as they would both get bogged down in it. Here are some of the resources I have found to use to work on summary writing with my kids.
Summary Writing Resources
1. How to Write Formal Summaries 
This 10 page printable packet is a great place to start! We went through this whole packet together, talking through summary examples and go over the basics of good summaries. I LOVE the summary writing checklist and printed a copy for each child to keep at their desk for easy reference as we write more summaries throughout the year!
2. How to Teach Summary Writing – The 1-Hand Summary
I don't remember using this 1-Hand Summary Method in school myself, but I like it as a quick and as starting and reference point for writing basic summaries.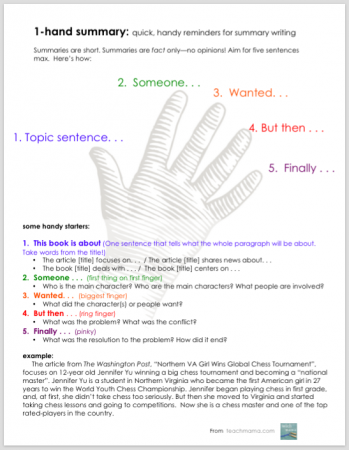 The basis of this method is 5 simple things:
Topic Sentence – One sentence that tells what the book is about
Someone – Who is the main character or characters?
Wanted – What did they (he/she) want?
But then – What was the big problem or conflict?
Finally – How did this conflict get resolved? How did it end?
3. Short Summary Writing How to Videos for Kids
4. A Complete Learning to Write a Summary Lesson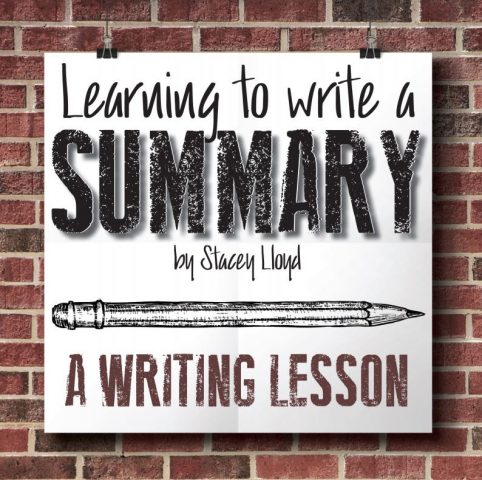 This is a FREE Summary Writing Lesson for grades 7-10.  It uses a watching a TED talk to write a summary. Offering organization worksheets as a guide for summary writing.
Contents included are:
STEP-BY-STEP LESSON PLAN (Possibly 2 lessons)
This step-by-step plan will guide you through the lesson(s) – there is plenty of work here for two possible lessons.
TAKING NOTES
The first exercise in this lesson has students watching a TED talk. This handout will help them structure their notes while watching.
PLANNING A SUMMARY
This page can be used whenever students have to write a summary – it helps organize their thoughts and contains a useful checklist for post-writing.
HOW TO WRITE A SUMMARY
This informational handout details the process students should follow when attempting to write a summary, along with useful tips and tricks.
5. Writing in 3rd Person
Writing in the third person is an essential part of summary writing.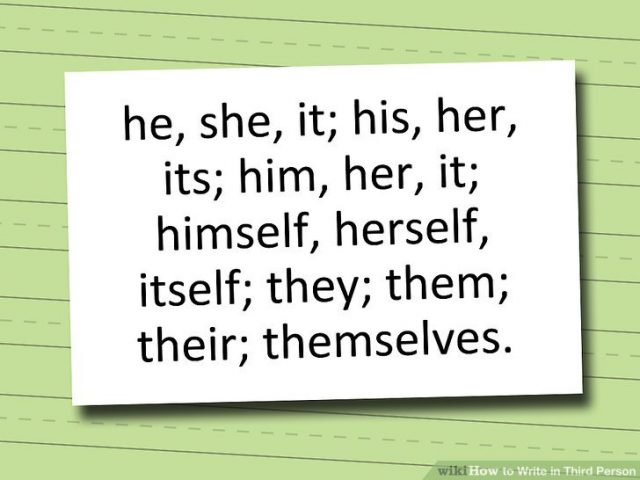 Writing in the third person means to write from the third person point of view, using pronouns like he, she, it, or they.
Here are some examples:
More Writing Help