We are beginning our American History Timeline studies with Before 1630 or "Pre-America."  This time period was filled with voyages of exploration into lands unknown. We are choosing to use a timeline format as the base for our studies. Each week will focus on a different section of the timeline.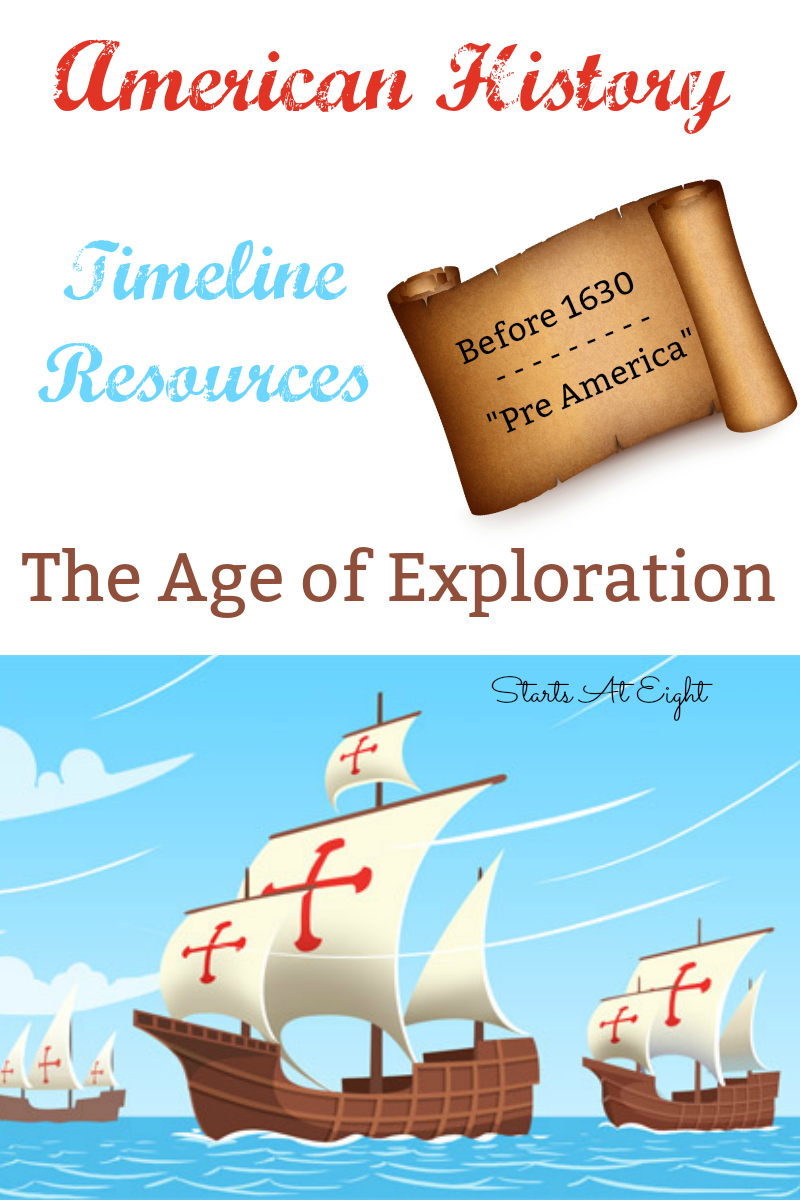 This time period was the Age of Exploration, with many coming from Europe and Spain to explore lands yet unexplored.  The ship voyages were long and rough, the relations with the natives in the new land were strained, and the struggle for who would claim to have found these new lands was real.
American History Timeline Resources: Before 1630 – "Pre America"
This "Pre America" time period focuses mostly on explorers. All the names in the red headlines are ones we will be adding to our timeline notebook. While we may not study each one in depth, we will touch on them in some manner in relation to the given time period. Each time period will be covered over the span of one week.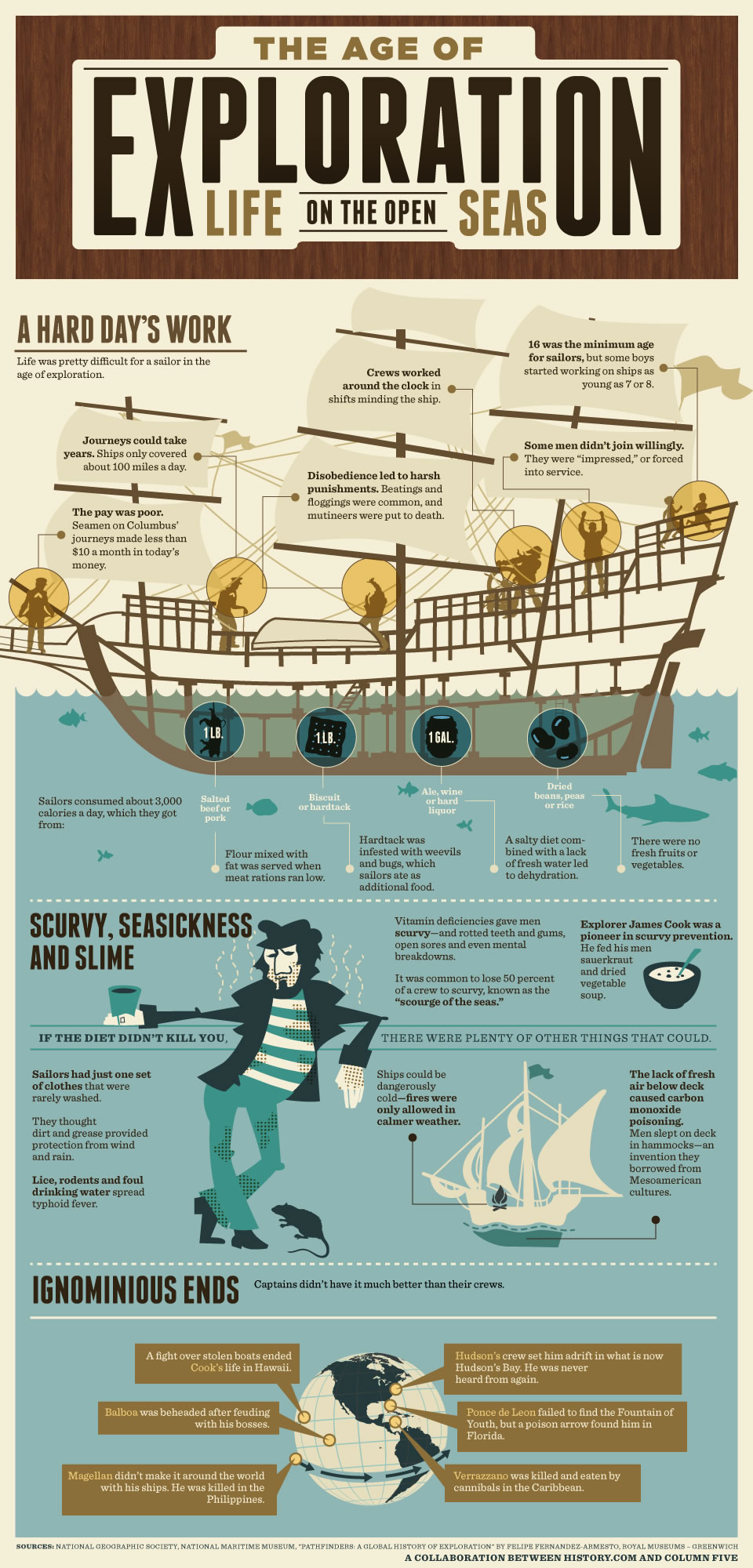 Many of the projects and brief readings for the explorers in this time period come from the Home School in the Woods – History Through the Ages – Time Traveler Series. In the case of this time period we are using History Through the Ages – Time Travelers – New World Explorers.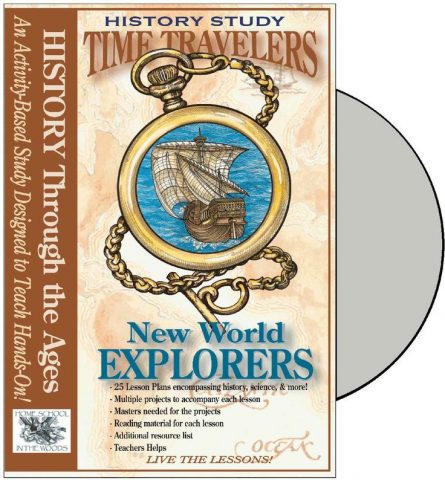 Since our history studies are more free flowing, we will not only be keeping our American History Timeline notebook (as seen in the photo below) from HITW but we will also keep a 3 ring binder to hold all of our readings, writings, lapbook components, and projects.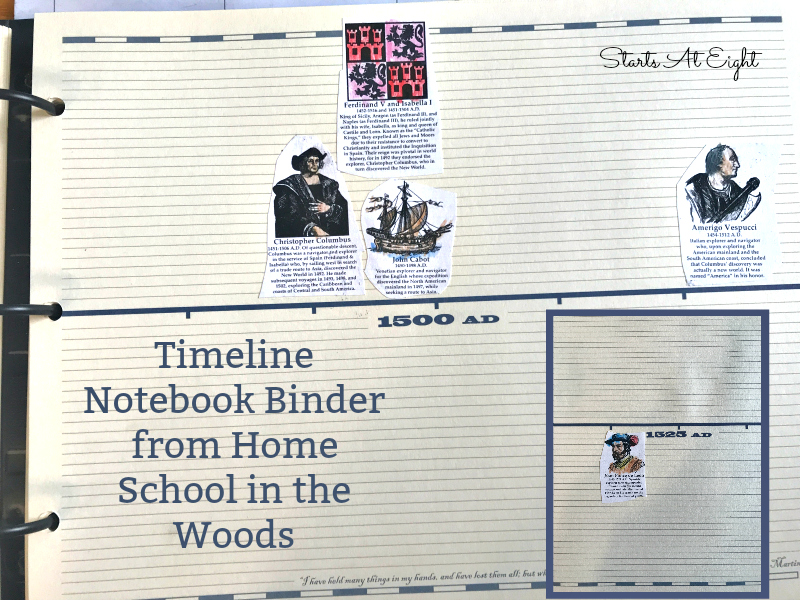 Not sure how to do all this? Check out How to Create a Timeline Based History Plan for all the details!
1450- Joan of Arc, Henry the Navigator
Books Read: Joan of Arc , Chapter 2 of Around the World in a Hundred Years, HITW Time Travelers New World Explorers Lessons 1-5
Movies/Videos Watched:  Crash Course World History #21
* Please note that what movies you choose to watch with your children is a personal choice. Be sure to screen the movies and decide for yourself if you want to show them to your children.
Projects: Anatomy of Ship from HITW Time Travelers New World Explorers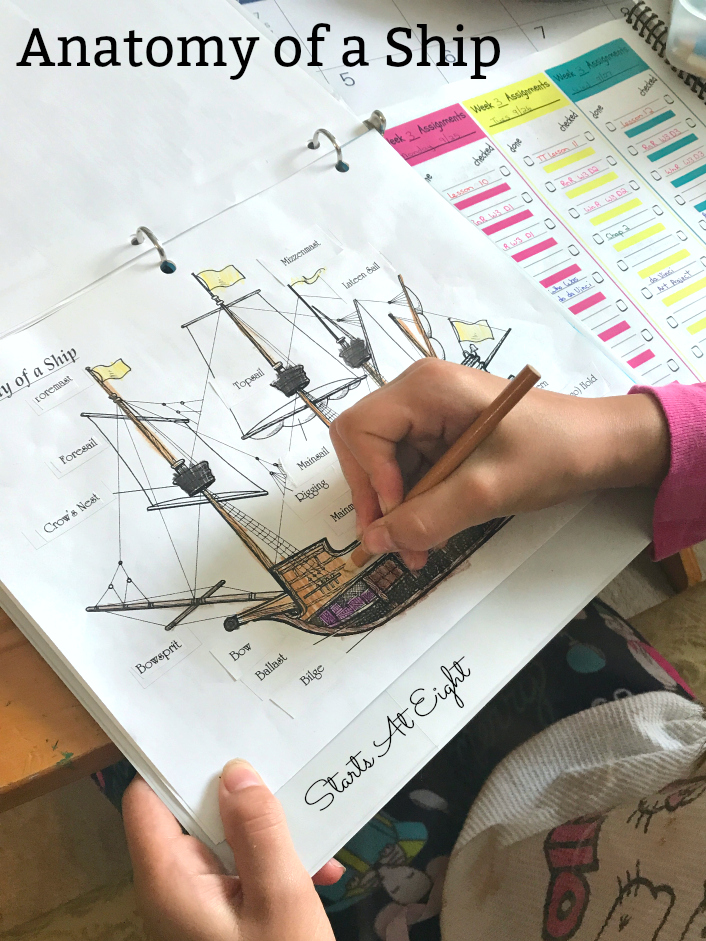 1500- Christopher Columbus, Line of Demarcation, Ferdinand & Isabella, John Cabot
Books Read: Pedro's Journal (This article Learn American History Through Literature – Pedro's Journal includes comprehension questions, vocabulary and more to go along with this book.), Chapters 4-7 from Around the World in A Hundred Years
Movies/Videos Watched: 1492 The Conquest of Paradise (1992) This is rated PG-13. Please note: The violent scenes between the natives and Columbus and his men are quite graphic in nature. Drive Thru American History Episode 1: The Discovery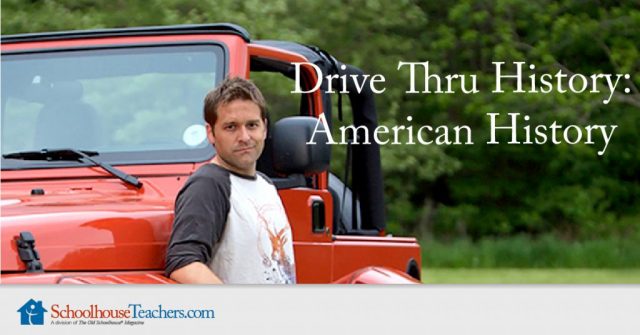 Schoolhouse Teachers.com offers access to multiple Drive Thru History Series such as American History and Ancient History! We are so excited to have a membership this year! Along with each of these videos Schoolhouse Teachers has printable worksheets with straight forward comprehension questions as well as essay questions (all with an answer key) for every episode! It's a great way to study American History!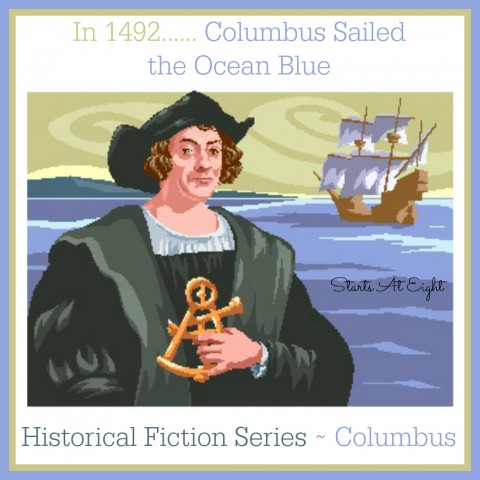 Project: HITW Line of Demarcation from Lesson 7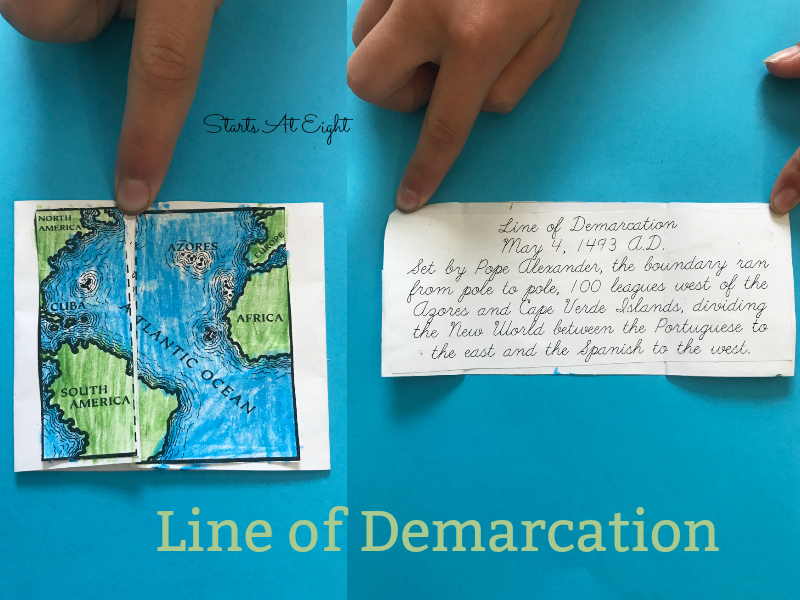 1525- Amerigo Vespucci, Ponce de Leon, Ferdinand Magellan, Leonardo da Vinci 
Books Read: Chapters 8-11 Around the World in a Hundred Years, Who Was Leonardo da Vinci?
Movies/Videos Watched: The Secret Life of Leonardo da Vinci
Project: Leonardo da Vinci Art Project from Masterpiece Society
1610- Jamestown, Powhatan, John Smith, Pocahontas
Books Read: 1607 A New Look at Jamestown, You Wouldn't Want to be an American Colonist
Movies/Videos Watched: America The Story of Us Episode One, The New World (2005)
Project: Watch and Play: On the Trail of Captain John Smith – A Jamestown Adventure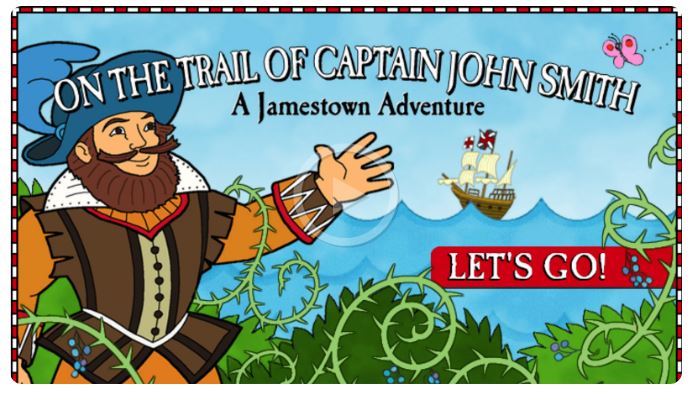 Watch Disney's Pocahontas and read this real life vs. movie comparison of Pocahontas and John Smith
1620 – Mayflower, Mayflower Compact
Books Read: Mayflower 1620: A New Look at the Pilgrim Voyage, You Wouldn't Want to Sail on the Mayflower!, A Journey to the New World: The Diary of Remember Patience Whipple, Mayflower
Movies/Videos Watched: Crash Course American History #2, Desperate Crossing – The Untold Story of the Mayflower
Project: Watch this brief video (after watching and reading the above materials, answer the following questions to be put in your student binder.
Who is writing the compact?
Why did the Pilgrims decide to go on this voyage?
Describe the types of people onboard the Mayflower. What were their reasons for making the journey? Why might they have had different interests?
What were the most important elements of the Mayflower Compact?
Did sailors sign the Mayflower Compact? Did women sign it? Why or why not?
What was the key provision of the Mayflower Compact?
Why were people aboard the Mayflower willing to sign it?
Why do you think it was important for advancing the ideas of democracy?
Who benefited from the compact and who did not?
Timeline Based American History Series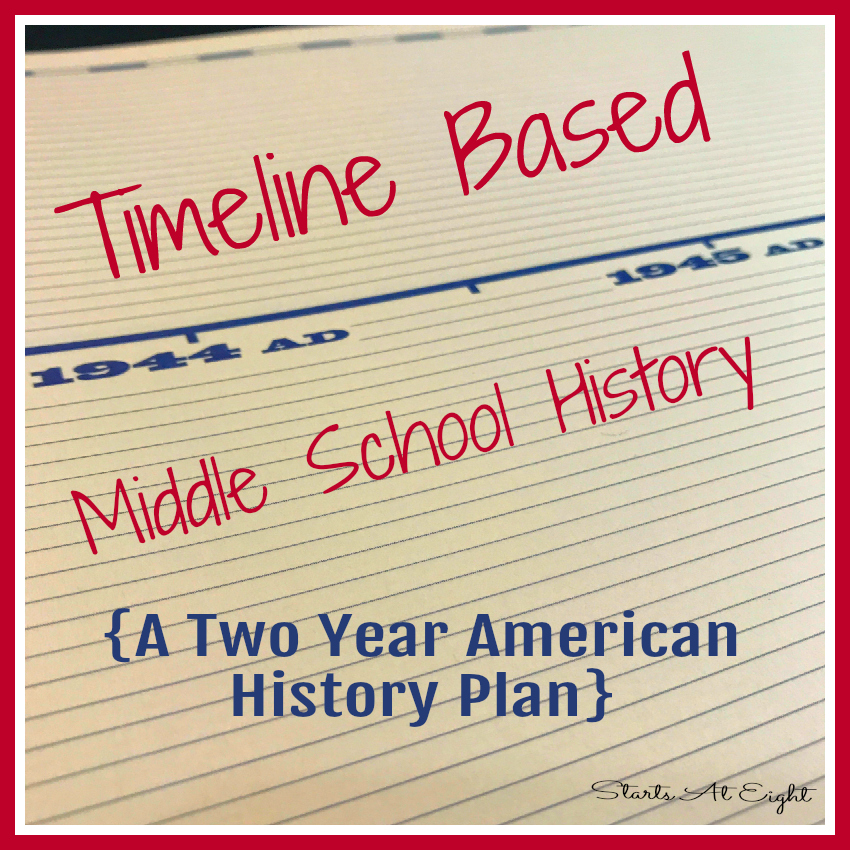 Be sure to bookmark this Timeline Based Middle School History page and check back each month as we add our resources and projects for each time period!
We will spend approximately 5 weeks per time period. With each time period below I will include a list of multiple book and video resources, as well as a project or two for that time period. Be sure to click on each time period heading (as it gets linked along the way) to see what we ended up including in our study, and how we did it.
Year One
Before 1630 – Pre America {This Post}
1630 – 1763 – Colonial America
1763 – 1783 – Revolutionary America
1783 – 1860 – The Young Republic & Westward Expansion
1830-1876 – Civil War/Reconstruction
Year Two
1871 – 1920 – The Gilded Age & 2nd Industrial Revolution
1914 – 1933 – WWI/Depression
1933 – 1945 – New Deal/WWII
1945 – 1960 – Postwar America
1960-1980 – The Vietnam Era
1980 – 2000 – End of the Century