As I prepare for the coming school year I am looking to do a few different things in our homeschool. I am preparing this Who Was Series For Homeschool History for my 5th grader. I would like her to get a broader slice of life out of her history this year by delving in deeper to some of the big influencers in history.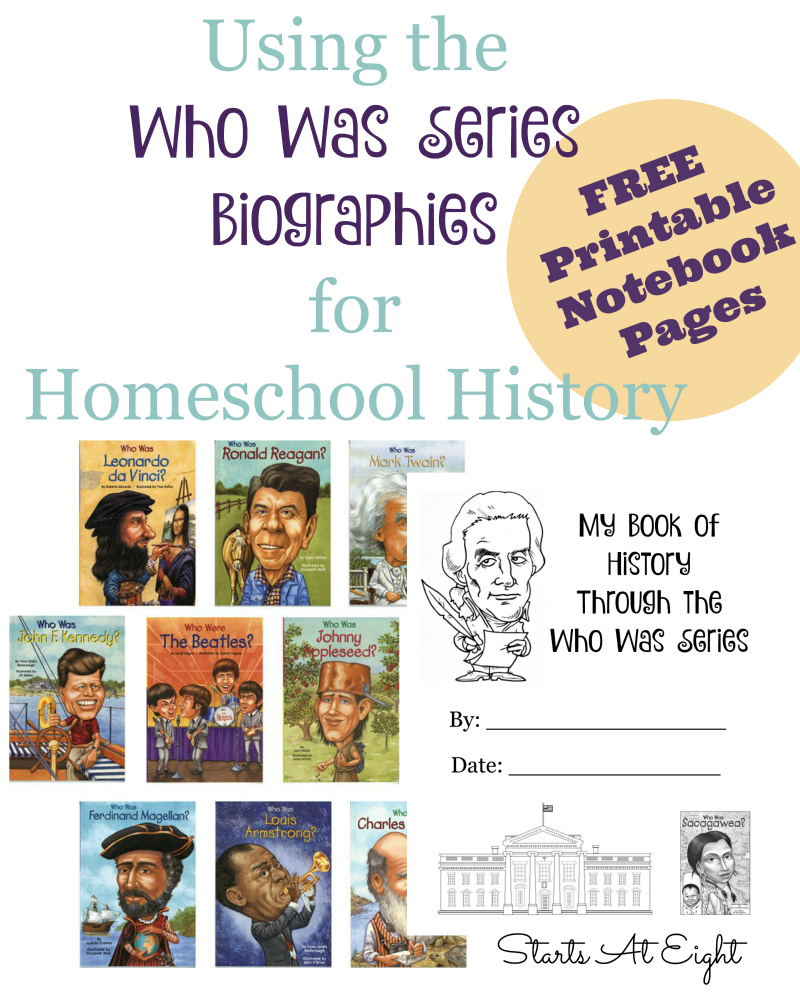 This past year for 4th grade we covered American Government mainly via textbook. If you have followed me at all you know I have a tendency to flip flop with methods in our homeschool for both history and science. I guess you could say that I have never found that one perfect fit! While I wasn't unhappy with our text this year, I am choosing to flip out of textbook mode for this coming year and spice things up a little bit!
Who Was Series Biographies for Homeschool History
If you have ever taken a look at the "Who Was Series Biographies" you would see they are a series (one that is currently still growing in numbers at a steady rate) of biographies geared toward the middle grades. You can get them ranging anywhere from Who Was King Tut? or Ferdinand Magellan, to Who is J.K Rowling? or Bill Gates. You can find everything from explorers to inventors, artists to musicians, governmental figures such as presidents and first ladies, and in paperback or Kindle format!
According to an interview of Penguin Young Readers done by GeekDad:
"I learned that the series was launched in 2002 and is the brainchild of Jane O'Connor, who recognized a need for biographies for middle-graders. Part of the goal was to make the books over 100 pages to qualify for book reports.

Penguin also confirmed my observation about dealing with potentially complicated material, stating that they "try to present kids with a rounded, realistic portrait of every subject. Sometimes that means touching upon extramarital relationships, sexual orientation, drug use, even legal matters. However, we are very careful to treat these aspects in a way that is appropriate for a young audience."
Explore The Who Was Series
I highly recommend using the Who Was Series website as a starting and organizing point. Not only do they have all their books broken down into categories, but they have the most updated list, as well as a way to track the ones you have read and want to read.  There is also a Test Your Knowledge Interactive Quiz!
The Who Was Series Categories:
Movie Directors
Sports Stars
Musicians
Artists/Performing Arts
Scientists
Leaders
World History
Entrepreneurs & Inventors
Writers
Explorers
Civil Rights
Political Leaders
Women's History
American History
---
---
My Plan For The Who Was Series
So now you are wondering what my plan is for this series? How will I carry out this "dream" of using these as a basis for our history program this coming year?
My plan is to create a notebook full of biographies, photos, timelines, etc. that will showcase all the people and places we covered using the Who Was Series Biographies.
We plan to cover 2 related books each week:
All these book were selected not only from the Who Was Series Biographies but from the related What Was? and Where Is? books.
We will cover a broad topic like Civil Rights with books such as Harriet Tubman, Rosa Parks, Martin Luther King, Jr. and What Was the Underground Railroad? (2 weeks)
For early American History we can read Thomas Jefferson, Ben Franklin, Abigail Adams, and What Is The Declaration of Independence? (2 Weeks)
U.S. Presidents to include Ronald Reagan, John F. Kennedy, Franklin D. Roosevelt, Eleanor Roosevelt, Barack Obama and Where is the White House? (3 Weeks)
More Presidents with Abraham Lincoln, George Washington, Theodore Roosevelt and Where is Mount Rushmore? (2 Weeks)
Since we live in New York State and they are major landmarks here we will cover: What Is The Statue of Liberty?, What Was Ellis Island?, What Were the Twin Towers?, Where is the Empire State Building?, Where is Niagara Falls?, and Where is the Brooklyn Bridge? (3 Weeks)
Some Ancient Egypt with King Tut, and Where Are the Great Pyramids? (1 Week)
Explorers with Ferdinand Magellan, Neil Armstrong, Amelia Earhart, Marco Polo, Davy Crockett, and What Was the Lewis and Clark Expedition? (3 Weeks)
Artists Leonardo da Vinci, Pablo Picasso, Frida Kahlo, Andy Warhol, Claude Monet, Jim Henson. Along with these artists we will learn about each of their styles and create artwork inspired by them. (4 Weeks)
Musicians Elvis Presley, Mozart, Lois Armstrong and The Beatles. Along with these we can listen to their music, learn about their different genres of music and learn to play something on the piano from Mozart. (3 Weeks)
Writers William Shakespeare, Mark Twain, Anne Frank, J.K. Rowling, Maya Angelou, Charles Dickens, Beatrix Potter, The Brothers Grimm. Along with these writers we will read something from each of their written works. (5 Weeks)
Women in History Annie Oakley, Sacajawea, Queen Elizabeth, Helen Keller, Sally Ride, Jane Goodall, Susan B. Anthony, and Betsy Ross (4 Weeks)
We will also leave time for her to explore some people and places of her choice.
There is a great Educator Resources section that includes downloadable pdfs with lesson plan ideas and general activities to go along with the Who Was books.
Coming out in June 2016 is The Who Was? Activity Book Can you paint like Picasso? Write like Shakespeare? Solve a puzzle as fast as Einstein? Go head-to-head with your favorite Who Was…? characters and leave your mark on history with this fun and exciting activity book. Includes three pages of full-color stickers!
FREE Biography Notebook Printables
I have created a notebook printable for my daughter to use. Along with doing this series we will be talking about How to Write a Biography Report (post with all the details and printable list coming soon), including talk about possible questions to ask/answer for each one of the boxes on our Who Was Biography Notebook Pages.
When printed back to back we will have a two page spread per Who Was Biography.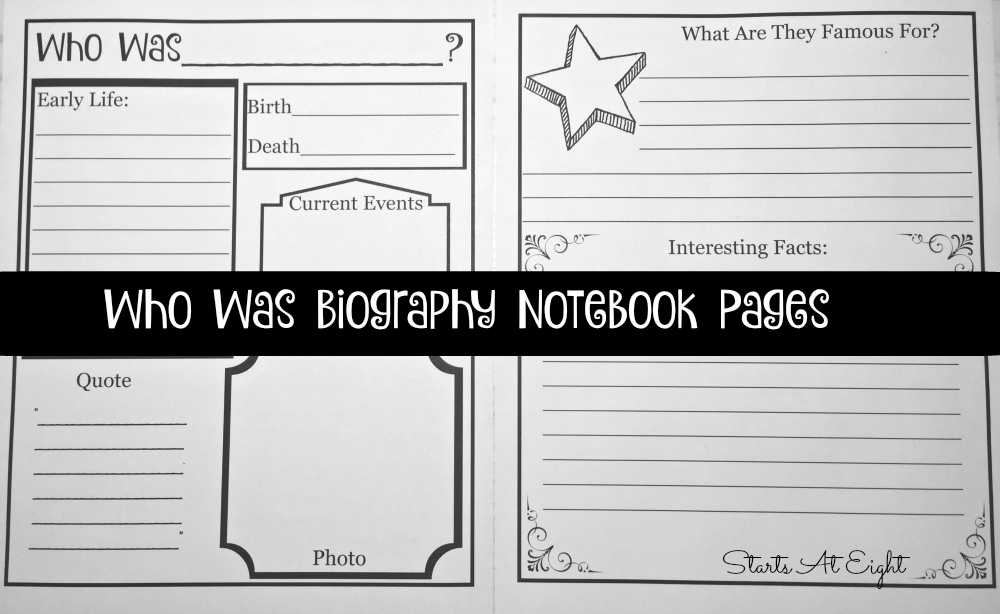 Then if we have things to add, a sheet can be added in between.
For instance I might have William Shakespeare with a timeline of his written work on a sheet in between, possible with a brief summary of one of his plays that we explored during our study.
This would give us Left Side Page One Biography Notebook Page – Added sheet with timeline and written summary – Right Side Page Two Biography Notebook Page.
Download Who Was Biography Notebook Pages
Download Timeline Template
The Who Was? Adventure App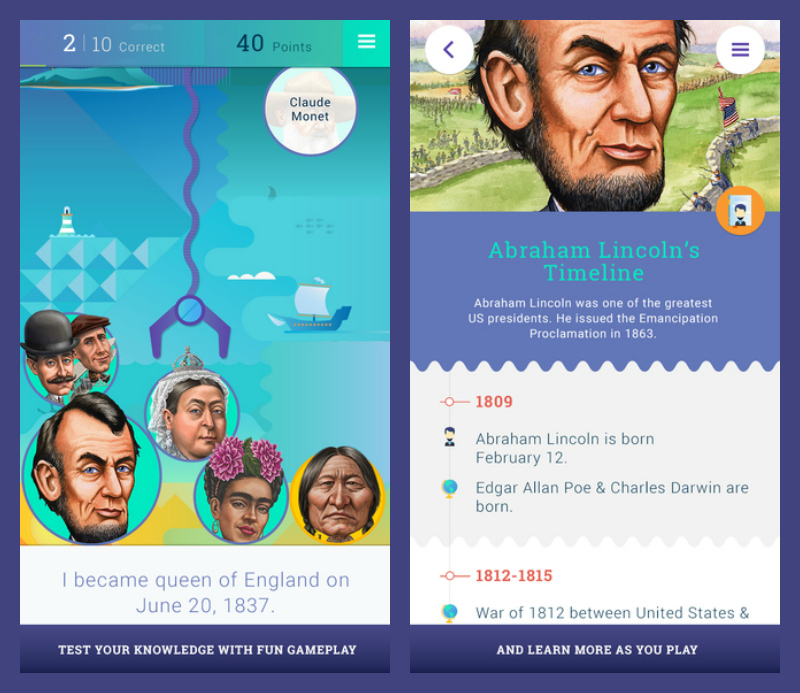 If you are an iPhone/iPad user you can download the Who Was? Adventure App for hours of learning fun!
How well do you know historical figures and pop icons? Download the app and put your knowledge to the test!
Features:
5,500+ questions to put your knowledge to the test
100 levels of Adventure mode: complete tasks and collect rewards as you play
Endless play in Arcade mode: try to beat your family and friends' high scores
Power-ups to improve your score and help you beat levels
Learn before you play: timelines and facts at the start of each level
Fun and beautiful design, music, and sound effects