Book Two in our Mighty Girl Book Club was Tangle of Knots.  This book opened up a world of mystery, baking, knot tying and discussions about having Talent or being Fair.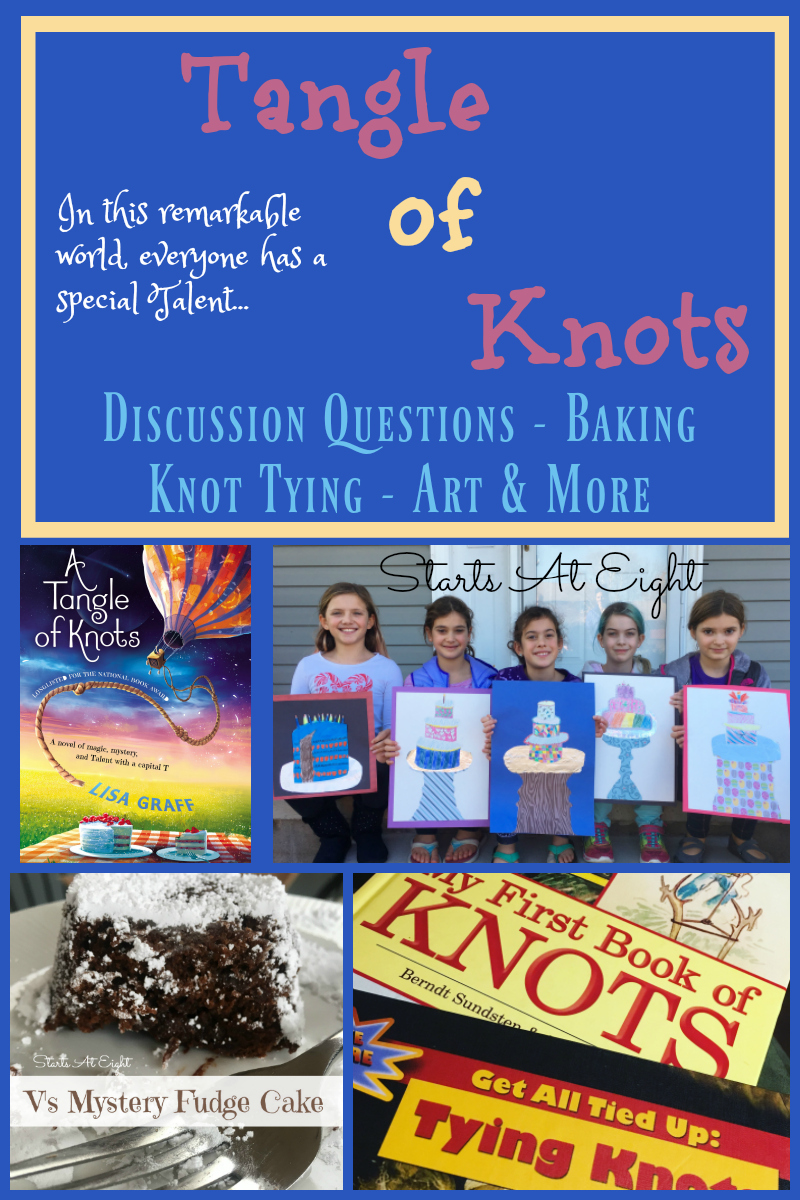 Whether you are participating in a book club, co-op class, or just reading this at home with your children, I have compiled a collection of activities related to the book that are sure to engage and delight! I know they had our little girls fully engaged and having fun!
Tangle of Knots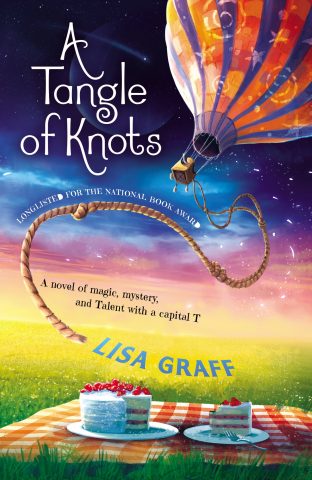 Summary
Tangle of Knots by Lisa Graff is told in multiple viewpoints. In a slightly magical world where everyone has a Talent, eleven-year-old Cady is an orphan with a phenomenal Talent for cake baking. But little does she know that fate has set her on a journey from the moment she was born.  And her destiny leads her to a mysterious address that houses a lost luggage emporium, an old recipe, a family of children searching for their own Talents, and a Talent Thief who will alter her life forever.  However, these encounters hold the key to Cady's past and how she became an orphan.  If she's lucky, fate may reunite her with her long-lost parent.
Discussion Questions
For our Mighty Girl Book Club each one of the girls keeps a notebook. They can add vocabulary as they go, write down thoughts, and we usually find more formal activities/questions for them to include for each book.
1. Discussion Guide
We used this Tangle of Knots Discussion Guide for the girls to use.  It includes discussion questions, fun activities and journal prompts all related to the story. We chose to cut and paste these into our book journals.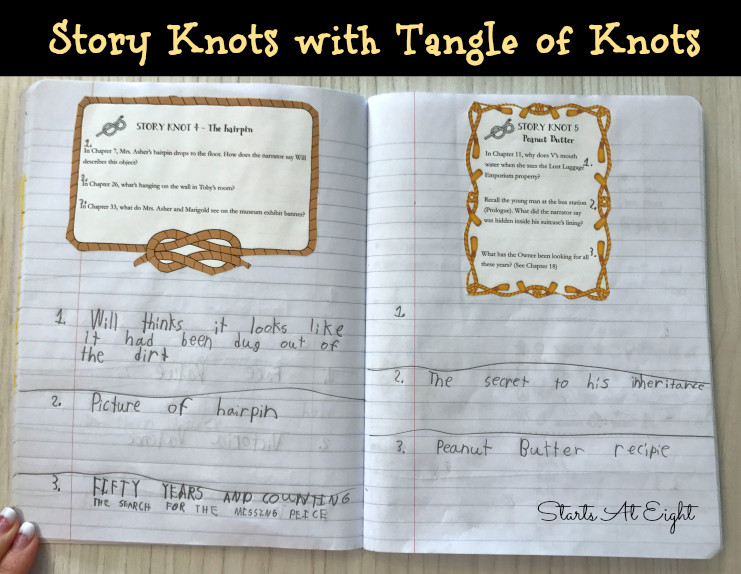 2. Story Mapping
Since this book is a "tangle of knots" with all of the characters and how they are connected, we used this to introduce character mapping. While you can go further and story map too, we are reserving that for another time.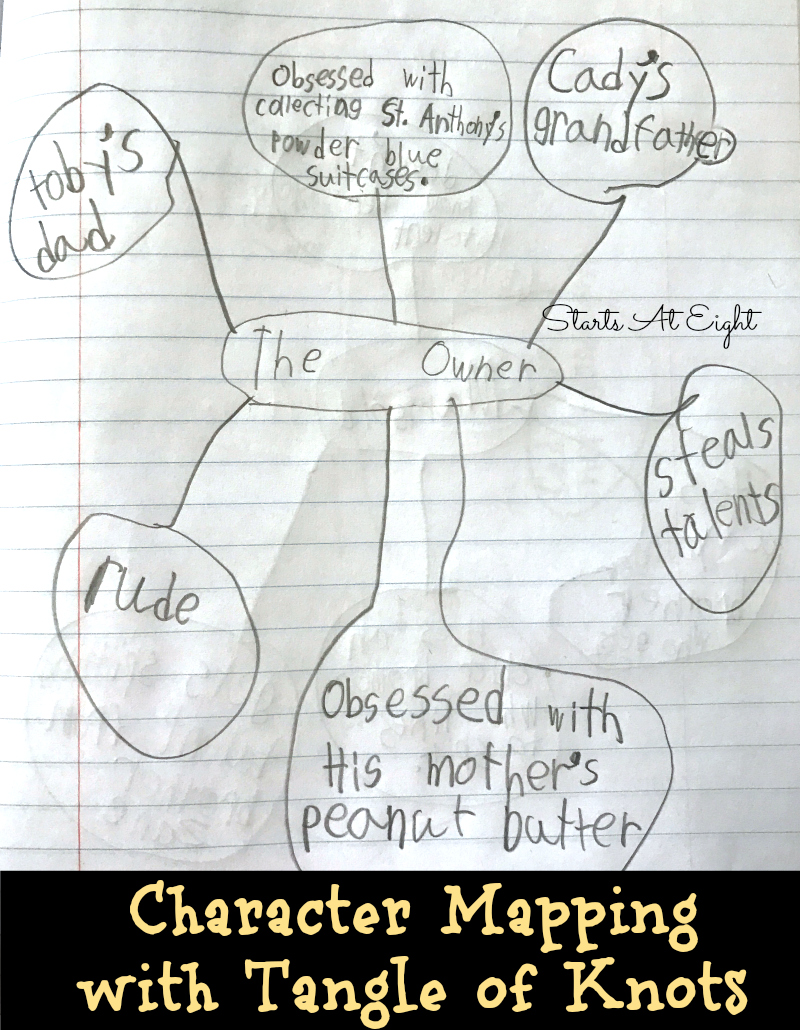 We used one page for each character. Then created bubbles that describe the character, their relations, etc.
I really like how the question have the chapters where them came from in parenthesis next to them. It allows you or your students to go back and find the section easily for review and reference.
Other than just doing this quiz online:
you can choose to ask these questions out loud in a discussion format
print them on cards and play a game with them
have your students write out the answers in their book journals
Vocabulary
While I recommend having your child keep a list of sticky words for them that you can discuss/look up together, I also recognize that sometimes it is nice to have a list.
Here are some Tangle of Knots vocabulary words:
begrudgingly
hastily
admonished
taut
imperceptible
waif
retorted
divulge
deliberate
guffaw
rogue
surmised
traipsing
amassed
pixie
curator
Tangle of Knots Activities
Baking
Tangle of Knots main character Cady has a Talent for cake baking. She can sense what the perfect cake is for each person and make it. Throughout the book the recipes are included for making the cakes that Cady makes. Recipes like Miss Mallory's Peach Cake, Will's Smore Cake, Toby's (not quite perfect) Yellow Cake with Chocolate Frosting, Marigold's Lime Pound Cake, Mrs. Asher's Honey Cake and more!
V's Mystery Fudge Cake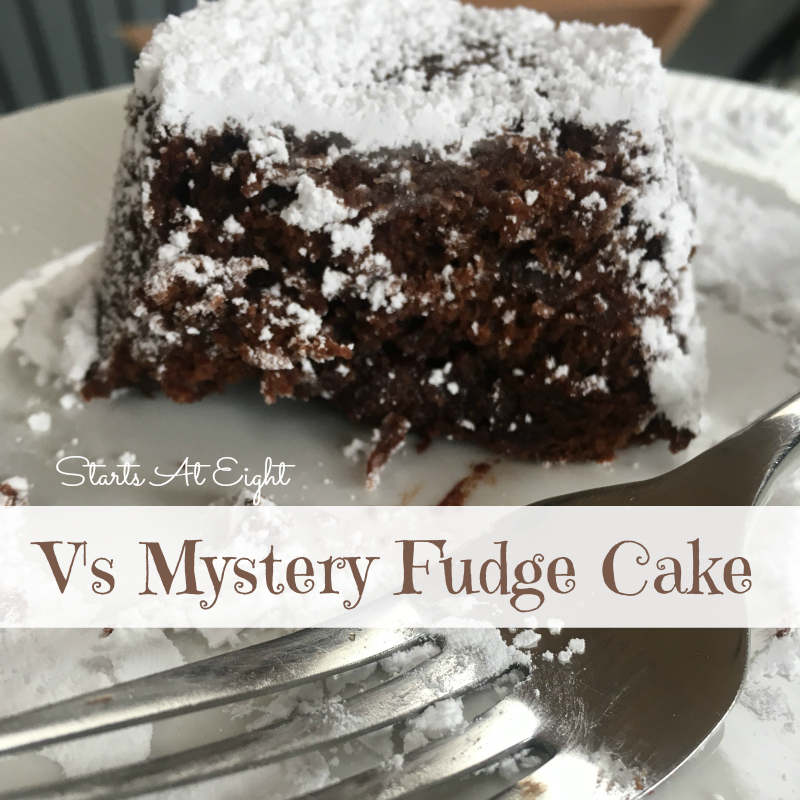 We chose V's Mystery Fudge Cake which turned out to be a huge success! Not only did they have fun, but they all loved what they baked!
For the Cake:
1 1/3 cups semisweet chocolate chips
1/3 cup flour
1/4 tsp salt
2 tsp unsweetened cocoa powder
4 TBSP butter (1/2 stick) at room temperature (plus extra for greasing the muffin tins)
3 large eggs, at room temperature
For the Topping: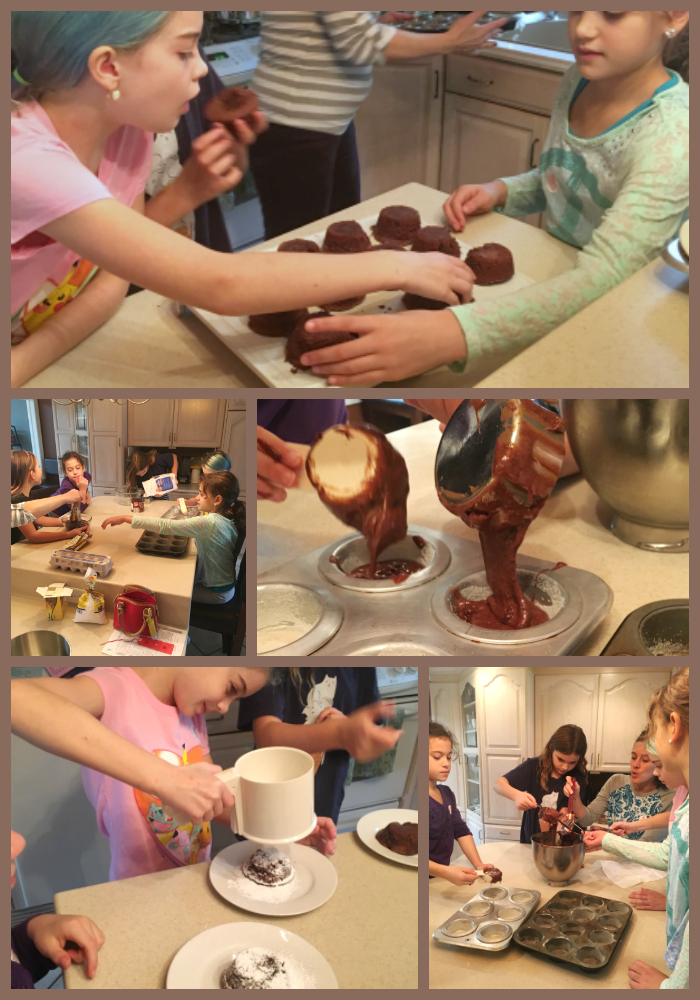 Directions:
Preheat over to 400 degrees Fahrenheit. Grease the bottoms and sides of six cups of a standard muffin tin with butter. Sprinkle the inside of those tins with granulated sugar, and tap to distribute evenly.
Melt chocolate chips over low heat (either on stove top with double boiler or in a microwave safe bowl in the microwave). Stir often. Remove and allow to cool about 10 to 15 minutes.
In a small bowl, whisk together the flour, salt, and cocoa powder. Set aside.
In a large bowl, cream the butter and granulated sugar with electric mixer on medium until light and fluffy. Add eggs one at a time, beating well after each addition.
Stir flower mixture into the batter until just combined. Do not over mix. Stir in the cooled melted chocolate and combine.
Pour batter into prepared muffin tins. Bake for 12 – 14 minutes, or until the tops of the cakes no longer jiggle when shaken lightly.
Let the cakes stand 10 minutes in the tin before turning out onto serving plate. Dust with powdered sugar.
Knot Tying

Before I read the book I had joked that knot tying could be an activity, but figured there was not actually any knot tying references in the book. I was wrong. Therefore I decided to include knot tying as an activity. Who knew they would have so much fun with it!
The two books we used were Get All Tied Up: Tying Knots (Adventure Guides) and My First Books of Knots: A Beginner's Picture Guide both are pictured above.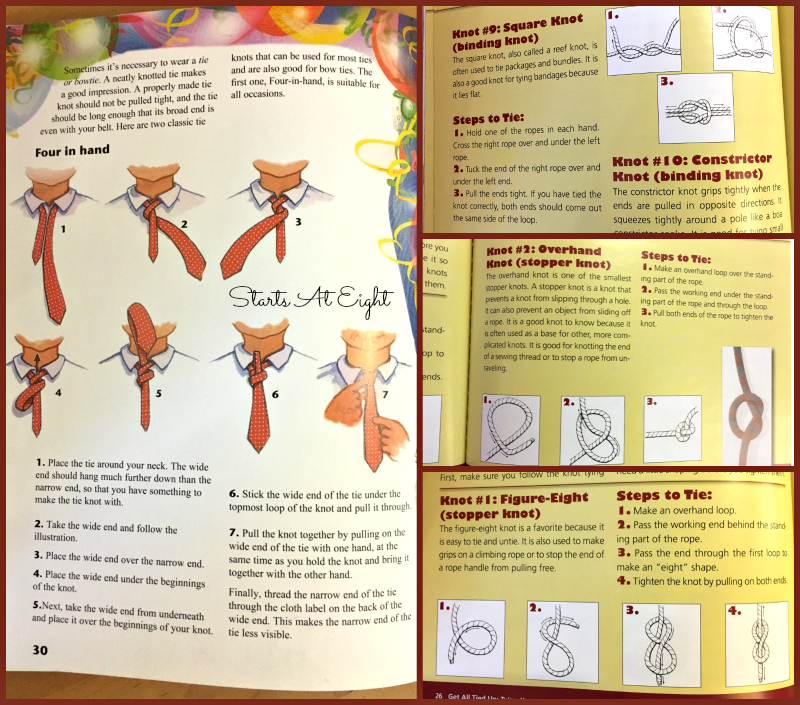 We purchased a length of rope to cut in pieces so each of the girls would have a section to practice on, and gathered up some neck ties from hubby's closet. They learned to tie a few knots and then had fun using them as well as trying others. It was so much fun to see who it came easily to (some of them were teaching us moms!), and how they helped each other to learn along the way.




Art Project – Cake Drawing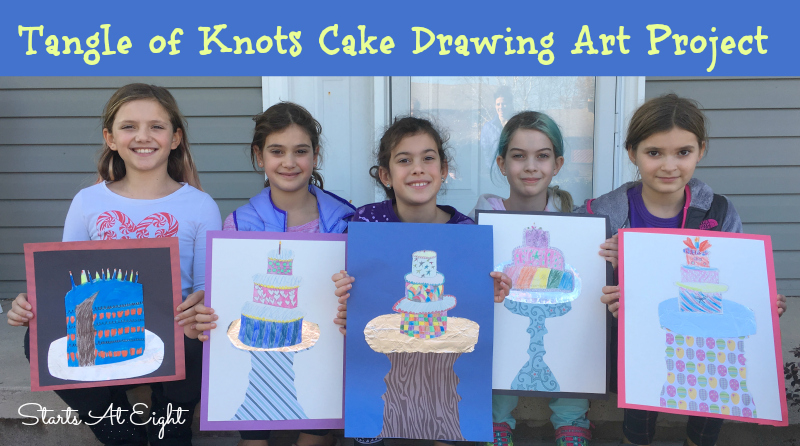 This is a cake drawing art project we did to go along with Tangle of Knots.
You can find photos and directions here: Tangle of Knots Cake Drawing Art Project
Other Book Club Books with Activities