This year my 10 year old daughter and I have had the pleasure of being part of a Mighty Girl Book Club. The first book we read was The Evolution of Calpurnia Tate. I can't begin to tell you how much we not only enjoyed the book, but all the Evolution of Calpurnia Tate activities! This book encourages girls to explore the world and follow their dreams, even if they don't fit the mold society has for them!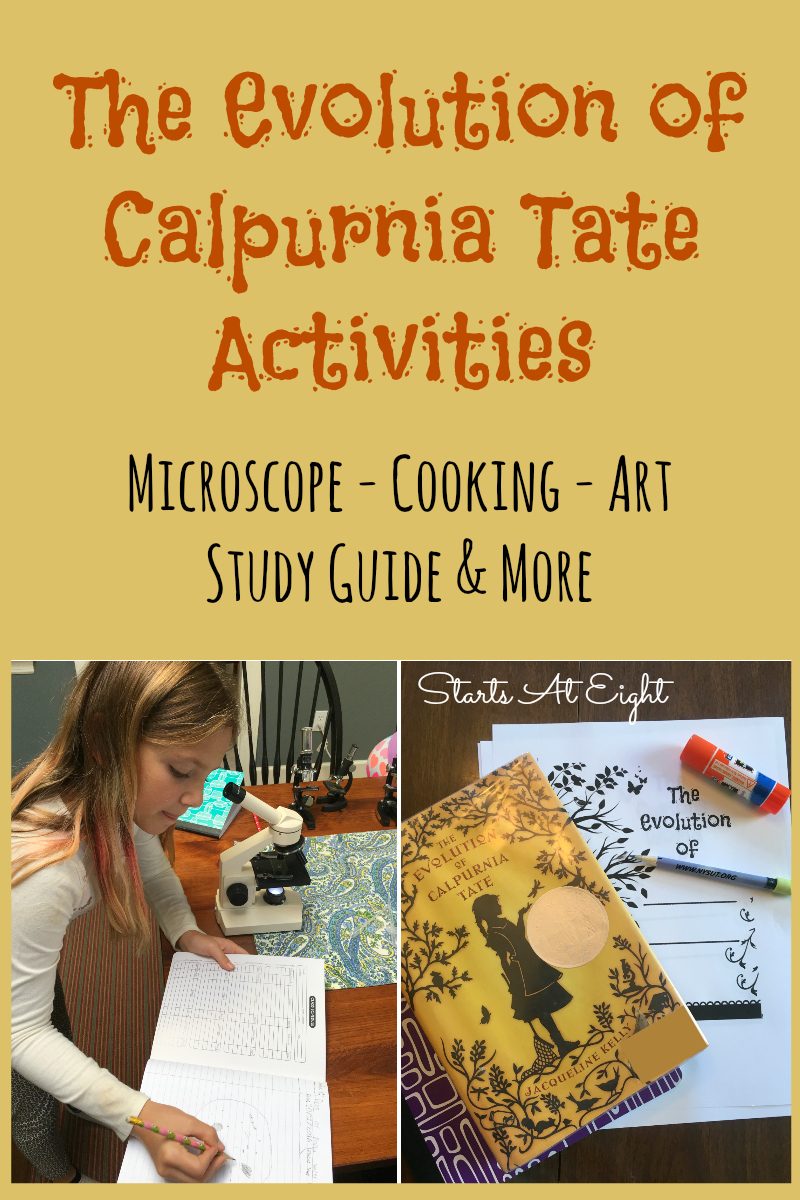 Whether you are participating in a book club, co-op class, or just reading this at home with your children, I have compiled a collection of activities related to the book that are sure to engage and delight! I know they had our little girls fully engaged and having fun!
The Evolution of Calpurnia Tate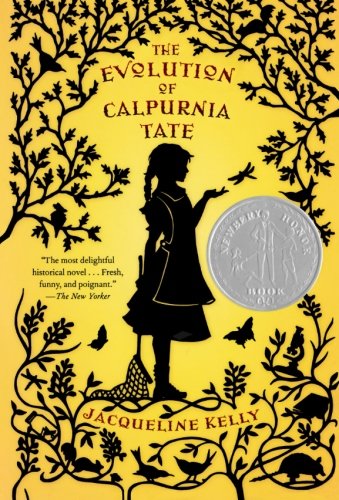 Summary
The Evolution of Calpurnia Tate is set at the turn of the 20th century this story follows six months in the life of young Calpurnia Tate. Calpurnia is an 11 year old girl who is evolving along with the century as she tries to focus on exploring science and the natural world with her grandfather rather than learning the domestic arts her mother things she will need in her inevitable role as a wife and mother.
Calpurnia Virginia Tate – known as Callie or Callie Vee to her family, lives in a small Texas farming town wither her parents, six brothers and grandfather. Callie forges a close relationship with her grandfather wen she begins to share his interest in nature and science. He takes her under his wing and teaches her about the scientific method and the importance of recording her observations, which she does in a spiral notebook.
Along the way they discover a new species of vetch plant which they get to name. This really gets the attention of the rest of her family, and Callie summons the nerve to reveal her hope of attending college and seeing the world rather than settling down to an early marriage.
Discussion Questions
Instead of listing questions I will share with you a Calpurnia Tate Study Guide.
This Evolution of Calpurnia Tate Study Guide includes questions, extended computer research activities, and writing suggestions.
We also used the pretty Calpurnia Tate quote printables from Creek Side Learning in our journals.
Vocabulary
One thing of note with this book is the rich vocabulary. It was the one part of the book all our girls struggled with. As part of our book club notebooks we try to keep a list of vocabulary words for each book that the girls didn't know. It gives us a chance to talk about them, read them in context and give the girls a solid working definition of previously unknown words to them.
Here are just a few examples of some of the words from this book: pestiferous (pg. 3) moldering (pg. 4) accorded (pg. 11) loitered (pg. 13) dilapidated (pg. 18) consternation (pg. 19) stupefying (pg. 29) begrudge (pg. 37) dragooned (pg. 40) duchy (pg. 50) minutiae (pg. 56) pedagogic (pg. 63) protuberant (pg. 74) feigning (pg. 83) desiccated (pg. 96) jettison (pg. 116) ignominy (pg. 131) tedium (pg. 155) ensconced (pg. 172) prodigious (pg. 197) malevolent (pg. 213) efficacious (pg. 230) debacle (pg. 247) purgatives (pg. 269) odious (pg. 288) feral (pg. 310) surreptitious (pg. 323)gingerly (pg. 336)
The Evolution of Calpurnia Tate Activities
Microscope Activities
The Evolution of Calpurnia Tate lends itself well to engaging in microscope activities. You can find many microscope resources and activities by clicking on the photo below. Be sure to have them include drawings and observations in a science notebook – or in our case we included them in our book club journals we are keeping.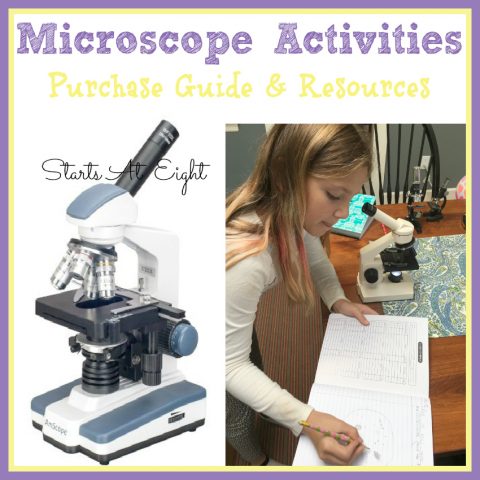 Here is what we did:
1. Microscope Basics – Learn about the basic parts of a microscope and how they work. You can also look up old microscopes and check out how they have changed throughout the years.
2. View Prepared Slides – Use a set of prepared slides to give kids the opportunity to use the microscope with the guarantee of finding something interesting and distinct on the slide! This builds their interest and their confidence in using the microscope.
3. View Pond Water – Follow this experiment to view life in a drop of pond water. Our girls were so exited to see the moving things in a tiny drop of water as well as to see they found similar things to what is showed in the following video!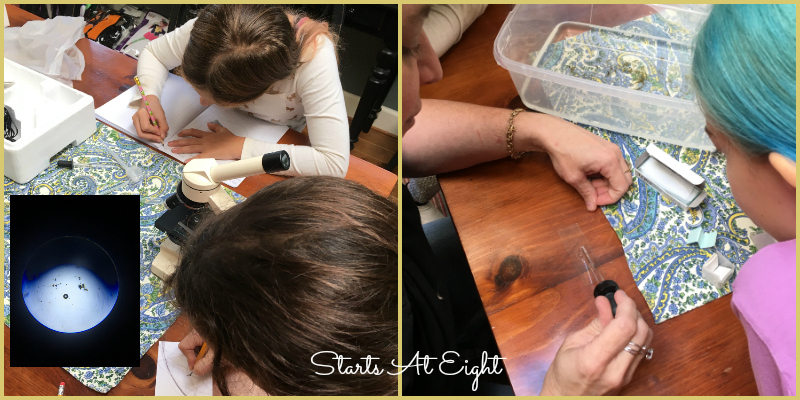 4. Watch Life in a Drop of Water
Pecan Recipe – Oatmeal Carmelitas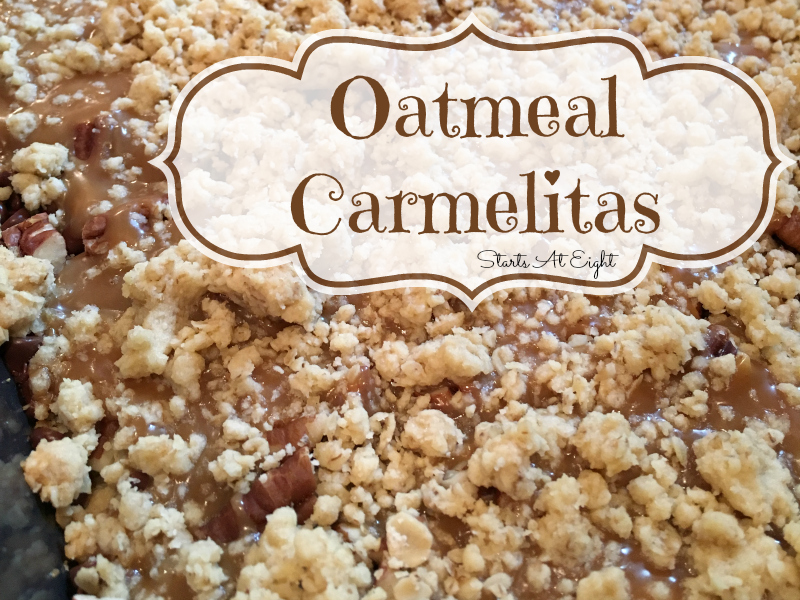 This recipe makes about 2 dozen 2 inch square bars.
Ingredients:
2 cups all-purpose flour
1 teaspoon baking soda
1/2 teaspoon salt
1 cup (2 sticks) butter, at room temperature
1 1/2 cups packed light brown sugar
2 cups quick-cooking oats
1 (14-ounce) bag soft caramel candies, unwrapped (about 50)
1/2 cup evaporated milk
1 cup semisweet chocolate chips
1 cup chopped pecans
Directions:
Preheat the oven to 350 degrees F. Grease a 9 by 13-inch baking dish (or use nonstick baking spray). Set aside.
In a large bowl, whisk together the flour, baking soda, and salt. Set aside. Place the butter and brown sugar in the bowl of a stand mixer fitted with the paddle attachment and beat on medium speed until creamy. Slowly add the flour mixture and blend until incorporated. Use a wooden spoon or spatula to fold in the oats. The mixture will be crumbly. Transfer half (about 3 cups) of the mixture to the baking dish. Use your fingers to gently press and spread the mixture evenly on the bottom of the baking dish. Bake for 10 minutes to set.
While the first layer is baking, place the caramels and milk in a small saucepan (or see Carpool Crunch). Cook over medium-low heat, stirring constantly, until the caramels are melted. Remove from the heat and let cool slightly.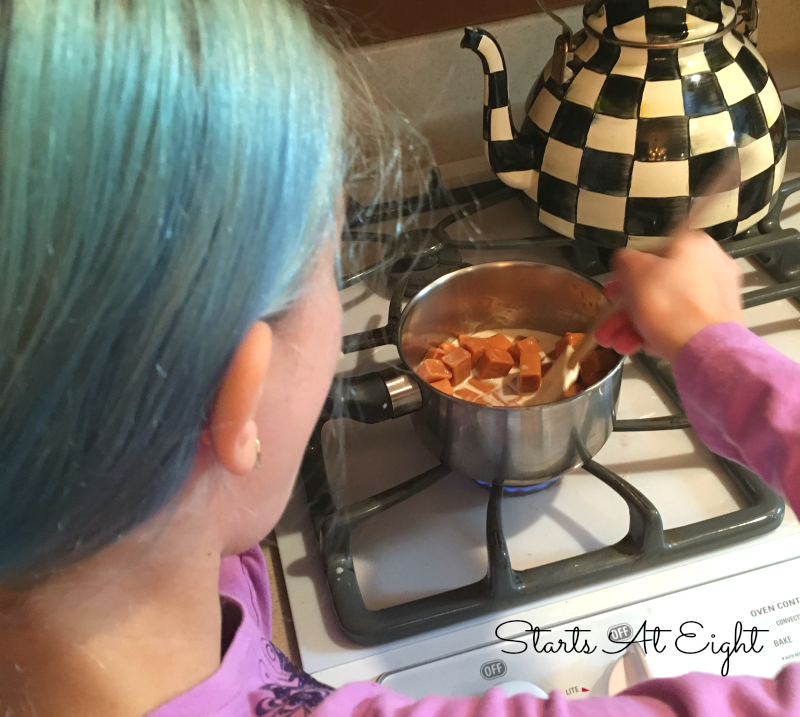 Remove the crust from the oven. Sprinkle the chocolate chips and pecans over the top. Carefully pour the caramel mixture on top of the chocolate chips and nuts, and spread evenly. Sprinkle the remaining crumb mixture over the top. Bake for 15 to 20 minutes, until lightly browned. Remove from the oven and let cool to room temperature. Then refrigerate for at least 2 hours, or until the bars are set. Cut into 2-inch squares
Dragonfly Art Project
This is an art project from Art Achieve.  It utilizing some basic drawing skills as well as work with watercolors and oil pastels. I chose to do this one because of it being nature related and I like the way the video lessons at Art Achieve walk you through each step.
Other Book Club Books with Activities