Oh how I love The Candymakers by Wendy Mass! It offers mystery, friendship, integrity, and CANDY! I absolutely love how Wendy Mass tells the story from 4 different perspectives! It is amazing what you don't see on the outside – or at least what you perceive of others from the outside!
"Some people have scars on the inside and other people's are on the outside."

"If nothing ever changed, there would be no such things as butterflies."
The Candymakers Discussion Questions
Who is your favorite character and why?
Can you name some of the rooms? What was your favorite or what room do you wish the Life is Sweet candy factory had?
Who's perspective is The Candymakers told from?
What did each character (Logan, Miles, Daisy, Phillip) submit for the contest?
What is the "big mystery" in The Candymakers? The small ones? Clues given?
What did you think the secret ingredient was?
What is each character's motive for entering the contest? Do their motives change? If so, how?
Why does Phillip have to win? If you were Logan, Daisy, or Miles, would you work with Phillip and let him win? Do you think Phillip would have won without their help?
If you could create your own candy what would it be called? What ingredients would you use?
**Wendy Mass also has a sequel that just came out! The Candymakers And The Great Chocolate Chase
Chocolate Pizza Recipe
The Chocolate Pizza Recipe is awesome! We made this ahead of time, having it warm and ready to eat as book club was beginning.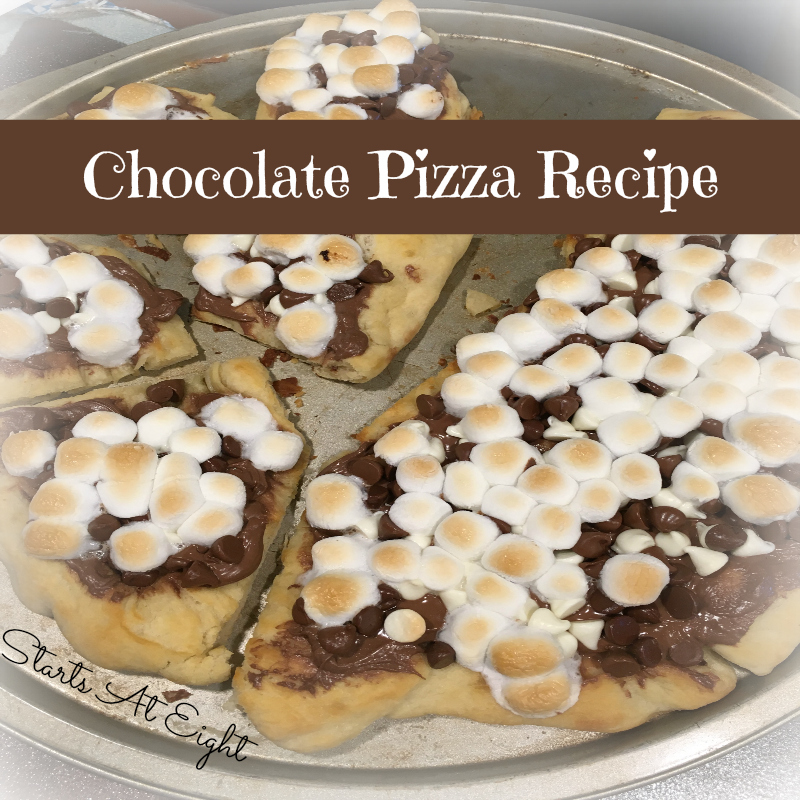 Ingredients:
Pizza dough (homemade or store bought)
2 tsp. butter – melted
1/3 cup Nutella
1/3 cup semi-sweet chocolate chips
1/3 cup milk chocolate chips
1/3 cup white chocolate chips
1 cup mini marshmallows (or regular marshmallows cut into eighths)
Directions:
Grease a 12 or 13 inch round pan and spread your dough evenly on it, be sure to push dough to the slides to create a thicker edge.
Brush the dough with melted butter.
Bake according to your dough directions – so you have a slightly crisp and pale golden brown dough.
Immediately after removing cooked dough from the oven, spread the Nutella over the pizza (leaving the edges bare).
Then sprinkle with the 3 types of chocolate chips and marshmallows.
Place back in the over and bake until the chocolate starts to melt and the marshmallows turn golden brown.
Cut pizza into wedges and serve!
How to Make Rock Candy
While we attempted this in our book club meeting I did not take any photos. It turned out to be quite a task trying to create sugar mixture for 6 jars at one time! I don't recommend doing the sugar mixture in large quantities as it was very difficult (we didn't make it happen in one of our large pots) to get the sugar to dissolve into a solution.
Year ago I did this with just my children. Here can see the beginning and end results of our attempt to make rock candy.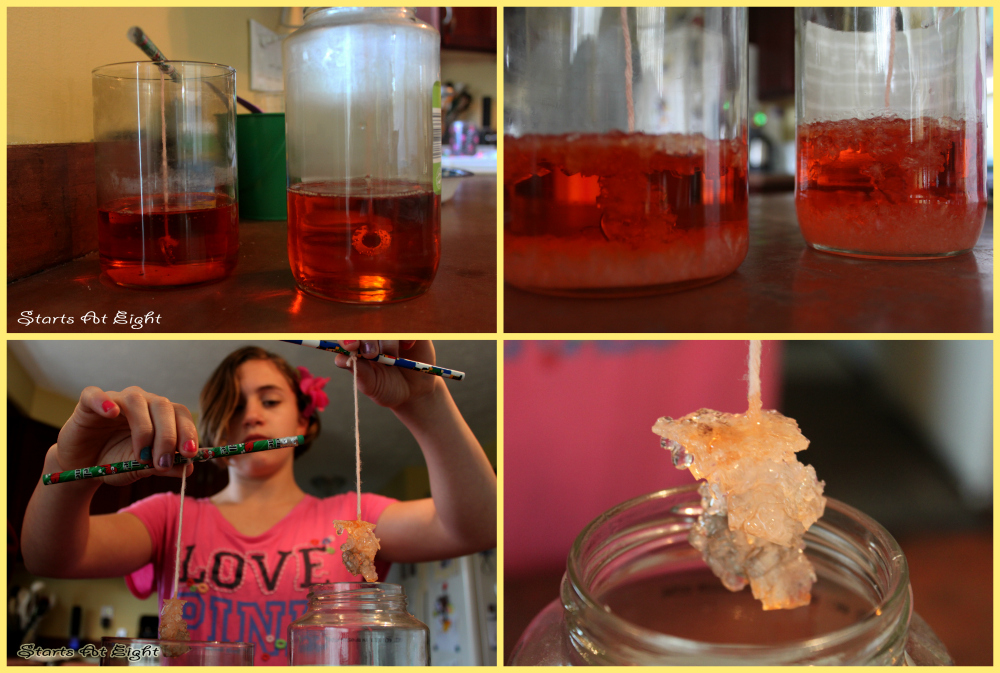 Since I haven't had great luck with making randy candy myself, here instead is a link to a How To Make Rock Candy article that offers multiple options and great tips of things to think about and try while doing this activity.
Jolly Rancher Sucker Recipe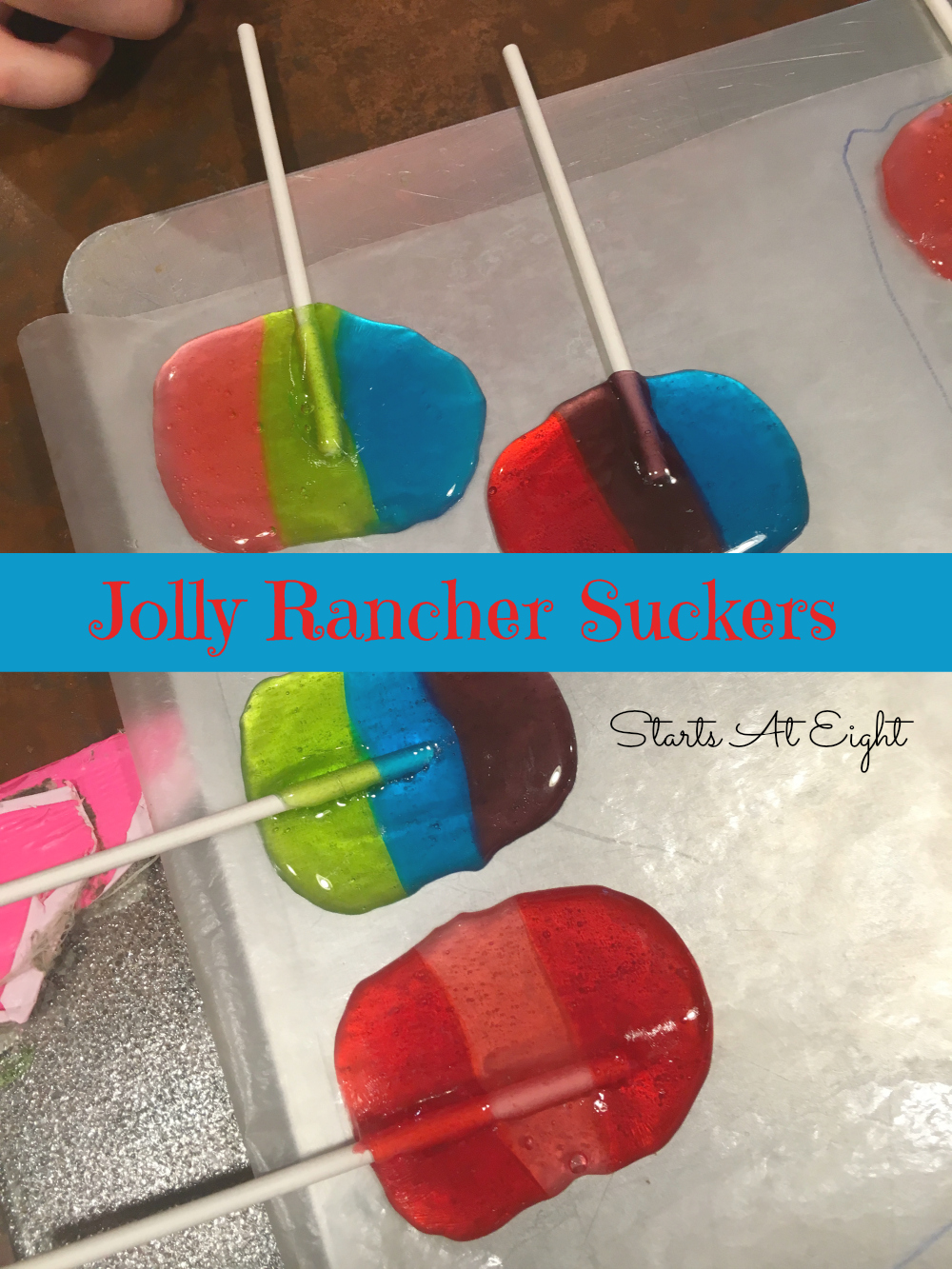 This one is super easy and fun to do! Even little kids can choose their Jolly Rancher colors! Then you can bake and place the stick if need be.
What You Need:
Directions to Make Suckers:
Preheat over to 225 degrees F
Have the kids place three candies side-by-side on parchment paper coated with cooking spray. NOTE: I recommend place them around the side of a flat cookie sheet so the sticks can be place in and be hanging over the edges. If you place the sets of three candies to close to each other you will have no room for the sticks.
Bake 6-9 minutes – until the candies are melting together but not totally flattened out.
While the candy is till warm press the lollipop stick into one end of the candy and twist slightly to mold the warm candy around the stick.
Cool completely and remove from pan to eat!
Other Book Ideas