I took Ivy &  Bean
out of the library months ago but Ava and I never got around to reading it. Then it became our turn to host our Mother/Daughter Book Club so I thought an Ivy & Bean Book Club would be good incentive to ensure that we would read it.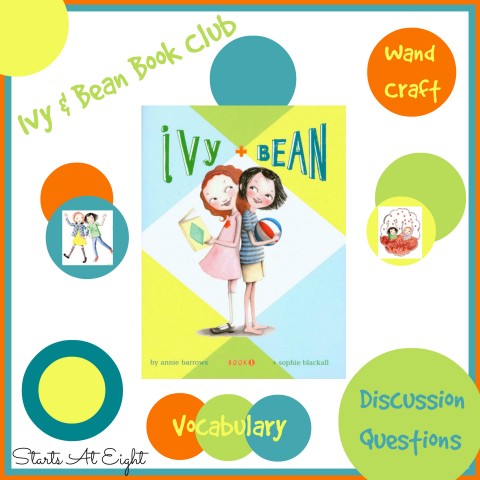 I had heard good things about the book and was very curious to see if we would enjoy it as well. There were a couple of major themes in the book that I really appreciated. First of all it offers a good message, not to make judgments based on first impressions. Secondly, there are no concerns over identity or fitting in. Being an individual with Ivy & Bean is a good thing!
In interviews, Barrows tells of why she felt inspired to write the series. When her oldest daughter was young she noticed a need for books for kids that were too old for picture books but not quite ready for middle grade chapter books. Her daughter ran out of books that were appropriate for that in-between stage.
Watch an interview with Annie Barrows:
Ivy & Bean Comprehension Questions:
Chapter 1 – "No Thanks"
Do you think Bean's mother keeps bugging her about playing with Ivy because she knows something Bean does not?
What were some of Bean's reasons for not wanting to play with Ivy?
Chapter 2 – "Bean Hatches a Plan"
What do you think about Bean's older sister Nancy? Is she mean to Bean or is she just looking out for her?
In what ways are Bean and Nancy similar and how do they differ?
Chapter 3 – "The Ghost of Pancake Court"
What will Nancy's reaction be when she sees the 20 dollar bill?
Why did Bean try to scare Ivy by pretending to be a ghost?
What is Ivy doing sitting on the porch wearing a, "bathrobe with lots of little pieces of paper stuck to it"?
What do you think Ivy is pretending to be?
Chapter 4 – "Bean Meets Ivy"
Why were Bean's ideas so off today?
Why was Ivy so willing to help Bean escape from Nancy?
Chapter 5 – "Ivy Hatches a Plan"
Does Ivy really have special powers?
Do you think Ivy's plan to put a dancing spell on Nancy will work?
Chapter 6 – "Beware"
Why was Bean so interested in helping Ivy fix her bathrobe?
Did Ivy do the right thing by pretending like nothing was going on when she walked into her house with Bean?
Why did Ivy have a large poster with "BEWARE" written largely on it?
Chapter 7 – "Easy-Peasy"
Was Bean's path back to her house really "easy-peasy"?
What would you have done if you were caught by Mrs. Trantz in her yard? Was Mrs. Trantz being fair to Bean and Ivy?
What would have happened if Ivy had not pretended to be sick?
Chapter 8 – "Bean's Backyard"
Before reading this chapter, predict what will happen when Bean and Ivy cross the fence to Bean's house. Use the title of the chapter as well as the illustration to make your prediction.
How did you feel when Nancy was crying at the kitchen table? Did your feelings change when you found out why she was crying?
What does Ivy's reaction to Nancy yelling at Bean tell us about Ivy and Bean's relationship?
Chapter 9 – "The Spell"
How would you have felt if your younger sister and her friend threw worms on your face? Did Nancy deserve to have worms thrown on her face?
Did Ivy's dancing spell really work or was Nancy just slipping in the mud?
What will happen when Bean's mother finds out what Bean and Nancy have been up to? Will she just be happy that the two are finally playing together?
Chapter 10 – "No Dessert"
Do you think Bean's mother should have given Bean harsher punishments?
What do you see when you visualize Mrs. Trantz slipping in the mud pit?
Will Bean and Ivy's friendship continue to grow?
More In-depth Questions:
Are you more like Ivy or Bean?
Why do the girls become such good friends?
What are the characteristics of a good friend?
Do you have to be similar to someone to be friends with them?
Why do people make assumptions based on first impressions?
Is it better to judge people on first impressions or wait until you get to know them?
Although the girls are very different, where do they find common ground?
Ivy & Bean Vocabulary:
Tightwad– someone that does not like to spend money
Cul-de-sac– a street or a lane that ends a big circle
Passageway– a secret way to get from one place to another without being seen
Mummy– how ancient Egyptians preserved a body with wrappings
Easy-peasy– no problem
Squiggled– to move with a curving motion
Our Wand Craft:
Materials Needed: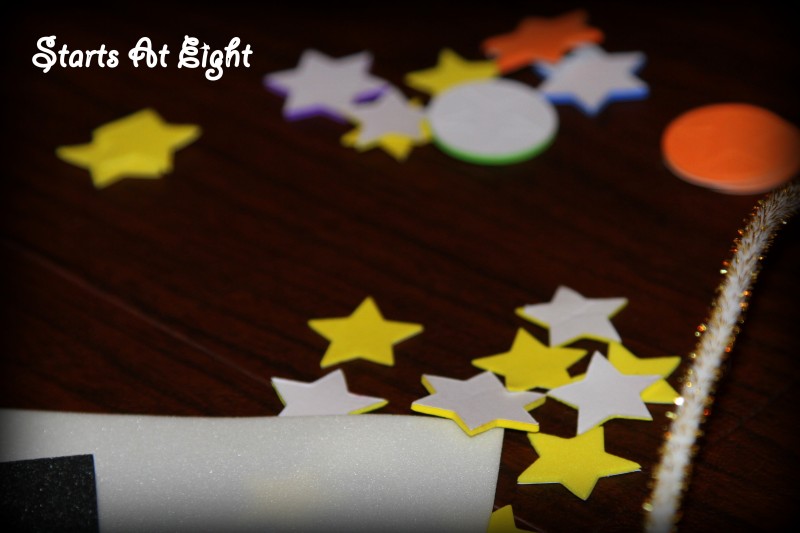 rolled up paper or empty paper towel rolls
glittery pipe cleaners
foam stars/moons
construction paper
glue, tape, scissors
markers, crayons
anything to create moons/stars (stencils, stickers)
Directions:
If you are using paper for the wands like we did, I suggest rolling them into tubes and gluing/taping them in place before you start. Otherwise if you are using empty paper towels rolls their is nothing to do with them.
Lay out any and all materials to be used. If working in a big group it is helpful to have multiple sets of things like crayons, scissors, glue, tape, etc.
Instruct the children to use whatever they would like to create their own magic wands. Some might want to just use foam stickers, some may use stencils and construction paper to create their own shapes, some will use glittery pipe cleaners and some won't. The thing I liked about this craft was that it went along with the story, but was flexible enough for each child to come up with their own creative spin on the magic wand.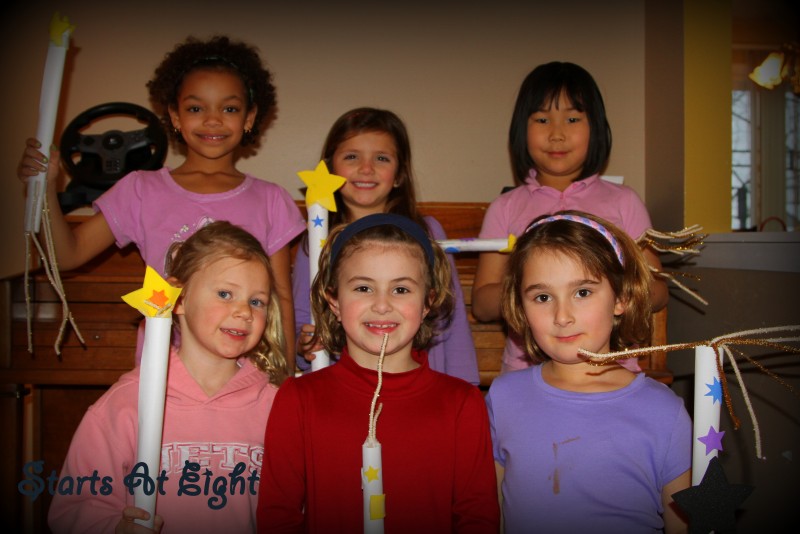 Other Websites To Check Out: