While we are limited in our travel resources, we have found ways to journey to different places from inside our home. Through books, videos, websites, and projects we are able to peek into, and experience a little bit of various cultures from all over the world. We are currently Learning About African Culture in our homeschool.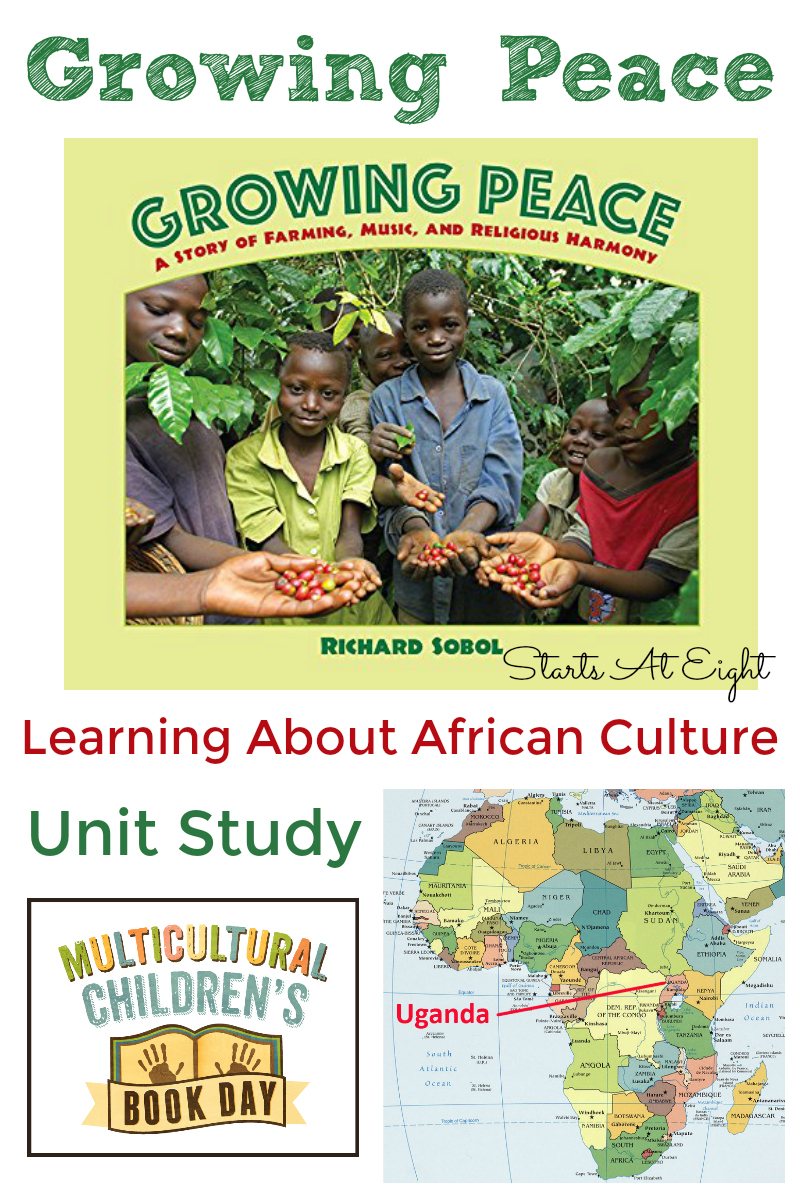 About Growing Peace
Growing Peace – A Story of Farming, Music, and Religious Harmony by Richard Sobol
I received Growing Peace in exchange for an honest review. All the opinions below are mine and I was not required to write a positive review. Please see my full Disclosure Policy for more details.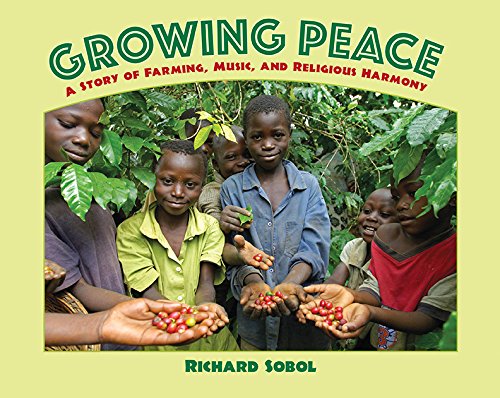 On the morning of September 11, 2001, J. J. Keki, a Ugandan musician and coffee farmer, was in New York, about to visit the World Trade Center. Instead, J.J. witnessed the terrorist attack on the Twin Towers. He came away from this event with strong emotions about religious conflict. Why should people be enemies because of their religions?
Back home in his village, J.J. was determined to find a way for people who held different religious beliefs to work together. He saw that the neighborhood children, from Jewish, Muslim, and Christian families, played with one another without a care about religion. Why not enlist their parents, all coffee farmers like himself, in a cooperative venture around a shared goal? Together they would grow, harvest, and sell their coffee. At the same time, they would bridge religious differences to work and live together peacefully.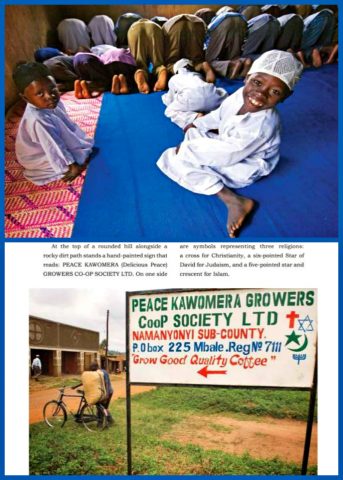 Here is a rare and timely story of hope, economic cooperation, and religious harmony from an often struggling part of the world. From J.J.'s vision, his community has achieved what many people strive for: a growing peace.
An Interview with author Richard Sobol 
A Few Facts About Uganda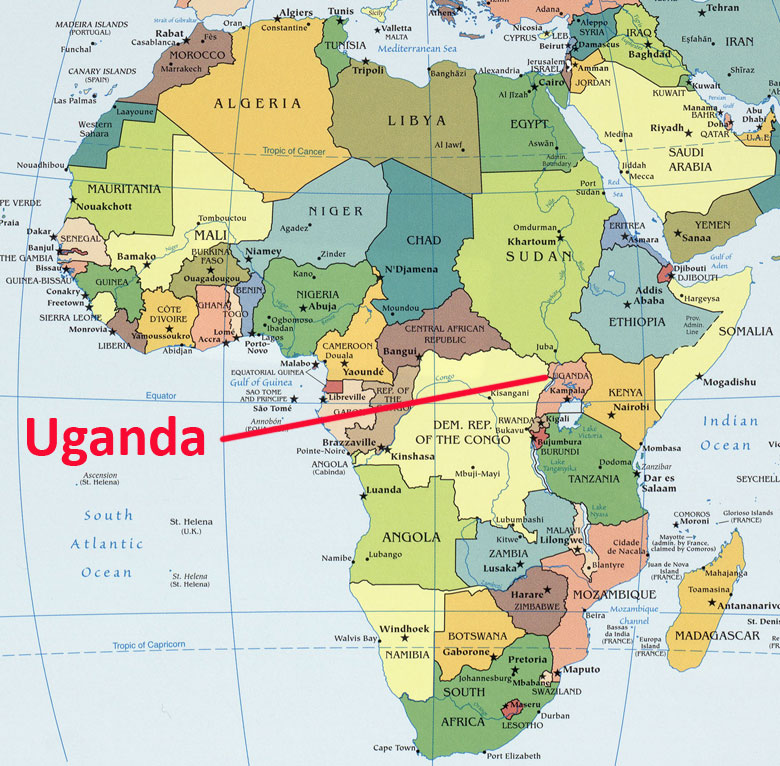 Uganda, twice the size of Pennsylvania, is a landlocked country in East Africa. It is bordered on the west by Congo, on the north by the Sudan, on the east by Kenya, and on the south by Tanzania and Rwanda. The country, which lies across the equator, is divided into three main areas—swampy lowlands, a fertile plateau with wooded hills, and a desert region. Lake Victoria forms part of the southern border.
There is a rule in Uganda regarding cutting of trees. The Rule is, if you cut one tree, then you will need to plant three trees.
Uganda was referred to as the pearl of Africa by Winston Churchill because of its magnificence.
Nearly 50% of the population in Uganda is under the age of 14. With such a low age, it is the world's youngest country.
If you are presented with a meal of pan fried grasshoppers in Uganda, consider yourself a special guest because it is one of the favorite treats in the country!
There are more than 3,000 different groups of indigenous people living in Africa. They have their own language and culture.
Major Industries: sugar, brewing, tobacco, cotton textiles; cement, steel production Agricultural Products: coffee, tea, cotton, tobacco, cassava (tapioca), potatoes, corn, millet, pulses, cut flowers; beef, goat meat, milk, poultry
Natural Resources: copper, cobalt, hydropower, limestone, salt, arable land
Major Exports: coffee, fish and fish products, tea, cotton, flowers, horticultural products; gold Major Imports: capital equipment, vehicles, petroleum, medical supplies; cereals
Currency: Ugandan shilling (UGX)
Resources for Learning About Africa
Here are some great resources for learning about African culture and geography.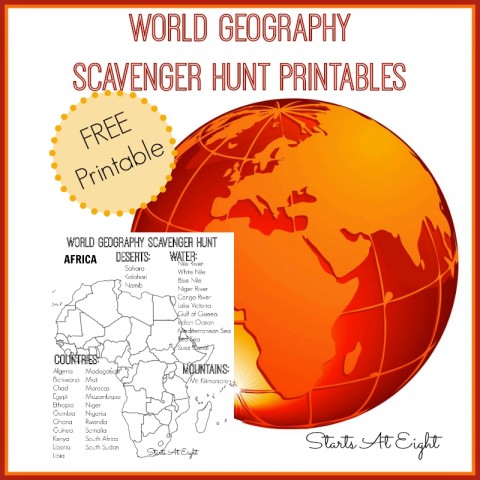 Check out more great Children's Books About Africa. Books are a great way for kids to begin learning about African culture, as told through stories and pictures of the people themselves. This list includes both picture books and non-fiction books to round out your study!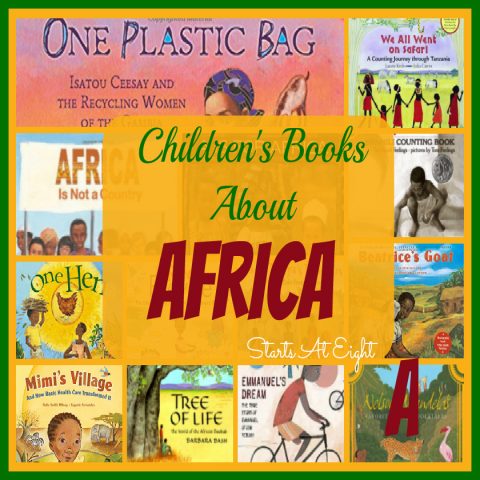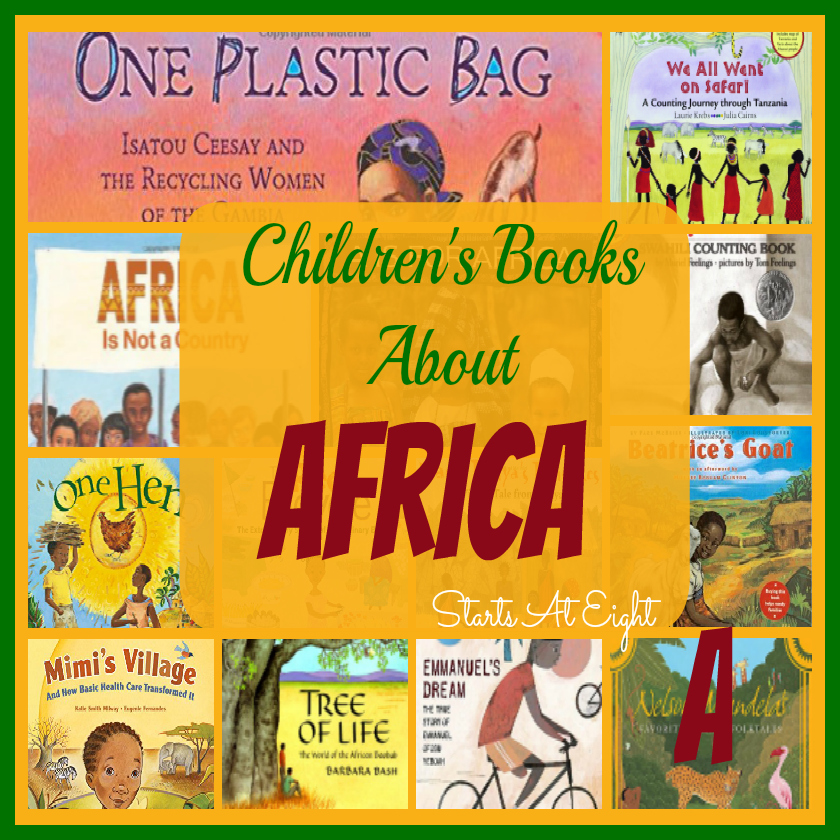 Also Check Out
Multicultural Children's Book Day
Multicultural Children's Book Day 2017 (1/27/17) is in its fourth year and was founded by Valarie Budayr from Jump Into A Book and Mia Wenjen from PragmaticMom. Our mission is to raise awareness on the ongoing need to include kid's books that celebrate diversity in home and school bookshelves while also working diligently to get more of these types of books into the hands of young readers, parents and educators.
Despite census data that shows 37% of the US population consists of people of color, only 10% of children's books published have diversity content. Using the Multicultural Children's Book Day holiday, the MCBD Team are on a mission to change all of that.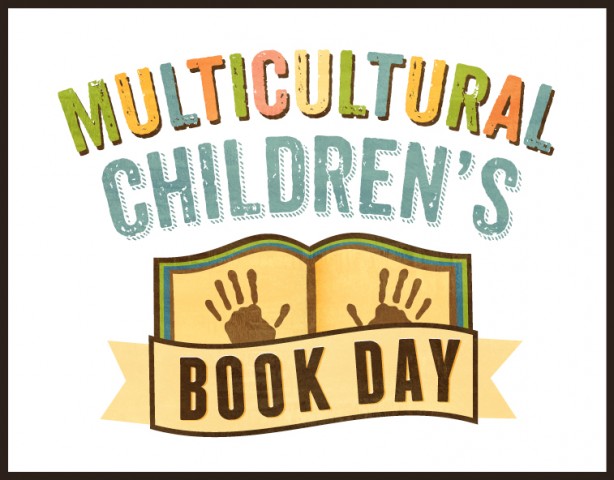 Current Sponsors:
MCBD 2017 is honored to have some amazing Sponsors on board. Platinum Sponsors include Scholastic, Barefoot Books and Broccoli. Other Medallion Level Sponsors include heavy-hitters like Author Carole P. Roman, Audrey Press, Candlewick Press,  Fathers Incorporated, KidLitTV, Capstone Young Readers, ChildsPlayUsa, Author Gayle Swift, Wisdom Tales Press, Lee& Low Books, The Pack-n-Go Girls, Live Oak Media, Author Charlotte Riggle, Chronicle Books and Pomelo Books
Author Sponsor Include:
Karen Leggett Abouraya, Veronica Appleton, Susan Bernardo, Kathleen Burkinshaw, Maria Dismondy, D.G. Driver, Geoff Griffin,  Savannah Hendricks, Stephen Hodges, Carmen Bernier-Grand,Vahid Imani, Gwen Jackson,  Hena, Kahn, David Kelly, Mariana Llanos, Natasha Moulton-Levy, Teddy O'Malley, Stacy McAnulty,  Cerece Murphy, Miranda Paul, Annette Pimentel, Greg Ransom, Sandra Richards, Elsa Takaoka, Graciela Tiscareño-Sato,  Sarah Stevenson, Monica Mathis-Stowe SmartChoiceNation, Andrea Y. Wang
MCBD's CoHost Team:
We'd like to also give a shout-out to MCBD's impressive CoHost Team who not only hosts the book review link-up on celebration day, but who also work tirelessly to spread the word of this event. View our CoHosts HERE.
Connect with MCBD:
Multicultural Children's Book Day Website : Facebook : Twitter
FREEBIES: