Historical fiction and rich children's literature are a big topic of interest for me. I am always on the hunt for quality books in these two categories. Reading is a great way to immerse yourself in another place and time, and a great way to engage kids in history without the grind of a textbook.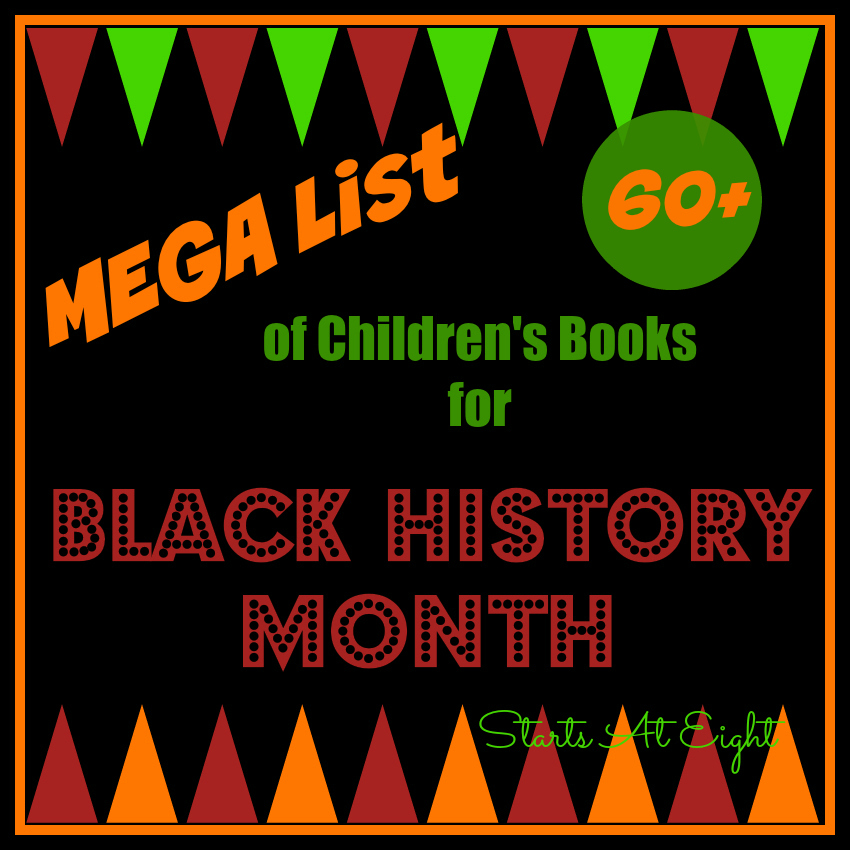 I have created a list of beautifully illustrated children's books, simple biographies, middle grade chapter books, and non-fiction books all pertaining to black history. These make great read alouds, book report books, supplements to curricula, and a great base for an extensive unit study on black history.
Mega List of Children's Books for Black History Month
Henry's Freedom Box: A True Story from the Underground Railroad by Ellen Levine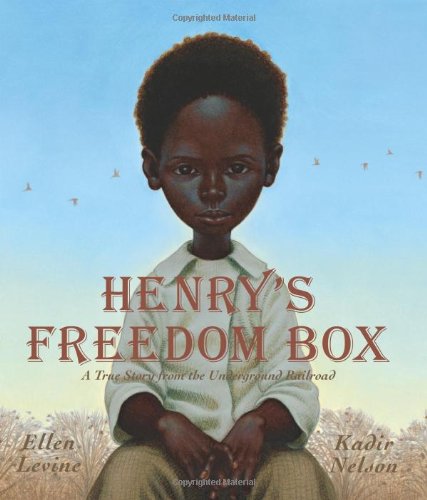 Henry Brown doesn't know how old he is. Nobody keeps records of slaves' birthdays. All the time he dreams about freedom, but that dream seems farther away than ever when he is torn from his family and put to work in a warehouse. Henry grows up and marries, but he is again devastated when his family is sold at the slave market. Then one day, as he lifts a crate at the warehouse, he knows exactly what he must do: He will mail himself to the North. After an arduous journey in the crate, Henry finally has a birthday — his first day of freedom.
Follow the Drinking Gourd by Jeanette Winter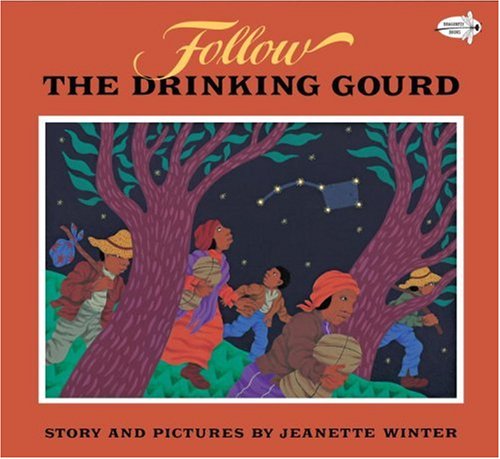 Winter's story begins with a peg-leg sailor who aids slaves on their escape on the Underground Railroad. While working for plantation owners, Peg Leg Joe teaches the slaves a song about the drinking gourd (the Big Dipper). A couple, their son, and two others make their escape by following the song's directions.
A Chair for My Mother  by Vera B. Williams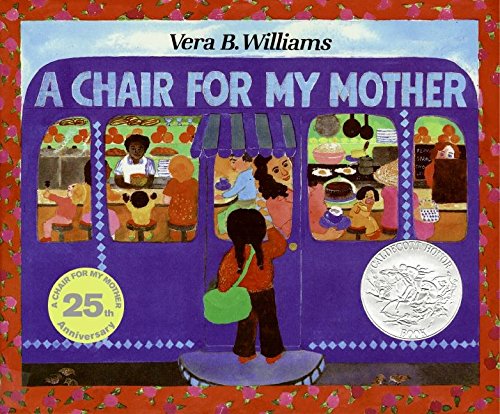 This story tells of a young girl, who along with her waitress mother, saves coins in a big jar in hopes that they can someday buy a big, new, comfortable chair for their apartment.
There hasn't been a comfortable place to sit in the apartment since a fire in their previous apartment burned everything to "charcoal and ashes." Finally the jar is full, the coins are rolled, and in the book's crowning moment mother, daughter, and Grandma search four different furniture stores, and after carefully trying several chairs, like Goldilocks, they find the chair they've been dreaming of at last.

The Other Side by Jacqueline Woodson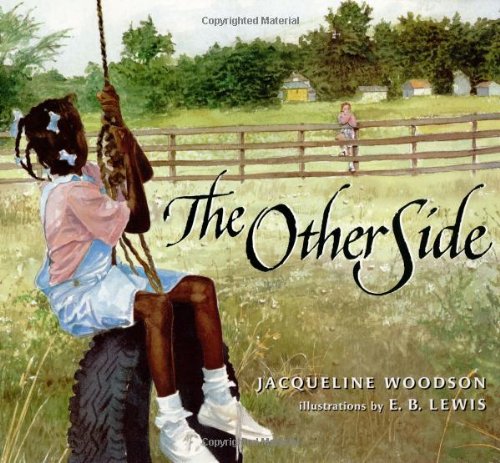 Clover's mom says it isn't safe to cross the fence that segregates their African-American side of town from the white side where Anna lives. But the two girls strike up a friendship, and get around the grown-ups' rules by sitting on top of the fence together.
A Picture Book of Jackie Robinson by David A. Adler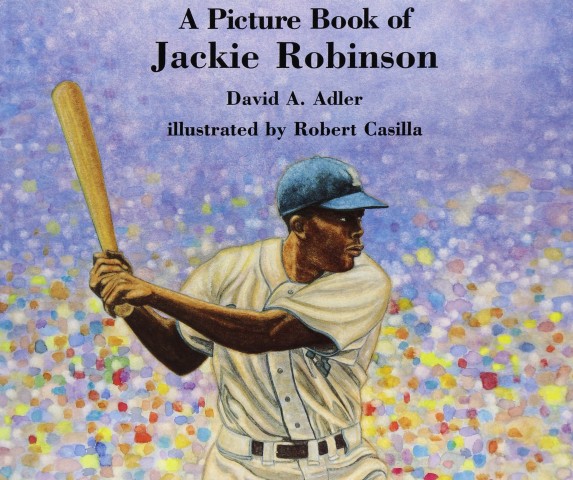 This is a brief look at the life of baseball great Jackie Robinson. It covers his childhood, sporting accomplishments, and later endeavors as well as the bigotry and prejudice he faced as the first African American to play in the major leagues.
Check Out These Other Picture Book Biographies by David A. Adler:
Martin's Big Words: The Life of Dr. Martin Luther King Jr. by Doreen Rappaport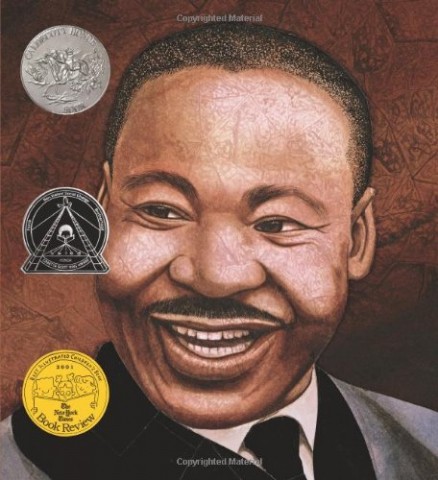 This picture-book biography is an excellent and accessible introduction for young readers to learn about one of the world's most influential leaders, Dr. Martin Luther King, Jr. Doreen Rappaport weaves the immortal words of Dr. King into a captivating narrative to tell the story of his life.
Click on the image below and check out the Martin Luther King Jr. Online Unit Study: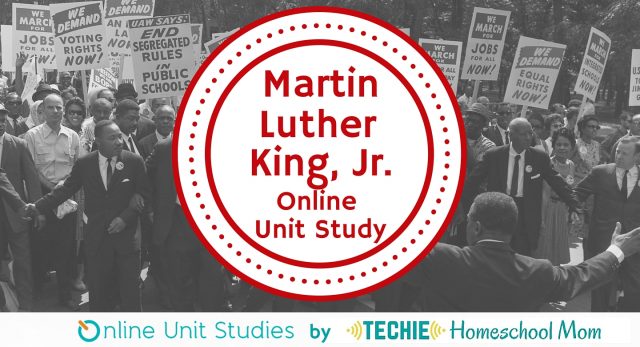 Moses: When Harriet Tubman Led Her People to Freedom by Carole Boston Weatherford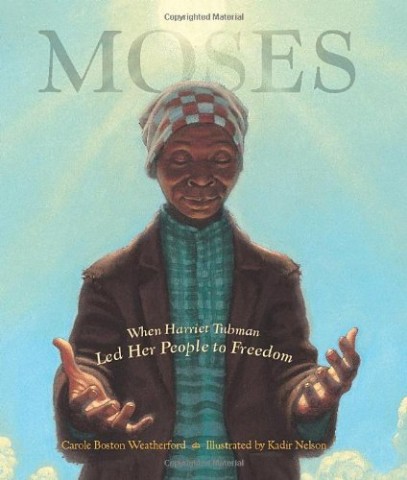 This poetic book is a resounding tribute to Tubman's strength, humility, and devotion. With proper reverence, Weatherford and Nelson do justice to the woman who, long ago, earned over and over the name Moses.
The Story of Ruby Bridges by Robert Coles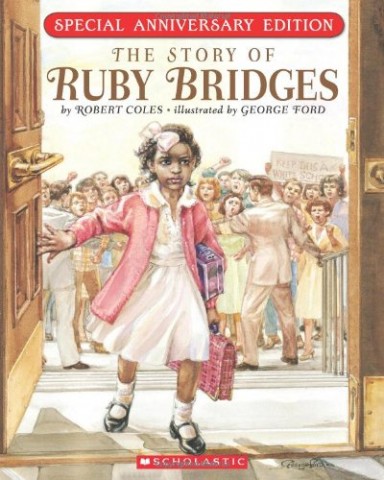 The year is 1960, and six-year-old Ruby Bridges and her family have recently moved from Mississippi to New Orleans in search of a better life. When a judge orders Ruby to attend first grade at William Frantz Elementary, an all-white school, Ruby must face angry mobs of parents who refuse to send their children to school with her.
You can watch the MOVIE TOO! Disney's Ruby Bridges
Through My Eyes by Ruby Bridges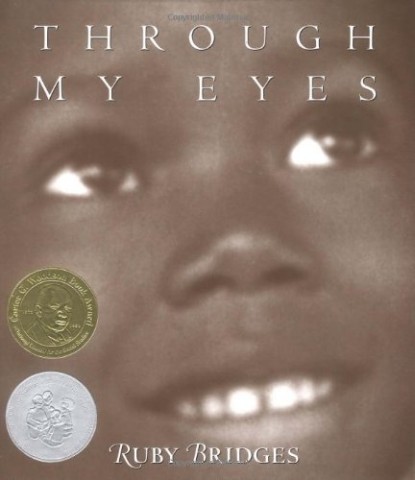 On November 14, 1960, a tiny six-year-old black child, surrounded by federal marshals, walked through a mob of screaming segregationists and into her school. From where she sat in the office, Ruby Bridges could see parents marching through the halls and taking their children out of classrooms. The next day, Ruby walked through the angry mob once again and into a school where she saw no other students. The white children did not go to school that day, and they wouldn't go to school for many days to come. Surrounded by racial turmoil, Ruby, the only student in a classroom with one wonderful teacher, learned to read and add.
This is the story of a pivotal event in history as Ruby Bridges saw it unfold around her. Ruby's poignant words, quotations from writers and from other adults who observed her, and dramatic photographs recreate an amazing story of innocence, courage, and forgiveness.
White Socks Only by Evelyn Coleman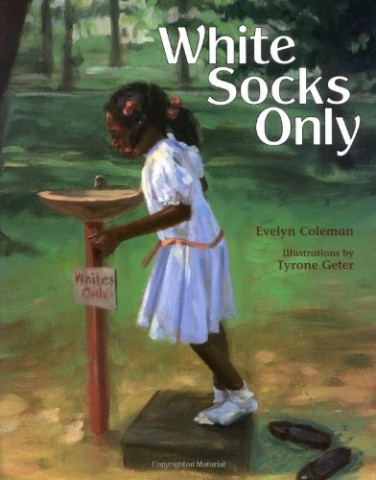 In the segregated south, a young girl thinks that she can drink from a fountain marked "Whites Only" because she is wearing her white socks.
Amazing Grace (Book 1 of 5) by Mary Hoffman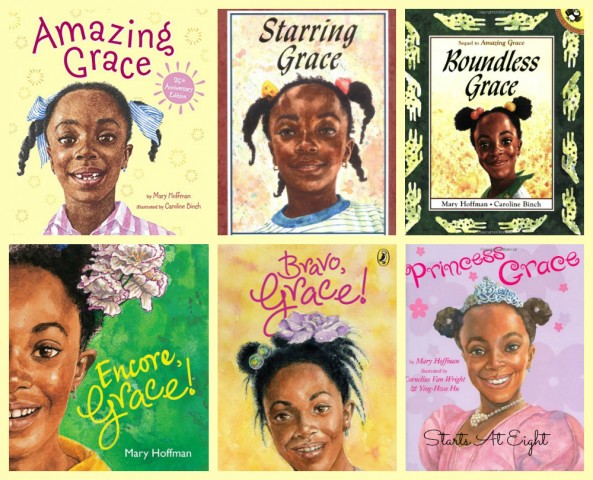 Grace loves stories, whether she hears them, reads them, or makes them up. Possessed with a marvelous imagination as well as a strong flair for the dramatic, she acts the stories out, always giving herself the most exciting parts. Thus, it is natural when her teacher announces a classroom production of Peter Pan , that Grace wants to play the lead. One classmate says she can't because she's a girl and another says she can't because she's black. When a saddened Grace relates the days events to her mother and grandmother, they tell her she can be anything she wants to, if she puts her mind to it. Inspired by her family's support, her own indomitable spirit, and an excursion to a weekend ballet starring a lovely Trinidadian dancer, Grace shines during her audition, leaving no doubt in anyone's mind as to who will play Peter Pan.
Sweet Clara and the Freedom Quilt by Deborah Hopkinson, James Ransome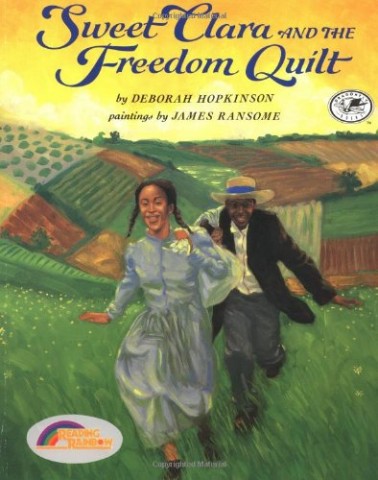 As a seamstress in the Big House, Clara dreams of a reunion with her Momma, who lives on another plantation–and even of running away to freedom. Then she overhears two slaves talking about the Underground Railroad. In a flash of inspiration, Clara sees how she can use the cloth in her scrap bag to make a map of the land–a freedom quilt–that no master will ever suspect.
The Quilt by Ann Jonas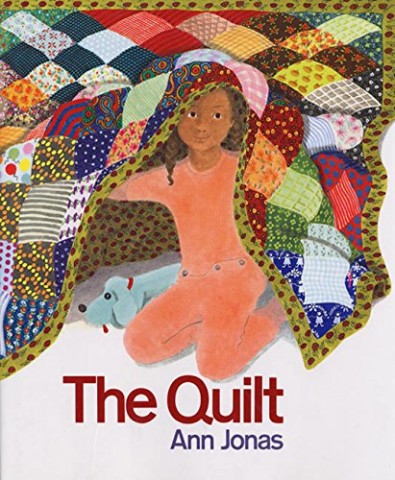 The new quilt is finished, and what a quilt it is! Here is a square from the proud owner's baby pajamas, and one from the shirt she wore on her second birthday. There is even a square of the same material from which her mother made her stuffed dog Sally. How can she possibly sleep when there is so much to look at, and remember, and dream about . . . ?
Uncle Jed's Barbershop by Margaree King Mitchell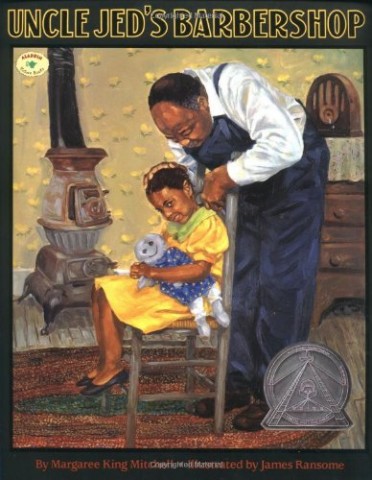 As the only black barber in a county of sharecroppers during the 1920s, Uncle Jed traveled for miles to tend to his customers. Saving his money to build his very own barbershop was a dream that had to be postponed because of his generous heart and the Depression. Then one glorious day, his 79th birthday, Uncle Jed finally opened the doors of his new shop.
There is also a great study guide for Uncle Jed's Barbershop
A Kids Guide to African American History: More Than 70 Activities by Nancy I. Sanders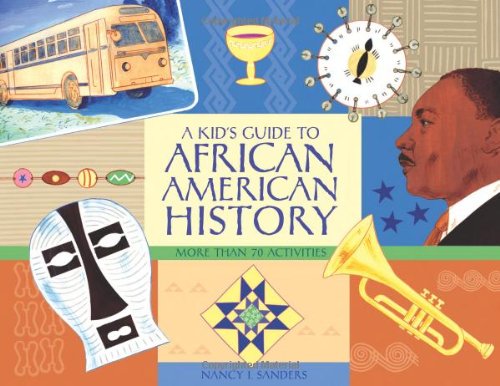 For parents and teachers interested in fostering cultural awareness among children of all races, this book includes more than 70 hands-on activities, songs, and games that teach kids about the people, experiences, and events that shaped African American history. This expanded edition contains new material throughout, including additional information and biographies. Children will have fun designing an African mask, making a medallion like those worn by early abolitionists, playing the rhyming game "Juba," inventing Brer Rabbit riddles, and creating a unity cup for Kwanzaa. Along the way they will learn about inspiring African American artists, inventors, and heroes like Harriet Tubman, Benjamin Banneker, Rosa Parks, Langston Hughes, and Louis Armstrong, to name a few.
Who Was Maya Angelou? by Ellen Labrecque
Born in Missouri in 1928, Maya Angelou had a difficult childhood. Jim Crow laws segregated blacks and whites in the South. Her family life was unstable at times. But much like her poem, "Still I Rise," Angelou was able to lift herself out of her situation and flourish. She moved to California and became the first black—and first female—streetcar operator before following her interest in dance. She became a professional performer in her twenties and toured the U.S. and Europe as an opera star and calypso dancer. But Angelou's writing became her defining talent. Her poems and books, including I Know Why the Caged Bird Sings, brought her international acclaim.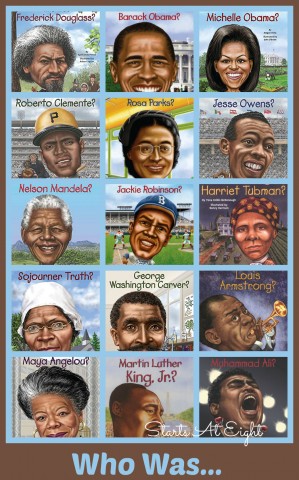 Check Out These Other Who Was Books:
The Watson's Go to Birmingham – 1963 by Christopher Paul Curtis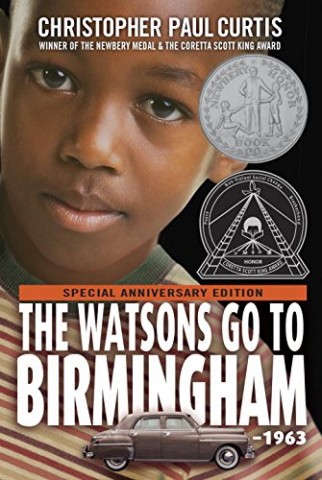 A wonderful middle-grade novel narrated by Kenny, 9, about his middle-class black family, the Weird Watsons of Flint, Michigan. When Kenny's 13-year-old brother, Byron, gets to be too much trouble, they head South to Birmingham to visit Grandma, the one person who can shape him up. And they happen to be in Birmingham when Grandma's church is blown up.
A Guide for Using The Watson's Go to Birmingham
You can watch the MOVIE TOO! The Watson's Go To Birmingham
One Crazy Summer by Rita Williams-Garcia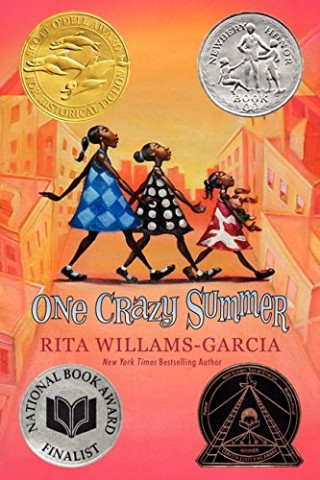 Eleven-year-old Delphine is like a mother to her two younger sisters, Vonetta and Fern. She's had to be, ever since their mother, Cecile, left them seven years ago for a radical new life in California. When they arrive from Brooklyn to spend the summer with her, Cecile is nothing like they imagined. While the girls hope to go to Disneyland and meet Tinker Bell, their mother sends them to a day camp run by the Black Panthers. Unexpectedly, Delphine, Vonetta, and Fern learn much about their family, their country, and themselves during one truly crazy summer.
The Gold Cadillac by Mildred Taylor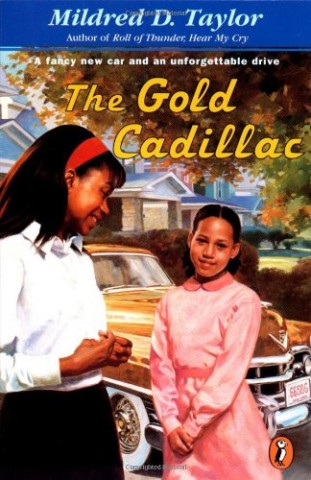 Lois and Wilma are proud of their father's brand-new gold Cadillac, and excited that the family will be driving it all the way from Ohio to Mississippi. But as they travel deeper into the rural South, there are no admiring glances for the shiny new car; only suspicion and anger for the black man behind the wheel. For the first time in their lives, Lois and her sister know what it's like to feel scared because of the color of their skin. A personal, poignant look at a black child's first experience with institutional racism.
Other Mildred Taylor Books:
Logan Family Saga Series
The People Could Fly: American Black Folktales by Virginia Hamilton and Leo Dillon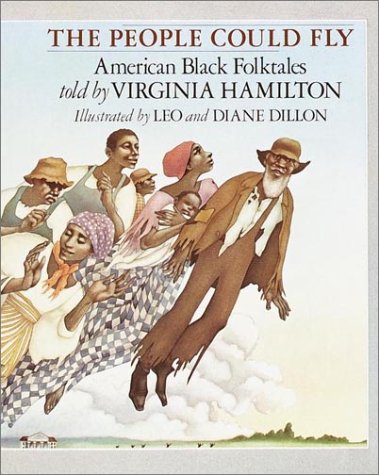 This book retells 24 black American folk tales in sure storytelling voice: animal tales, supernatural tales, fanciful and cautionary tales, and slave tales of freedom. All are beautifully readable. With the added attraction of 40 wonderfully expressive paintings!
Many Thousand Gone: African Americans from Slavery to Freedom by Virginia Hamilton and Leo Dillon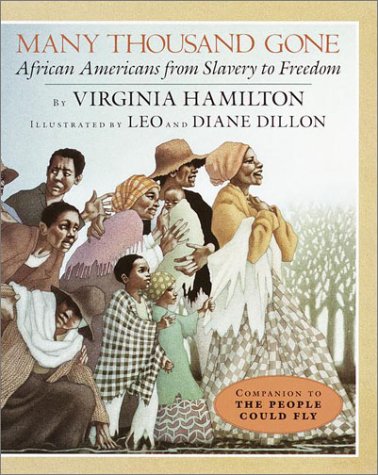 Unavailable for several years, Virginia Hamilton's award-winning companion to The People Could Fly traces the history of slavery in America in the voices and stories of those who lived it.
Nelson Mandela by Kadir Nelson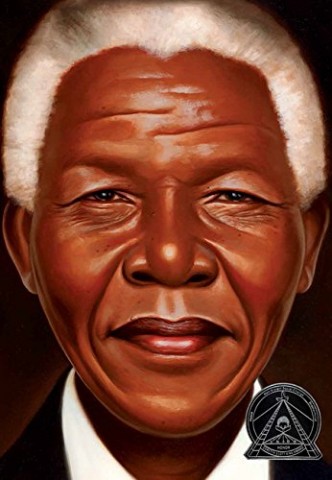 In this picture book biography, award-winning author and illustrator Kadir Nelson tells the story of Mandela, a global icon, in poignant free verse and glorious illustrations. It is the story of a young boy's determination to change South Africa, and of the struggles of a man who eventually became the president of his country by believing in equality for all people, no matter the color of their skin.
Sit-In: How Four Friends Stood Up by Sitting Down by Andrea Davis Pinkney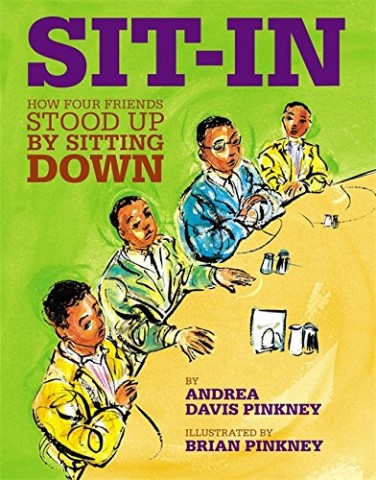 Andrea Davis Pinkney uses poetic, powerful prose to tell the story of these four young men, who followed Dr. Martin Luther King Jr.'s words of peaceful protest and dared to sit at the "whites only" Woolworth's lunch counter.
Freedom on the Menu: The Greensboro Sit-Ins by Carole Boston Weatherford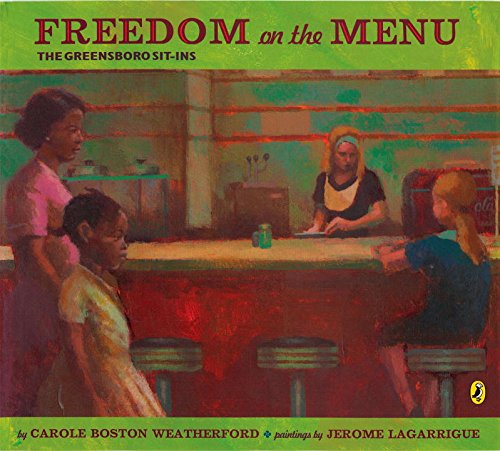 There were signs all throughout town telling eight-year-old Connie where she could and could not go. But when Connie sees four young men take a stand for equal rights at a Woolworth's lunch counter in Greensboro, North Carolina, she realizes that things may soon change. This event sparks a movement throughout her town and region. And while Connie is too young to march or give a speech, she helps her brother and sister make signs for the cause. Changes are coming to Connie's town, but Connie just wants to sit at the lunch counter and eat a banana split like everyone else.
Great Black Heroes Series: