A great way to introduce kids to other cultures is through high quality children's literature. From beautiful picture books, to engaging native stories, books that teach about language and culture and so much more. While your kids may not be able to physically travel to a place, engaging books can be a transportation of their own, allowing kids to learn and experience the culture of other places in the world from the inside of their own home.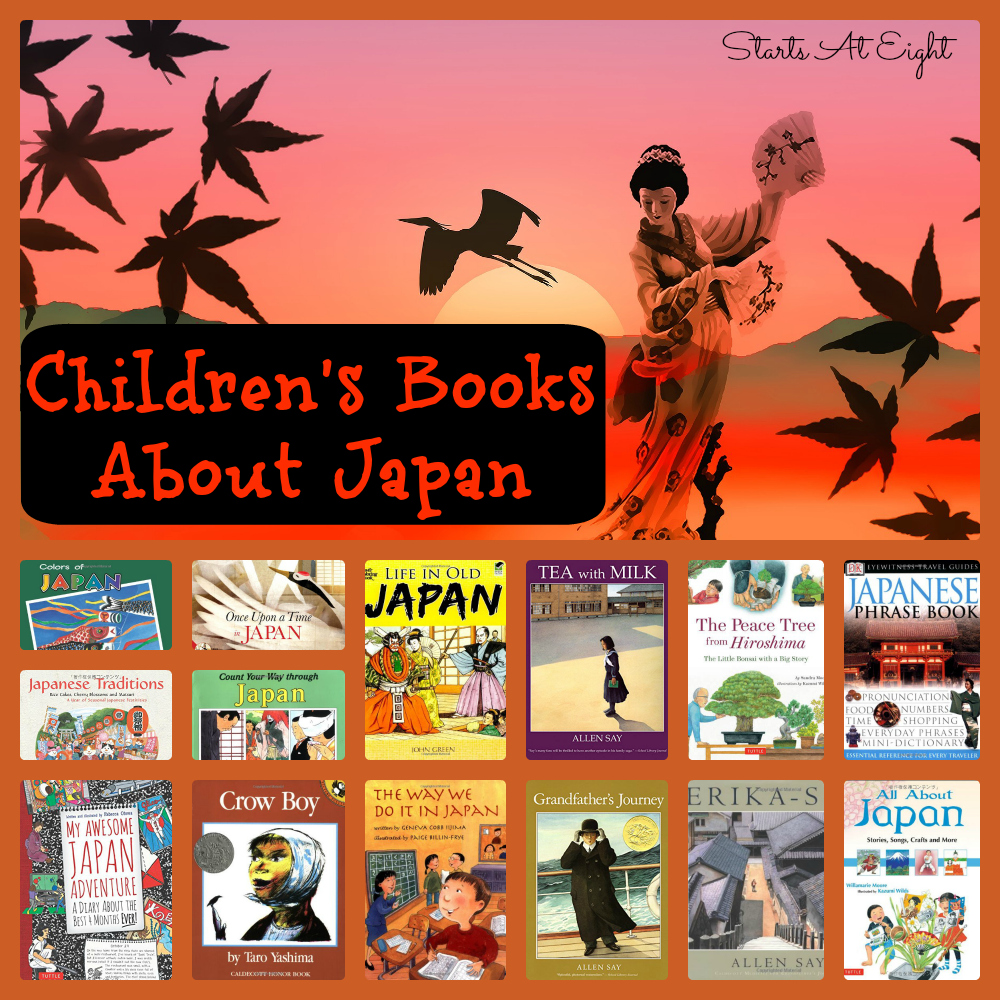 Here is a list of children's books about Japan that include both fiction and non-fiction titles to help your child learn and explore the native culture of Japan.
Children's Books About Japan
1. Count Your Way Through Japan by James Haskins – Presents the numbers one to ten in Japanese, using each number to introduce concepts about Japan and its culture.
2. Once Upon A Time in Japan by Japan Broadcasting Corporation – Bringing Japanese folk stories to the English-speaking world, this book presents eight stories from the popular NHK Japan Broadcasting Corporation's popular radio series Once Upon a Time in Japan. Each story is illustrated by a Japanese artist. The tales recounted are among Japan's oldest and most beloved stories. Entertaining and filled with subtle folk wisdom, these retold stories have been shared countless times in Japanese homes and schools for generations.
3. My Awesome Japan Adventure: A Diary About The Best 4 Months Ever! by Rebecca Otowa – A perfect introduction to Japanese culture for kids, My Awesome Japan Adventure is the diary of an American fifth grader who travels to Japan to spend four exciting months with a Japanese family as an exchange student. He records all his adventures in this diary so that he can tell his friends back home about what he did and saw during his time in Japan. With the help of a Japanese foster brother and sister he visits a Ninja village, tries new foods, learns brush painting, and gets the inside scoop on daily life in a Japanese school. Readers of all ages will love experiencing life in Japan from a kid's point of view!
4. I Live in Tokyo by Mari Takabayashi – Seven-year-old Mimiko lives in Tokyo, and here you can follow a year's worth of fun, food and festivities in Mimiko's life, month by month. Learn the right way to put on a kimono and see Mimiko's top ten favorite meals.
5. All About Japan: Stories, Songs, Crafts, and More by Willamarie Moore – Two friends, a boy from the country and a girl from the city, take us on a tour of their beloved land through their eyes. They introduce us to their homes, families, favorite places, school life, holidays and more! Celebrate the cherry blossom festival, learn traditional Japanese songs and poems, make easy recipes like mochi (New Year's sweet rice cakes) and okonomiyaki (Japanese pizza or pancakes), and create origami frogs and samurai helmets.
6. The Way We Do It In Japan by Geneva Cobb Iijima – Gregory lives in San Francisco with his American mother and Japanese father until his father's job takes them all to Japan. Gregory's experiences in his new home and school provide children with an introduction to Japanese customs and lifestyle. More important than the cultural differences, however, is Gregory's positive reaction to the changes.
7. Erika-San by Allen Say – Tells the story of an American girl whose ingenuous hopes of reaching old Japan are finally realized.
8. Crow Boy by Taro Yashima – Based on a true story from the author's life, Crow Boy is a young boy from the rural mountains who travels to go to the village school every day. He is made fun of and ostracized until a new teacher discovers and exposes his talent tot he children. The children recognize their cruelty and make amends in the end, as the book wraps up with a moral lesson on compassion and appreciating our uniqueness.
9. Tea With Milk by Allen Say – May lives in San Francisco with her Japanese parents, and grows up straddling American culture and traditional Japanese culture. When the family moves back to Japan May struggles to fit in until discovers what really makes a place a "home." The author explains at the end of this lovely book that this is the true story of his parents!
10. Grandfather's Journey by Allen Say – At once deeply personal yet expressing universally held emotions, this tale of one man's love for two countries and his constant desire to be in both places captured readers' attention and hearts. Winner of the 1994 Caldecott Medal. Home becomes elusive in this story about immigration and acculturation, pieced together through old pictures and salvaged family tales. Both the narrator and his grandfather long to return to Japan, but when they do, they feel anonymous and confused: "The funny thing is, the moment I am in one country, I am homesick for the other."
11. The Peace Tree from Hiroshima: The Little Bonsai with a Big Story by Sandra Moore – This true children's story is told by a little bonsai tree, called Miyajima, that lived with the same family in the Japanese city of Hiroshima for more than 300 years before being donated to the National Arboretum in Washington DC in 1976 as a gesture of friendship between America and Japan to celebrate the American Bicentennial.
12. Life in Old Japan Coloring Book (Dover History Coloring Book) by John Green – More than 40 ready to color illustrations depict samurai warriors, the imperial villa at Kyoto, a Shinto shrine, a tea ceremony, a Noh play, a typical city street, a restaurant, music makers, and more!
13. Colors of Japan by Holly Littlefield – This picture book uses colors to describe some aspects of Japanese culture. Each double-page spread gives a color, the Japanese word for it, calligraphy symbol, and phonetic pronunciation, along with a brief description of one thing that the color symbolizes.
14. Japanese Phrase Book (Eyewitness Travel Guide) by DK – This is for kids that want to delve deeper into the language. They are pocket dictionaries are organized by subject, where you can quickly find vocabulary relevant to things like transportation, hotels, meals, shopping, post offices and banks, sports, or health care, accompanied by a pronunciation guide.
15. Japanese Traditions: Rice Cakes, Cherry Blossoms and Matsuri: A Year of Seasonal Japanese Festivities by Setsu Broderick – Told via a series of short text blocks and lighthearted illustrations based on cats, Japanese Traditions displays seasonal festivals and activities such as O-Bon (Festival of the Souls), O-hanami (cherry blossom viewing) and preparing for the New Year.