One way to introduce kids to other cultures is through high quality children's literature. Try some beautiful picture books, or engaging native stories, books that teach about language and culture and so many more. While your kids may not be able to physically travel to a place, engaging books can be a transportation of their own, allowing kids to learn and experience the culture of other places in the world from the inside of their own home. This list of Children's Books About Africa will help transport you and your child inside the customs, traditions, history, and life in Africa.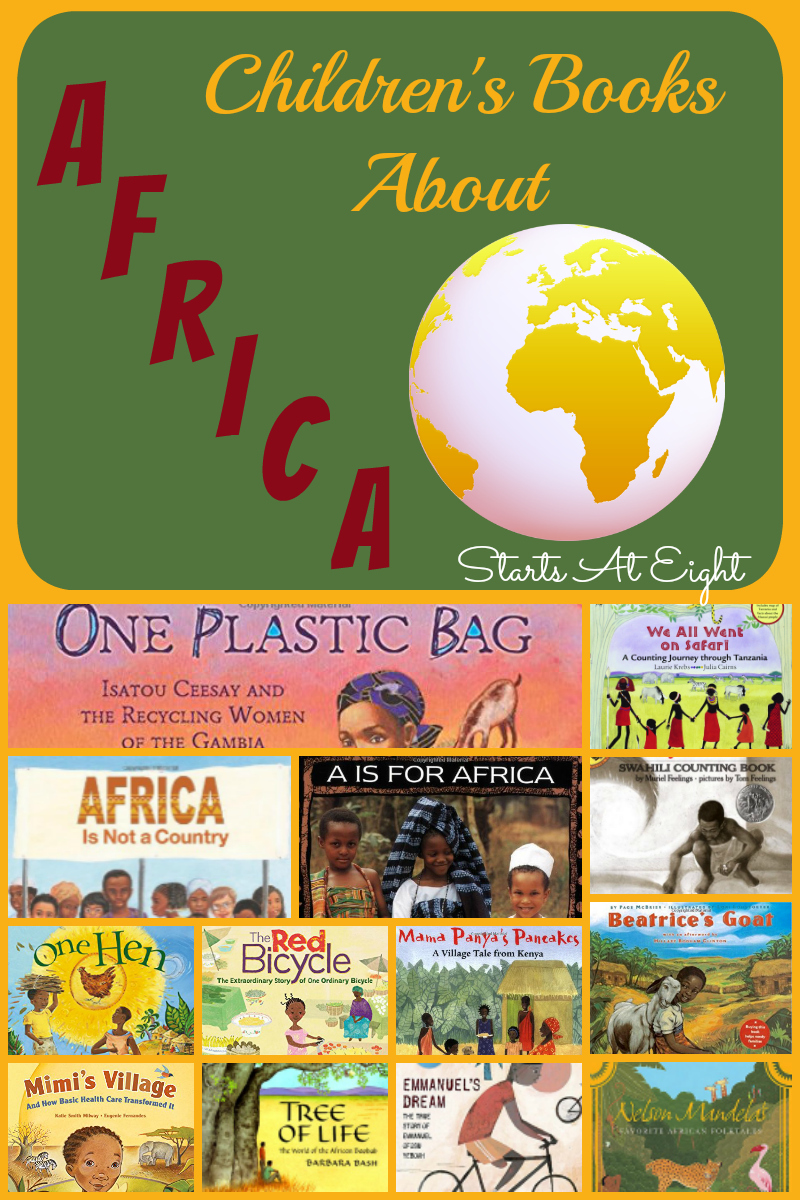 Children's Books About Africa
1.Mama Panya's Pancakes – On market day, Mama Panya s son Adika invites everyone he sees to a pancake dinner. How will Mama Panya ever feed them all? This clever and heartwarming story about Kenyan village life teaches the importance of sharing, even when you have little to give.
2. We All Went on Safari – Join Arusha, Mosi, Tumpe and their Maasai friends as they set out on a counting journey through the grasslands of Tanzania. Along the way, the children encounter all sorts of animals including elephants, lions and monkeys, while counting from one to ten in both English and Swahili. The lively, rhyming text is accompanied by an illustrated guide to counting in Swahili, a map, notes about each of the animals, and interesting facts about Tanzania and the Maasai people.
3. Beatrice's Goat – This illustrated book offers the true story of how a poor African girl was able to attend school after receiving a goat as a gift through a special international project and then sell its milk to get the money needed to buy her books.
4. One Hen – Inspired by true events, One Hen tells the story of Kojo, a boy from Ghana who turns a small loan into a thriving farm and a livelihood for many. After his father died, Kojo had to quit school to help his mother collect firewood to sell at the market. When his mother receives a loan from some village families, she gives a little money to her son. With this tiny loan, Kojo buys a hen.
A year later, Kojo has built up a flock of 25 hens. With his earnings Kojo is able to return to school. Soon Kojo's farm grows to become the largest in the region.
5. The Red Bicycle – In this unique nonfiction picture book, the main character is a bicycle that starts its life like so many bicycles in North America, being owned and ridden by a young boy. The boy, Leo, treasures his bicycle so much he gives it a name — Big Red. But eventually Leo outgrows Big Red, and this is where the bicycle's story takes a turn from the everyday, because Leo decides to donate it to an organization that ships bicycles to Africa. Big Red is sent to Burkina Faso, in West Africa, where it finds a home with Alisetta, who uses it to gain quicker access to her family's sorghum field and to the market. Then, over time, it finds its way to a young woman named Haridata, who has a new purpose for the bicycle — renamed Le Grand Rouge — delivering medications and bringing sick people to the hospital.
6. Moja Means One: Swahili Counting Books – Moja Means One introduces children to counting in Swahili with helpful pronunciation keys, while presenting East African culture and lifestyles through an easy-to-understand narrative and vivid illustrations.
7. Africa Is Not A Country – Demonstrates the diversity of the African continent by describing daily life in some of its fifty-three nations.
8. A Is For Africa – From A to Z, stunning color photographs depict everyday life in Nigeria, where the author-photographer grew up—but the images pictured also represent the rich diversity of Africa, and the warm family ties and traditional village life found throughout this vast colorful continent.
9. Growing Peace: A Story of Farming, Music, and Religious Harmony – On the morning of September 11, 2001, J. J. Keki, a Ugandan musician and coffee farmer, was in New York, about to visit the World Trade Center. Instead, J.J. witnessed the terrorist attack on the Twin Towers. He came away from this event with strong emotions about religious conflict. Why should people be enemies because of their religions? Back home in his village, J.J. was determined to find a way for people who held different religious beliefs to work together. He saw that the neighborhood children, from Jewish, Muslim, and Christian families, played with one another without a care about religion. Why not enlist their parents, all coffee farmers like himself, in a cooperative venture around a shared goal? Together they would grow, harvest, and sell their coffee. At the same time, they would bridge religious differences to work and live together peacefully. You can find my Uganda/Africa Unit Study based on this book here.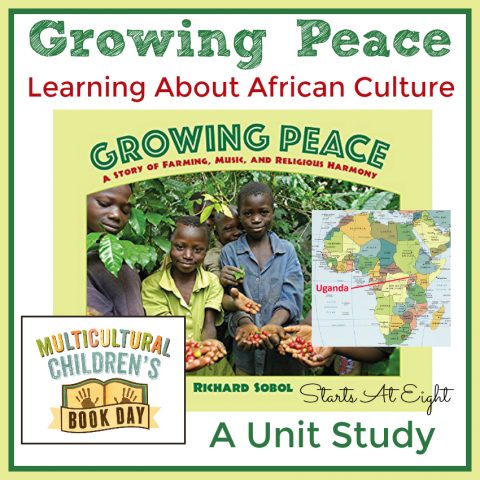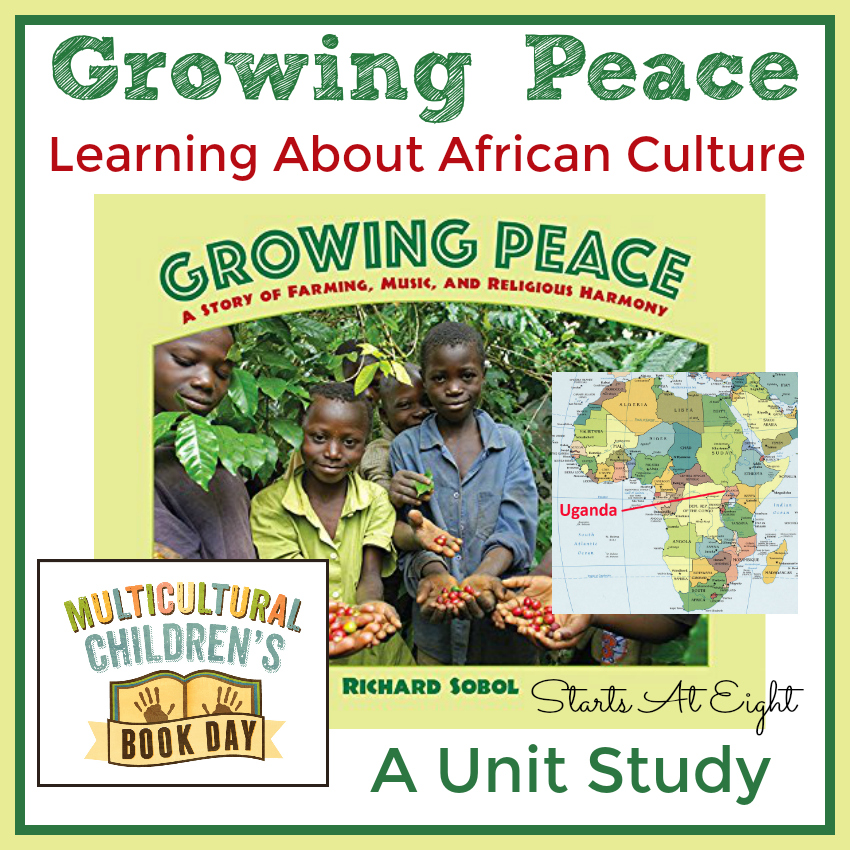 10. Nelson Mandela's Favorite Africa Folk Tales – In these beloved stories we meet a Kenyan lion named Simba, a snake with seven heads, and tricksters from Zulu folklore; we hear the voices of the scheming hyena, and we learn from a Khoi fable how animals acquired their tails and horns. Creation myths tell us how the land, its animals, and its people all came into existence under a punishing sun or against the backdrop of a spectacularly beautiful mountain landscape. Whether warning children about the dangers of disobedience or demonstrating that the underdog can, and often does, win, these stories, through their depiction of wise animals as well as evil monsters, are universal in their portrayal of humanity, beasts, and the mystical. Translated from their original languages―Karanga, Nguni, Xhosa, and many others―these folktales are a testament to the craft of storytelling and the power of myth.
11. Tree of Life – Text and pictures document the life cycle of this amazing tree of the African savannah, and portrays the animals and people it helps to support.
12. Mimi's Village – In this fictionalized story about a real humanitarian problem facing many countries in the developing world today, readers meet Mimi, an ordinary girl from an ordinary family in Africa. When her younger sister, Nakkissi, gets very sick after drinking unsterilized water from the stream, Mimi learns firsthand how quickly things can go terribly wrong. With no health care provider close by, her whole family must travel on foot to a nearby village to see the one nurse who can provide the medical care her sister desperately needs. Though Mimi is relieved when her sister recovers, she wishes they could get a health clinic in her own village. Several months later, it is Mimi herself who becomes the catalyst to make her wish come true.
13. Emmanuel's Dream (A True Story) – Born in Ghana, West Africa, with one deformed leg, he was dismissed by most people—but not by his mother, who taught him to reach for his dreams. As a boy, Emmanuel hopped to school more than two miles each way, learned to play soccer, left home at age thirteen to provide for his family, and, eventually, became a cyclist. He rode an astonishing four hundred miles across Ghana in 2001, spreading his powerful message: disability is not inability. Today, Emmanuel continues to work on behalf of the disabled.
14. The Princess and the Pea – When a prince sets out to find a princess to marry, he soon discovers this is not a simple task. There is no shortage of so-called princesses, but how can he tell whether or not they are what they claim to be? Then one night a great storm rages, there comes a knock on the palace gate, and the prince?s life is never the same . . Andersen's classic, silly fairy tale gets an East African setting in this simple picture-book retelling with brightly colored oil-paint and cut-paper collage illustrations by Caldecott Honor winner Isadora.
15. One Plastic Bag – Plastic bags are cheap and easy to use. But what happens when a bag breaks or is no longer needed? In Njau, Gambia, people simply dropped the bags and went on their way. One plastic bag became two. Then ten. Then a hundred. The bags accumulated in ugly heaps alongside roads. Water pooled in them, bringing mosquitoes and disease. Some bags were burned, leaving behind a terrible smell. Some were buried, but they strangled gardens. They killed livestock that tried to eat them. Something had to change. Isatou Ceesay was that change. She found a way to recycle the bags and transform her community. This inspirational true story shows how one person's actions really can make a difference in our world.
16. Wangari's Trees of Peace – As a young girl growing up in Kenya, Wangari was surrounded by trees. But years later when she returns home, she is shocked to see whole forests being cut down, and she knows that soon all the trees will be destroyed. So Wangari decides to do something—and starts by planting nine seedlings in her own backyard. And as they grow, so do her plans. . . This true story of Wangari Maathai, environmentalist and winner of the Nobel Peace Prize, is a shining example of how one woman's passion, vision, and determination inspired great change.
Other Travel the World Articles