Whether as a birthday present, Easter Basket item or Christmas gift, games make awesome gifts for kids. This lists includes games for kids under 8. From preschool color and letter games, to more involved card and board games that you and your children are sure to have hours of fun playing together!
What's even better about these games? There is NO SCREEN REQUIRED! Card, dice, and board games are a great way to get off the screens, have some fun, and maybe even learn something!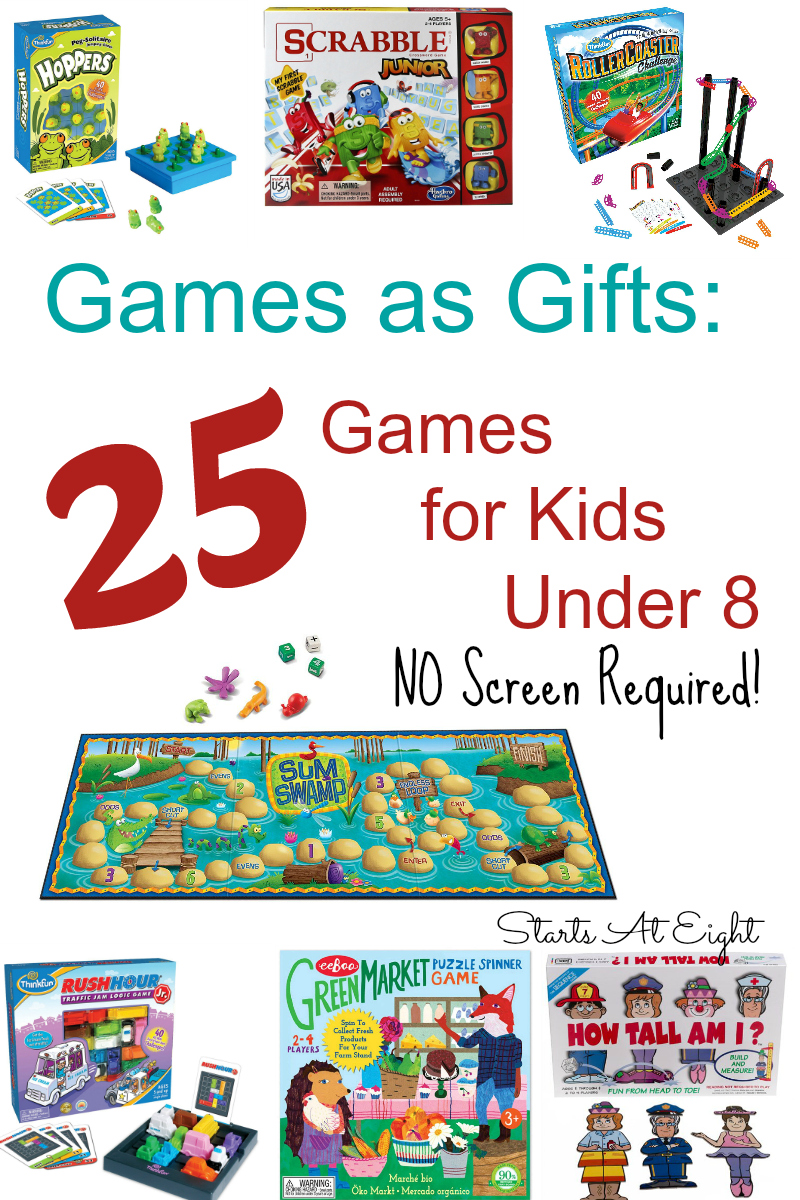 If you are looking for more Games as Gifts ideas be sure to check out these other lists:
Games as Gifts: 25 Games for Kids Under 8
Card Games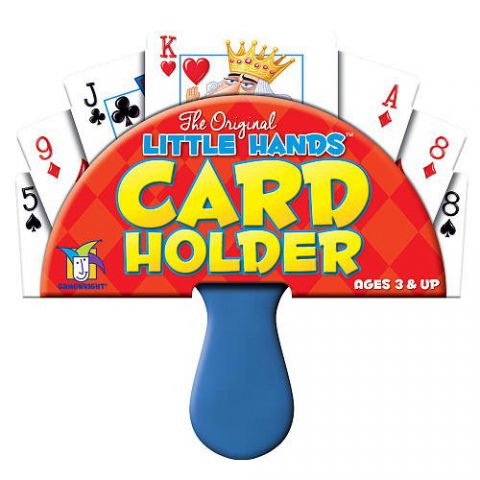 Sometimes a reason little ones have trouble with card games is because they can't hold all the cards. I highly recommend using a Little Hands Playing Card Holder with card games for kids under 8. This little device makes playing card games so much easier for little hands!
Classic Card Game Set from Melissa and Doug
Includes Go Fish!, Animal Rummy, and Old Maid for ages 3+.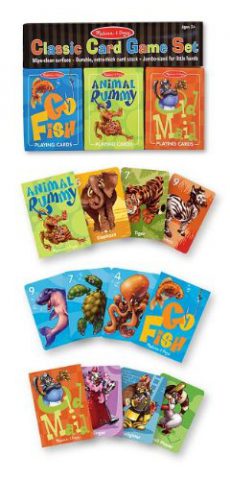 Kids age three and up will go "wild" for these three classic card games, with bright, whimsical, colorful animal illustrations! The set includes jumbo-sized, durable decks of Old Maid, Go Fish, and Animal Rummy, all featuring a wipe-clean surface, cardboard storage box, and detailed playing instructions.
Disney Eye Found It! from Wonder Forge
A hidden picture card game for ages 3+.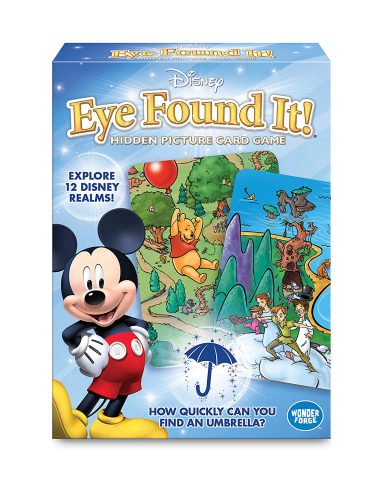 Explore 12 beloved Disney realms, From Radiator Springs and Alice's Wonderland to Peter Pan's Never Land and Pooh's Hundred Acre Wood. Be the first to find the hidden treasures to win!
Eric Carle Matching Game from Wonder Forge
A fun matching and memory game with your kids favorite Eric Carle characters! For ages 3+.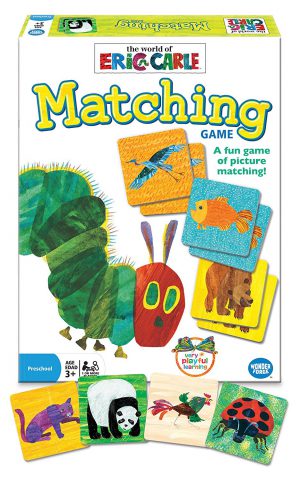 It's the classic game of picture matching, featuring your favorite characters from The World of Eric Carle! Flip over brightly colored tiles and find pictures from The Very Hungry Caterpillar, The Grouchy Ladybug, Brown Bear, Brown Bear, What Do You See?, and more! What familiar faces will you see? Pick up the most matching pairs to win!.
Alphabet Slap Jack from Arizona GameCo
A Fun Preschool ABC Letter Learning Card Game for ages 4+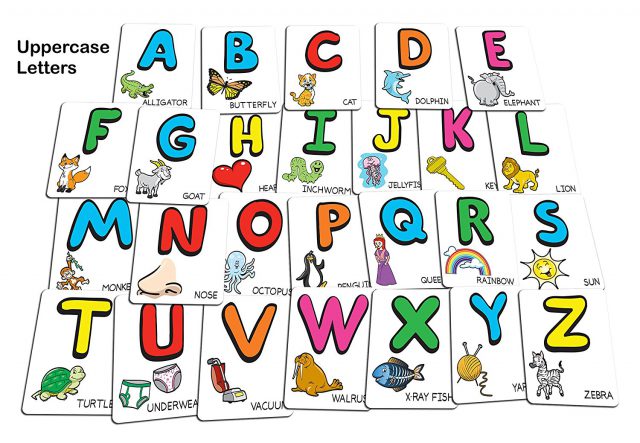 Alphabet Slap Jack helps your child learn their upper and lowercase ABCs while playing a fun card game. You can use the game's upper and lowercase letter playing cards in multiple ways. You can play Alphabet SlapJack, ABC Go Fish, and Find My Letter Matching game, or use them as SMALL ABC flash cards (four fun uses for the game all in ONE single convenient poker-sized deck of playing cards. Game cards are SMALLER in size making them easier for kids to hold and play the game.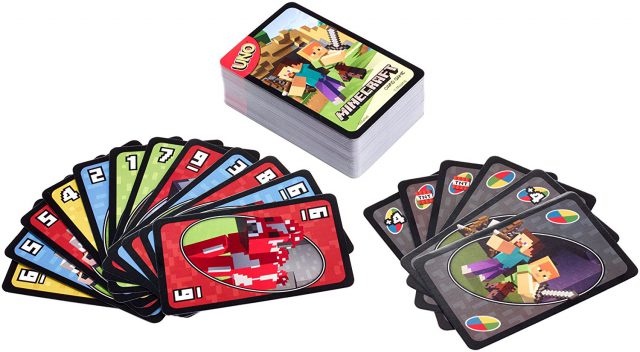 In this case I linked to the Minecraft Uno (which has a couple of special rules of it's own!) but there are a wide range of Uno Games to choose from. Ages 7+ can enjoy hours of fun with different Uno games!
Smack it! from Arizona GameCo.
A game the entire family can enjoy – for ages 6+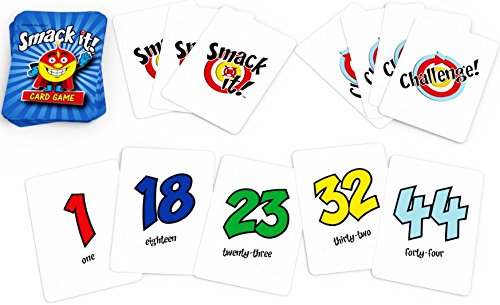 This game is a twist on the classic card games of Slapjack and War. Smack it! is a fast card game with an average play time between 7 and 14 minutes. Players quickly flip their cards into a central pile and battle for the pile during challenge rounds. But stay sharp, you never know when a Smack it! card will appear sending players scrambling for a win.
Board Games
The Allowance Game from Lakeshore Learning
This fame is perfect for learning how to handle money, make change and more! For kids ages 5-11 years.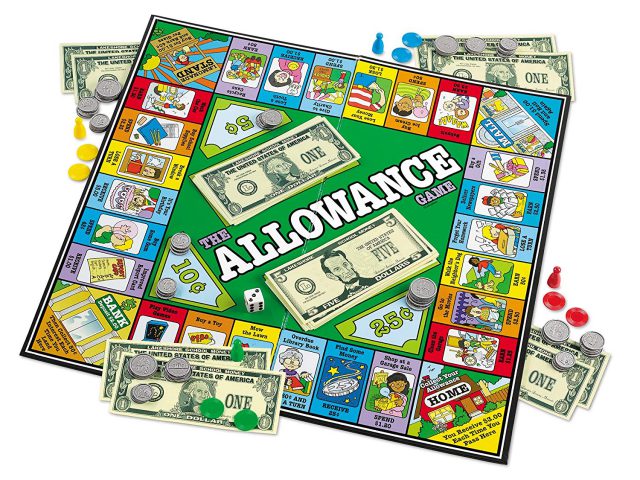 Wash the car to earn $1.30…but forget your homework and lose a turn! In this skill-building game, players race around the game board doing chores to earn their allowance…then save it or spend it on things they want. And, as children play, they learn to make change, handle money and more!
A fun letter-matching game for your little one – for ages 5+. This game grows as your kids do!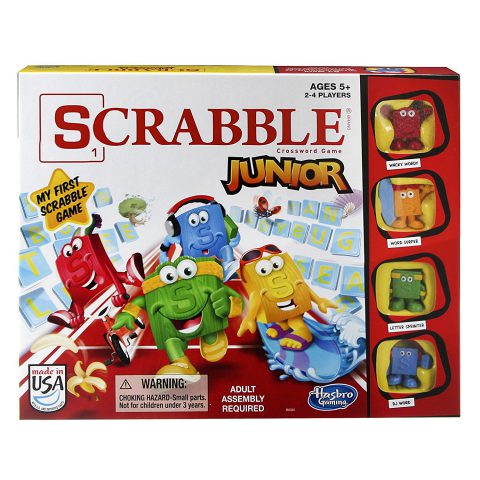 This Scrabble Junior game is easy for kids to play, and lots of fun. One side of the board has you match letters to form words. The other side has you building your own words.
Hoot Owl Hoot! from Peaceable Kingdom
A cooperative game for kids ages 4+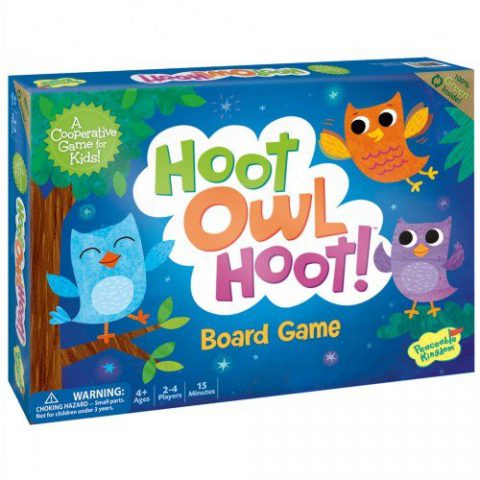 This is a color-matching cooperative game where kids help the owls fly back to their next before the sun comes up!
A classic board game for beginners age 3+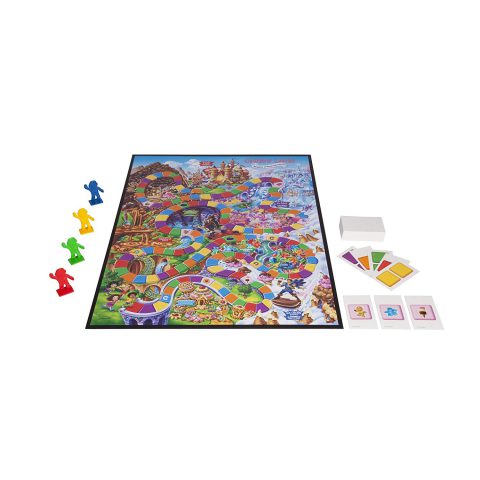 Start down the colorful road to sweet surprises in this classic Candy Land game that features the fun illustrations and gingerbread man movers that kids love. Players draw colorful cards to guide their mover along the rainbow path to luscious locations such as Peppermint Forest, Lollipop Palace, and Licorice Lagoon! It's such sweet fun as players race to be the first one to reach King Kandy's Castle to win!
Picnic Spinner Game from eeBoo
For ages 3+. I have never seen this game before but they look totally fun and engaging! eeBoo has several more to chose from such as I Never Forget a Face Matching Game, Green Market Game, Fairytale Spinner Game – Collect the Elements & Tell a Story and more!

I found this Amazon Review super helpful, "We have played this game with our children since they were 2 and 4 years old. It is very high quality. The cloth picnic blanket makes it more realistic and fun. The food pieces are very well drawn and appealing. I cannot say enough good things about Eeboo and the games they make. We own many of them, including several card games. All of the pieces are extremely durable and the games are fun and have real developmental value. This game is educational in the sense that it teaches sorting, cause and effect, and decision-making. These skills are age-appropriate and really more important than academic skills for the preschooler.
The only suggestion I have is that you begin the game by giving everyone their plate right away, rather than waiting to "spin" for the plate. It's like waiting the roll a 6 in Parcheesi. We use the plate space on the spinner as a free choice spot. When the children were very young, we made the rule that each person could only get the ants once (causes you to put a piece back). As their attention spans improved, we followed the regular rules regarding the ants."
Educational Games
NO READING REQUIRED! For ages 3-8.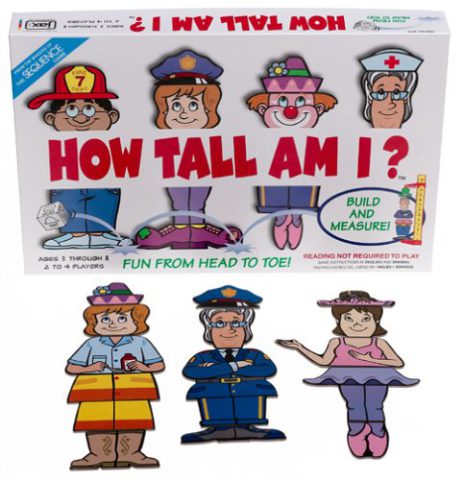 Roll the die and stack up the parts to create a crazy character! With all the pieces in place, will your character measure up? Use the custom measuring ruler to find out. If your character is the tallest, you win!
Ages 4-7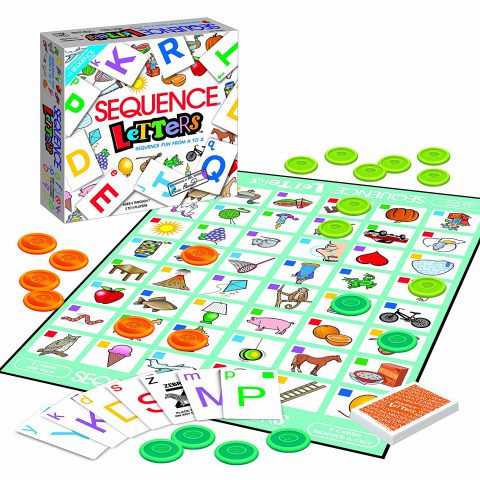 Players sound out the letter on their card, match it to the beginning sound of the picture on the game board. Each card features a letter of the alphabet in upper and lower case. Colored squares on the cards and game board help with faster recognition. When you have 5 of your chips in a row, you've got a sequence.
This is a peg-solitaire jumping game for kids ages 5+.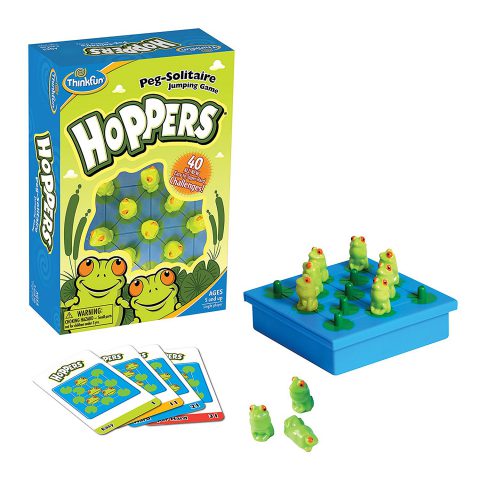 Set the frogs on the pond, then jump the frogs until only one is left standing. Forty challenge cards range from easy to super hard. In this version of Hoppers, the challenges were created specifically for younger players. Start simple and grow your skills with each level.
Sum Swamp from Learning Resources
This game is a winner of 6 awards and is a fun way for kids ages 5+ to learn addition and subtraction.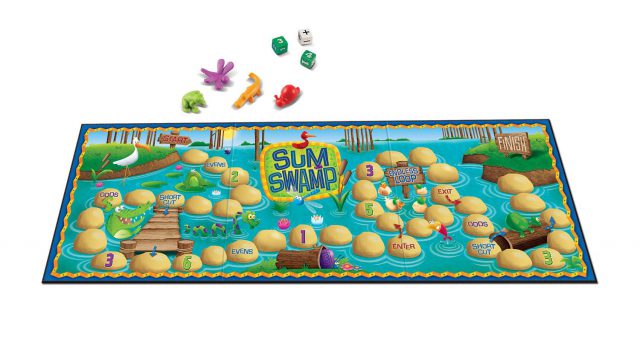 Kids journey through the swamp with their math skills to guide them. Great for visual and tactile learners.
Magnetic Pattern Blocks from Melissa & Doug
This is a pattern creation set for kids ages 3+.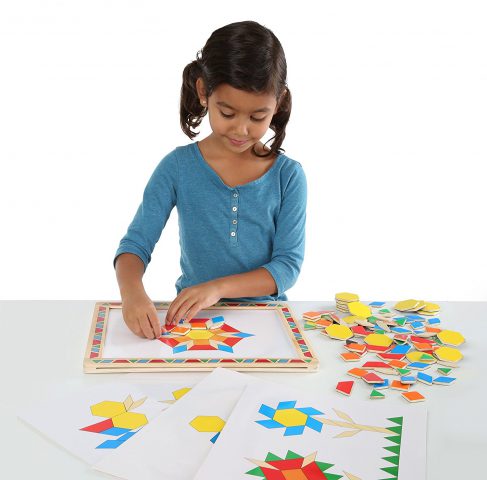 With a wooden play board, 120 magnets and 6 double sided magnetic cards this pattern game is great for home or travel.  Younger children will enjoy using the shapes to replicate the 12 geometric pictures included on the cards, while older children will most likely create their own mosaic patterns and pictures directly on the magnetic board.
This is a popular mental math game for ages 5 and up.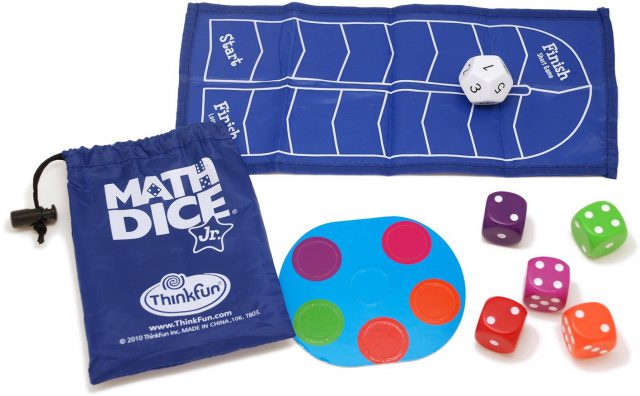 Roll the dice, combine the numbers and race to the finish line!
Other Games
Rush Hour Junior from Thinkfun
This logic and STEM game for ages 5 and up is the Junior Version of their wildly popular Rush Hour game (for ages 8 to adult).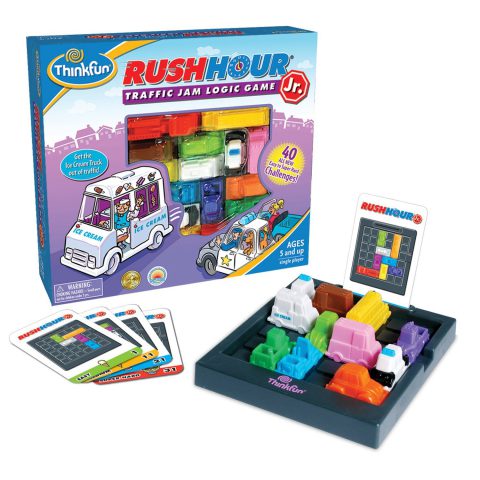 Just like the classic Rush Hour game, you shift blocking cars and trucks out of your way to clear a path to the exit. Playing through the increasingly difficult challenges will improve logical reasoning, spatial reasoning and planning skills, all through fun gameplay.
This classic game of connecting and blocking is for ages 6+.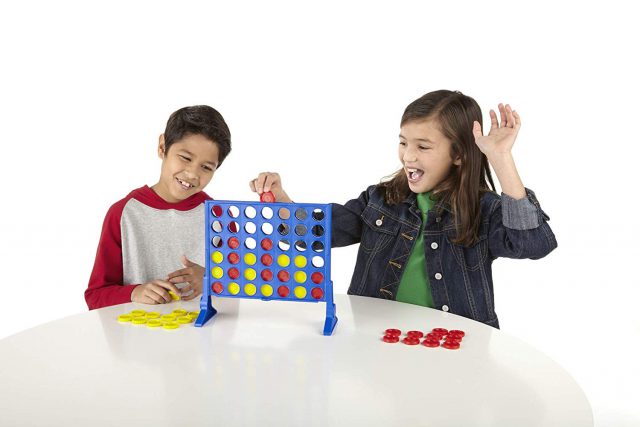 This is a game of eye hand skill and coordination for ages 6+.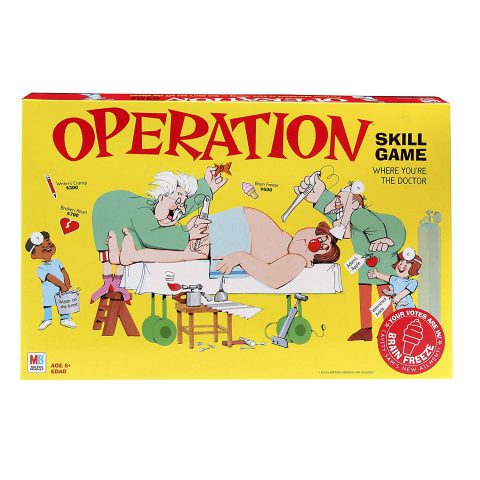 Be the doctor, and take turns using the tweezers to carefully remove 11 easy-grab ailments from large openings in the game tray. Be careful! Touch the side of an opening, and you'll hear the buzzer and Cavity Sam's nose will light up. Players take turns trying to remove wacky ailments like headphone headache, gamer's thumb, a cranky knee and frostbite. The player who successfully removes the most ailments from Cavity Sam is the winner!
Roller Coaster Challenge from Thinkfun
A 50% Logic and 50% roller coaster building set, this game will delight users from ages 6-adult! The goal is to create a roller coaster track that will carry the car from start to finish.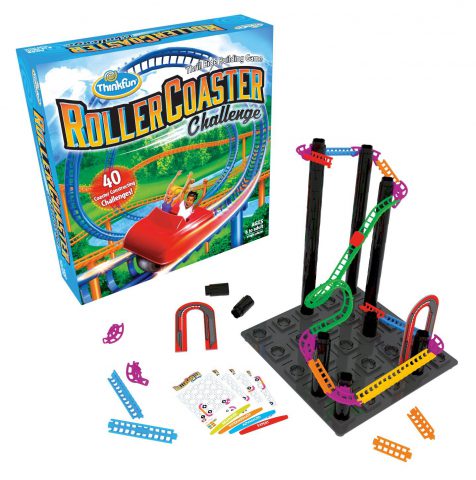 Buckle up and get ready to twist and turn your mind as you attempt to solve 40 exhilarating roller coaster challenges. When you think you've constructed a successful ride, give your car a little push and watch it glide down the track. Your mind will bend in loops as it stretches to solve the leveled challenges. When you're ready for a little free-form play, get creative and use the tracks to build your own elaborate gravity-defying thrill rides.
Hungry Hungry Hippos from Hasbro
Noisy but fun! A Race to champ up all the marbles! Ages 4+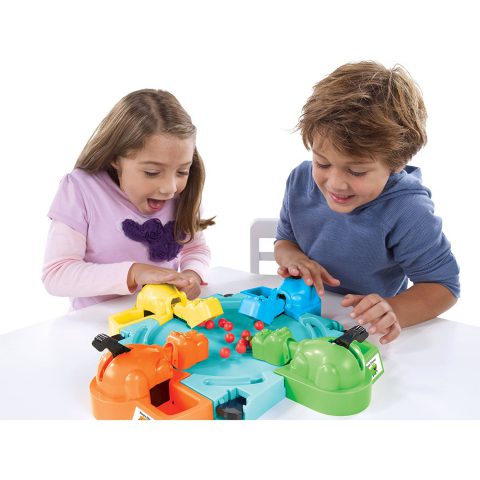 Hungry Hippo and his pals are ready to join in the feeding frenzy, and when you release all the marbles onto the game base, they'll be chomping after them! You can be Hungry Hippo, Veggie Potamus, Sweetie Potamus or Bottomless Potamus. Whichever hippo you choose, you'll have to move fast, because if your hippo chomps the most marbles, you win!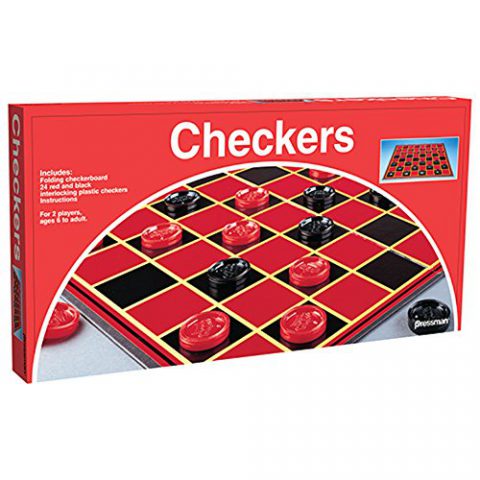 A classic game of checkers to be played by two people ages 6+.
Oh how the little cherries drove me nuts! But the kids LOVED this game! A great game to help your preschoolers develop and practice basic math skills. For ages 3-6 years.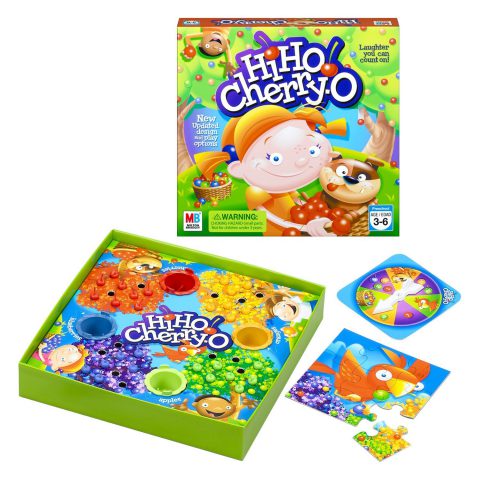 Preschoolers have so much fun picking fruit to fill their baskets, they don't even realize they're developing and practicing math skills such as counting, addition and subtraction! Take turns picking pretend cherries, blueberries and apples from your tree and put them in your basket. Be the first to pick all the fruit from your tree and win!
The Sneaky, Snacky Squirrel from Education Insights
NO READING REQUIRED! For ages 3+.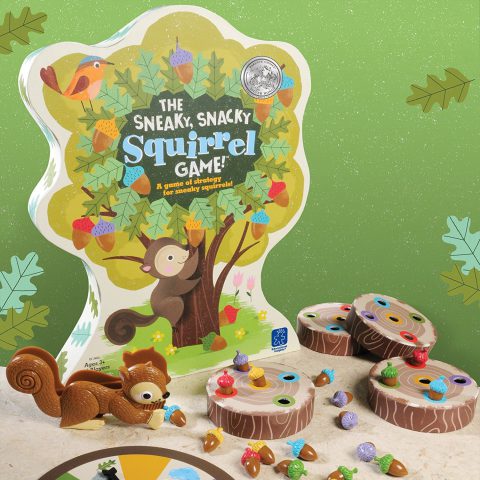 Your forest pals are hungry and need your help. Help them find their acorns in this fun and addictive toddler board game designed to teach young children about colors. The first to collect 5 acorns wins! Easy to understand and play—no reading required.
Gift Giving Guides Galore
For the great games about and MANY MORE check out my Games for Kids Under 8 Mega List!
Also be sure to click on the image below for tons more Gift Giving Guides!