Teaching our children life skills is a key part of their growing up. It can be easy to take the things we do daily and weekly for granted, forgetting their our children might not have gained these skills. In order for our children to grow up, move out, and become fully functioning adults they need to be taught these life skills. Gathering essentials for stocking a kitchen and pantry are the first step in being able to cook for themselves when they are out on their own.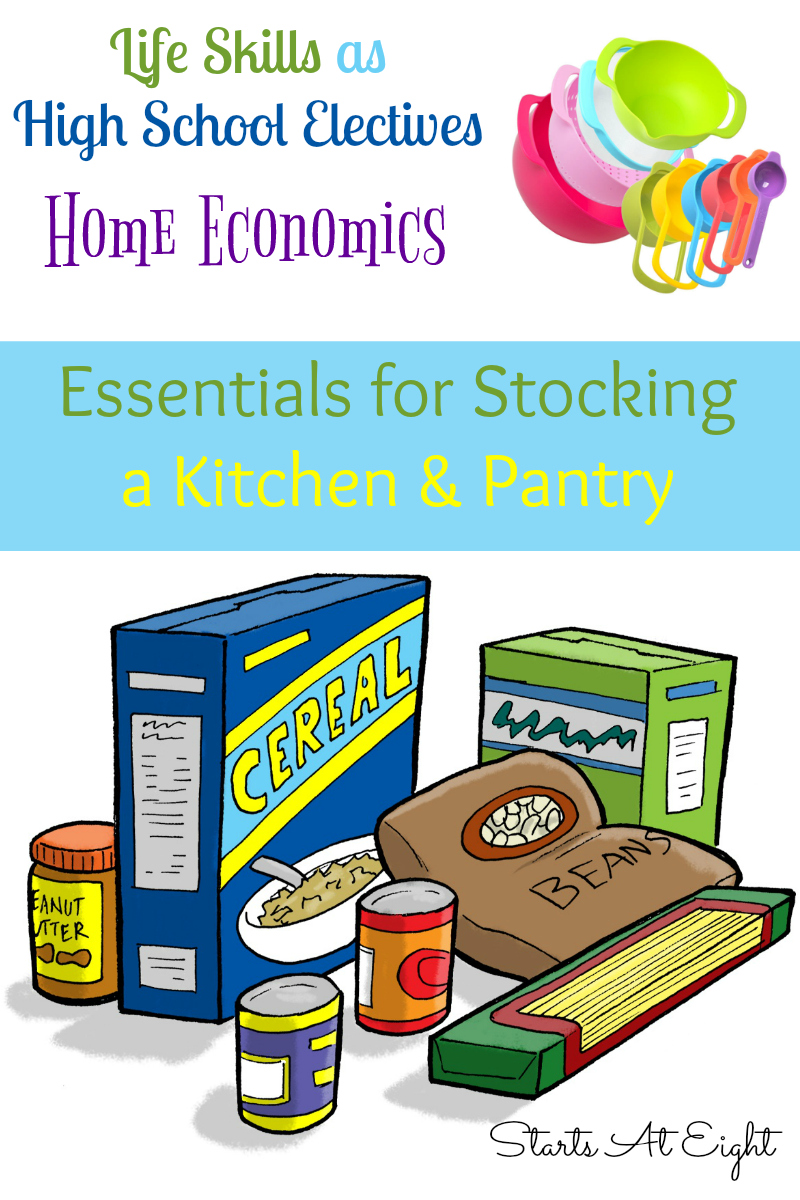 Essentials for Stocking a Kitchen & Pantry
In order to cook meals for themselves, our teens need to know what food items and what cooking tools are essential to have on hand, as well as how to cook with and use these items. Teaching them at home, before they move out and have to do it all, is a great way to help them prepare for life.
Essential Food Items
Pantry
baking powder
baking soda
bouillon cubes (beef, chicken, vegetable)
bread
canned soups
chocolate chips
cocoa powder
coffee
cooking oil
cornmeal
cornstarch
flour
 honey
hot sauce
nuts
olive oil
past
peanut butter
rice
rolled oats
soy sauce
spices and dried herbs (salt, pepper, paprika, basil, bay leaves, etc)
sugar (white and brown)
tomato sauce
tuna
vanilla extract
vinegar
Refrigerator
butter
carrots
celery
cheese
cucumber
eggs
jelly
ketchup
lettuce
mayonnaise
milk
mustard
sour cream
Fruits & Veggies (outside the refrigerator)
apples
bananas
onions
potatoes
Freezer
chicken breast
frozen vegetables (carrots, corn, broccoli, spinach, beans)
hamburger (we more often have ground turkey instead)
ice
pork chops
Essential Cooking Tools, Appliances & Utensils
Pots & Pans
skillet
baking sheets (with and without rims)
muffin tin
stoneware or glass casserole dish
saucepan
large kettle
bread loaf pan
non-stick frying pan
Powered Appliances
blender
mixer (stand or hand-held)
toaster oven (we found this to be a more versatile item than a standard toaster)
food processor
microwave
crock-pot
coffee pot
Knives & Utensils
a large chef's knife
a serrated bread knife
a paring knife
steak knives
corkscrew
peeler
whisk
can opener
pastry brush
grater
wooden spoons
rubber spatula
standard flat spatula
tongs
ladle
large serving spoons
scissors
Other Misc. Equipment
large measuring cup
measuring cup set
measuring spoon set
cutting board
colander
varied sizes of mixing bowls
The above list is a general overview and starting point for stocking both a pantry as well as a kitchen with cooking supplies. There are things you may add or delete based on your style of cooking and families needs.
Printable List of Essentials for Stocking a Kitchen & Pantry
I have created a printable list of these items for you to use in your home. You could print it and have your child see if they can find each item in your pantry and kitchen. If there are things not on the list you would include, add them and talk about why you think they are important to have.
Another way to use these is to print them out and have your children price out each list. Ask them questions like these:
What stores are more cost effective?
What features on appliances are more important than others?
How can you save money on a particular item or list?
FREE Printable List
Click Essentials for Stocking a Kitchen & Pantry to download the entire list in pdf format!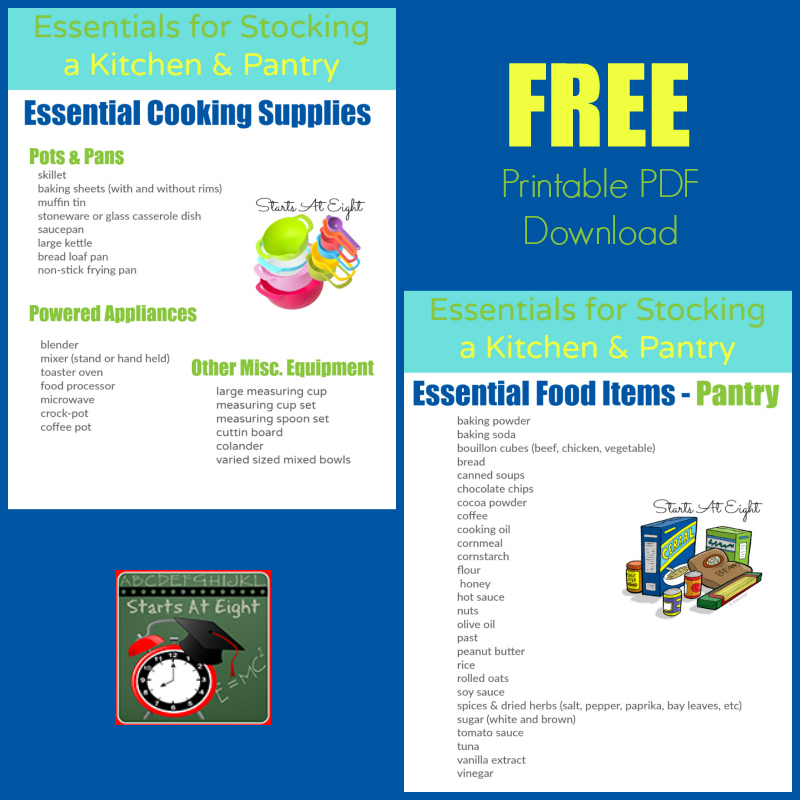 Life Skills as High School Electives: Home Economics & Shop Class Series
Be sure to book mark this page as this is the landing page for all of them!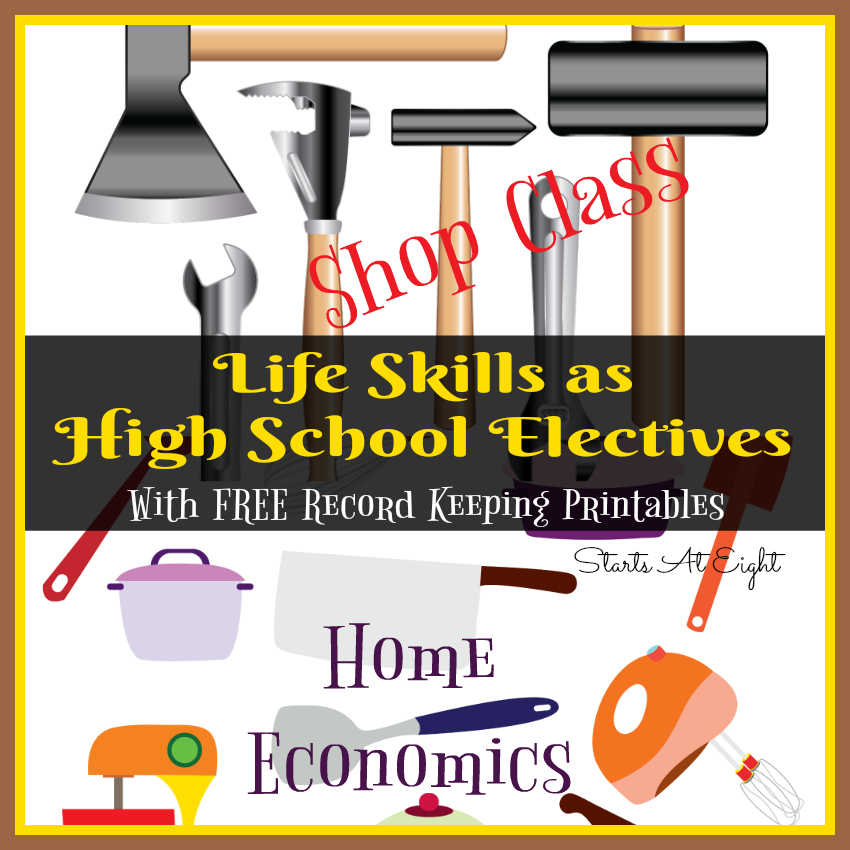 Welcome to my series Life Skills as High School Electives: Home Economics and Shop Class. Over the coming weeks I will be talking about essential life skills and how to incorporate them into your high school transcript as high school electives. {Each topic will be linked here as they are completed.}
1. Home Economics
Essentials for Stocking a Kitchen & Pantry {This Post}
house cleaning
2. Shop Class
plumbing and electrical
mechanical