My youngest (she is 10 years old) recently went through a phase of making throw pillows out of old t-shirts. This required her to do sewing basics like threading a needle. While some of these life skills we seem to naturally hit along the way, others we need to be intentional about teaching our children. Using life skills as a high school elective is a great way to be sure our teens are prepared as they go out into their own lives as adults.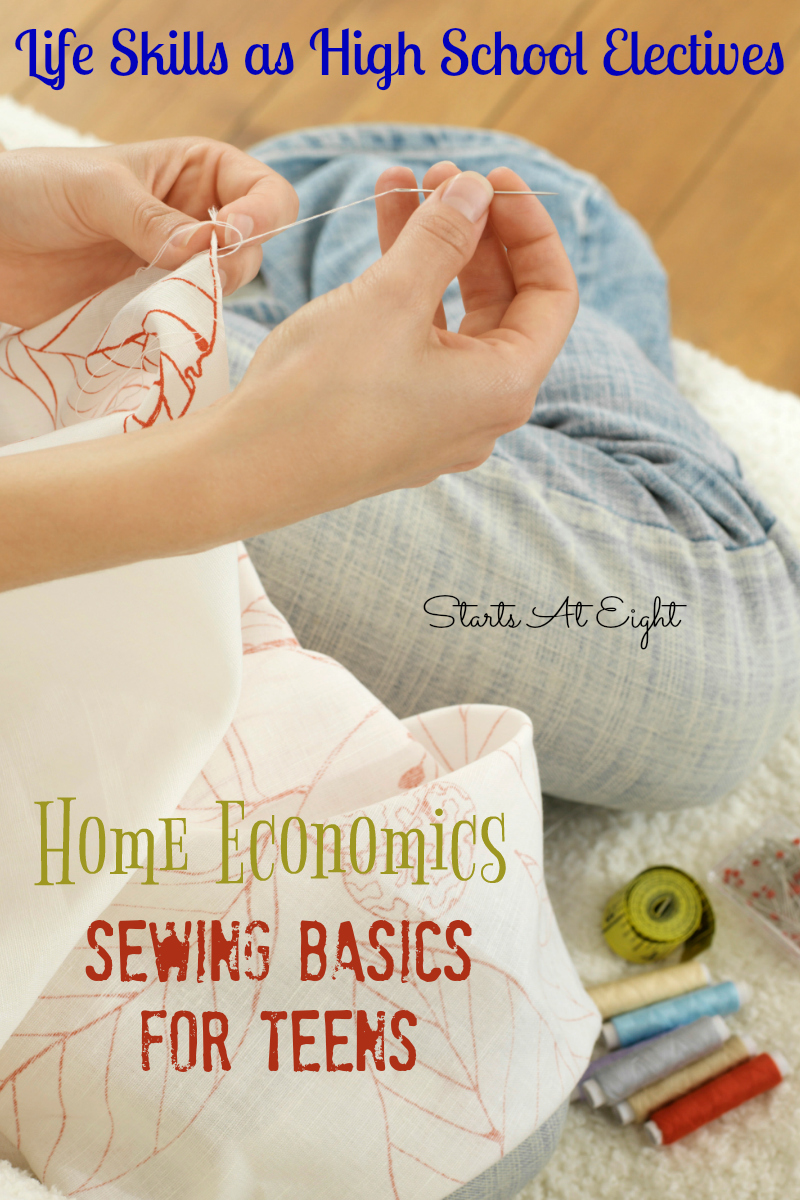 Welcome to my series Life Skills as High School Electives: Home Economics and Shop Class. In this installment we are covering sewing basics for teens. You may find they already know how to do some of these tasks, so feel free to check those right off! Others you may not have covered yet, or even thought of! Be sure to grab my Life Skills as High School Electives: Sewing Basics for Teens printable list at the end of this post!
The Sewing Basics
Thread a Needle
Using a needle threader is the easiest way to thread a needle.
I also love this "Pinch the Tip" Method that might prove to be easier for some of you! Here is a great printable for this.
Simple Stitches


So many things can be created or repaired with the knowledge and skill of some basic hand sewing stitches.
Slip Stitch or Ladder Stitch
Running
Back
Basting
Blanket
Whip
Here is a great photo photo tutorial of many of theses basic stitches.
Basic Hand Stitches for Beginners has video tutorials for each of 4 basic stitches, including a french knot.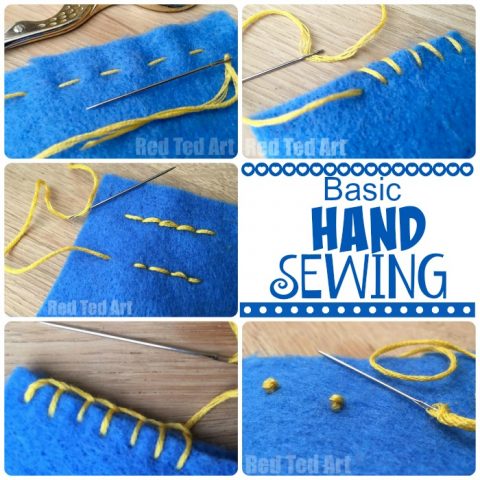 Sew a Button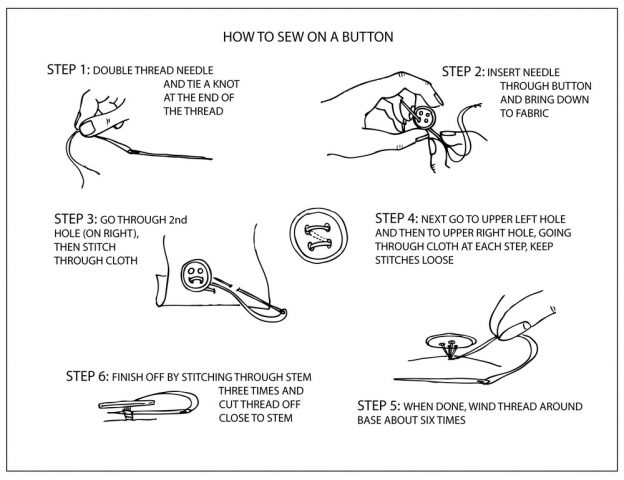 Make a Sewing Kit
Packing a small sewing kit into a backpack, car glove box, etc. will mean that you are always prepared in case of a sewing emergency like a button has fallen off, or a ripped piece of clothing. You can easily put one together using a small plastic container, zippered make up case, or even a metal mint tin as your container. Many of the supplies you may already have at home, and the rest you can purchase to include.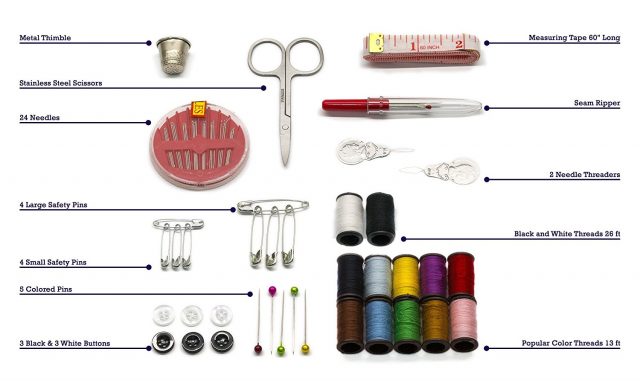 Things to include:
safety pins
needle threader
needles (sharp and ball point)
all purpose threads in basic colors
several buttons of different sizes and colors
small pair of scissors
measuring tape
seam ripper
You can also easily purchase a small travel sized sewing kit that includes all of these items.
Repairing a Hole
I found this DIY Guide to Clothing Sewing Repairs that covers a ton of basic clothing repairs.
hems
buttons
zippers
tears
belt loops
and More!
Hem Pants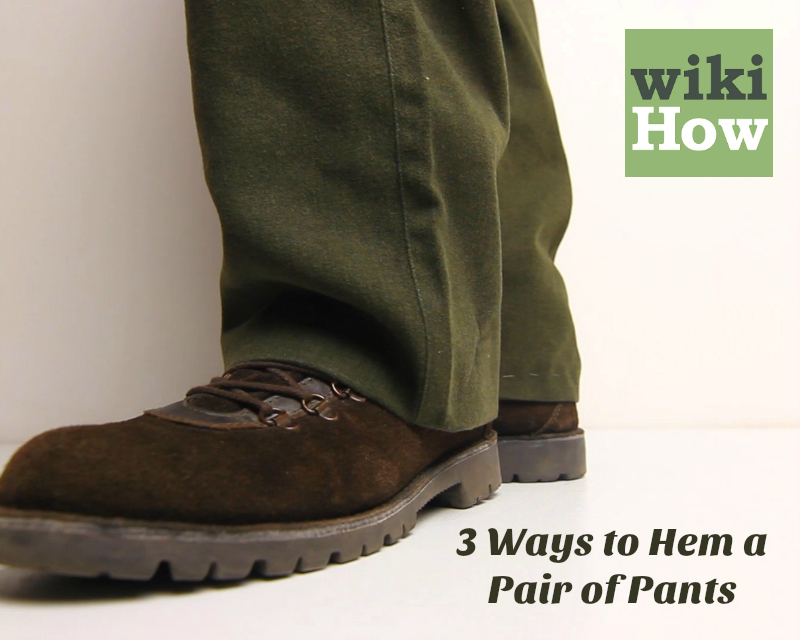 Basic Steps:
Wash it
Rip out the seam
Try on and mark the length
Measure & fold
Cut, Pin & Sew (or use Iron on Hemming Tape)
Hemming Tips:
Check your hemline against a pair of pants in your closet by laying them flat, one over the other. Take the measurement from the inseam, not the waistband.
Measure twice, cut once.
When trying in to measure, be sure to wear shoes of the same height you are going to wear the pants with.
Check your thread color matching in both natural and other lighting.
Make a Pillow
https://youtu.be/9xeqcnBuWRY
Fixing Broken Zippers
This DIY Tailor Guide shows you 3 Common Zipper Problems and how to fix them.
Printable List of Sewing Basics for Teens
I have created a printable list of these basic sewing tasks. You can print it and use it as a guide to check off as you teach your teen these skills.  I know that we have sewn buttons on, fixed holes, and hemmed pants along the way. Plus at least 2 of my three kids have made and sewn their own pillows (my youngest used to recycle old t-shirts into throw pillows).
Another great way to enhance your record keeping is to take photos, print out any directions or tutorials you found useful and create a portfolio with the Printable Checklists and other items. I like using a 3 ring binder and creating tabs for each section of this Life Skills series. It will make a great reference for them later!
FREE Printable List
Click Sewing Basics for Teens FREE Printable List to download the entire list in pdf format!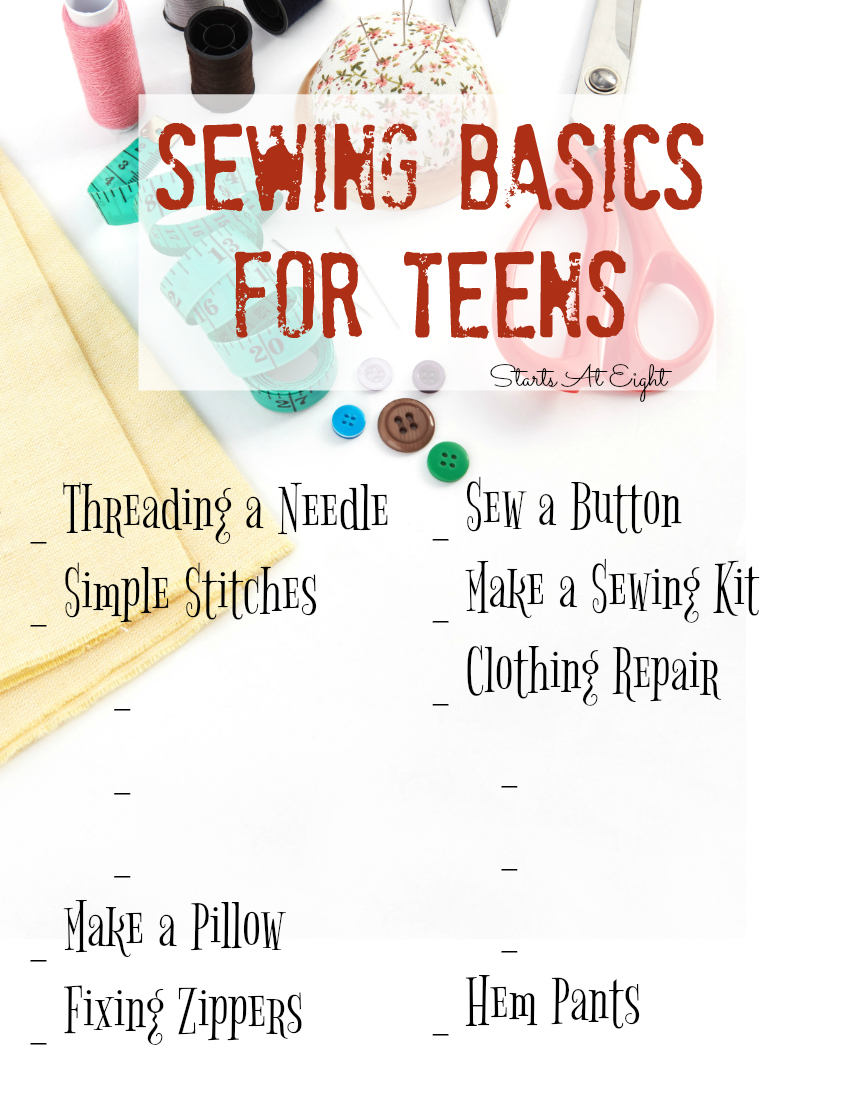 Life Skills as High School Electives: Home Economics & Shop Class Series
Be sure to book mark this page as this is the landing page for all of them!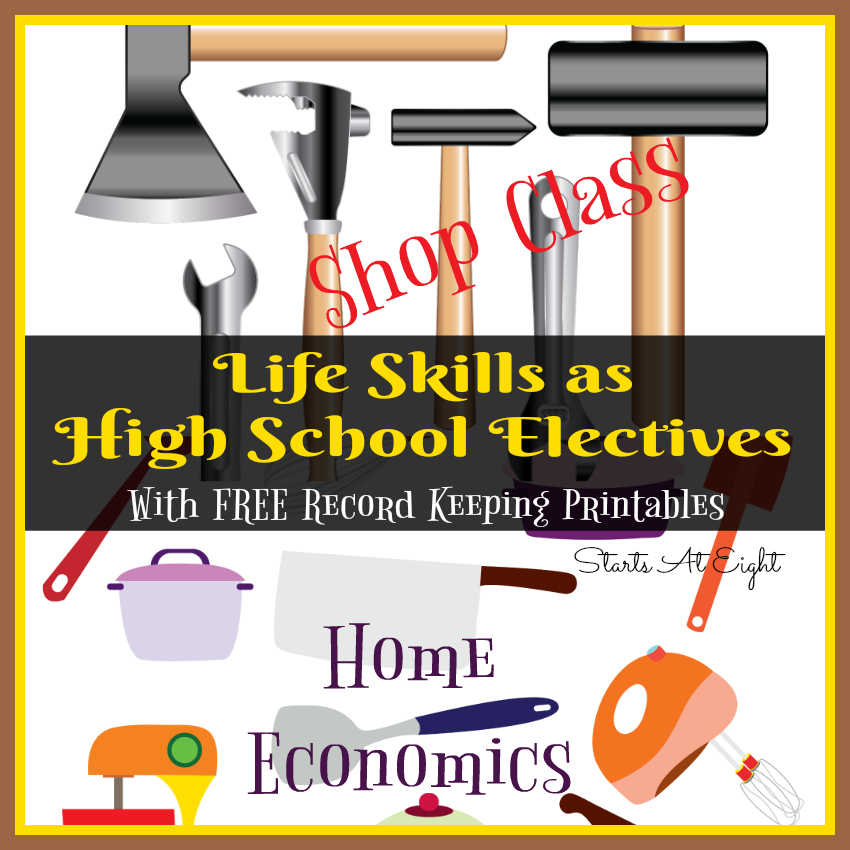 Welcome to my series Life Skills as High School Electives: Home Economics and Shop Class. Over the coming weeks I will be talking about essential life skills and how to incorporate them into your high school transcript as high school electives. {Each topic will be linked here as they are completed.}
1. Home Economics
Sewing Basics for Teens {This Post}
house cleaning
2. Shop Class
plumbing and electrical
mechanical