I have seen many questions regarding Fulfilling Homeschool High School Health Credits. While many states do not require it as part of their homeschooling regulations, states such as NYS do. (See more about NYS Homeschooling Regulations here.)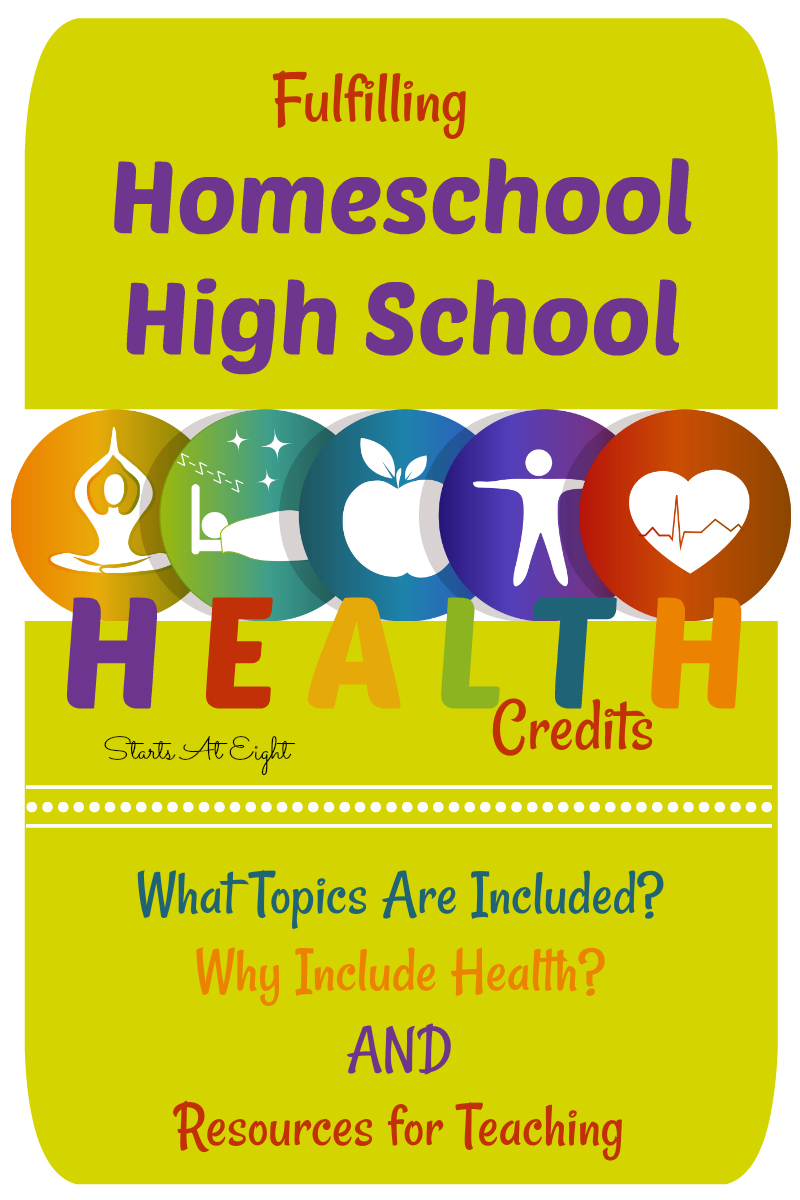 Whether your state requires it or not, homeschool high school health is something you may choose to incorporate into your curriculum. You can do this without a formal curriculum – many choose to include it naturally in everyday life or you can seek out a resource to cover these topics in a more formal way.
What Topics Are Part of Homeschool High School Health?
This is a list of things you may find (or want to cover) in a homeschool high school health program. You may not find them all in every resource and you may not want to cover them all either. That's ok. This is just a place to get you started thinking about what may be included as health for the high school years.
Nutrition
Food and Meal Planning
Hygiene
First Aid
Exercise and Fitness
Sleep
Mental Health
Handling Health Problems
Relationships & Dating
Human Reproduction
Contraception
Health Insurance
Germs/Diseases/Viruses/STDs
Cancer
Tobacco, alcohol, drugs, addiction
Prescription and Over the Counter Drugs
Why Include Homeschool High School Health?
Your state requires it
You want it use it as part of PE/Health
You feel the topics are important
To fulfill an elective credit
Your child is interested in it
Your child wants to pursue a health related field
Resources for Homeschool High School Health Credits
I have included tons of resources here for covering homeschool high school health credits. They are broken down by secular and religious/faith based options.
SECULAR
Intellego Unit Studies: Health for Grades 9-12 – meant to be used as a multi-year resource; purchase it once and use it for all 4 years of high school, selecting the topics you want to cover each year!
All 80 activities in this unit study are presented in an easy to follow format with an active and updated web link. Click on the link and the best resources on the World Wide Web appear for your children. But this unit study is not just a collection of web sites to read! It is much more than that! The links bring the world to your children by providing streaming videos, interactive web sites, educational games, audio files, and more.
Red Cross Training and Certification Courses – Red Cross offers training and certificate programs both online and in your local area classrooms. You can do a search area to find what is offered near you. They offer classes in:
First Aid
CPR
AED
Babysitting & Child Care
Swimming & Water Safety
CNA Training
Kids Health in the Classroom – KidsHealth in the Classroom offers free health education resources for PreK through 12th grade. It includes Teacher's Guides, which feature:
Links to age-appropriate, expert-approved resources for kids and teens
Discussion questions
Classroom activities and extensions
Printable handouts
Quizzes and answer keys
Saddleback Educational Publishing Health and Safety – This full color handbook covers topics like pysical fitness, hygiene, nutrition, mental health, handling health problems, drugs, alcohol, infectious disease and more. There is a Corresponding Workbook (32 Compact two-page lessons are each tightly focused on a particular subtopic to guarantee comprehension and build a foundation for further practice and skill development. Back-of-the-book list of key words in each. Preview & Review exercises introduce & wrap up each unit.)
At Saddleback Publishing's Website you can view pdf samples of both the Handbook and the Worktext.
Daily Health & Hygiene Skills Gr. 6-12 – Explore the benefits of a healthy lifestyle with our engaging resource on daily health and hygiene skills. Start off by examining healthy nutrition and meal planning. Take this one step further by planning an exercise and fitness routine. Then, move on to exploring personal hygiene, grooming and dental care. Extend this to your home with household care. Finally, learn about personal, community and travel safety, and the dangers of prescription and non-prescription drug use. This book contains:
reading passages
graphic organizers
real-world activities
crosswords
word searches
comprehension quizzes
AND All the content is reproducible!
FREE Glencoe Health & Fitness Education – These texts and activities can all be accessed for FREE online. There are multiple editions for both middle and high school. You will find online textbooks, tons of chapter activities such as crossword puzzle, interactive study guides, web activities, teacher lesson plans, online quizzes and more!
Somewhere in Between
I put this one in the middle because it is a collection of resources that contain both secular and faith based options. While she doesn't distinguish between the two I found most of them fairly easy to determine. The fact that many of these are FREE online resources may make it worth your while to check it out.
Walking By The Way Homeschool Health for High School –  This is an extensive list of resources on multiple health topics done by a fellow homeschool mom. "I'm not a fan of textbooks, and I refuse to buy a health book; it's not happening. So I decided to round up resources for a homeschool high school health course."
Religious/Faith Based
LIFEPAC High School Health Set – (Grades 8-12)  This is a one-semester course covering a diverse range of health topics such as proper eating habits, personal hygiene, home safety, first aid and accountable Christian living. There are 5 individual full color work texts and even has a teacher's guide. You can see Sample Pages here.
Total Health  – This curriculum for high school students (there is a middle school option too) is designed to provide students with a thorough understanding of all important physical, mental and social health issues. Written directly to teens from a caring and friendly perspective, Total Health presents a moral basis for a healthy lifestyle based upon scriptural principles. Anatomy, Body systems, food choices, exercise, diseases, stress, emergencies, responsibility, and more. Illustrations and photographs add visual interest to the text; at the end of each chapter, a review contains terms to define, questions based on the text, biblical application questions and suggested activities.
Easy Peasy – This is a FREE online course that has 4 levels of health that should be done each year of high school for a half credit. It should be done at least three days or two hours a week. God's design for sex is included in the senior year course, PE/Health 4.
Abeka's Health in Christian Perspective – (grades 8-12) Give your child the tools to develop good spiritual and physical health with Health in Christian Perspective. This textbook emphasizes staying healthy through proper diet, exercise, and personal hygiene; also, this text gives tips for preventing disease and administering first aid. Biblical discernment is also encouraged as it applies to health regarding suicide, abortion, euthanasia, and organ donation.
Switched on Schoolhouse High School Health – This one-semester course is filled with topics and themes just for high school students. Not just your typical health course, this in-depth Alpha Omega curriculum looks at relevant topics for today's youth, like tobacco and drug use, all taught from a Christian perspective. Colorful and fun-filled, this computer-based health course from Alpha Omega Publications has innovative multimedia-enriched lessons.  SOS has exciting video clips, entertaining learning games, and cutting-edge animation built into every lesson. It also offers automatic grading and lesson planning.
Monarch High School Health – (grades 8-12) This five-unit, Bible-based online elective teaches about physical health, mental health, proper eating habits, drug use, immunizations, and more. Videos, audio files, and interactive games also are included. Fully compatible with Windows® or Macintosh® systems,
Nutrition 101: Choose Life! A Family Nutrition and Health Program – Nutrition 101: Choose Life! is a three-in-one family nutrition and health program for all ages that presents the major body systems, how they function, their common health issues, the benefits of good food and the consequences of bad food.
Its 448 pages include six units:
The Brain and Nervous System
Digestion and Elimination
Respiration and Olfactory
Muscular and Skeletal Systems
Cardiovascular and Immune Systems
Endocrine System and Emotions
Here is an extensive Review of Nutrition 101
Apologia Exploring with Health and Nutrition – This curriculum covers what maturing students need to know to help them make the best choices they can for themselves as they become young adults. Health is about stewardship: managing what you have as well as you can.
With detailed illustrations and photos, clear explanations, and enhanced readability, Exploring Creation with Health and Nutrition will prepare students for college-level studies as well as life beyond the classroom.
Head over and read my full review!
7 Sisters Human Development – This is a one credit health/social science curriculum taught from a Christian Worldview. It is designed for self-instruction but also includes group discussion questions making it perfect for use in homeschool co-ops or group classes. The text includes:
vocabulary and key concepts in sidebars
chapter comprehension questions with fields for typing in your answers
tests with fields for typing in your answers, saved in a separate file with answer keys so your student sees them when YOU decide
answer keys in a separate file so parent can keep the answers on a separate device from the student text if desired
Other High School Electives and Life Skills