Thanksgiving time is a great time to read, memorize, or create some fun poetry. Thanksgiving poetry can be about turkeys and stuffing, big family dinners, pilgrims, giving thanks, and so much more!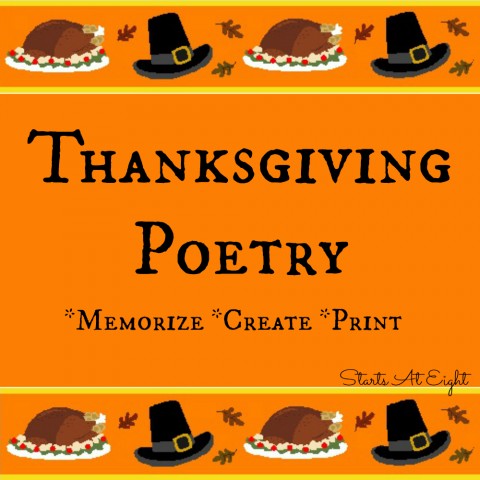 I have collected some fun Thanksgiving poetry activities, from short fun ones to memorize, to help for creating Thanksgiving poetry, and even some free printables!
Memorize Thanksgiving Poetry
Try out your kids memorization skills with this fun poem – All In A Word by Aileen Fisher. Simply right click on the image and "save as" to your computer for easy printing!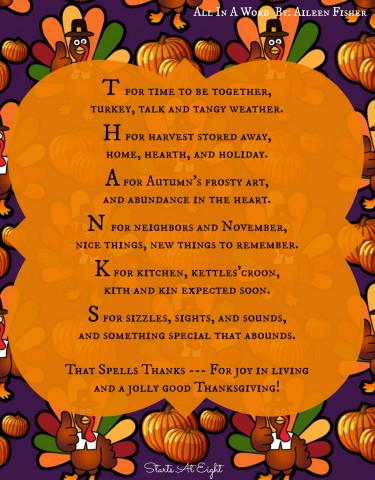 Create Thanksgiving Poetry
Now let your kids try their hand at their own fun Thanksgiving poem. Using a scrap sheet of paper have them come up with a list of words related to Thanksgiving or things they are thankful for that start with each of the 6 letters.
After they have a list of words for each letter they can use another sheet of paper to form fun rhymes with each of their letters.
Then right click and "save as" this THANKS template. Print it out for your kids to create their own Thanksgiving Poetry on!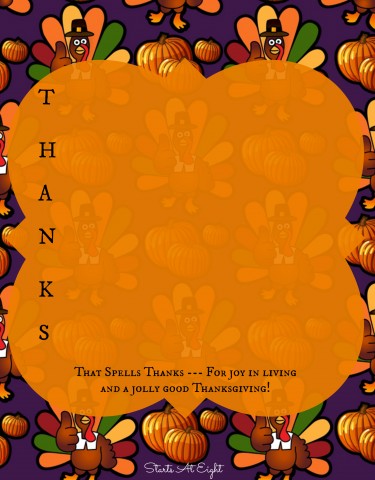 This is another fun way to create Thanksgiving Poetry in acrostic poem style. In this case the whole word Thanksgiving is used to create a poem about the things you are thankful for, a fun rhyming poem or whatever your imagination creates!
Print Thanksgiving Poetry
More Thanksgiving Activities
Thanksgiving Resources – Elementary Grades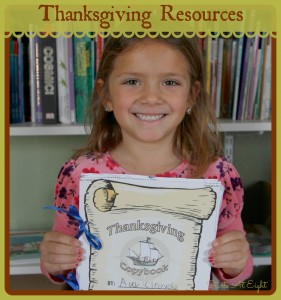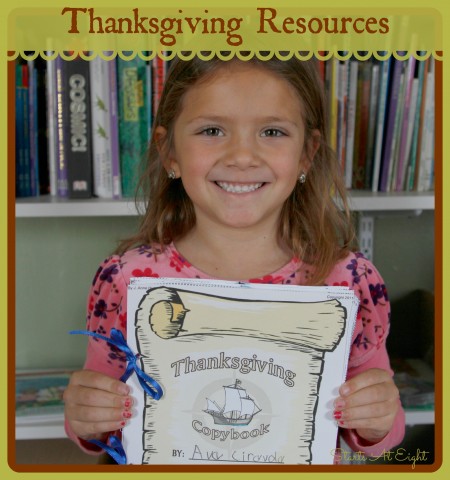 ---
Welcome to the Thanksgiving Learning Feast!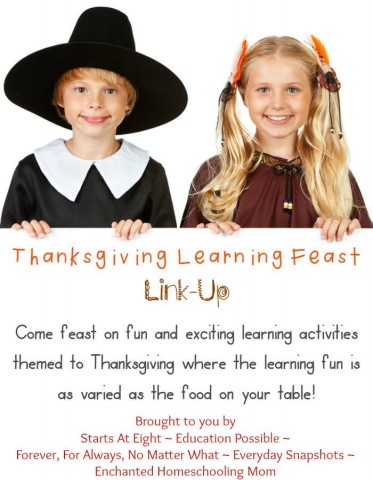 We would be so thankful if you would share a Thanksgiving themed post with everyone. Please make sure to visit all of the co-hosts of this link-up to see all of the Thanksgiving Learning Fun: Education Possible, Forever For Always No Matter What, Everyday Snapshots, and Enchanted Homeschooling Mom.