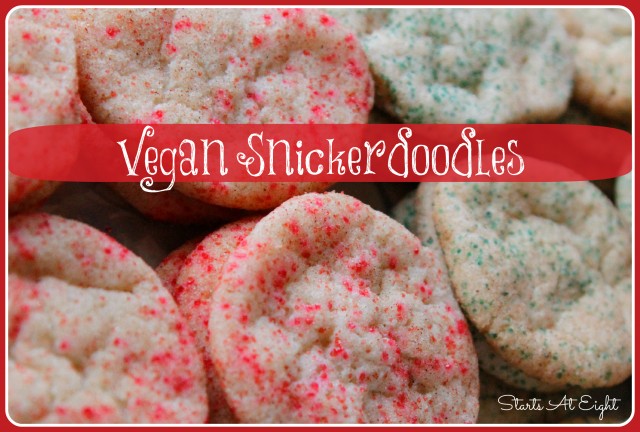 Vegan Snickerdoodles
Ingredients:
1 cup non-hydrogenated vegan margarine, softened (Earth Balance margarine)
1 1/4 cups sugar
2 TBSP non-dairy milk
1 1/2 tsp. vanilla extract
1 2/3 cups all-purpose flour
1/4 cup corn starch
1 tsp. cream of tartar
1/2 tsp. baking soda
1/4 tsp. salt
CINNAMON – SUGAR FOR ROLLING
1/3 cup sugar
1 rounded teaspoon ground cinnamon
big pinch of nutmeg
2 TBSP white decorator sugar, or large crystal white sugar (we used red and green decorating crystals for ours)
Directions:
In a large bowl, cream the margarine and sugar together until light and creamy, about 3 minutes, scraping the sides of the bowl when necessary. Add the milk and vanilla and beat until combined. Sift in the flour, cornstarch, cream of tartar, baking soda, and salt, and beat the mixture until a soft dough forms, about 4 minutes. Dough will be soft and fluffy. Chill dough for 30 minutes (or if desired, cover with plastic wrap and refrigerate overnight).
Preheat oven to 350 degrees and line two baking sheets with parchment paper . In a small, shallow bowl, combine the sugar, cinnamon, and pinch of nutmeg.
Scoop 1 tablespoon of dough, roll in cinnamon-sugar, and roll into a ball. Place dough balls on cookie sheets about 3 inches apart. Sprinkle the tops with any additional cinnamon-sugar.
Bake 10 – 12 minutes. Cookies will be puffed and will deflate after removing from oven. Allow cookies to cool 5 minutes before removing from baking sheets and cooling on a wire rack completely.
---
Vegan Cookies Recipe Cookbook: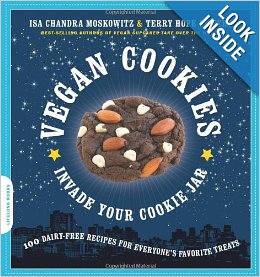 Vegan Cookies Invade Your Cookie Jar – Vegan cookies are going to invade your cookie jar, one delicious bite at a time. Join award-winning bakers Isa Chandra Moskowitz and Terry Hope Romero (authors of the hit cookbook Vegan Cupcakes Take Over the World) as they continue their world-domination mission—with dairy- and egg-free batches of everyone's favorite treats.
Vegan Cookies Invade Your Cookie Jar includes more than 100 irresistible recipes for cookies, bars, biscotti, brownies, and more. Discover festive desserts that are sure to impress family and friends at any occasion, from birthdays to bake sales. Or simply tempt yourself with:
· Magical Coconut Cookie Bars
· Chocolate Chip Cream Cheese Brownies
· Peanut Butter Crisscrosses
· NYC Black & Whites
· Key Lime Shortbread Rounds
· Call Me Blondies
· Macadamia Lace Cookies
You might also like Vegan Chocolate Crinkles: