We are nearing the end of our shopping days. The hustle and bustle has us rushing around to finish the cookies, buy and wrap presents, mail Christmas cards and more. I don't know about you but as my children are getting older I find it harder to find Christmas Stocking Stuffers that are stocking sized, worthwhile, and don't break the bank. Here is a quick list of last minute gifts to fill your child's stocking.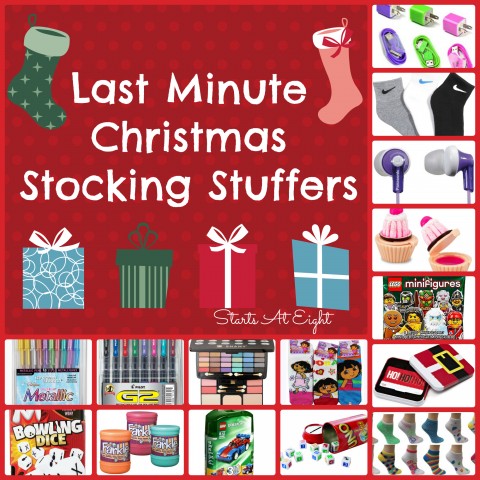 The stockings were hung by the chimney with care,
in hopes that St. Nicholas soon would be there.
Colored Pens – For older girls colored gel pens and fun notebooks or journals.  For the younger set think fancy crayons, or markers and cool notepads.
Metallic Gel Pens
Retractable Gel Pens
Chargers – Whether an iPod, Android, or iPhone you can find colored charges to the delight of any child.
iPhone/iPod Colored Chargers
Colored USB Car Charger
Fun Colored Ear Buds – Along with the electronics theme of charges you can also find colored ear buds to match!
Socks – My kids look forward to fun socks each year.  Maybe a favorite character like Dora, or animal like horses, or if you are like my teen low black athletic socks!
Girls Mis-matched Socks
Boys Nike Socks
Dice Games – These are inexpensive, small and fun! Dice games are easy to take along places and easy for kids to learn!
Bowling Dice Game
Farkle Dice Cup Game
Uno Dice
Think Fun Math Fun Dice
Gift Cards – Anything from Amazon, to iTunes, Dick's, Aeropostale and more!
Small Lego Sets – There are tons of small building sets made by Legos.  From Stars Wars to construction, rescue sets and mini figures.  Each set is stocking sized and stocking priced!
Lego Mini Figures
Small Lego Sets
Make-Up – From full kits for your teenager to fun lip glosses for your younger daughter, make-up is a fun and easy stocking gift.
Make-Up Kit
Cup Cake Lip Gloss