Ansel & Clair are back with a new app called American Bowl! A fun trivia and bowling game designed to help your child learn all about the United States. Along the way, they encounter pirates who have captured Bald Eagles, a key symbol of the United States. Ansel & Clair need your child's help to free the Bald Eagles! Answer a question correctly to play the bowling game. Aim and swipe your ball down the alley to knock down the Pirate pins. Knock all the pirate pins down to free a Bald Eagle, and win a custom bowling ball. Check out what is in store with this new Ansel & Clair American Bowl iPad App!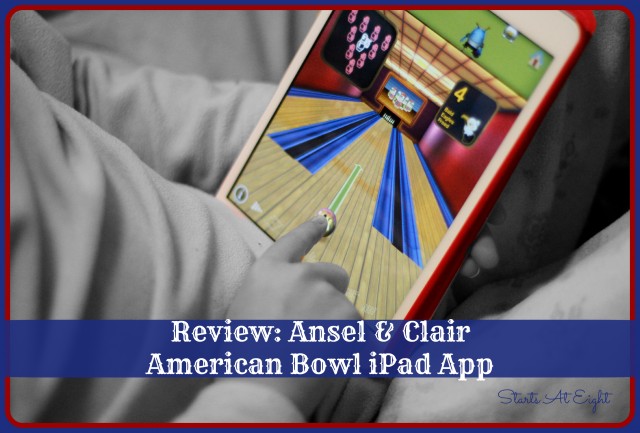 About The Ansel & Clair American Bowl iPad App:
1,000+ Questions with explanations and interesting / fun facts
Answer a question correctly to bowl
Knock down bowling pins to free a Bald Eagle and win custom bowling balls
Earn Crazy bowling power-ups for correct answers
3 Difficulty Levels: Easy, Medium and Hard
14 Unique Categories such as:
Important Events:
Learn about the Declaration of Independence, Louisiana Purchase, Lewis & Clark expedition, Civil Rights movement, man landing on the moon, Gettysburg Address and much more
Legends in Sports:
Find out about Billie Jean King and the Battle of the Sexes, Basketball "Dream Team", Jerry Rice, Jessie Owens, Babe Ruth and more
Inventions and Discoveries:
Inventions such as the airplane, Polio Vaccine, assembly line and even blue jeans; inventors such as Thomas Edison, Edwin Hubble, John Bardeen, Neil Armstrong and more
Amazing Americans:
Celebrate Americans who significantly influenced the country such as Abraham Lincoln, Harriet Tubman, Frank Lloyd Wright, Jonas Salk, Louis Armstrong, Helen Keller, JFK, FDR, Walt Disney and others
She's a Trailblazer:
Be inspired by women who paved the way including Amelia Earhart, Sally Ride, Rosa Parks, Helen Keller, Susan B. Anthony, Condoleezza Rice, Georgia O'Keefe and more
Black History:
Celebrate the achievements of Justice Thurgood Marshall, George Washington Carver, Martin Luther King, Jr., Toni Morrison, Dr. Ralph Bunche. Understand significance of key events like Rosa Parks not giving up her seat on the bus, Jackie Robinson playing baseball, James Meredith going to the University of Mississippi and more
American Revolution:
Salute the bravery and determination of the people who fought for independence, learn about the Founding Fathers, Continental Congress, Declaration of Independence, Key Battles & significance, Heroes & Villains, Minutemen, Hessians, Valley Forge, Delaware Crossing
Our Rules Rock:
Learn about the branches of government, the Bill of Rights, Amendments, rights and duties of citizens and more.
Learn even more in 6 Additional Categories:
Symbols, Holidays, Landmarks and Landforms, States & Capitals, Vocabulary, Famous Quotes
Earn Over 50 Custom Bowling Balls As Rewards:
With each win, add a new bowling ball to your collection.  You can choose whichever bowling ball you wish to bowl the games. Every kid has his or her own favorite and soon so will you!
Have Fun With Power Ups & Challenge Yourself With Different Pin Arrangements:
Answer consecutive questions correctly to earn power-ups, which make it more fun and easier to knock all the pins down.  Free more than one eagle with certain pin arrangements.
Hundreds Of Actual Historical Pictures
(COURTESY LIBRARY OF CONGRESS) Bring key events and people to life.
What We Thought:
This app is being compared to Stack The States.  Stack the States is one of our most played, favorite apps for the kids.  That being said I think this Ansel & Clair American Bowl iPad App has the potential to rank right up there with my children!  The facts are varied and interesting, the pictures greatly enhance learning and recognition of major people and events in our history, and the added element of the fun bowling game keeps them wanting to play more!
The cost is inexpensive like Stack the States and is well worth the money spent both in learning potential and engagement time for the kids.  We carry our iPad with us when we are out and about, like for doctor's appointments, music lessons or classes for one or more of the kids.  Having educational apps like this allow me to keep the kids engaged in something not only fun but ultimately educational!
See All Ansel & Clair Apps
By visiting the Ansel and Clair Website you can check out all their fun apps including:
American Bowl
Little Green Island
Triassic Dinosaurs
Jurassic Dinosaurs
Paul Revere's Ride
Cretaceous Dinosaurs
Adventures in Africa