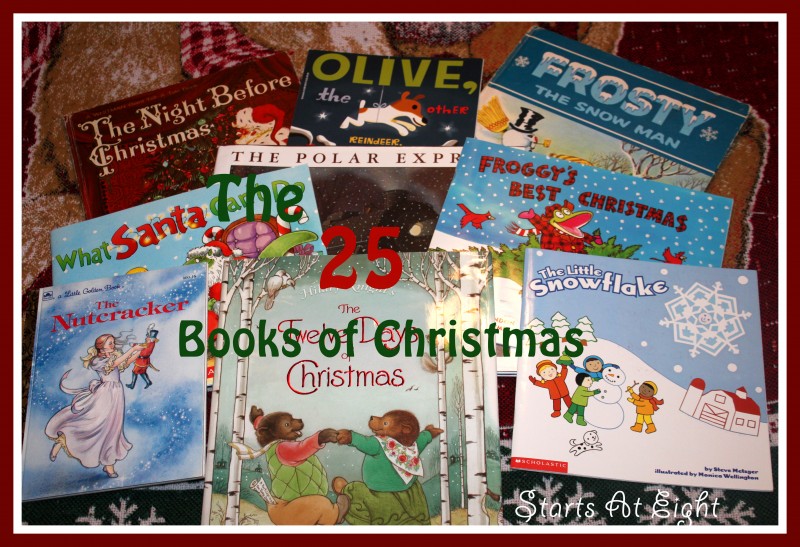 I recently came upon a blog post entitled, "25 Christmas Books to Read With Your Child".  This post inspired me to dig out our favorite Christmas books from home as well as to take a trip to the library and gather a stack of books to read throughout December.  I love Adrienne's idea of wrapping and opening a book each day, unfortunatly I come upon the idea too late and didn't have enough time to pull something like that together! What I love about the idea is that you can wrap bought or borrowed books – the fun of opening and reading them is still the same (even if they have to go back to the library).
The 25 Books of Christmas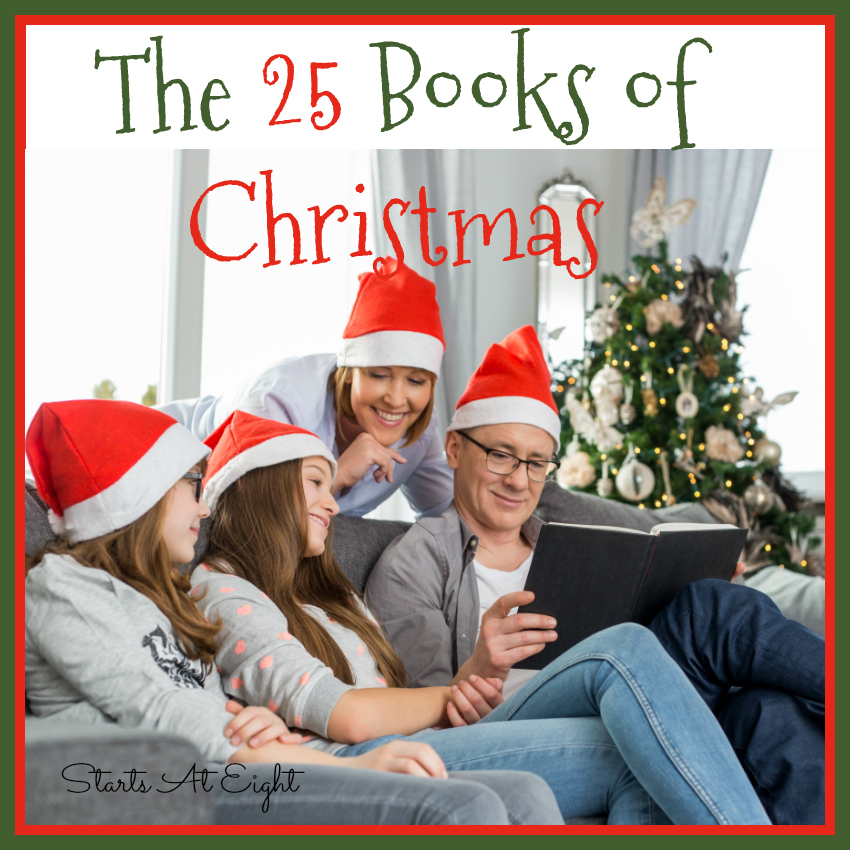 Here are the 25 Books of Christmas that I chose to read. Obviously there are tons of variations and options to choose from but these are a great starting point. You can add and subtract some of your favorites to create your own list! Here is the FREE Printable Blank 25 Books of Christmas List that you can print to fill in your own list of books!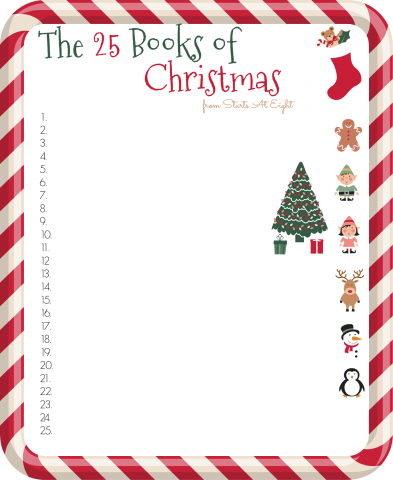 December 1st:  'Twas the Night Before Christmas We chose this one first because I created a great copywork book out of the story for the month of December.  I found a great FREE Printable The Night Before Christmas Coloring Book with the words included.   Then I added primary writing paper to it so Ava can copy and color each page as she goes.  Put inside a colored file folder and held in with the brass brads, it will make an excellent keepsake for years to come! We also have a couple of variations of 'Twas the Night Before Christmas that we will be reading throughout the month, including a dinosaur one and a librarian one.
December 2nd: Santa Retires by: David Biedrzycki "After a particularly grueling Christmas, Santa and Mrs. Claus head to sunny Mistletoe Island, where they swim, surf, and do lots of yoga. They even start eating healthy! Vacation is so much fun that Santa decides to retire."
"The reindeer are grounded. The elves are shorthanded. Can there be a Christmas without Santa? And can Santa be jolly without Christmas?"
Ava says she liked this book better than 'Twas the Night Before Christmas because she doesn't think a poem can be a story.  We discussed rhyming and how just because something is a poem or rhymes does not mean it cannot be a story.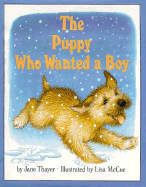 December 3rd:  The Puppy Who Wanted a Boy by Jane Thayer.   I found a free pdf version of this story without pictures if you wanted to just read and enjoy the story.
"Petey the puppy has one wish for Christmas: to have a boy of his very own.  But boys are in short supply this year, and he can't seem to find one who is just right! Just as Petey is about to give up hope, his Christmas wish is granted — in a very surprising way. "
December 4th: A Christmas Promise by Lark Carrier.
"Today was the day Amy had waited for all year-the day when her special Tree would be brought into the house and decorated with the shiny balls and twinkling lights of Christmas.  The Tree grew right outside her window, and all through the changing seasons Amy had watched over it.  Colorful birds, playful squirrels and other wild creatures had joyfully made their homes in and around the Tree, but she had made them promise they'd move out before Christmas.  Now the Tree stood all alone, empty and silent.  All its friends were gone.  They had kept their promises."
December 5th: Angelina Ballerina – Christmas in Mouseland based on the stories by Katharine Holabird. Also Angelina's Christmas
"Angelina's Christmas wish is to play the part of Cinderella Mouse in the holiday ballet.  Will she be the best singer and dancer for the part?  But what will she do if she doesn't get the part?"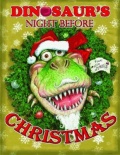 December 6th:  Dinosaur's Night Before Christmas by Jim Harris
"Christmas is going to be a little different this year.  It is late on Christmas Eve when Dad hears a mysterious growling.  Approaching at high velocity, eight enormous dinosaurs, including Splinter, Smasher, Cracker, and the meanest T-Rex of all, are about to crash Dad's jolly night.  And these prehistoric creatures aren't delivering gifts!"

December 7th:  Librarian's Night Before Christmas by David Davis
"Due to low staffing, a librarian must spend her Christmas Eve stacking the shelves at a library in desperate need of renovations.  After the strain of a long night that has left her feeling "like Bob Cratchit in A Christmas Carol," she is pleasantly surprised to see Santa and his six elves coming to her rescue in a red book mobile.
In this delightful retelling Santa signs Newberry winners and starred Caldecotts and stocks the library shelves with Hawthrorne, Steinbeck, Millay, and Hemingway. "
"What happened next didn't seem to be real,
'Cause out of the sky cruised
a red bookmobile!
Up to the front steps flew this library ride,
With a portrait of Shakespeare
airbrushed on the side.
As he leaves, Santa pays overdue fees and booms, "Do one more good deed.  Have a real merry Christmas – teach someone to read!"
December 8th:  The Christmas Party by Adrienne Adams
"As Christmas time comes around, the Abbotts, those free-wheeling artists who design and paint their way through The Easter Egg Artists, are busy getting ready for spring.  Their son Orson is older now, and can't be bothered with the kids who tease him to come out and play.
He does allow them all to visit him in his tree house, however, and when they suggest a Christmas party- well, who can resist a party? Not Orson!"

December 9th:  Christmas in the Big Woods
"Long ago, a little girl named Laura Ingalls lived in a little house in the Big Woods of Wisconsin with her Pa, her Ma, her sisters, Mary and Carrie, and their good old bulldog, Jack.
Winter was just around the corner, and Laura worked hard to help make the little house ready for the cold days ahead. Soon there was frost on the windows and snow on the ground, but Laura and her folks were warm and cozy in their snug little house in the Big Woods."

December 10th:  Lyle At Christmas by Bernard Weber
"Christmas is an especially festive time for everyone's favorite crocodile, Lyle.  Lyle loves Bird and Loretta the cat, who live with Mr. Grumps.  He loves East 88th Street, the house he shares with the Primms and his mother.  Lyle's only problem is that he can't decide what he wants for Christmas.
However, not everyone is filled with holiday cheer. Mr. Grumps has the holiday blahs—so much so that even his adored cat, Loretta, has had it with miserable Mr. Grumps. And then, just a few days before Christmas Loretta disappears and the entire neighborhood joins Mr. Grumps in the hunt for the lost cat. Will he be able to find Loretta before Christmas and restore the holiday cheer to East 88th Street?
December 11th:Snowmen At Night by Caralyn Buehner
December 12th:Franklin's Christmas Gift by Paulette Bourgeois
December 13th:Christmas Tapestry by Patricia Polacco
December 14th:  The Trees of the Dancing Goats by Patricia Polacco.  I know this is a Hanukkah story but Ava has been curious about Hanukkah due to our friends being Jewish and celebrating this holiday.  Thus we have been learning a little bit about Hanukkah during this holiday season.  I created a Hanukkah Resources Post to include many of the online resources we found and used.
December 15th:  The Menorah Story by Mark Podwal.  This too is a Hanukkah story that we chose to read during our brief look at what Hanukkah is and how it is different from Christmas.
December 16th: The Twelve Days of Christmas by Hilary Knight.  This book version has wonderfully detailed illustrations that we enjoy a great deal.  It is fun to find all the gifts and each one is so uniquely detailed.  We also love this song so much that we wrote and created a video version of it for our family.
http://youtu.be/tlpaQg7pS_U
December 17th:  Snowie Rolie by William Joyce
December 18th:  The Polar Express by Chris Van Allsburg
December 19th:  How Do Dinosaurs Say Merry Christmas? by Jane Yolen & Mark Teague
December 20th:  Christmas Is… by Gail Gibbons
December 21st:  Snowmen at Christmas
December 22nd:  Are You Grumpy, Santa?  by Gregg & Evan Spiridellis
December 23rd:  Olive, the other Reindeer by J. Otto Seibold & Vivian Walsh
December 24th:  Snow What Fun!  When Snowmen  Come To Life On Christmas Eve by Cheryl Hawkinson
December 25th:  Frosty the Snow Man  adapted from the song and Retold by Annie North Bedford
Other Christmas Fun