We were recently expecting a package that needed to be signed for. As I explained to my teenage son that I would be leaving the house and he might have to sign, panic rose in him. Why? Because he would have to sign his name. This is one of the many reasons to teach cursive handwriting.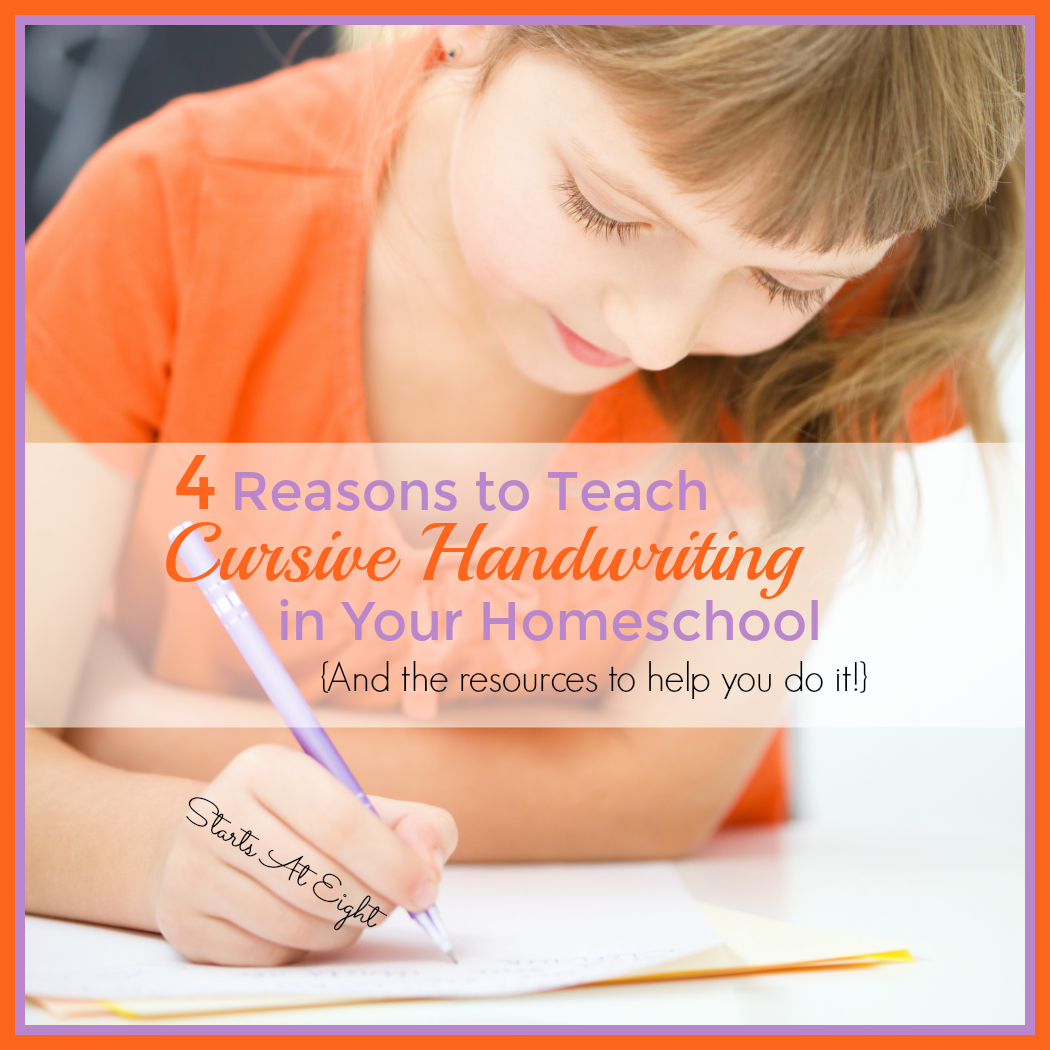 Now I am sure you are thinking, "But you obviously did not teach your son?"  In fact, it is quite the opposite. I have always felt it was important to teach cursive handwriting to our children. We spent many years during the elementary grades (2-4) with cursive as a staple in our homeschool plans. They all know how to read and write in cursive.
So why was my son nervous? In this age of technology, cursive has taken a backseat. As he has grown older I have allowed him a choice, and if he has a choice he types his papers instead of handwriting them. This means that cursive is not second nature to our children as it was for us.
"Handwriting experts have struggled with the question of whether cursive writing confers special skills and benefits, beyond the benefits that print writing might provide. Dr. Berninger cited a 2015 study that suggested that starting around fourth grade, cursive skills conferred advantages in both spelling and composing, perhaps because the connecting strokes helped children connect letters into words."
Reasons to Teach Cursive Handwriting
1. Evidence that writing increases information retention
Perhaps the biggest proponent of handwriting — at least in the field of early childhood education — is Dr. Laura Dineheart, who does research at Florida International University.
Plainly put, Dineheart said in an interview with The Huffington Post,"Our research found that children who were better able to produce letters, numbers and shapes in preschool demonstrated better academic achievement in second grade. The reason for this is that children and adults use all of their senses when they're learning something. When we use motor skills while learning, we're more likely to retain the information. So, when a young learner draws an image of the letter "A," the physical action is different from drawing an image of the letter, "B." On the other hand, pressing a key on a computer that types those letters means performing the same action, regardless of which letter it is."
2. Cursive teaches fine motor skills
Experts recommend at least 15 minutes of handwriting instruction each day for students. Research has shown that improved handwriting skills has benefits for cognitive development and motor skills and can lead to improved writing skills and reading comprehension.
3. Reading Historical Documents
(Or in my children's case, their grandmother's birthday cards!)
Historical documents are written in cursive. While they can be transcribed into print, there is a whole generation (really many generations) of written work that our children will never be able to read in original form unless we teach cursive so they learn to read and write in cursive.
4. Personal Signature
Even in this digital age of technology, we still find ourselves in need of a signature. Our handwriting is still unique to us. It says, "This is me." We sign it on important documents, and on credit cards. Without cursive there is stress about signing their name.
Resources for Teaching Cursive Handwriting
Helfpul Articles That Support Cursive Handwriting