When my children were younger I didn't worry too much about formal writing with them. As middle school rolled in for my oldest, I knew I needed to begin spending quality focus time on her writing skills. Teaching writing in your homeschool can be a daunting task, mostly because writing can be a very subjective task to teach and grade.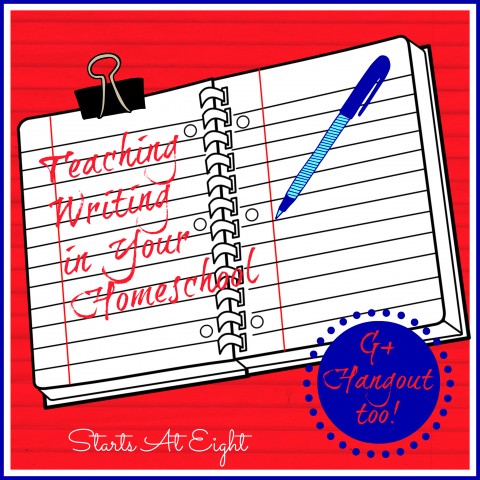 Teaching Writing HangOut:
Recently I participated in an iHomeschool Network hangout on this topic of teaching writing. You can watch it below, on YouTube or via Podcast.
Key Points From The Teaching Writing Discussion:
1. At 6:20 Raising/Encouraging a Reluctant Writer
Find out what exactly is causing them frustration
Take out the grammar, spelling, punctuation
Give them a small goal (maybe 3 sentences)
Let them type instead of hand write
Use a dictation program such as Dragon Dictation if getting ideas from pen to paper is a problem (11:20)
2. At 12:50 Take a Relaxed Approach
the idea is more important than the mechanics
help them develop their ideas without pushing the actual act of handwriting, grammar, etc.
your tone affects their attitude towards writing
be positive
3. At 17:13 Judging Appropriate Length of Written Work
depends on the style of the writer
depends on the type of writing and assignments
take into consideration if they answered the question if it was a given assignment
1st grade – just learning to write
3rd grade – short paragraphs in response to pictures
4-6th grade – full paragraphs (well structured with topic sentence, introductory sentence and a concluding sentence)
7-8th grade – essays and longer papers
9+ grades – how to create a thesis statement and support it, different types of written papers, gain solid structure, and learn to incorporate research
12+ grades – multi-page written work (2-3 pages to graduate)
4. At 22:10 Teach Building Blocks
show kids the process
work on the skills to writing not just an end product
give them an order/structure of writing (easy to digest steps)
building blocks are important with writing just as in math
5. At 25:40 Editing Tools/Skills
6. At 29:25 Explanation of Graphic Organizers and Rubrics
What is a rubric?  a chart/checklist for having things done and how well they were done.
What is a graphic organizer? printables, charts, bubbles, to help kids break the writing process down, or brainstorm
Literary Guide to help you children write about the books and poems in bite sized pieces.
7. At 34:40 Event Room Questions & Comments
8. At 37:10 Dealing with a Reluctant Writer
when writing don't focus on handwriting and grammar
let them write about what their passion is (even if that is all they write about)
try journal writing to let them share ideas and then discuss with them
let them draw to express their ideas, then you can go back and have them add some words
Tips for Teaching When Writing is Boring
9. At Consider Having Your Teens Taking a Writing Class
Lily Iatridis from Fortuigence offers a semester long course called Essay Rockstar.  In addition to the full course,  there are mini courses for each type of essay in their own individual course if you just want one specific essay.  Lily is the wonderful lady that you get to hear and see on this iHomeschool Network hangout offering her advice and teaching writing tips, as well as more specifics about her course.

10. At 48:08 Types of Essays
Personal Statement – tell us about yourselves
Persuasive Essay – found on college entrance exams. You take a position and defend it, be sure to pick one side and stick with it.
Expository Essay – most common form assigned – to explain or inform about a specific topic
Textual Analysis – review of something – book, movie, product
11. At 51:29 5 Step Writing Process
Brainstorming
Organizing Ideas
Free Writing
Revision
Editing
12. At 54:30 #1 Way to Scare Your Kids Away from Writing
nit pick, nit pick, nit pick (instead let them get their ideas out)
assigning topics and/or sticking too tight to a curriculum (instead let them choose the topic)
13. At  58:24 Closing Remarks
Can't let grammar/editing go when your children are older
Balanced feedback with a 2:1 Feedback Ratio – 2 positive things to 1 need to work on
Specific & Positive Feedback
Relax and don't compare
---
The Big Book of Homeschooling
To get tons of great advice, and move beyond the basics of academics, pick up a copy of The Big Book of Homeschool Ideas. Some topics included are things like active learning, learning with video games, helping teens/tween become independent learners (one of my chapters), teaching on the road, learning with movies, high school literature (one of my chapters), and gardening.
This book can carry you through all your years of homeschooling, covering the stages your children will mature through: preschoolers, elementary grades, middle school, and high school. As your life situation changes, you will find new chapters that apply to you.
If you would like to purchase a PRINT Copy that option is now available via Amazon!! The Big Book of Homeschool Ideas – Print Copy