Every winter we make a batch of soups. Chicken noodle, Italian Wedding, and Beef Barley are the usual staples. After running out of frozen soups we decided to try a couple of crockpot soups. Since my husband loves Stuffed Peppers we decided to try a soup variation in the slow cooker as it is just dump everything in and let it go!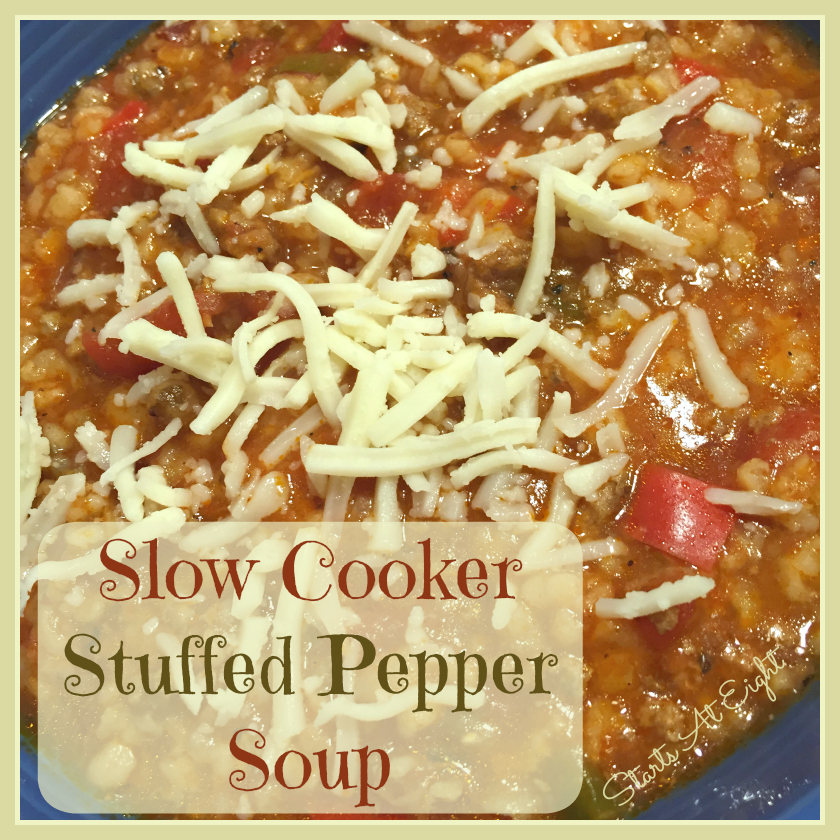 Slow Cooker Stuffed Pepper Soup
Ingredients
2 lbs of ground beef (could substitute with ground turkey)
2 green bell peppers, diced (we actually used one green and one red)
1 small onion, diced
3-4 cloves of garlic, minced (we make both the onion and garlic into a puree because some of us don't like onion chunks but we still want to have the flavor)
2 (15 oz) cans of diced tomatoes, undrained
1 (23 oz) jar of sauce (we used Ragu)
32 oz beef broth
1 cup of water
2 TBSP brown sugar
2 tsp salt
1 tsp pepper
4 cups of cooked rice (we used a wild rice mix)
Instructions
Brown and drain grease from the ground beef. Place ground beef in the slow cooker.
Add everything but the rice to the slow cooker.
Cover and cook on low for 6-8 hours.
With about 30 minutes left add in your cooked rice, recover and continue cooking the final 30 minutes.