Chicken salad is a classic summer dish, but it usually comes with lots of calories and a distinct lack of nutrition. This Avocado Chicken Salad is a modern twist on the classic summer staple and is packed with nutrition and flavor. It's also easy to make, gluten-free, grain-free, Paleo friendly and versatile. What else could you want from a dish?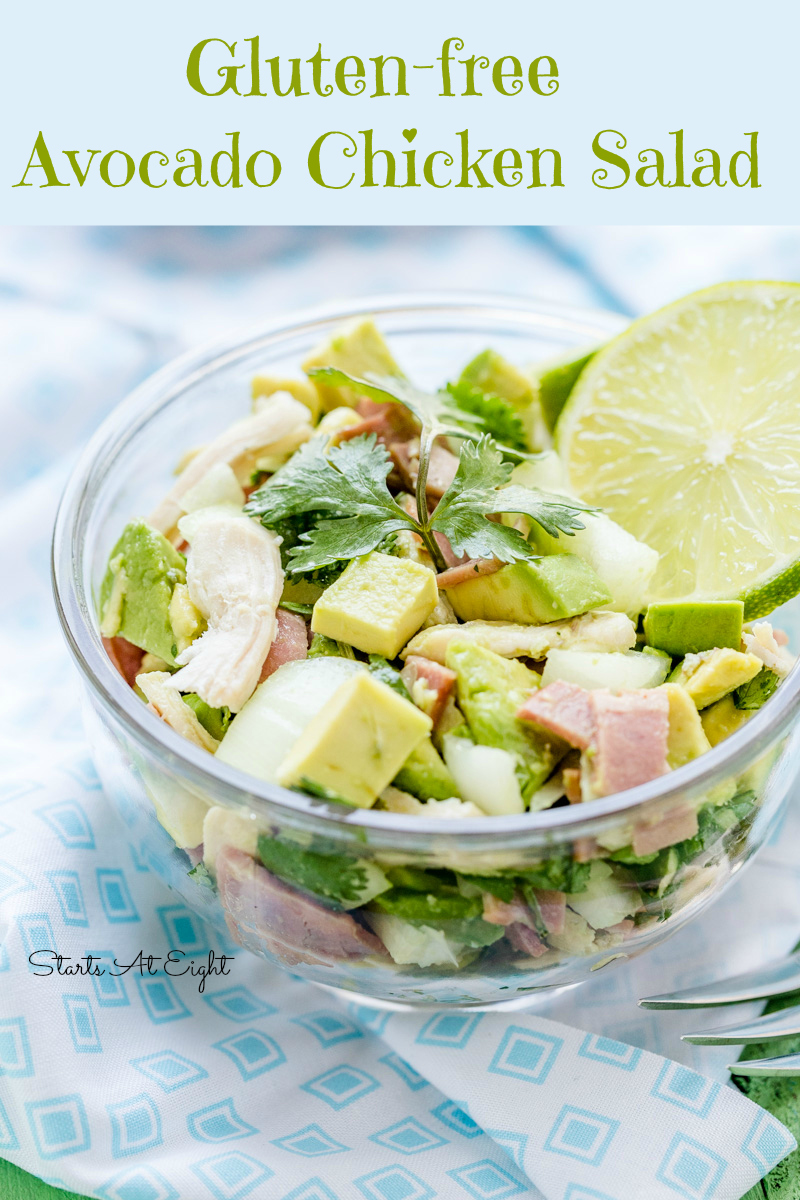 Gluten-free Avocado Chicken Salad
Unlike a traditional chicken salad, avocado chicken salad cuts out the mayo, miracle whip, or sour cream that is typically used. Instead, the avocado serves as a creamy base. This cuts out a ton of calories and makes it a much healthier dish!
Taking out the traditional creamy base also has a downside. Avocado doesn't contain a lot of the seasoning and flavor that the other bases boast. To make up for the lack of seasoning, this recipe uses lemon juice, salt, pepper, and a couple of herbs to kick the flavor up a notch.
If you're ready to give the avocado chicken salad a try, check out the recipe below.
Ingredients:
2 large chicken breasts, cooked and shredded or chopped
2 large avocados, peeled, pitted, and chopped
6 oz turkey bacon, cooked and chopped
1/4 cup white or red onion, chopped
2 Tbsp cilantro (or basil) chopped
2 Tbsp lemon juice, freshly squeezed
2 Tbsp extra virgin olive oil
 salt and pepper to taste
Directions:
Place chicken, avocado, bacon, onion, and cilantro or basil into a large mixing bowl
Mix thoroughly. Be a little rough with the avocados. The more you are able to mash them up, the creamier your chicken salad will be! Keep mixing until you get the consistency you like.
Drizzle olive oil and lemon juice over the chicken salad. Add salt and pepper to taste.
Mix the salad a little more to incorporate the lemon and olive oil.
Make it a wrap, sandwich, or dish of its own and enjoy!
If you have any leftovers, they will make an awesome next-day lunch. Use it to make a wrap, a sandwich, or just eat it as-is. To keep the flavor fresh, just make sure you store your leftovers and your lunch creations in a lidded container in your refrigerator until you're ready to dig in.
Depending on your preferences, you can use rotisserie chicken, baked chicken, boiled chicken, or even canned chicken. You can also use regular bacon if you're not into turkey bacon.
Author Bio: Victoria is a home cooking mom. She loves to share her recipes and culinary tips from her diversified experience of multi-culture. She's most interested in cooking and creating authentic and original taste from traditional recipes. Check out her latest recipes at How Daily.
More Great Recipes
Be sure to check out all the recipes FROM OUR KITCHEN