Expanding your child's vocabulary skill set can have a significant impact on improving overall academic gains. To this end they will greatly benefit from your efforts to improve your child's vocabulary skills.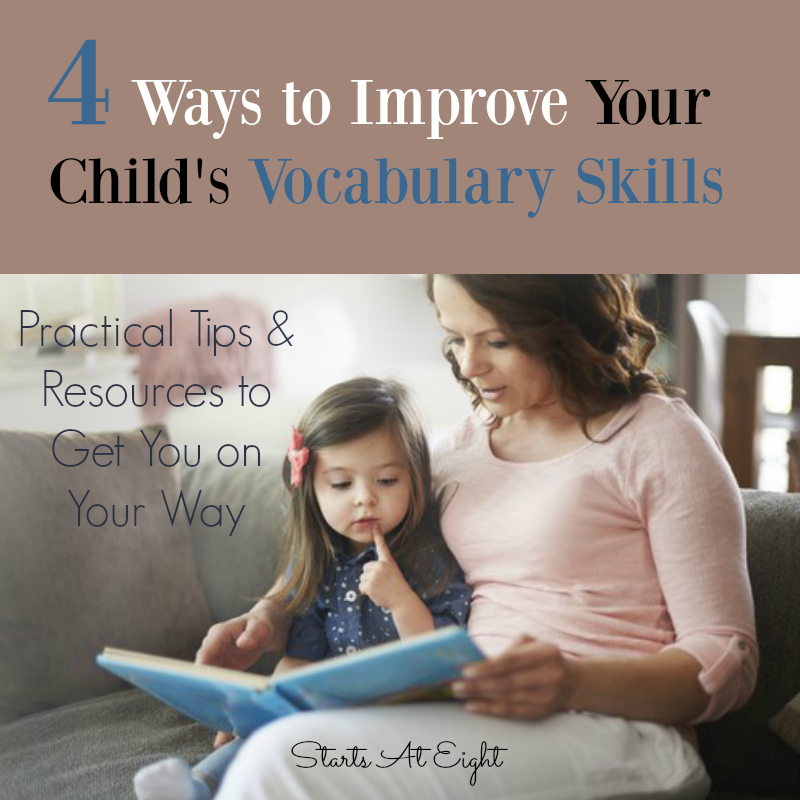 A 2014 Charles Sturt University study found language and literacy skills are key predictors of school success, while literacy development is dependent on writing skills. A 2014 Stanford University study found strengthening vocabulary development starts in infancy, and parents who talk to their kids help sharpen infants' language-processing skills. Infants who simply overhear conversations do not reap the same benefits.
No matter what age your children are, there is always opportunity to help them boost their vocabulary capabilities. Here are four ways to help.
4 Ways to Improve Your Child's Vocabulary Skills
1. Prioritize Story Time
A 2012 study by child development researcher Meredith Rowe found that regardless of a child's socioeconomic status, the use of narrative language (such as that found in stories) leads to long-lasting vocabulary gains.
To maximize the effectiveness of narrative language, be sure to read some stories that aren't accompanied by illustrations to encourage your children's imaginations. Take breaks during the story to ask what they're imagining, and give them a chance to ask for clarification of any words they don't understand.
Let your children read to you, too. They'll have the opportunity to sound out new words and ask for definitions, while you can also have them create a story and tell it to you. Periodically, ask them to elaborate about descriptors they're using. If the setting of their story is a playground, for example, have them explain the climate, the apparatus and the characters' demeanor.
Book Lists for Storytime
2. Utilize Word Games
Make learning new vocabulary fun for your children by using puzzles. The Harvard Business Review reported that tools that emphasize pattern recognition, such as word search puzzles, strengthen cognitive development, which is essential for language development and memory.
Not only will your children learn new words through puzzles, but they'll also refine skills that relate to overall learning, as well as receive a confidence boost that is essential in skill advancement, including reading.
You can create your own word search puzzles using a free word search maker that allows you to choose the size of the grid as well as the content. Tools such as these allow you to feature vocabulary that directly relates to other lessons your children are learning.
Word Games & Puzzles
3. Challenge Them with Your Conversation
How you converse with your children can exponentially increase their vocabulary. Use everyday situations as teachable moments, pointing out what's around you and describing things in detail. Ask questions to keep them engaged with what's going on around them.
Don't be afraid to use advanced words in conversation, and give them the chance to ask for clarification on what you're saying if they need it. By limiting your speech only to age-appropriate vocabulary, you're missing an opportunity for them to grow and learn new words.
4. Master a New Word Every Day
Use a word-of-the-day calendar for kids or teens that introduces them to a new vocabulary word every day. Give them real world examples of how the word relates to their life so they better understand it, or have them create a drawing that illustrates the word to better establish its meaning. Also check out these Word of the Day Workbooks!
Offer a reward if your child uses the word in conversation that day by adding to a fund that supports an educational activity, such as a trip to a museum, or goes toward purchase of a new book. Enter into the vocabulary fun by making sure you also use the word in your conversation.
To keep your children motivated, use positive reinforcement to make learning vocabulary fun, and be a supportive team member on their vocabulary journey.
Author Bio: Caroline Hampton is a teacher and concerned parent. She created OpenEducators.org to make it easier for teachers (and parents) to find reliable, engaging educational resources for the children in their care. In addition to working on the site, Caroline enjoys spending her time organizing events at her church, cycling, and of course, hanging out with her husband and two kids.
(Photo credit to ShutterStock)