Seeds of Hope is the first book in the Harvest of Hope Series by Barbara Cameron. While I don't read a ton of Amish fiction, I find I am most drawn to the ones that bring in English life too. There is something about the contrast between the two that I enjoy.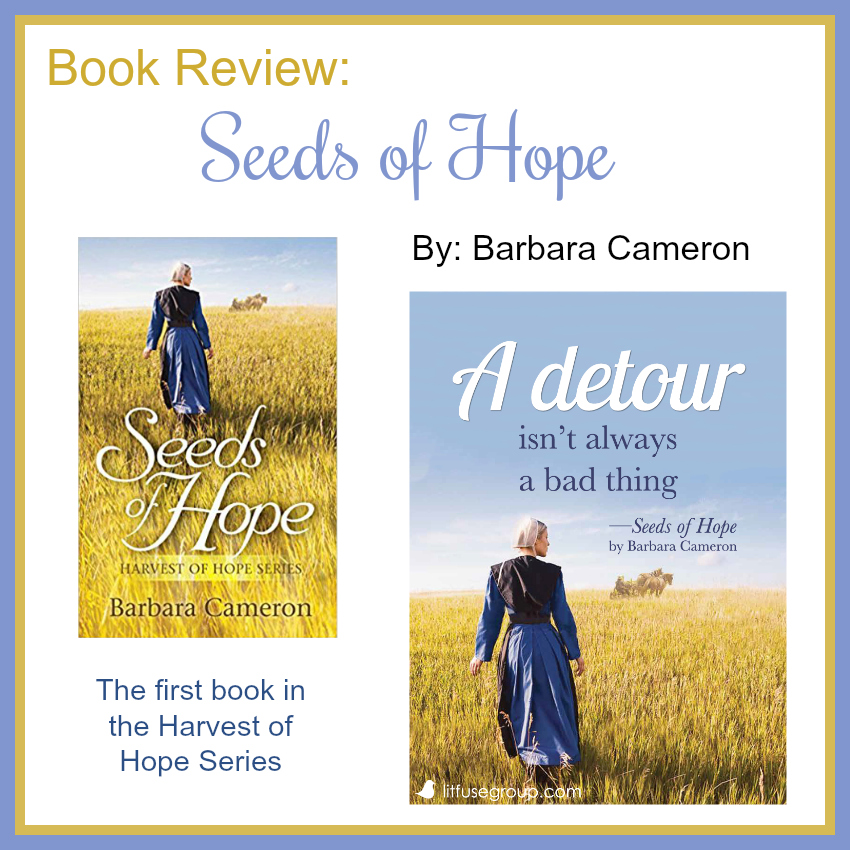 About Seeds of Hope
A heartwarming tale of discovering love right in front of you
Miriam Troyer has had a secret crush on Mark Byler since they were teenagers. She knows they can never have a relationship: Mark is a big-city attorney—an Englischer—and Miriam loves her quiet way of life in her Amish community. But when Mark unexpectedly shows up in Paradise, Pennsylvania, Miriam realizes it's going to get a lot harder to hide her feelings.
Even though Mark always loved visiting his grandfather's farm as a boy, he's convinced the Amish life is not for him. But when he suddenly finds himself out of a job and without direction, Mark heads back to the farm just in time to help with the harvest. Coming for a visit and coming to stay, however, are two very different things.
Everything changes when Mark sees that Miriam, the girl he remembers from his youth, has grown into the kind of faith-filled woman he wants in his future. Could life in this simple world be right for Mark after all? Has Miriam finally found her happily ever after? True love sprouts from seeds of hope.
Purchase a copy of Seeds of Hope
---
Disclaimer: I want to thank Barbara Cameron and Litfuse Publicity for supplying me with a copy of this book for me to review. While I received this free of charge in exchange for my review, my opinions are my own, and have not been influenced in any way.
---
About Barbara Cameron
Barbara Cameron has a heart for writing about the spiritual values and simple joys of the Amish. She is the best-selling author of more than 40 fiction and nonfiction books, three nationally televised movies, and the winner of the first Romance Writers of America Golden Heart Award.
Her books have been nominated for Carol Awards and the Inspirational Reader's Choice Award from RWA's Faith, Hope, and Love chapter. Three of her fiction stories were made into HBO/Cinemax movies.
Barbara resides in Jacksonville, Florida.
Why does she write Amish series? "I've been intrigued by the Amish and feel I've learned a lot about spirituality and God's will in our lives since I first visited Lancaster, Pennsylvania. I've returned there often since then to visit friends. An Old Order Amish friend reads my manuscripts to check for authenticity before publication."
What I Thought
Seeds of Hope is the beginning to a new series by Barbara Cameron called Harvest of Hope.
I find it so intriguing and engaging when an Amish novel contains a blend of the Plain life and English living, in fact, that seems to be the only Amish fiction I am drawn too!
In Seeds of Hope, author Barbara Cameron set up a good contrast between the two lifestyles, contrasting big city life with the Amish with things like air conditioning. The whole scene with Miriam and Mark and the "fancy Englisch car" was so well written. Oh how he started to realize all he took for granted in his big city life!
Mark found himself in a situation that he never envisioned for himself. Having been put out of his big law practice gave him time and space to move in another direction. While he was technically Amish and had spent many summers in Paradise, Pennsylvania helping his grandfather, he was raised English because his father chose to leave the plain life. I felt this brought more plausibility to the story line of him coming back and realizing how much he appreciated and felt at home in the Amish community.
Could life in this simple world be worth living? Will he and Miriam find a place in each other's lives?