About Yankee Doodle Dandy: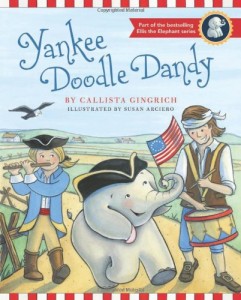 In Yankee Doddle Dandy Ellis the Elephant introduce young children to the story of the American Revolution – from the Boston Tea Party to Paul Revere's midnight ride, from our victory at Yorktown to George Washington's declaration that he would not be king.
Ellis, the cuddly elephant, once again intrigued by America's unique history, sets off to learn everything he can about America's fight for independence and freedom from England.  Ellis travels back in time, witnessing the pivotal moments of the revolution, learning about the challenges the founders faced, and how the colonists came together with courage, dedication, determination, and selflessness to fight for their freedom as a unified nation.
Ellis discovers:
How the revolution saw men and women come together as Americans to fight for freedom and independence.
How our brave patriots faced difficult decisions and painful periods of defeat with courage, dedication, determination, and selflessness.
The important role of women in the revolution; the Founding Fathers' wise vision for American liberty; and the decisive battle that ended the war with the help of our allies the French.
What I Thought of Yankee Doodle Dandy:
From the very start of Yankee Doodle Dandy my daughter and I were interested and engaged.   The illustrations are clear and pleasing, and the verse rhymed for easy reading!  I love how the book was illustrated and worded for elementary age students, but includes very important historical terminology, symbols and concepts that should stick with them as they move into the older grades and more in-depth historical study.
Examples of the historical terms used:
Liberty Bell
Redcoats
Boston Tea Party
Paul Revere
Revolutionary War
Patriots
Founding Fathers
Betsy Ross
Valley Forge
George Washington
Examples of historical symbols and concepts used:
freedom
rule by King vs. people
"Give me liberty or give me death!" – Patrick Henry
"the shot heard 'round the world"
forming a government of the people with the Declaration of Independence
creation of one of our nation's symbols – the flag
original 13 colonies
surrendering a battle
relations between Americans and British rule
Yankee Doodle Dandy is definitely on my list of "must read" list.  It is an excellent historically based picture book for learning about how America became a free and independent nation.
About Callista Gingrich:
Callista Gingrich is the president of Gingrich Productions.  She and her husband, Newt Gingrich, host and produce historical and public policy documentaries.  Recent films include A City Upon a Hill, America at Risk, and Nine Days That Changed the World.  Mrs. Gingrich's photography is featured in the New York Times bestseller, Rediscovering God in America, and she is the co-author of Ronald Reagen: Rendezvous with Destiny.  Mrs. Gingrich is the voice of several audio books, including A Nation Like No Other and To Save America.  Mrs. Gingrich is also the president of the Gingrich Foundation.  She resides in McLean, Virginia.
Mrs. Gingrich is the author of the New York Times bestsellers Sweet Land of Liberty and Land of the Pilgrims' Pride, also featuring Ellis the Elephant.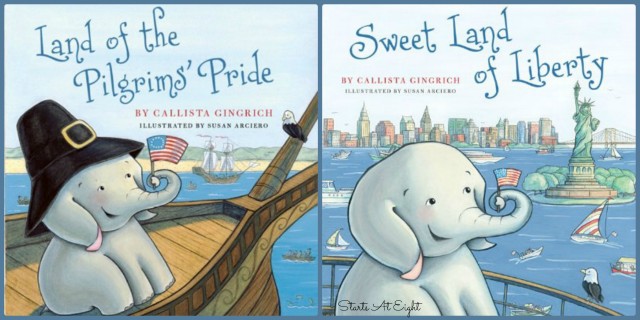 ---
Disclaimer:  I want to thank Callista Gingrich and Regnery Kids for supplying me with a copy of this book to review. While I received it free of charge in exchange for my review, my opinions are my own, and have not been influenced in any way.
---