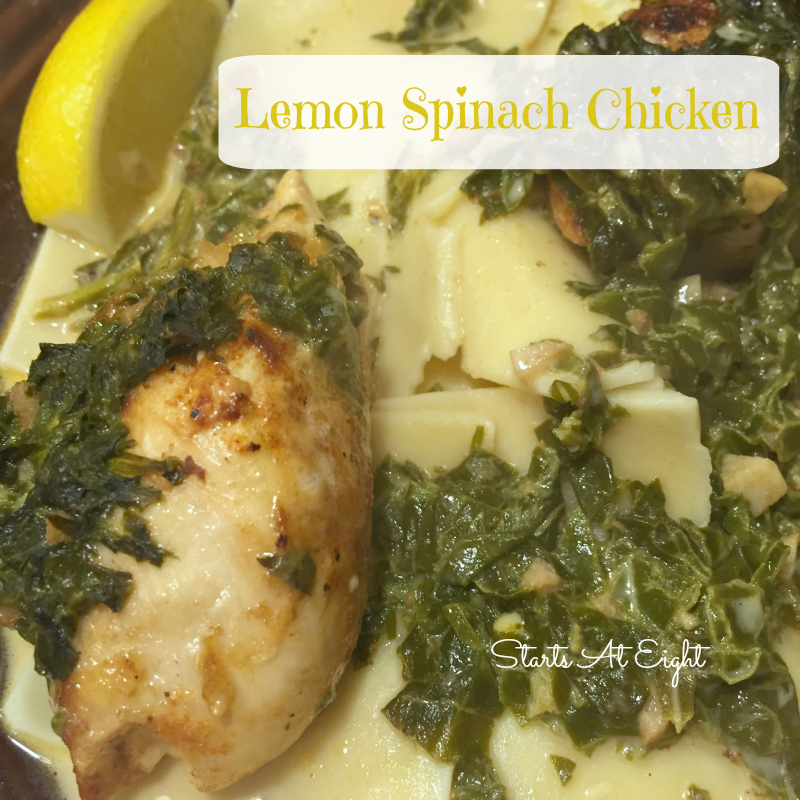 This is a new recipe for me. As with all the things we try, we find recipes we like, mix recipes together, and change them as we make them to be more of what we want. This is a fabulously creamy dish. I was super surprised by how much flavor the spinach soaks up from the sauce. Fancy restaurant quality food right here! LOL!
Lemon Spinach Chicken
Ingredients:
6-8 Boneless, Skinless Chicken Breasts
salt and pepper
1 tablespoon paprika
6 tablespoons butter, divided
6 tablespoons minced garlic
3 cup chicken broth
1.5 cup heavy cream
1 cup freshly grated Parmesan
Juice of 3 lemons (just over 1/2 cup)
8 cups baby spinach, chopped
Instructions:
Cut each chicken breast into 2 or 3 smaller pieces. Salt and pepper to taste. Sprinkle with paprika.
Preheat oven to 400 degrees F.
Melt 4 tablespoons butter in a large skillet over medium high heat.
Add chicken. Sear both sides until golden brown, about 2-3 minutes per side. Remove from pan and set aside in a 13×9 baking pan.
Melt remaining 2 tablespoons of butter in the skillet. Add garlic and cook for 1-2 minutes until starting to brown.
Stir in chicken broth, heavy cream, Parmesan, and lemon juice. Bring to a boil. Reduce heat to medium.
Stir in spinach and simmer until the spinach has reduced in size and the sauce has slightly thickened, about 3-5 minutes. (Be sure the sauce has thickened enough as this is an important step!) Pour mixture over the chicken in the baking pan.
Place into the oven and roast until completely cooked through.  (about 25-30 minutes)
We served this over wide noodles. I have seen people serve it over mashed potatoes. My plan is to try it over rice.