Teaching homeschool math can be a stress inducing thought. Many of us were not strong in math ourselves, or have not done much of it since graduation, and worry about how we can successfully teach our children. Using a homeschool math curriculum is something I would strongly suggest! A good homeschool math curriculum can ease your stress and help you to be successful in teaching your own children to be solid mathematicians.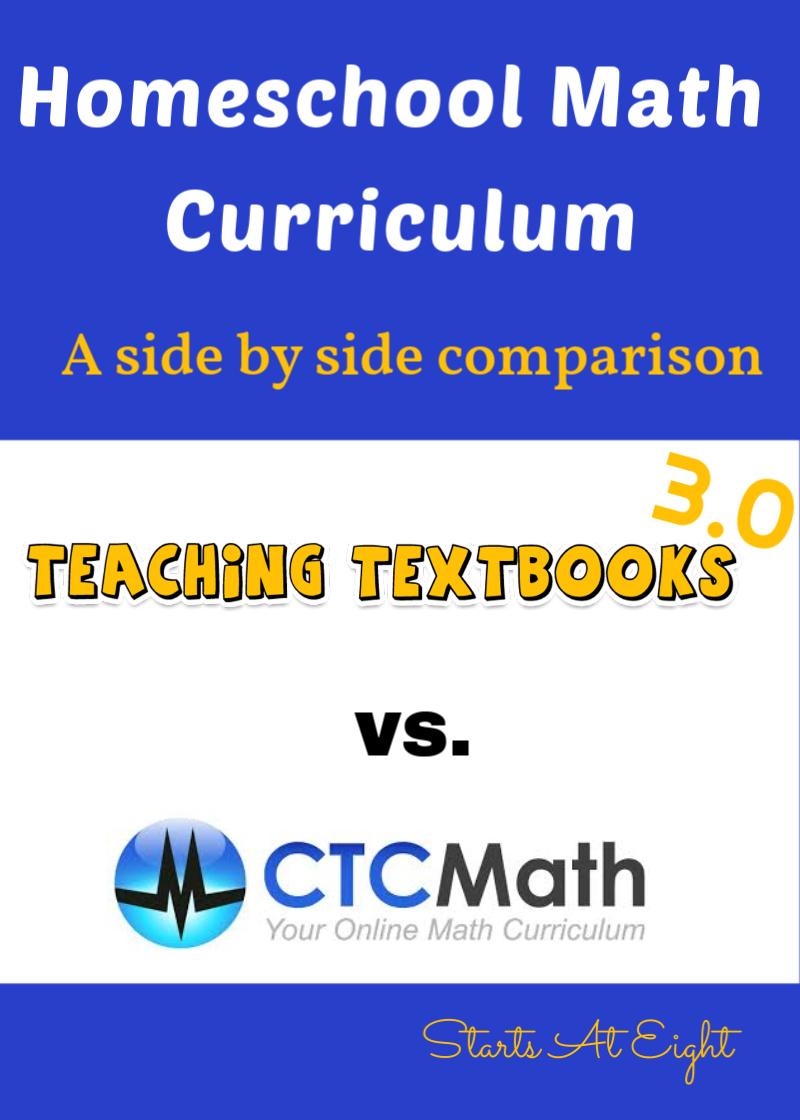 In our many years of homeschooling I have used a multitude of math programs. Depending on the level we were at, and the individual needs of our children, I have found a use for each and every one of these throughout the years:
Homeschool Math Curriculum We Have Used:
Teaching Textbooks along with Singapore Math have been two of our most used homeschool math curriculum choices. I have used Singapore Math in the younger years through about 5th grade and then switched to Teaching Textbooks.
When my oldest was I senior we had the opportunity use CTC Math for Pre-Calculus. Given our experience with both CTC Math and Teaching Textbooks I thought I would share a more side by side comparison of the two.
About Teaching Textbooks
Teaching Textbooks now has a totally online version! Teaching Textbooks 3.0.
The price of a 12 month 3.0 subscription varies from around $43 to $67 and caps out at $199.08 for families with 4 to 8 students. It includes a PAUSE feature you will love! You get 3 months of pause time with a 7 day minimum pause up to 90 days total!
Video based lessons followed by on screen assignment questions which are also read to the student.
Access to the printable e-book text.
EVERY SINGLE Teaching Textbooks problem comes with a detailed step-by-step audiovisual solution. That means the student can be walked through the entire problem step by step, helping to teach them along the way.
FULLY AUTOMATED GRADING!! Each level has fully automated grading which means the program does it for you!
There is Parent Portal which can be accessed from anywhere and contains all your children's grade books (both current and past), as well as controls for managing the Hint and Second Chances.
Hints and Second Chances give students who take longer to understand the material a chance to learn at a more comfortable pace. Hints appear on screen in addition to being read to provide a vital push for kids who are struggling with math in general or with a newly-learned-concept.
Has a free math helpline. Both the call and the helpline tutor's time are totally free for all Teaching Textbook users!
Check out my full Teaching Textbooks 3.0 Review!
Be sure to check out my full review for more screenshots and details about all the Teaching Textbook 3.0 features!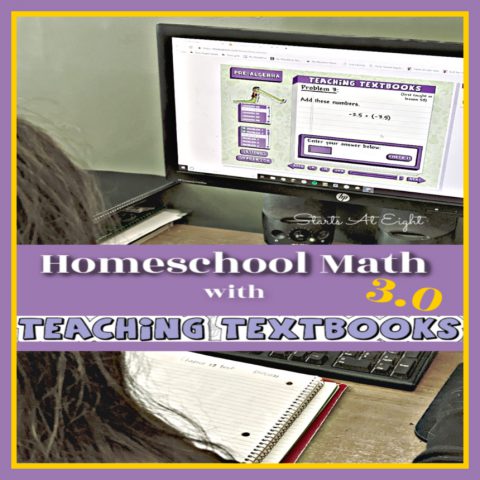 About CTC Math

A CTC Math membership allows you to enroll up to 10 children in their online math program, for ONE LOW COST!
has math for all levels from Kindergarten through Calculus (high school)
video based lessons with audio instructions for the comprehension questions
Short manageable lessons (even in the upper levels)
Parental Notification – you can set up to get weekly update e-mails of your child's progress. This makes it so easy to check in each week and see how they are doing (especially when they are older, more independent learners.)
The parent portal gives you the ability to add assignments (which they call tasks). These then show up on your student's homepage for them to complete.
For each skill set there are testing options. The tests can be taken at any time, or not at all. This means they can be used as a placement to see if the student is ready for the topic or as an end of topic assessment. The comprehensive test, which is longer and would make a good unit review because it contains problems from every topic in the stream.
In the lower levels, the answers are entered into the program directly. In the upper levels, there is often a worksheet for the student to print out and work on.
CTC Math vs. Singapore Math
Interested in seeing how CTC Math stacks up with Singapore Math? Click on the image below to see my comparison!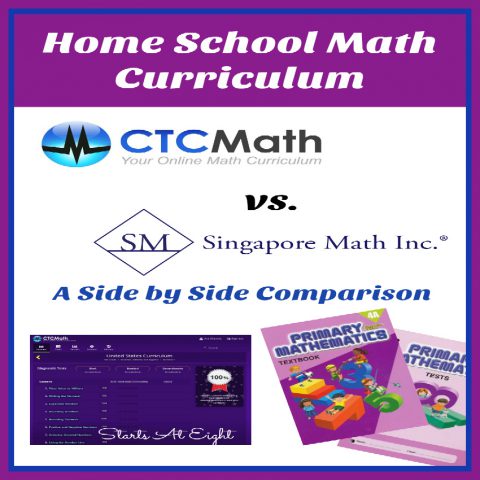 CTC Math vs. Teaching Textbooks 3.0
Online vs. Computer Based
With the new Teaching Textbooks 3.0 being totally online both CTC Math and Teaching Textbooks 3.0 are accessed online.
This means you can access both Teaching Textbooks and CTC Math from any computer that has Internet access.
Cost
While I will not do a cost analysis for you, I will lay out the cost and you can decide for yourself and your family circumstances which is more beneficial.
Teaching Textbooks 3.0 ranges from $43.08 for Math 3 to $67.08 for the advanced math. There is also a Large Family Plan for families with 4 to 8 children using Teaching Textbooks 3.0 for $199.08
The CTC Math membership for 1 homeschooled child per year is $98.50 and for 2+ children is $148.50
Spiral Approach vs. Mastery
Teaching Textbooks takes a spiral approach,  meaning concepts are reviewed regularly along the way.
CTC Math uses a mastery approach to math meaning that the previous topics aren't reviewed. This type of approach assumes you have mastered the content and can therefore move on.
Assignments
Teaching Textbooks contains a workflow where you move from one lesson number to the next in chronological order.
With CTC Math you can schedule assignments (tasks) from your parent portal and they show up in the student dashboard.
Teaching
Teaching Textbooks is like having a tutor on-demand. There are lectures for every single lesson, as well as detailed audiovisual solutions to every one of the over 30,000 homework problems. Plus there is a free helpline you can call if you're still stumped (after having watched the solution).
CTC Math has tutorials that last around 4-9 minutes, presenting the concepts of the math lesson step by step. Once answers have been submitted a printable containing the fully worked solutions becomes available.
Grading
Teaching Textbooks not only teaches, but grades too! Every single one of the problems in their entire product line has fully automated grading!
CTC Math utilizes multiple choice answers that are to cover grading for some of their problems and levels, but also incorporates printed worksheets which must be checked and graded by you or the student.
Other Math Articles