French toast is a favorite breakfast food in our house. Many years ago we combined a couple of recipes together to make one that we love best. In our opinion it is the nutmeg that gives it that extra special flavor that we love.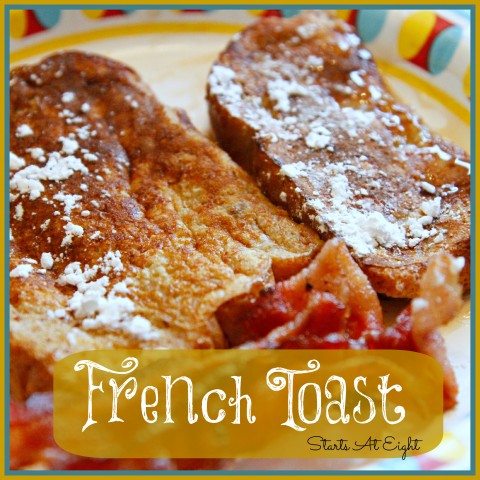 French Toast
Mixture Ingredients:
5 eggs
3/4 cup milk
3 Tbsps brown sugar
3/4tsp ground nutmeg
1 tsp vanilla extract
1 Tbsp ground cinnamon
Extra Ingredients:
12 slices of bread
powdered sugar
syrup
shortening
Directions:
Combine all Mixture Ingredients in a large bowl.
Use any type of bread you prefer (we usually use wheat bread) and dunk each piece, being sure to cover thoroughly on both sides, into the liquid mixture.
After a piece of bread is coated place it into a shortening greased frying pan.
Cook on medium heat until golden brown.
Sprinkle cooked french toast with powdered sugar.
Serve with syrup.