Creating a reading log can be an important part of the paperwork you keep for your homeschool student. While there are many variations of paper reading logs, you can also create an extensive reading log for each of your children using Homeschool Tracker.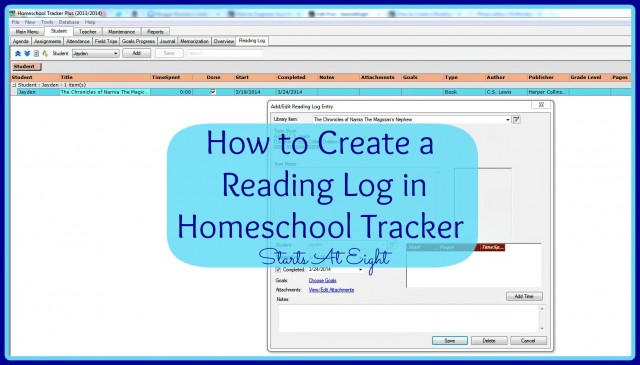 In my first Homeschool Tracker How To Video I discussed how we used the Homeschool Tracker Agenda View and Assignment Sheets. In this edition of Homeschool Tracker How To I am going to show you how to input books into the Reading Log.
How to Create a Reading Log in Homeschool Tracker
Homeschool Tracker Reading Log Options:
Upon clicking on the Reading Log Tab in the Student Tab of Homeschool Tracker and selecting Add, you will be given a pop up box with a multitude of options to choose from.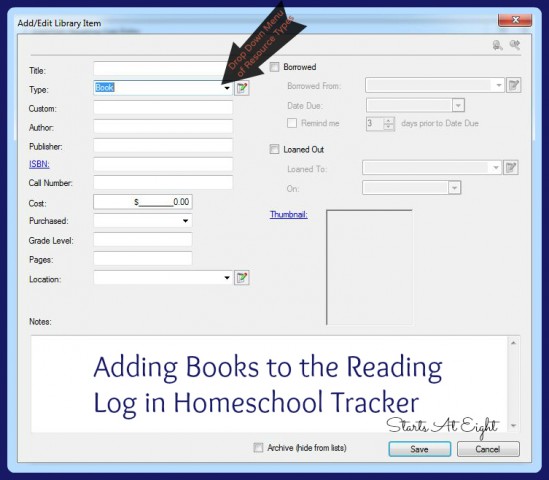 Information Added to Reading Log:
You begin by adding the title of the book.
Next you have a Drop Down Menu of Resource Types – things like book, book on tape, binder, textbook, software, workbook, website, Internet, and more.
Fill in the remaining information you would like to add – such as Author, Publisher, whether or not the book was borrowed or if you own it where/when and the cost at which you purchased it.
Once you have completed the book information you click save which will take you back to the Add/Edit Reading Log Entry Window where you select the student, and fill in the date started and completed, then save the entry. If you wish to log the specific dates and corresponding lengths of time that the book was read, at this time you would go back into the entry for that book to add those.
Adding Specific Reading Times in Homeschool Tracker:
Double click on the reading log entry for which you would like to add exact times.
The box will open and towards the right hand side you will see a brownish bar that contains the options for Start, Pages, and Time Spent.
Just below the options is an Add Time box.  Click on the box to add in the specifics of your child's reading pertaining to that book.
---
Please feel free to ask me any questions or let me know what other tutorials you would like to see for Homeschool Tracker in the comments below.