This year we have participating in a book club during the day with a few other homeschool girls. We meet weekly to discuss the book of the month, do projects related to things in the book, and complete art projects related to a topic in the book. I have been organizing all the art projects for the girls, with at least one each month that corresponds to the book we are reading. Tuesdays at the Castle had me searching for help on how to draw a castle.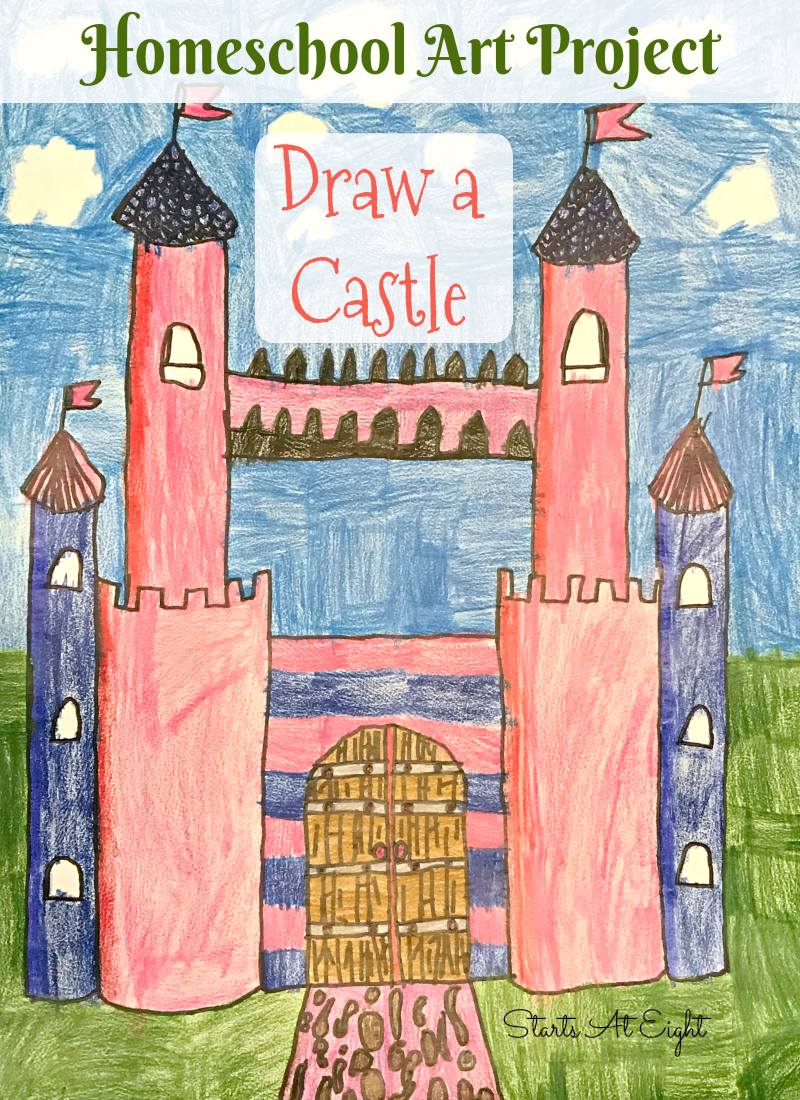 In case you are interested we loved Tuesdays at the Castle.  So if you are looking for a book (which also happens to be a series) I highly recommend it. Beyond that if you are looking for a fun, flexible, and fairly easy castle project we really enjoyed this draw a castle art tutorial.
How to Draw a Castle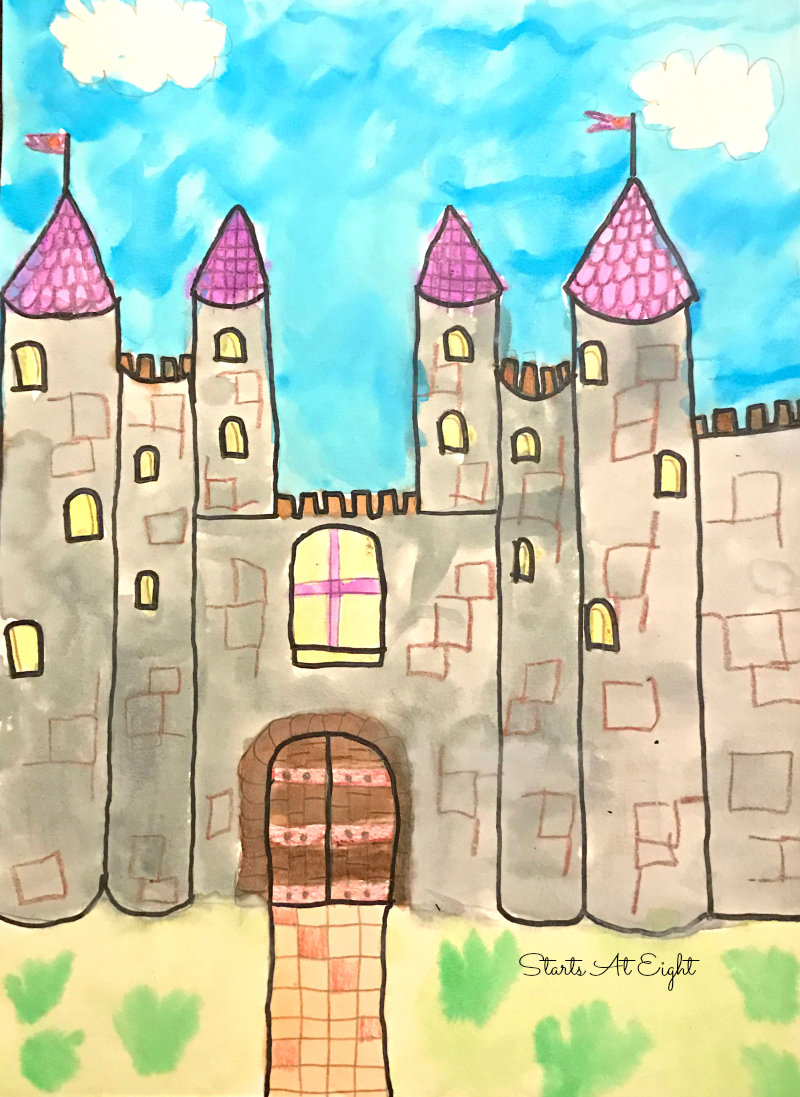 I used a combination of this Deep Space Sparkle – Architecture Made Easy Lessons Plans and this Castle Art Project for Kids.
Supplies Needed:
pencils with erasers
the cardboard templates from the Architecture Made Easy Lesson Plans
ruler
paint brushes
Directions:
I gave each of the girls a set of the cardboard templates, a sheet of drawing paper (we had a couple of different sizes), and a pencil.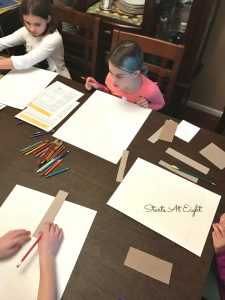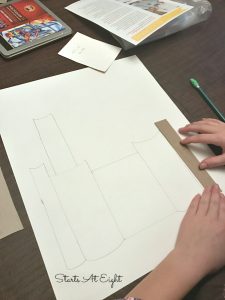 After going over the template placement in the Architecture Made Easy Lesson Plans, each one used the templates in whatever fashion they saw fit. Some used more turrets, some less, and they all varied the widths of the turrets they used as well. Having the pre-cut templates (which I measured and cut ahead of time) made it so simple for the girls to draw the outlines of their castles.
Once their basic outline was drawn it was time to add details like the tops of the turrets, windows, and connecting pieces. Pencil was used to create texture details on the castle wall, turrets, and even the draw bridge.
After completing the details in pencils they traced over their pencil lines on the castle and windows with the fine black permanent markers. (If they opted for finishing their piece in water color they did not go over their texture details in black marker.)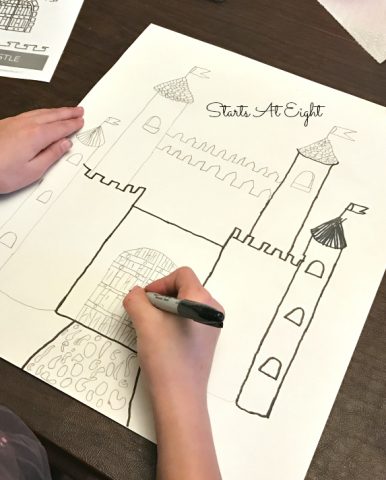 This is where the projects varied in medium. Some chose to use colored pencil like the Deep Space Sparkle Architecture Lesson, and some chose to use watercolors like the Castle Art Project for Kids.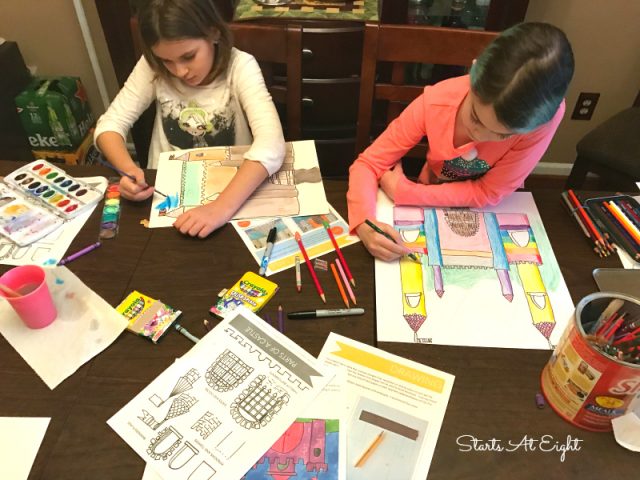 The final step was to add a background like the ground or sky if they wanted to. As you can see from the finished photo below some of them did this, and some chose not to. (Or in the case of my daughter she wasn't finished yet so she added her background after this photo was taken.)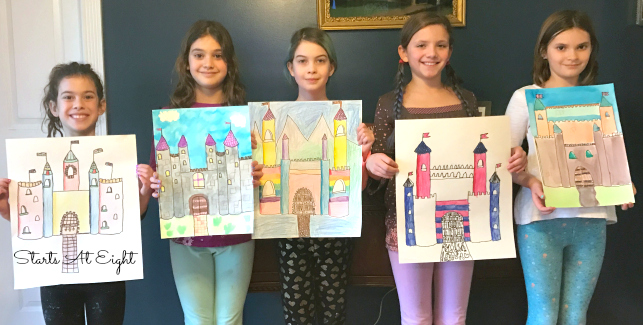 Other Great Art Projects