Here in New York spring is coming around late as usual.  But that doesn't mean we can't prepare to get outside and explore nature!  While others actually get to get outside to see bird nests, we are just creating them in art class!  Using the Spring Chalk Pastels Art Tutorial from Southern Hodgepodge we have created our very own birds nests!  I have also compiled a host of FREE and low cost Spring Nature Study Resources!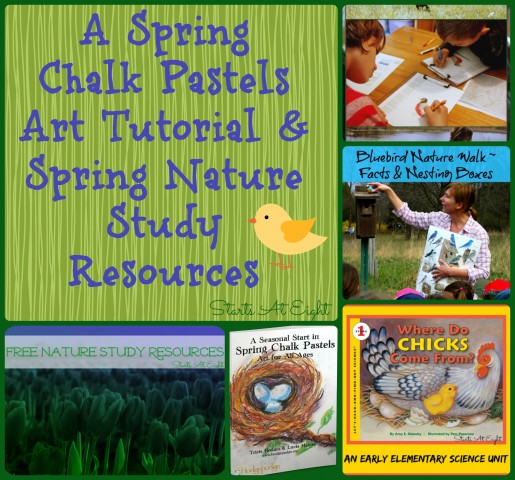 We have started anticipating the arrival of actual spring weather here in NY with some fabulous art! A Seasonal Start in Spring Chalk Pastels is now available for beginning or continuing art lessons in the chalk pastel medium.
What's included in this art curriculum?
Tutorials for things like:
Rain
Rainbow
Swing
Spring tree
Quilt on a clothesline
Bird's nest (try the FREE video tutorial)
Three little chicks
And More!!
Spring & Bird Nature Notebooking Resources:

Nature Study Tips from iHomeschool Network – A  G+ Hangout
Other Bird/Nature Related Posts: