So my friend and Hip Homeschool Moms teammate, Darcy at Just a Night Owl has apparently started a trend with a few of us!  She did this post called 100 Things About Me.  It was such a fun way to learn things about her that a few of us have jumped on the bandwagon!  You can check out Wendy's at Homeschooling Blessings and Trish's at Live and Learn Farm.  They all said it was harder to do than you would think, but I could have gone past 100!  Not sure what that says about me, but then again I am not an analyzer by nature! 😉  So without further adieu, here is my own…..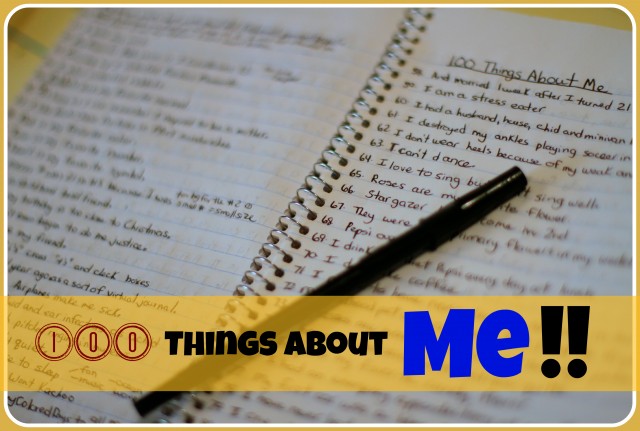 100 Things About Me
I am a mom.
I am a wife.
My full name is Heidi Marie.
All my school sports apparel from High School was lettered with Heidi Marie.
I am not a morning person!
My siblings are significantly older than myself. (by 9 & 12 years)
Wintergreen over spearmint and peppermint, hands down!
I am the only girl in my family.
And one of a very few girls in my extended family.
Reading is a favorite activity of mine.
I have 3 children.
They are all 3 years apart in age.
Chocolate, chocolate, chocolate!!  It makes everything better!
Football is my favorite sport to watch.
The Buffalo Bills are my favorite football team.
I attended 3 different colleges.
I don't like having to read between the lines.
Therefore I say it like I mean it,
And I don't often like poetry for that reason.  (Leaves too much to interpret.)
I am a certified PTA (Physical Therapy Assistant)
I became an aunt at the age of 12.
My second born child was due on Christmas Day.
My first born child was 3 1/2 weeks early.
We say my third child left claw marks inside me as she was 1 1/2 weeks late and put up quite a fight coming out!
I am 5'4″
I wanted to be 5'6″
I am taller than my mother who is 5'1″
The first thing I wanted to be when I grew up was a nurse. (In Kindergarten and First Grade)
My brain works best with good old fashioned pen and paper.
When I became and aunt at the age of 12 I was not allowed on that floor to see my nephew.  I was heart broken.
I bite my nails.
My favorite chapter in the Bible is I Corinthians 13 – The Love Chapter
Growing up I collected Precious Moments figurines.
I also collected anything with rabbits.
Rabbits are my favorite animal.
For as long as I can remember I aspired to be a mother.
I like nacho cheese Doritos in peanut butter and jelly sandwiches.
Red is my favorite color.
Two is my favorite number.
A heart is my favorite symbol.
My soccer number was 21 in High School because the smaller numbers were the smaller sized jerseys and I was too big chested for them.
I had a childhood best friend named Kim.
I believe my birthday is too close to Christmas.
Type A doesn't even begin to do me justice.
Checklists are my friend.
I love to dot "i's" and cross "t's", oh and to check boxes!
I started my blog 4 years ago as a sort of virtual journal.
I don't travel well.  Airplanes make me sick.
I had problems as a child with my ears.  Too much fluid and too many ear infections.
This caused permanent high pitched ringing in my ears.
Thus my world is NEVER truly quiet.
Therefore I need background noise to drown out the ringing so I can sleep. (a fan, music, ocean waves)
I love the book Because a Little Bug Went Ka-Choo
I always recommend the children's book My Many Colored Days to all new parents.
Dorm life was not for me.
I totaled my parent's car one month after getting my license.
I was engaged at nineteen.
And married one week after I turned twenty-one.
I am a stress eater.
I had a husband, house, child, and minivan before most of my friends graduated from college.
I destroyed my ankles playing soccer in High School.
I don't wear heels because of my weak ankles.
I can't dance.
I love to sing.  Sadly, I don't sing very well. 🙁
Roses are my favorite flower.
Stargazer Lilies come in a very close second.
Stargazers were the primary flowers in my wedding bouquet.
Pepsi over Coke.
I drink one diet Pepsi every day at lunch.  It is my daily caffeine.
I don't like coffee, thus the Pepsi for caffeine.
I prefer to have non-shedding animals in our house.
My childhood pet was a rabbit that I had for ten years.
Sunglasses are more of a headband than eye protection.
I have an obsessions with antique quilts.
Grape is my favorite candy flavor.
I had an emergency appendectomy at the age of 19.
My first car was a blue Toyota Corolla.
I have never had the color car that I would want.
I cry at everything…even Oreo cookie commercials!
I love mushrooms.  (Fungus if you ask my husband)
If I love it my husband probably hates it and vice versa.
I had braces as an adult.
Summer.  I love sunshine and warm weather.
If not summer than fall.  Beautiful fall colors and crisp sweatshirt days.
I have never been on a cruise.  (We hope to go this coming year).
I am my harshest critic.
I have to have water to drink on my nightstand at night.
I have only broken one bone, twice.  (yes the same bone twice)
I always correct misspoken grammar, especially when coming from my children.
I yawn a lot when I am nervous or stressed.
I am best when I am busy.
Down time causes severe anxiety for me.
I suffer from anxiety and panic attacks.
I play the piano and have since the 5th grade.
The carousel makes me dizzy.
I love the Ferris Wheel.
My wisdom teeth were pulled when I was 17.
Music moves me.
I love Christmas decorations for the lights.
My husband is the other half of my brain.  Where I leave off, he picks up.
YES 101!  I just had to!  🙂  I got bit by a dog 4 days before my thirteenth birthday.  It required many stitches and plastic surgery on my face.
---