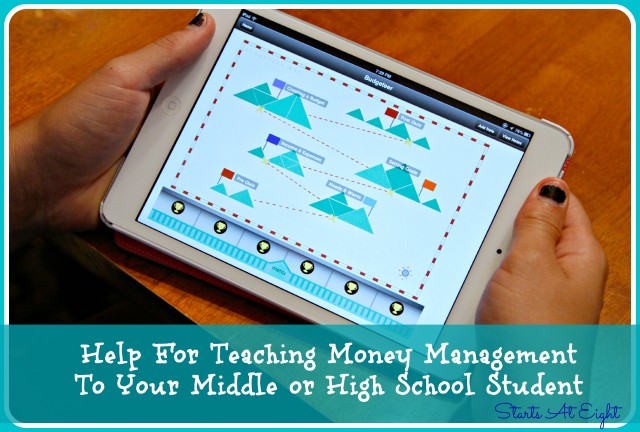 Back in April I wrote about Money Management for Teens. Teaching money management is an important part of the task in educating our children. There are many great resources out there to help us with this task, many of which I listed back in April. Today I have a new resource for teaching money management to our teens to share with you.
"We as parents, and homeschooling parents need to include financial planning, and money sense into our plans, conversations, and daily life with our children. We need to better prepare them to manage their money to help ensure their future success."
Budgeteer Notes App for Teaching Personal Finance Skills
The Budgeteer Notes App by Second Nature Learning is a new app with platforms not only on the PC but for both iTunes and Google Play. **Please note that Budgeteer Notes works best on an iPad or an Adroid tablet with a 10″ or 10.1″ screen (although we happily used ours on an iPad mini) and requires WiFi.
Second Nature Learning's goal is to create good habits concerning money. The app encourages teens to understand the basics of money management by identifying Needs and Wants, and moves on to more complex topics such as Income and Types of Expenses (Fixed and Variable), Setting Financial Goals and Making a Budget.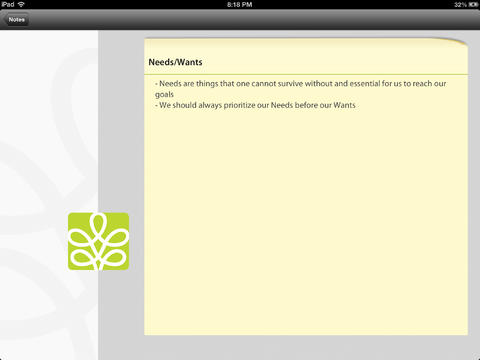 What We Loved About The Budgeteer Notes App
The Budgeteer App Platform Choices
We started with Budgeteer on the computer, and then were able to move over to the iPad seamlessly. Your Budgeteer account syncs across platforms and devices!
Straight Talk Common Sense for Teens
My 9th grade daughter really appreciated being "spoken to" in a manner that was easy to understand, but was not downplayed as though she would not understand. The Budgeteer App uses a multi-sensory approach that doesn't feel trite or unnatural. There are questions to answer, videos to watch and choice activities to engage the student in what they have just learned.
Engaging Activities Using Your Budget Sense
Of all the activities my teen liked "The Budget Burger" the best. In this activity you are given $2000 for a monthly budget with a goal of choosing your needs vs. wants. Using your new skills you will need to decide what you are going to spend your money on, thus creating a budget.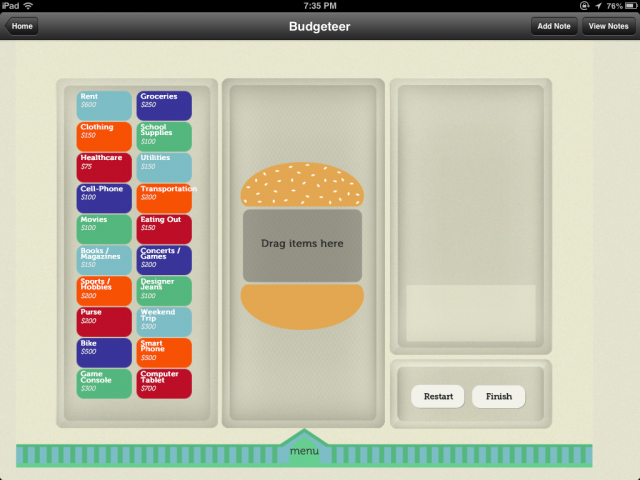 The Budget Tool
There are two components to the Budgeteer Notes App. The first is the tiered educational/teaching component – The Budgeteer Map (this is featured in the photo at the top of this post). The content within this part of the app is set up to be self-guided and will take the student approximately 45 minutes to an hour to complete. Because there are stages they can do it all in one sitting, or do some and come back again to complete more.
The added bonus is that not only does the app include this methodical educational/teaching component, but once you have successfully completed that part it unlocks something called "The Budget Tool"! This tool allows your teen to create a personal savings goal!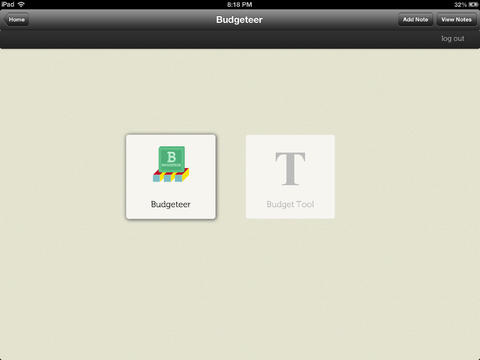 This was perfect for us because my teen really wants her own iPhone but she is responsible for paying for it, as well as a portion of the monthly bill.
The two of us sat down and figured out what the approximate cost of the phone plus a three month cushion of bill money would be and entered it the information into the app along with her goal date.
The Budget Tool then tells you how much you need to save each month, will send you e-mail updates, and encourages you to go in and update each time you have saved money.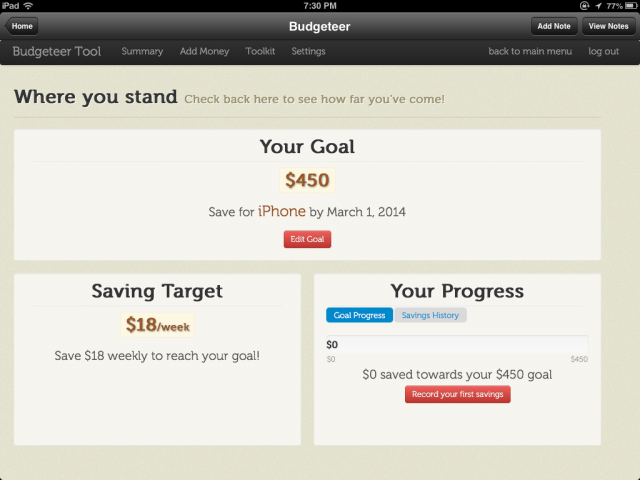 ---
Disclosure: I received the Budgeteer Notes App for free for the purpose of reviewing it. I was compensated for my time to test and review this product. The opinions expressed are my personal, honest opinions, and I was not required to post a positive review. Your experience may vary. Please read my full Disclosure Policy for more details.