The season is upon us for filling stockings and wrapping presents. Teens can typically be a tough crowd to buy for. Even my own teenager found it difficult to help me come up with 100 Stocking Stuffers For Teens!! So here is what we came up with.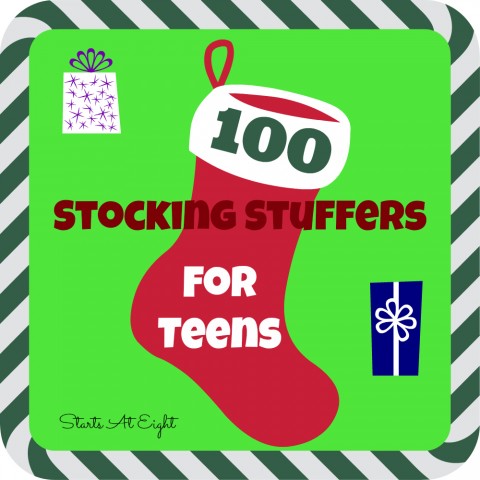 There are things that are too expensive for my blood, down to things that should fit most budgets. A little something for boys, and a little something for girls, and a $10 and under category for those that prefer to keep the stocking budget to a real limit!
While I have broken many of these categories down into boy and girl, many of them are interchangeable so be sure to browse them all!
Tech Loving Girl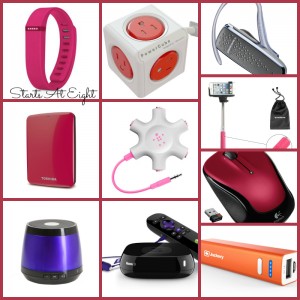 1. Jackery Mini Premium iPhone Charger
2. JAM Classic Bluetooth Wireless Speaker
3. Fitbit Flex Wireless Activity + Sleep Wristband
4. Toshiba Portable Hard Drive
5. Belkin Rockstar Multi Headphone Splitter
6. Plantronics M50 – Bluetooth Headset
7. Roku 3 Streaming Media Player
8. Logitech Wireless Mouse
9. PowerCube Original USB, Electric Outlet Wall Adapter 
10. Wireless Bluetooth Monopod Handheld Self Portrait Selfie Stick 
Tech Loving Boy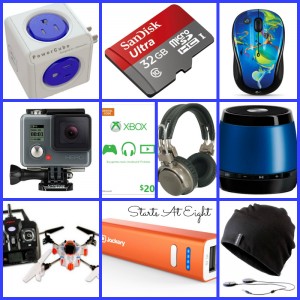 1. PowerCube Original USB, Electric Outlet Wall Adapter
2. Jackery® Mini Premium iPhone Charger
3. JAM Classic Bluetooth Wireless Speaker (Blueberry) 
4. Premium Over Ear Stereo Headphones w/ Detachable Cable
5. SanDisk Ultra 32GB Micro Memory Card
6. Logitech Wireless Mouse
7. Xbox $20 Gift Card
8. 2.4G RC Quad Copter – Spacecraft
9. GoPro HERO
10.Sound Disk Sports Black Beanie
Artsie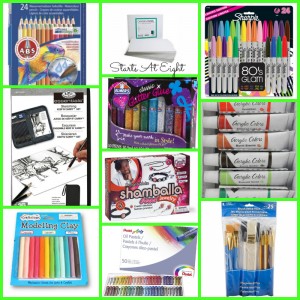 1. Glitter Pens
2. 50 Pentel Arts Oil Pastels
3. Drawing and Sketching Pencil Set In Zippered Carrying Case
4. Sharpie Fine-Tip Permanent Marker, 24-Pack Assorted Colors
5. Acrylic Colors Complete Set of 12 Paint Tubes
6. Canvas Panels 5 x 7 inch
7. Loew-Cornell Brush Set
8. Staedtler Watercolor Pencils, Box of 24 Colors
9. Craftology Modeling Clay – 8 Oz. Package – 12 Colors
10. Shamballa Bead Jewelry Kit
Sports Loving Boy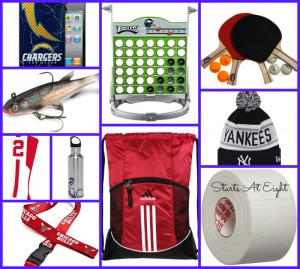 1. TCK Player Id Red/White Custom Number Crew Sock
2. NFL Philadelphia Eagles Connect 4
3. Team ProMark Hard Case for iPhone
4. NBA Chicago Bulls Lanyard
5. MLB New York Yankees Biggest Fan Redux Beanie
6. Stainless Steel Water Bottle
7. Storm WildEye Live Minnow 02 Fishing Lures
8. Table Tennis Racket Set
9. Athletic Tape
10. Adidas Alliance Sport Sackpack
Sports Loving Girl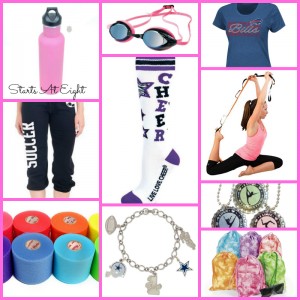 1. Tie-dyed Drawstring Tote Bags
2. Mueller Rainbow Pack of Sports Pre-Wrap (8 colors!)
3. Speedo Women's Vanquisher Mirrored Swim Goggle
4. NFL Women's More Than Enough IV Crew T-Shirt
5. Minnesota Vikings Charm Bracelet
6. I Love Gymnastics – Gymnast Bottlecap Necklaces
7. Cheer Star Knee-High Socks
8. Soccer Drawstring Capri Sweats
9. Stainless Steel Water Bottle
10. Stretch Out Strap
Book Lover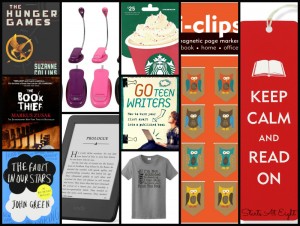 1. Starbucks Holiday $25 Gift Card
2. Kindle 6″Touchscreen Display, Wi-Fi
3. 4pc Clip On LED Bright Reading Booklight Set
4. Keep Calm & Read On Bookmark
5. Owls i-Clip (Set of 8 Magnetic Bookmarks)
6. The Fault in Our Stars
7. Not Addicted to Reading T-Shirt
8. The Hunger Games
9. Go Teen Writers: How to Turn Your First Draft into a Published Book
10. The Book Thief
Animal Lover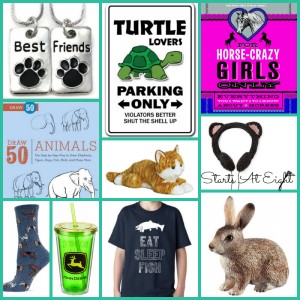 1. For Horse-Crazy Girls Only: Everything You Want to Know About Horses
2. Eat Sleep Fish T Shirt
3. Aurora World 12″ "Chester" Flopsie
4. Puppy Paws BFF Necklace
5. Classic Dogs Crew Socks
6. Rabbit Figurine
7. TURTLE LOVERS Parking Sign
8. Draw 50 Animals
9. John Deere Acrylic Travel Cup
Girlie Girl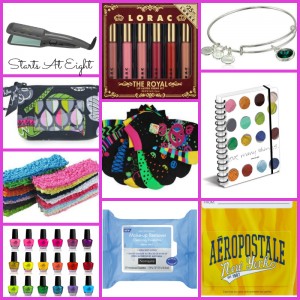 1. Alex and Ani "Bangle Bar" May Birthstone Bracelet
2. Aeropostale Gift Card $25
3. LORAC The Royal Lip Lustre Creme Set
4. Vera Bradley Zip ID Case
5. Wet to Straight Straightener
6. Nail Polish Set (24 Colors Premium Quality and Quick Dry)
7. Neutrogena Makeup Remover Cleansing Towelettes
8. Spiral Bound Journal
9. 16pc Set Crochet Headbands
10. Mix & Match Ankle Socks
Sci/Fi Loving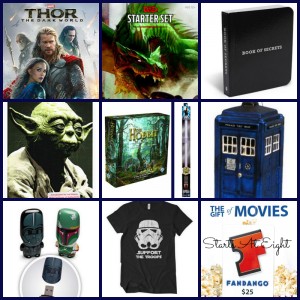 1. Fandango Gift Card $25
3. Star Wars Yoda 11″ X 17″ Print
4. Support The Troops T-Shirt
5. Star Wars Ultimate FX Luke Sky Walker Green Lightsaber
7. The Hobbit Card Game
8. Dungeons & Dragons Starter Set
9. Doctor Who Tardis Figural Ornament
10. Thor: The Dark World
$10 or Less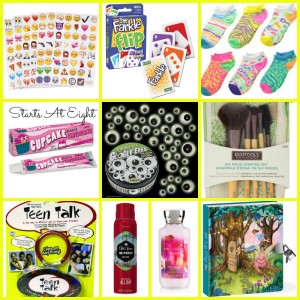 1. Old Spice Fresh Collection Fiji Body Spray
2. BAMBOO 6-pc Makeup Brush Set
3. Bath Body Works Twilight Woods 8.0 oz Body Lotion
4. Wild Safari Low Cut Socks
5. Farkle Flip Card Game
6. Fairy Forest Lock & Key Diary
7. Glow in the Dark Googly Eyes
8. Cupcake Flavored Toothpaste
9. Teen Talk
10. Emoji Sticker Pack-288 of the MOST POPULAR EMOJIS