Last year after Christmas I posted a Wordless (almost) Wednesday about Christmas Emotions. One of the stories there was about Joey and his innovative wrapping techniques. This year I have another story to tell pertaining to a new method of wrapping Joey came up with this year!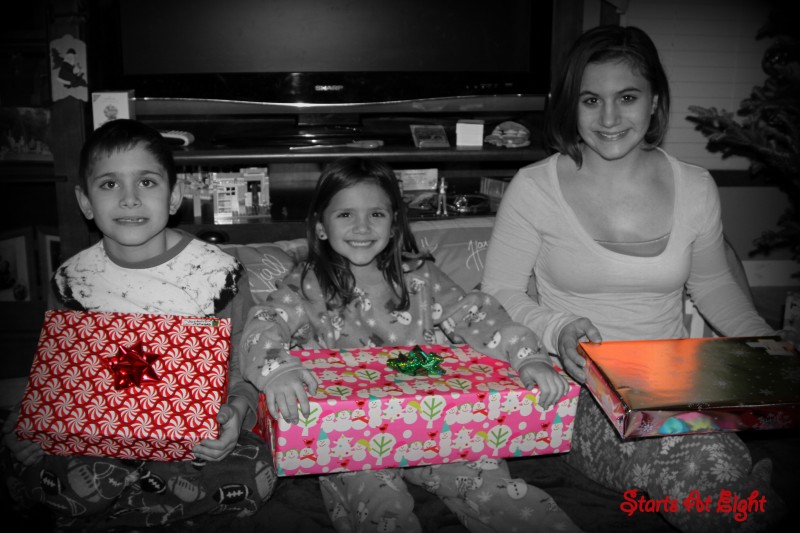 For whatever reason each one of our children ended up with gifts that we labeled 1 of 2 and 2 of 2. We saved them until the end because they were the bigger, more exciting must haves that they wanted this year. The exception to this was Chloe. Her 1 of and 2 of 2 was not her primary "big" gift as she knew she was getting an iPod so we held that back even longer. We did not wrap the iPod until the last minute because we wanted it charged and such. Plus Chloe was going to be passing down her old 3rd Gen iPod Touch to Jayden this year. Thus we took that from her at the last minute to back up her stuff, wipe it clean, and put a new case and screen protector on it for Jayden. I went to bed and left Joey to wrap this gifts.
Fast forward to the gifts under the tree and you have each of their 1 of 2 and 2 of 2s left, plus two large gifts that we under the tree for me that Joey said had to wait until the end. When I asked him about the iPods he told me not to worry that he had it under control. After the kids opened their 1 of 2 and 2 of 2s it was time for me to open one of the big ones. When I opened it we were all surprised to find that there was another wrapped present inside, only it was tagged for Jayden!! So I passed it off to him to open. The bigger surprise came when he opened it to find a gift wrapped and tagged for Chloe! Upon unwrapping this she found her iPod inside. Joey said later it was a last minute idea that he thought would keep everyone involved in the process.
On to my second large box. Now we are all wondering what it will contain given what the first one held. When I opened it I found a gift wrapped and tagged for Chloe this time! The question is… would it be another one for Chloe, or would there be another wrapped gift tagged for someone else? Low and behold the gift inside was another wrapped gift tagged for Jayden! Much to his surprise and excitement he found his very own iPod touch (from Chloe) inside!
What are your favorite memories from your holiday this year?