Here in New York the winters can be very long! Since being outside for long periods isn't always an option, we have to find fun and innovative things to do inside! On a cold winter day (or night) there is lots of indoor fun with popcorn to be had!
Many thanks to Pop Secret for sponsoring this post and inspiring our family to have some Winter Indoor Fun with Popcorn!
Indoor Fun with Popcorn
Our kids were overjoyed when I declared a family fun night that was to include fort building, movie watching, and popcorn!
Fortbuilding
While they often build small forts of their own, it was a thrill for them to have Mom helping them to build an over-sized pillow fort!
The key to our fort was getting some height in it. Using mini bar clamps
that Daddy has with his workbench, we were able to clamp the blankets to the entertainment center to get the height we were searching for.
Popcorn Snowballs
It was Daddy that came up with idea to have an indoor snowball fight, so while two of the kids were downstairs working on the fort with me, Daddy was upstairs creating Popcorn Snowballs with the Pop Secret Popcorn. You can download a $1 off coupon to save on your next purchase of Pop Secret.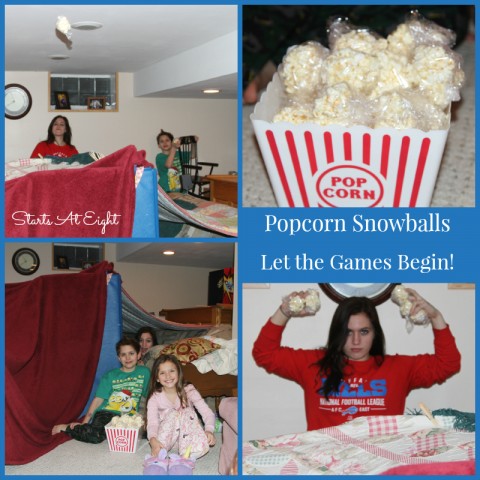 Popcorn Snowball Recipe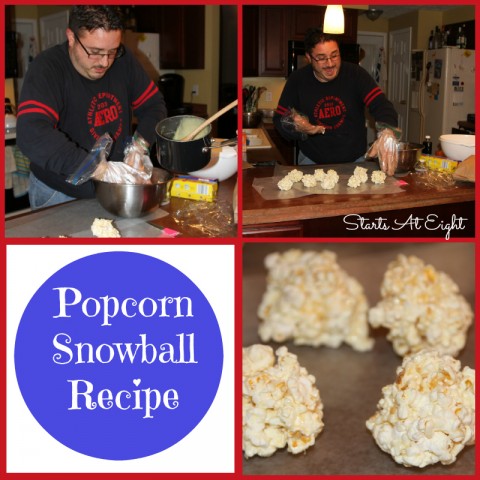 Ingredients:
12 cups of popped popcorn
1 cup granulated sugar
1/2 cup light or dark corn syrup
1/4 margarine or butter
1/2 teaspoon salt
1 teaspoon pure vanilla extract
1/2 teaspoon baking soda
Directions:
Microwave the Pop Secret popcorn and pour into a large bowl.
Combine sugar, corn syrup, butter and salt in a 2 quart saucepan. Stirring constantly, bring to a boil over medium hear. Continue stirring at a boil for 2 minutes.
Remove syrup mixture from heat. Stir in vanilla and baking soda.
Pour syrup mixture over popcorn in the bowl stirring to coat it well.
Cover hands with plastic bags sprayed lightly with cooking spray. Quickly shape the popcorn into 3-inch popcorn balls and place on wax paper to cool.
Cool completely. Wrap each ball in plastic wrap.
Armed with Popcorn Snowballs in our plastic popcorn tubs, we set out to take each other down! Daddy used the papasan frame as a shield. While fairly hole filled, it was pretty effective most of the time!
Having the popcorn balls wrapped in plastic allowed us to use them as "snowballs" without all the mess. Then when we were done we had caramel popcorn balls to eat!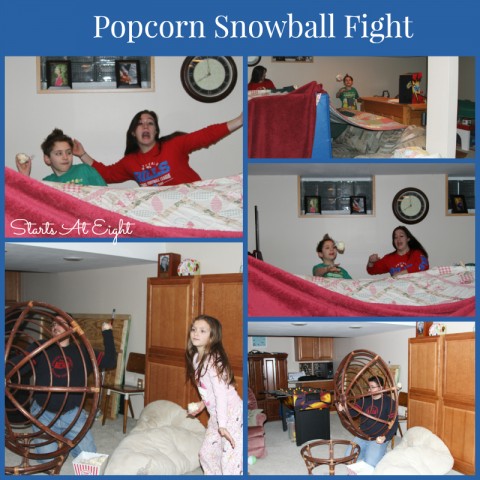 Remember to download your $1 off coupon to start saving on your next purchase of Pop Secret.
Also, you can submit your own pillow fort pictures to Pop Secret's Facebook page for a chance to receive a fun prize pack and other surprises! Take advantage of the next snow day to build a fort!